Southwest Day 10: Black Canyon of the Gunnison to Ridgway State Park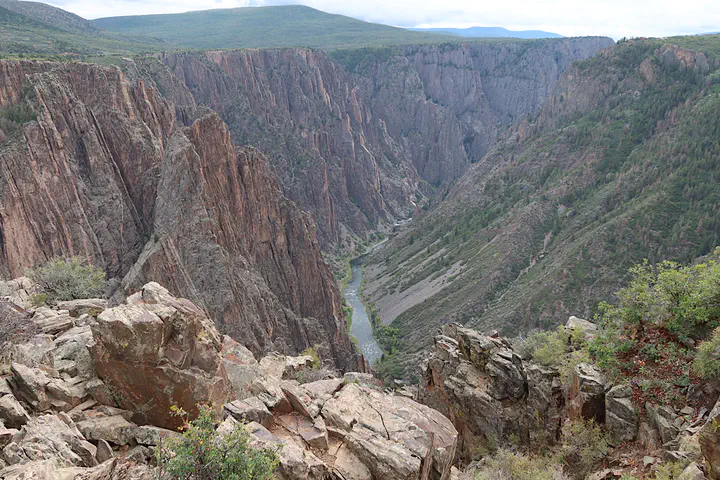 September 2, 2021. 36 miles, 1360 ft of climbing.
It was still rainy in the morning, but cleared up mid to late morning (the tent is still waterproof). I decided to take a pack-less bike ride down the park road and check out some of the canyon viewpoints. It was nice to ride without the weight for once, and I joined a small-to-medium sized group of tourists going from viewpoint to viewpoint. I think a lot of people were driven off by the rain - the campground was nominally fully booked last night but there were a lot of empty sites.
I took a bunch of photos, but here are just a couple.
I meandered back to the campsite and was packed up and on my way a bit before checkout (1pm). Everything was dry (doesn't take long around here).
The downhill from the park was fun. I successfully slowed down for the rather serious cattle guards around the ranch area.
The downhill continued to Montrose, though it was slightly ruined by another flat tire along a sunny stretch of road. This one appeared to be a faulty tube. I was only a couple of miles from the bike shops in Montrose, so after fixing it I got a couple more spare tubes (different brand) just in case. I also picked up a couple more fancy camping meals at the camping store nextdoor, then headed out of town.
The first stretch out of Montrose was on a bike path, which eventually joined the road. For the most part, the road had a great shoulder (a couple miles of not much shoulder, but the drivers continued to be polite). There was a noticeable headwind though, and a slight uphill, so it wasn't the fastest cycling.
I got rained on a bit again, but again it wasn't actually unpleasant. Still haven't felt the need to pull out the raincoat for cycling. This time I even got a rainbow.
Eventually, I got to the first campground in Ridgway State Park, which didn't look too exciting. I had made a reservation for the better reviewed Elk Ridge campground, so I pressed on. It was only a few more miles to get there, though (somewhat predictably I suppose) Elk Ridge campground turned out to be up a meaningful hill. It was worth it though. The campsite was nice, and there was a building with showers (first shower in a few days, it was great!) and coin laundry.
There was an older bike touring couple in the site next to me, and we chatted for a while. I definitely haven't been meeting as many other tourers on this trip as some. This couple were aiming to cycle in every state in the US eventually, and on this trip had done the Great Parks North and South routes. They had been going since June or something. They said they had done a trip around the Grand Canyon previously and enjoyed it, so perhaps that's a good sign.