Southwest Day 2: Georgetown to Dillon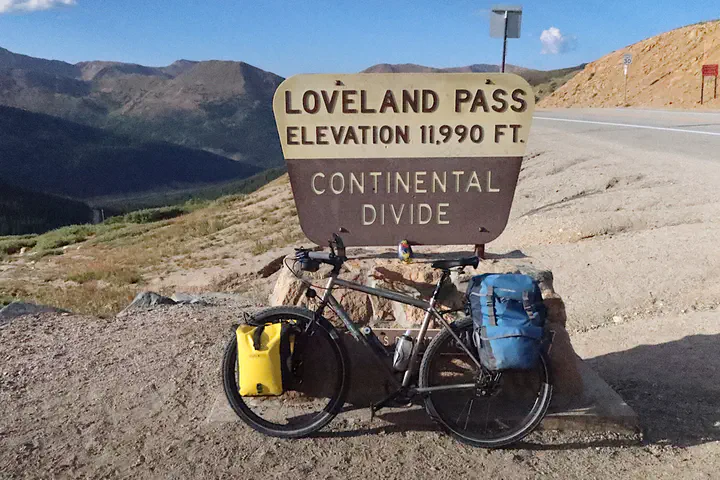 August 25, 2021. 34 miles, 3812 ft of climbing.
I didn't get a particularly early start, but was on the road by 9. Hotels are nice, and it would seem like I should be able to get going faster what with not having to break down a tent. But psychologically it's harder to get going. I think being indoors in a hotel room takes me out of tour mode a little and I end up sort of nervous and angsty in the mornings. Until I get on the bike and it goes away.
I headed onwards through Georgetown and discovered a sign indicating that the less freeway-stopover part of town might have been just off route. Down a hill though, so I didn't check it out. Instead, the day started immediately with a fairly serious climb past the Georgetown Loop tourist railroad and up to parallel I70.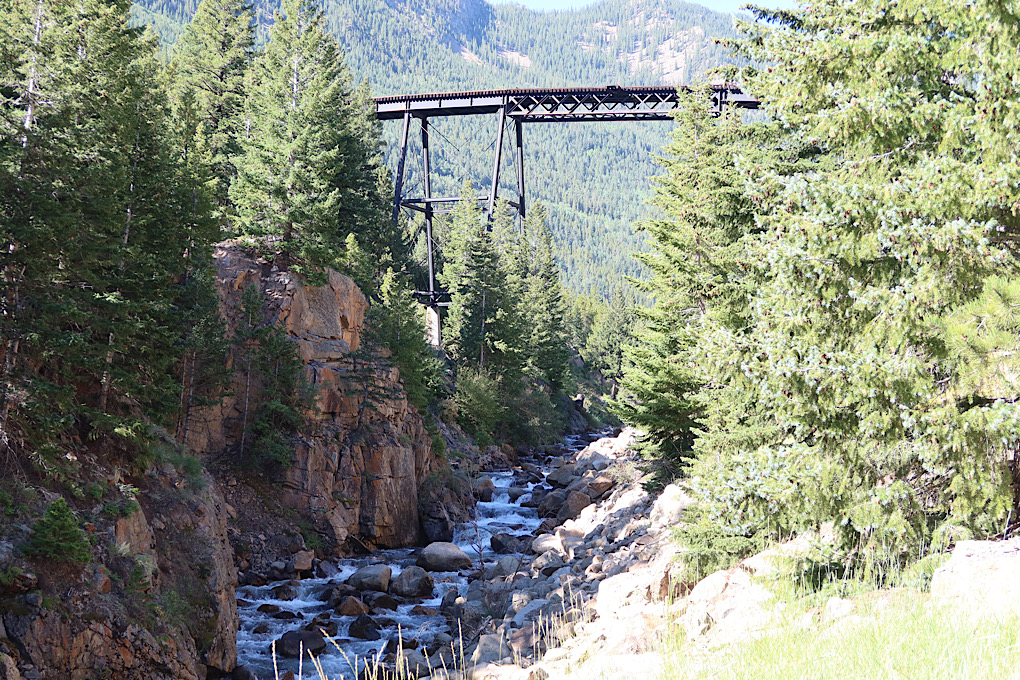 The thing about steep climbs is that you do often get rewarded by seeing just how far you've come. Being level with the rail bridge that had seemed so high up, getting the view down into the parking lot I had gone through, etc.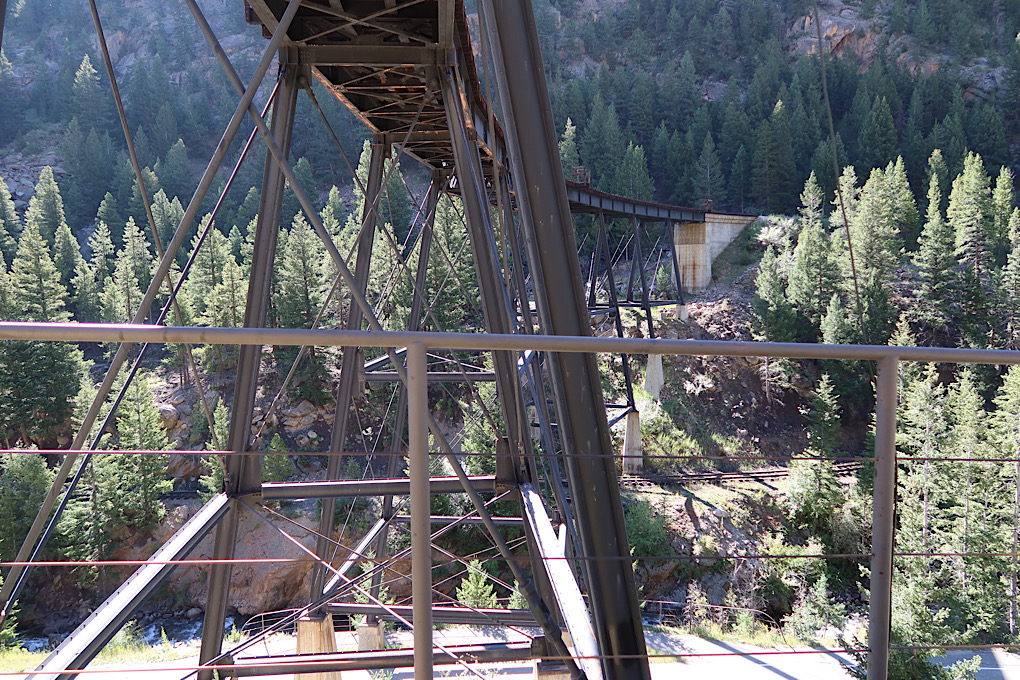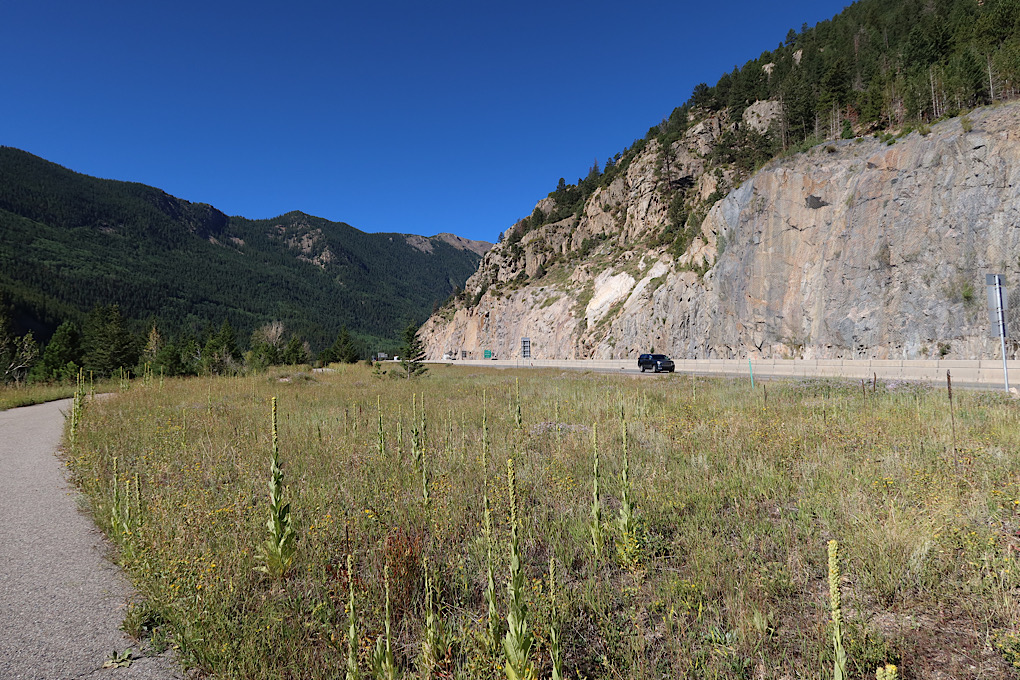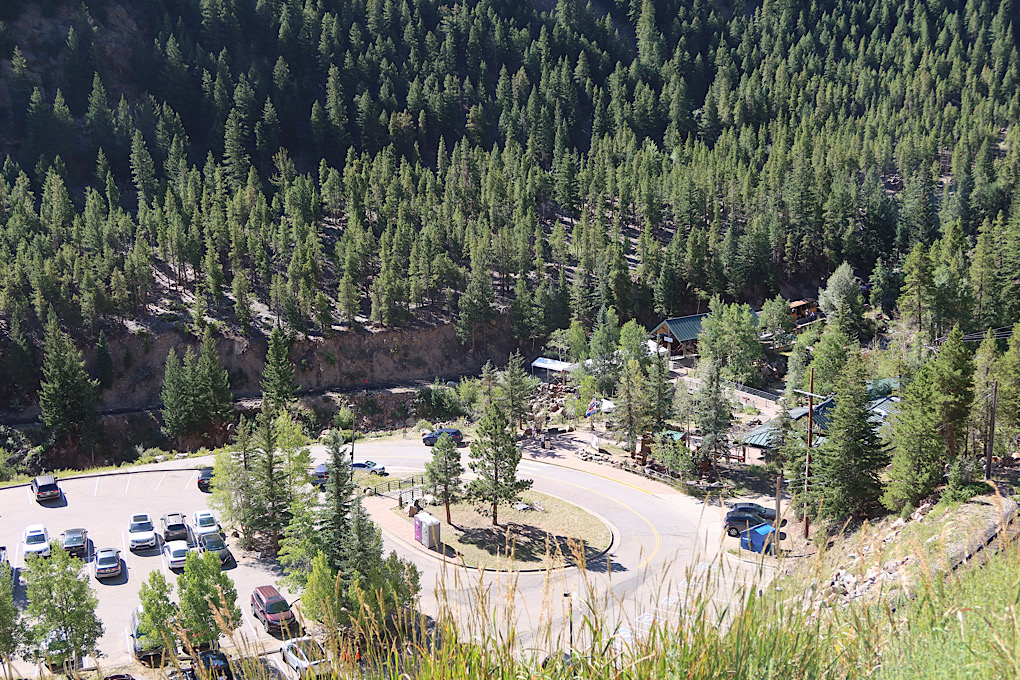 The train started its route while I was slowly biking up hill, so I watched it weave around the mountain when I stopped frequently to catch my breath. A bunch of road bikers passed me in the morning, presumably headed for the pass as well, but going much much faster. I saw a bunch of them going back the other way in the afternoon before I had even gotten to the last climb.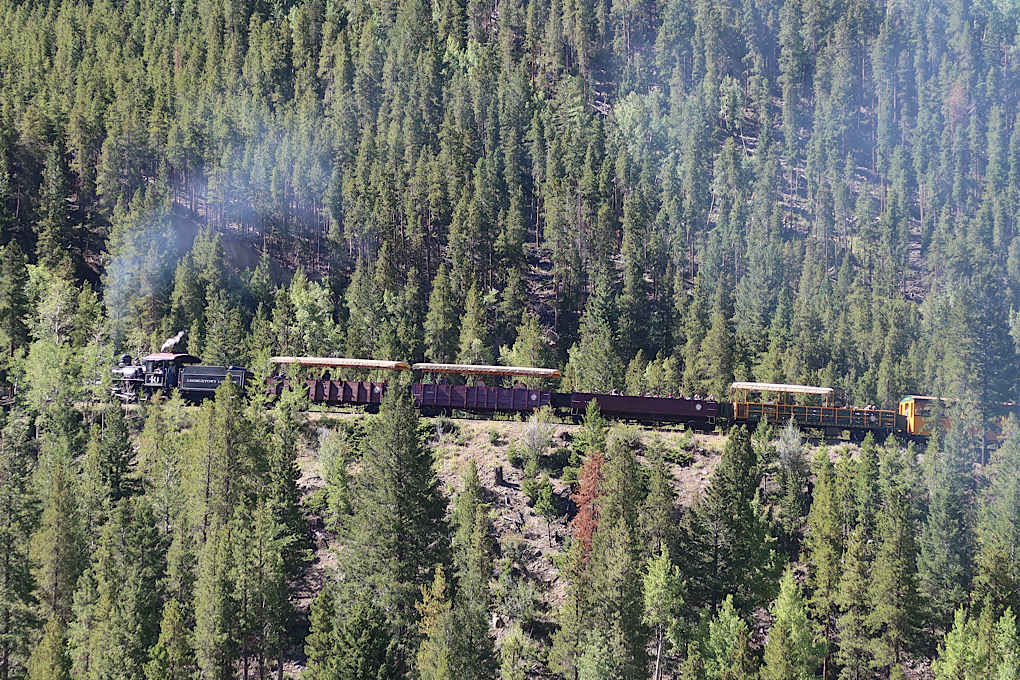 The climb to Loveland pass was long and slow. But most of it was on bike trail or very lightly trafficked roads along I70. It would have been a lot more fun if I wasn't stopping so frequently to breath, but it wasn't stressful cycling. At one point I ran across the first somewhat loaded biker of the trip - he was coming from Denver but was only going for a few days and was quite light. Much faster than me.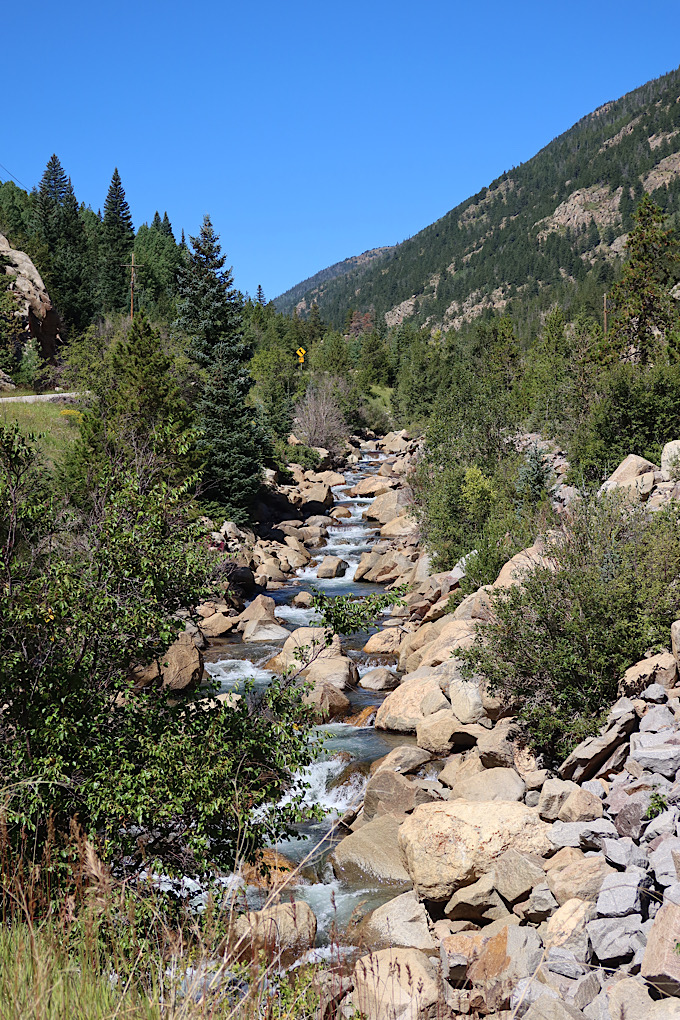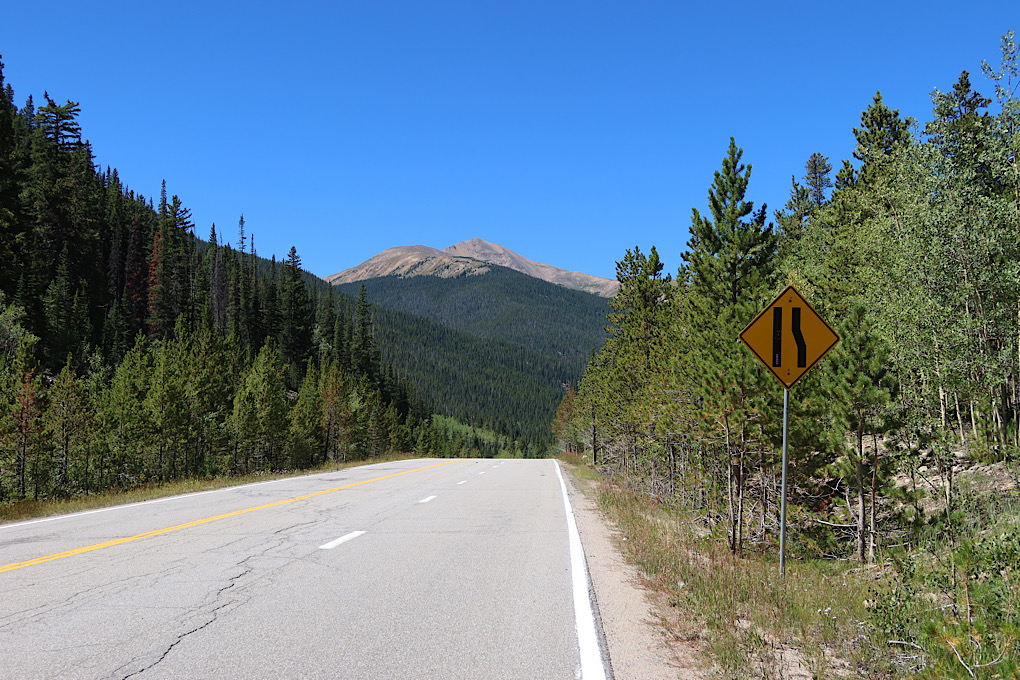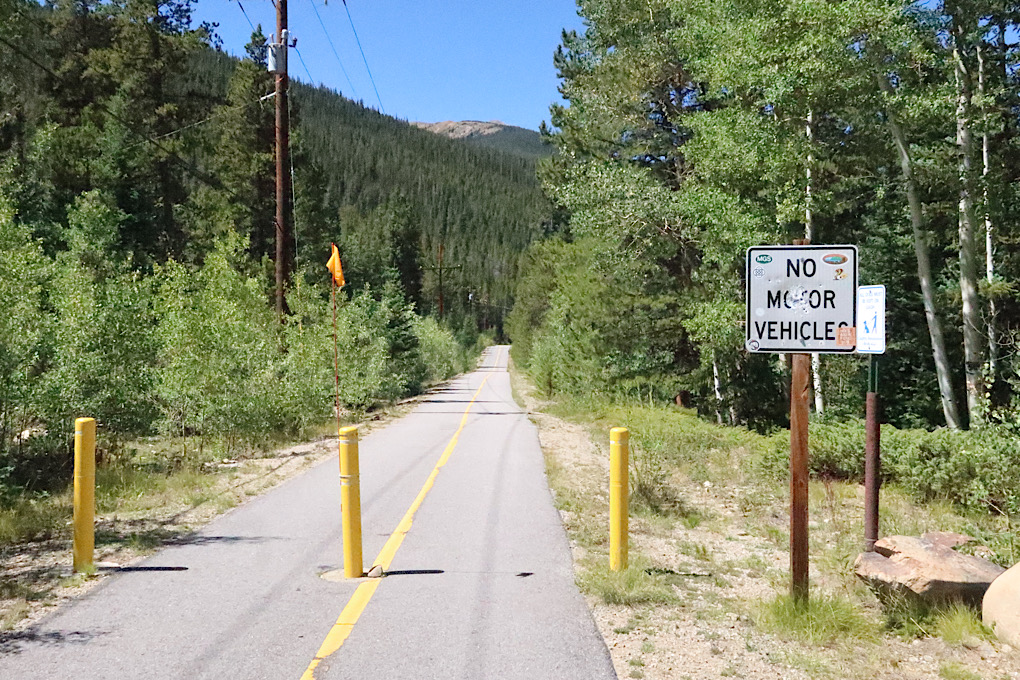 The nice thing about the bike path is that there were shady spots to rest in. Yesterday I ended up with a headache, which could have been the elevation but I think was actually the sun exposure. Shade is nicer.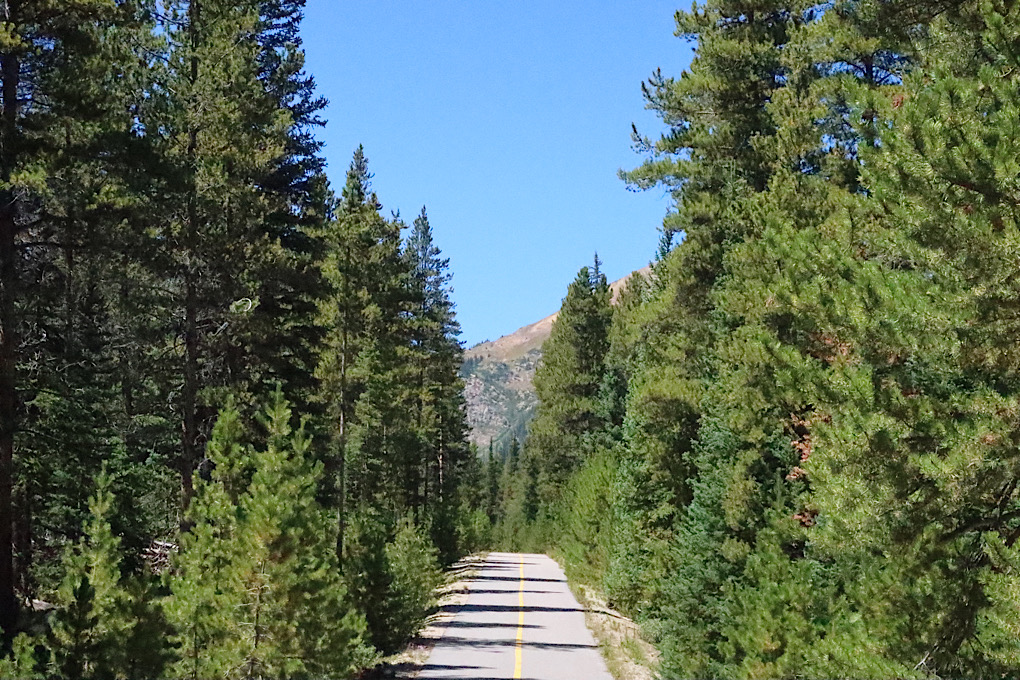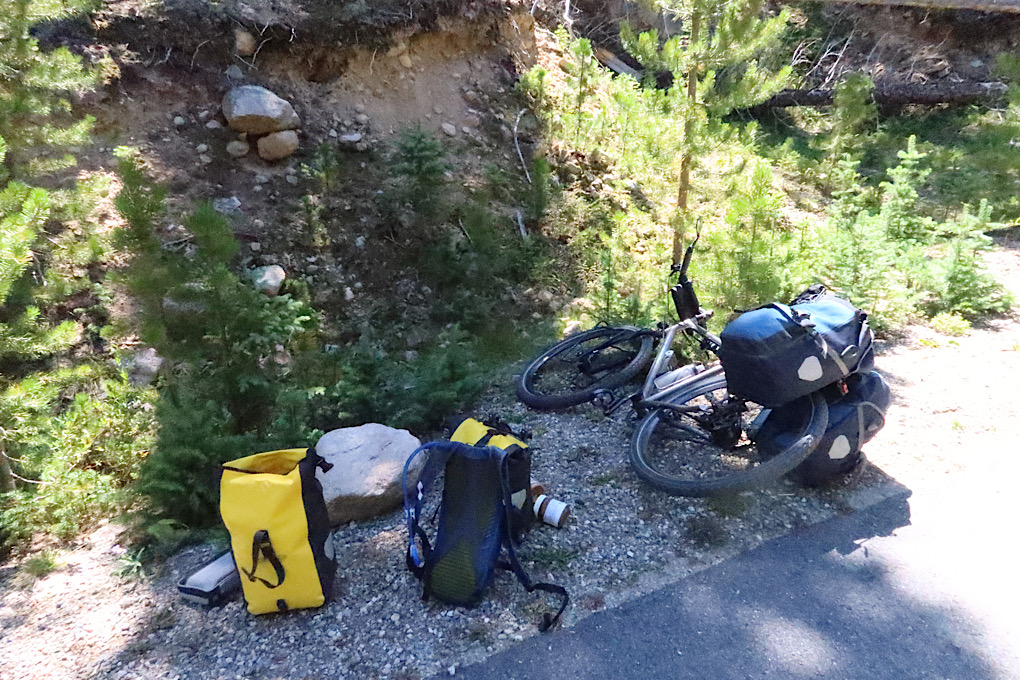 The real climb started once the bike trail ended and hit the actual road going up Loveland pass. It was only 4 miles. It took me hours. I think I was averaging about 2 miles an hour with all the stops most of the day, so at this point I was computing whether I would have enough daylight. I figured I would, and I did. Most of the cars go through the I70 tunnel, so the traffic up the pass wasn't bad at all. Fuel trucks and such aren't allowed in the tunnel, so a fairly large fraction of the traffic was large tankers. As always, the truck drivers were professional, and I was stopping so frequently that it wasn't hard to get out of the way when I heard them coming anyway.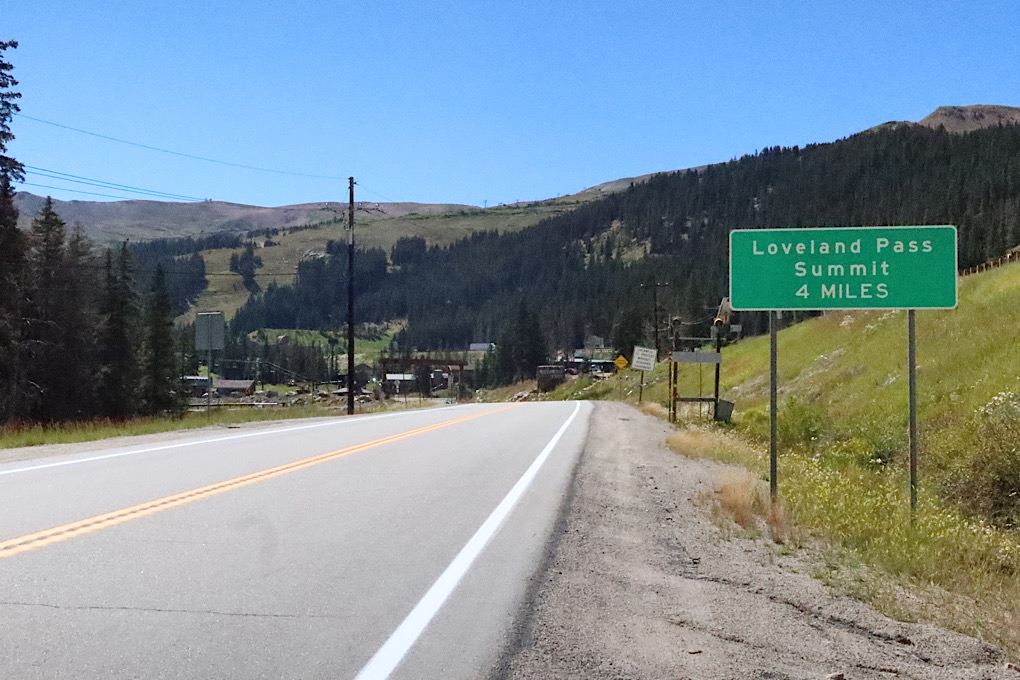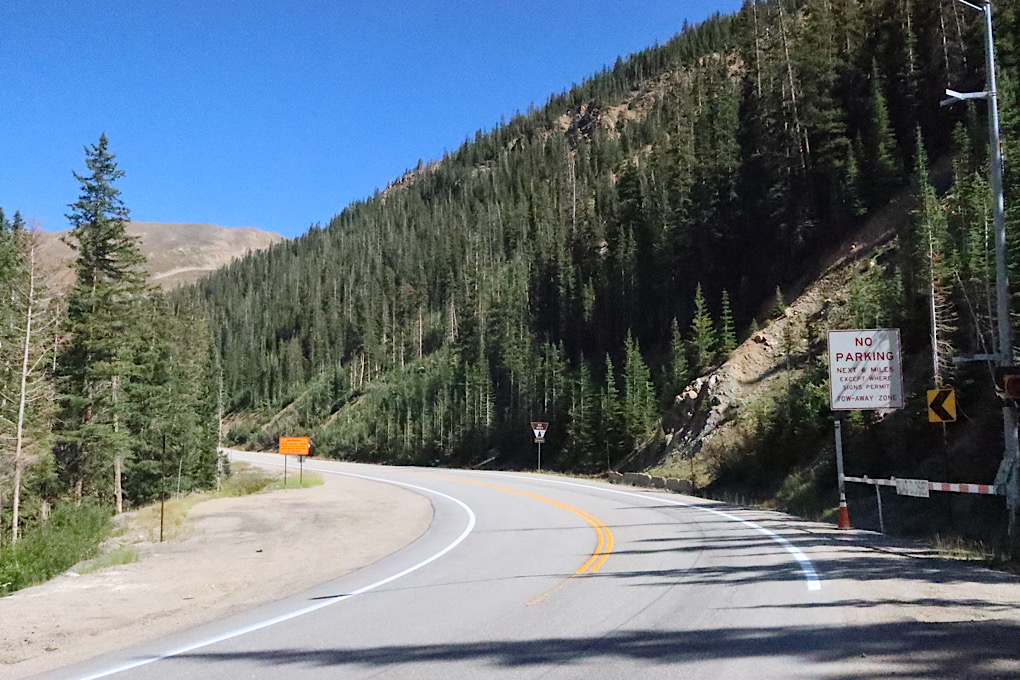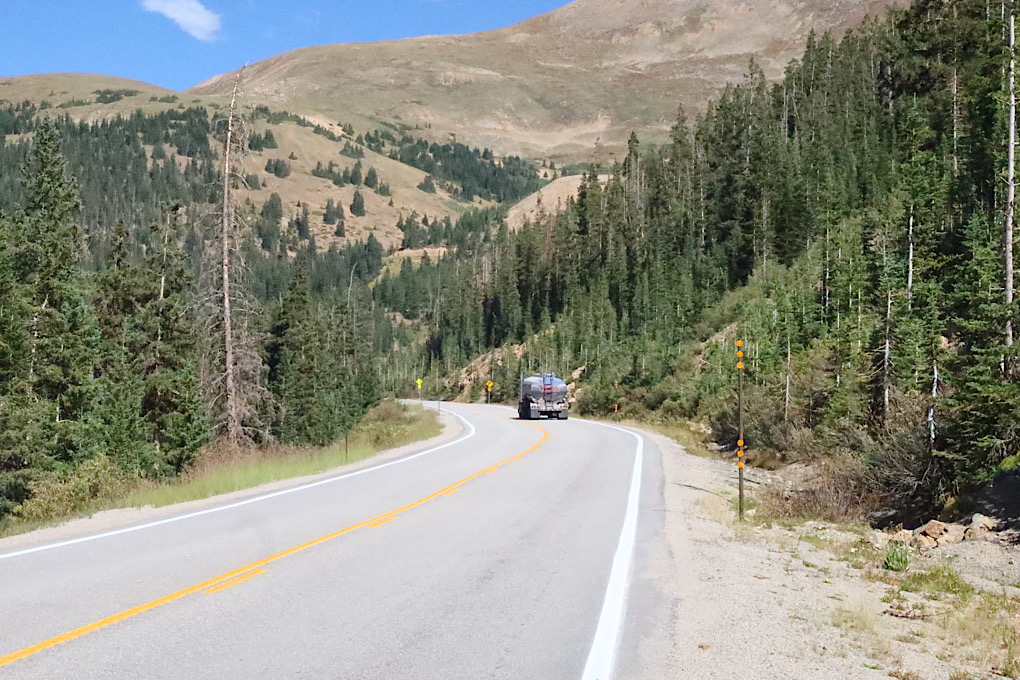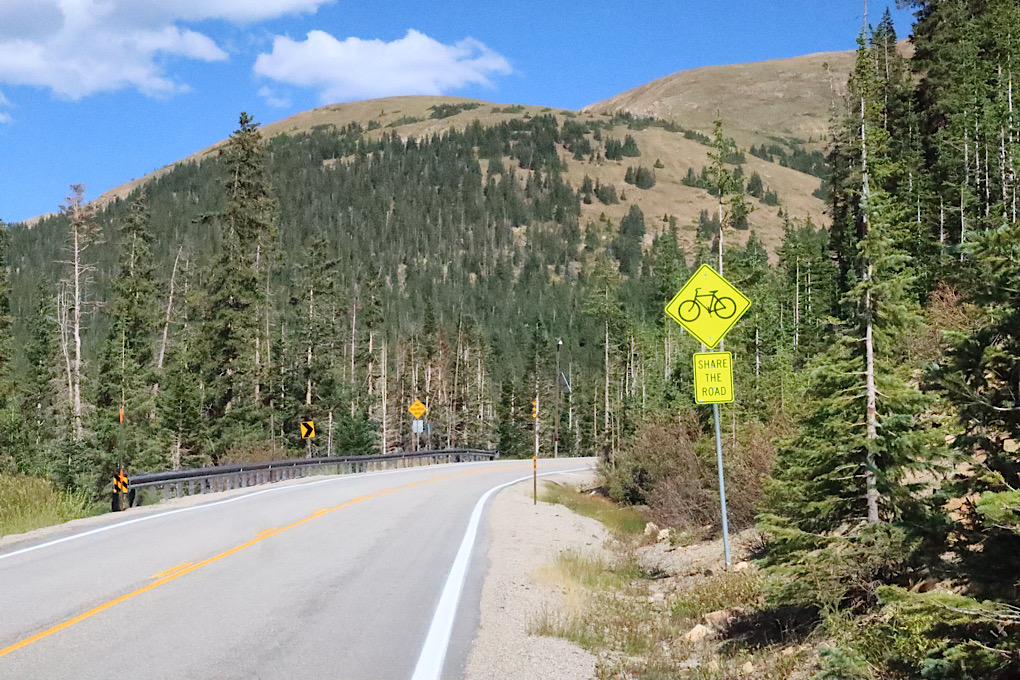 The road had a lot of switchbacks and so I got a lot of different views of all the cars on the freeway getting to go through their tunnel.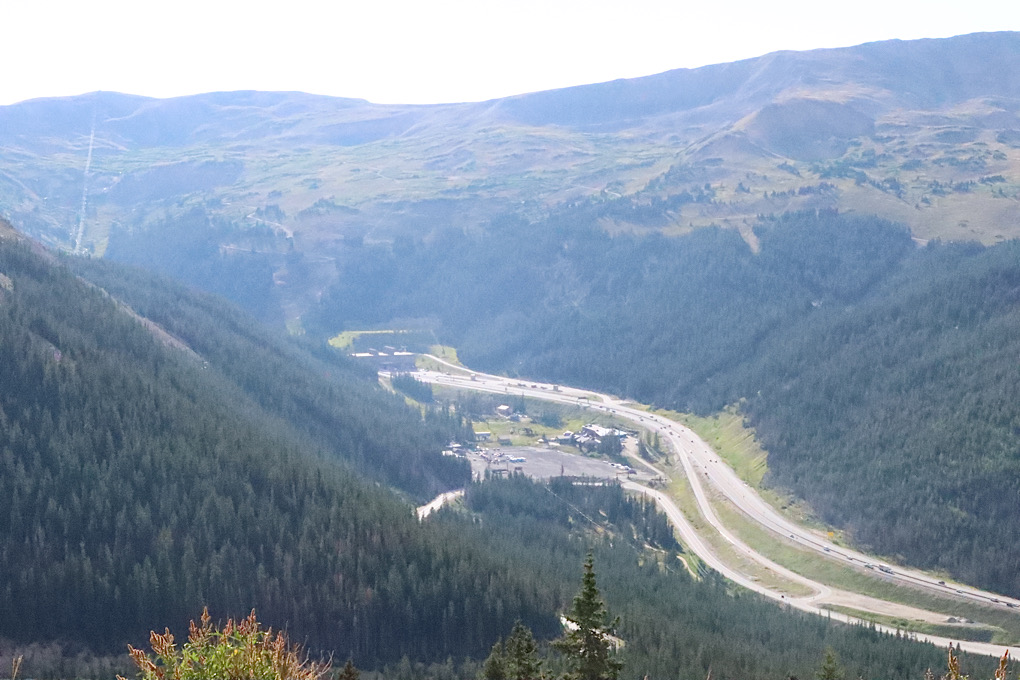 I could see the switchbacks as they climbed above tree line. A truck would pass me and I would see it zig-zagging up and making it to the pass minutes later. I think I was really feeling the elevation at this point. I would bike for maybe a hundred feet and then stop to breath. It's weird to be on a bike tour and not have tired or sore legs. My cardiovascular system gives out waaay earlier. I ended up walking the last mile or so. It wasn't any slower, really, and the road was fairly precarious perched on the edge of a cliff. I didn't quite trust myself to bike it safely. But I made it!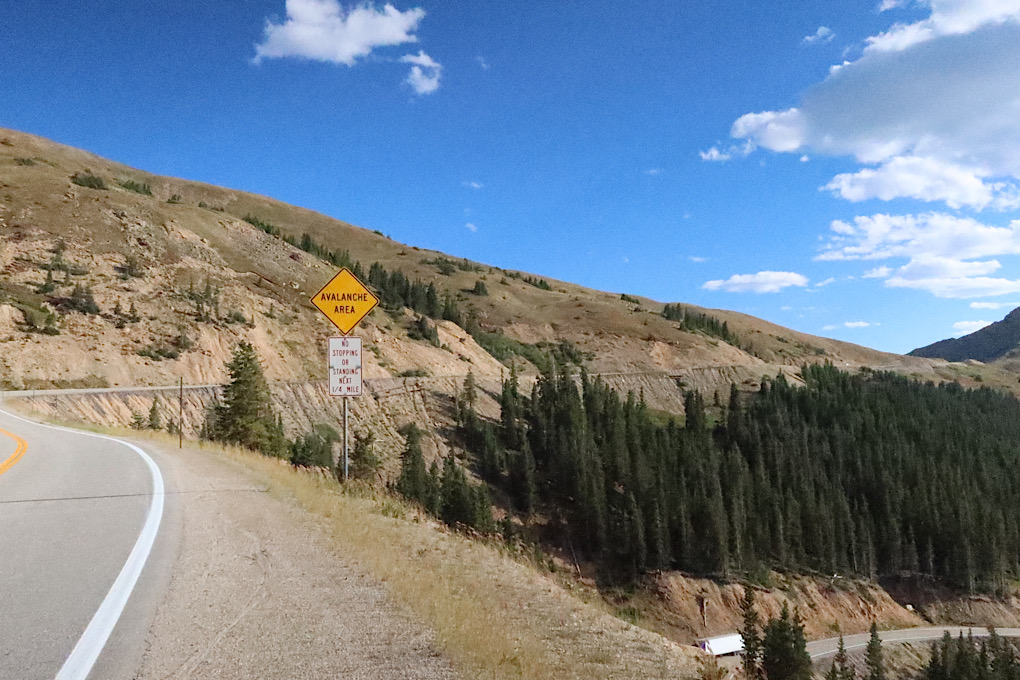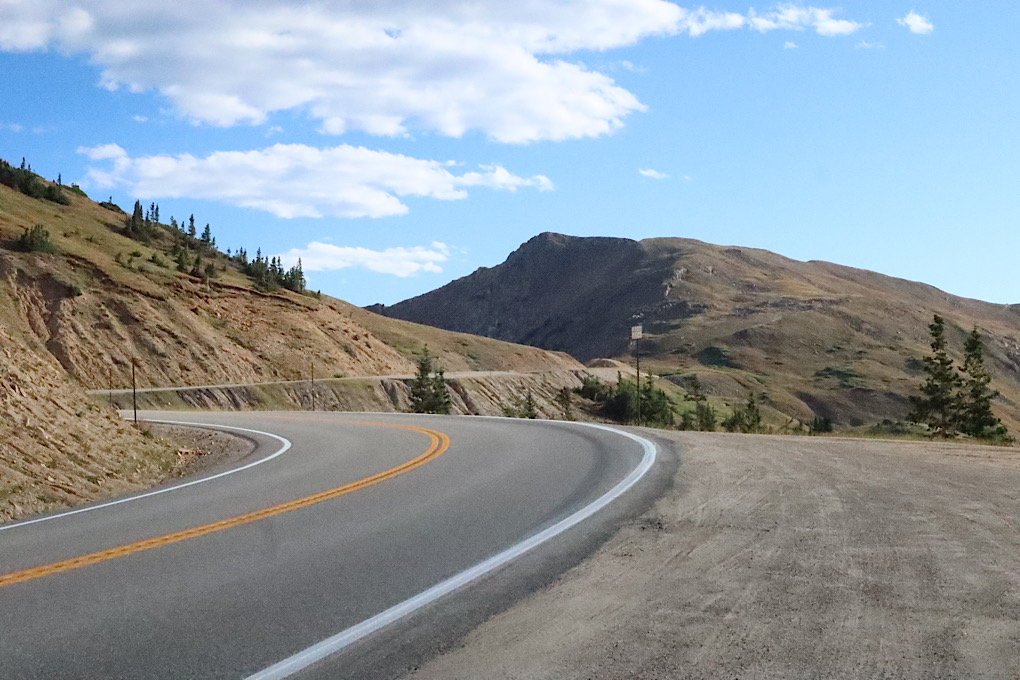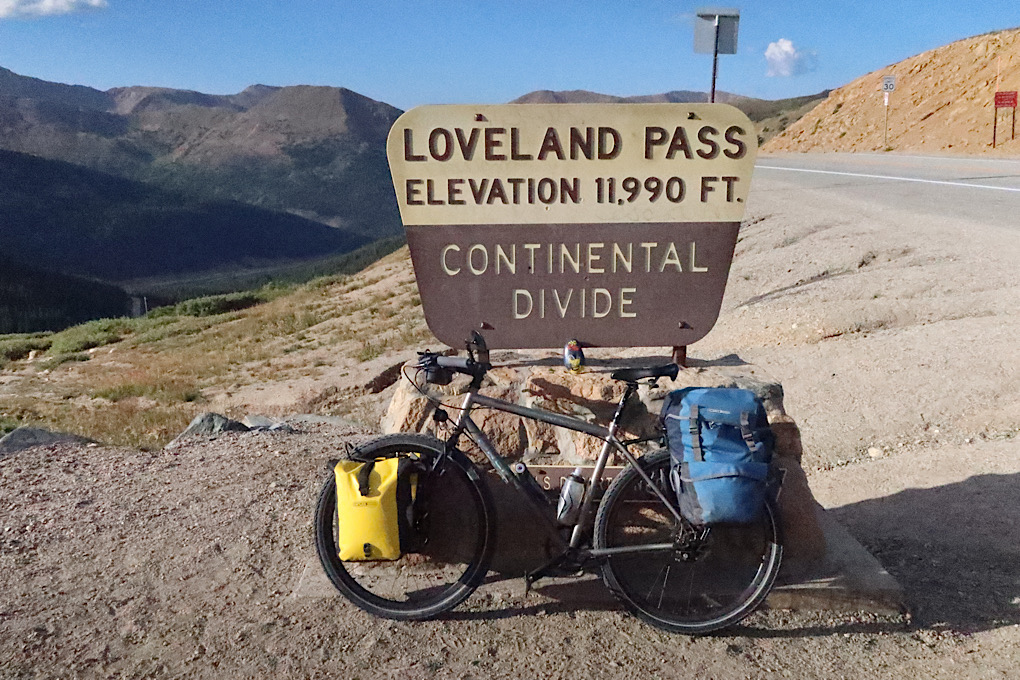 The top of the pass wasn't a very nice area to hang out in, it was getting into late afternoon, and I wanted oxygen. So I fairly quickly started down the other side. Again, it was a very enjoyable descent. I saw a couple road cyclists going up while I was going down. Clearly they didn't expect to take hours to reach the top.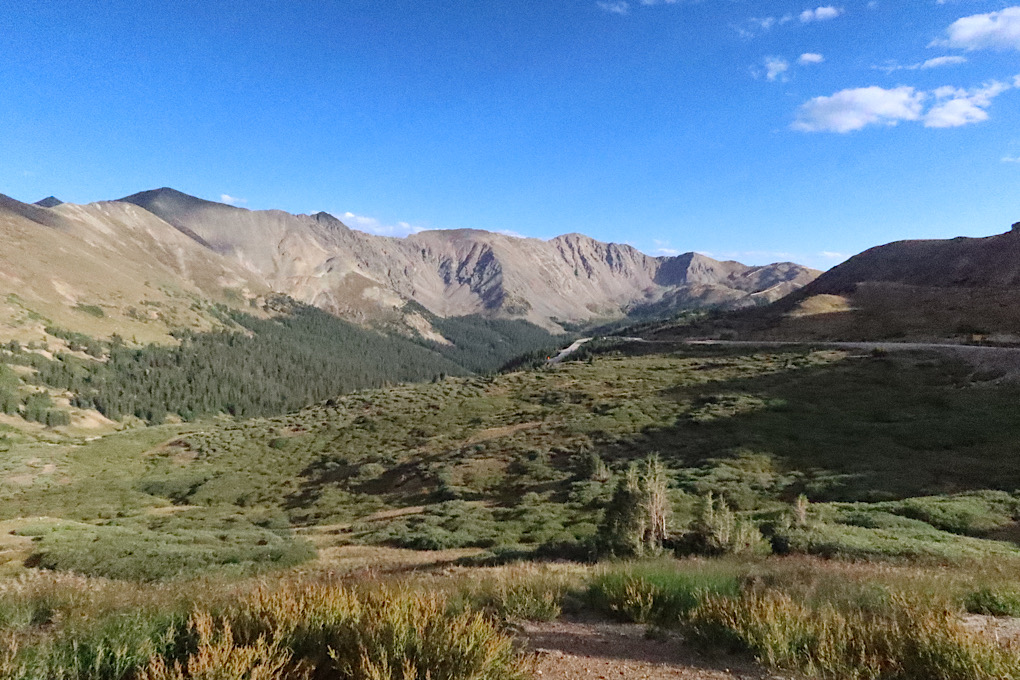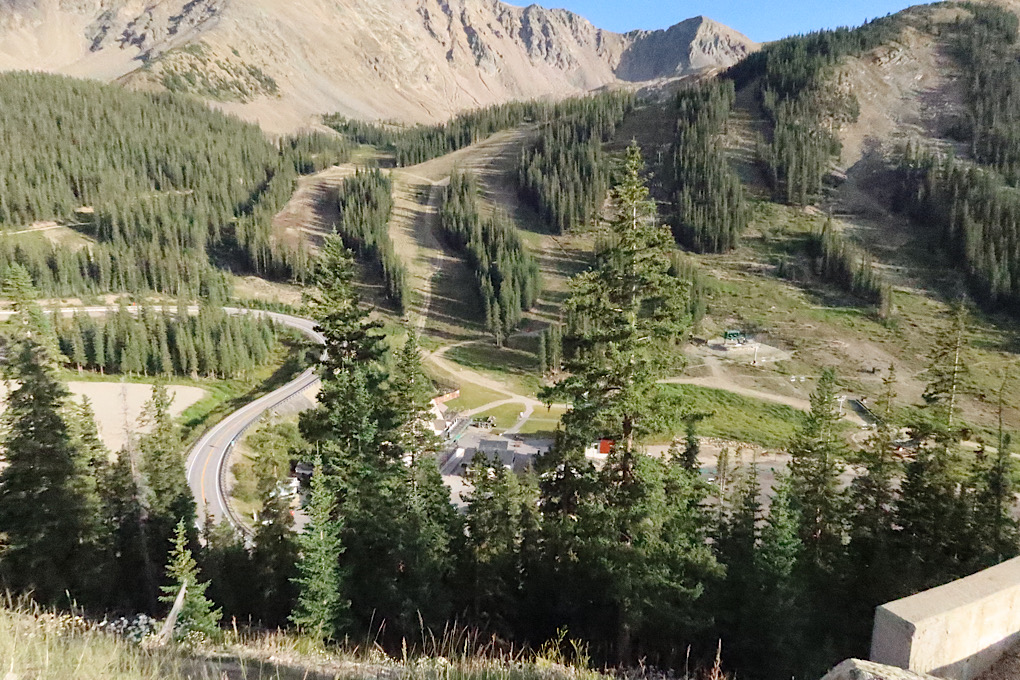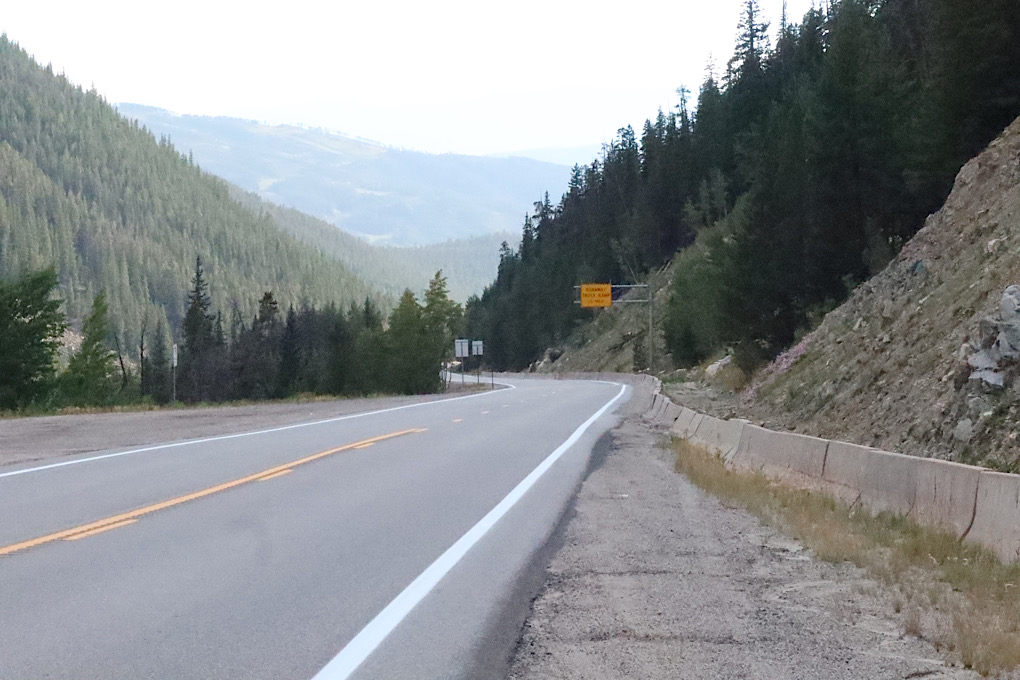 The last valley seemed fairly remote and empty. This one was very touristy. But that came with a fabulous bike path going on for miles all the way to Breckenridge (my destination tomorrow). Today I was just trying to get to a hotel. It was still a very pleasant bike path along the river, a small lake, and the larger reservoir. And a bit that ran along the busy road, which was less nice but at least still a path.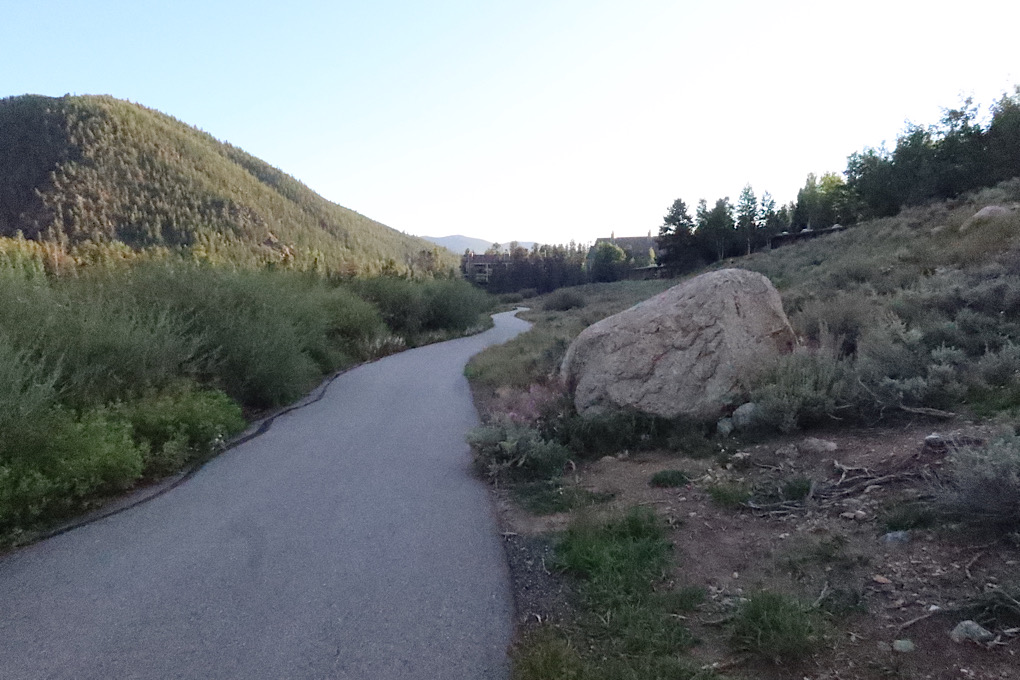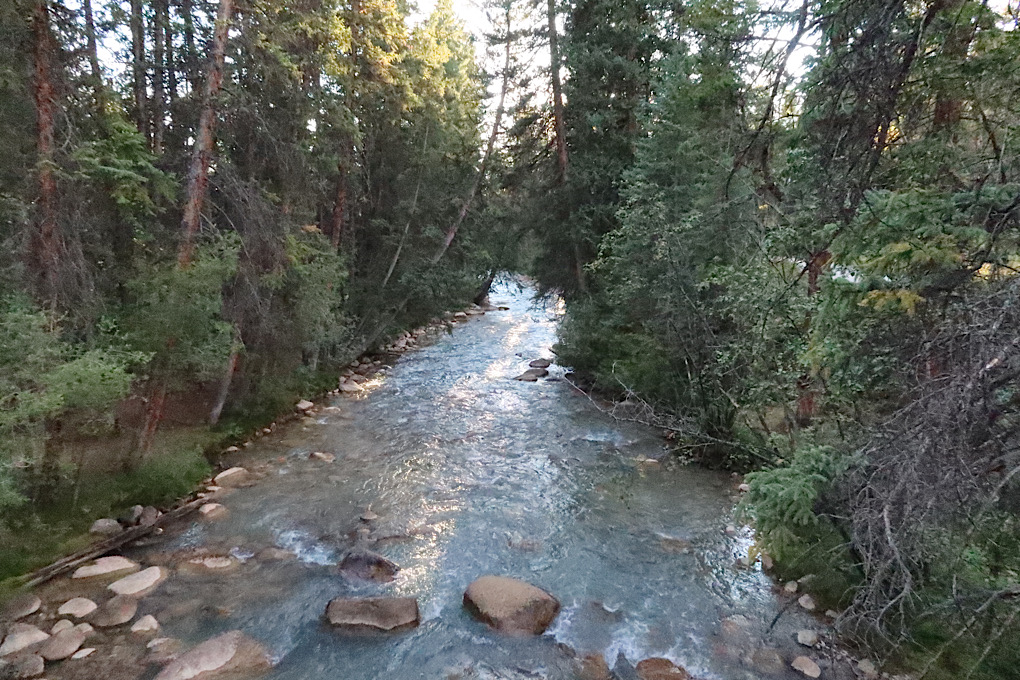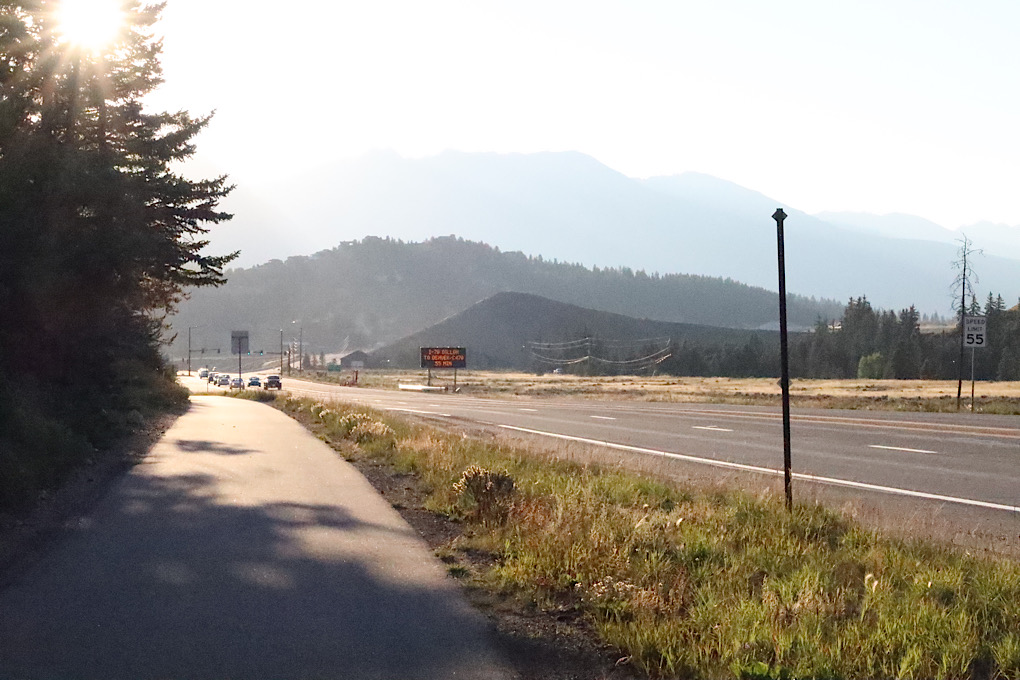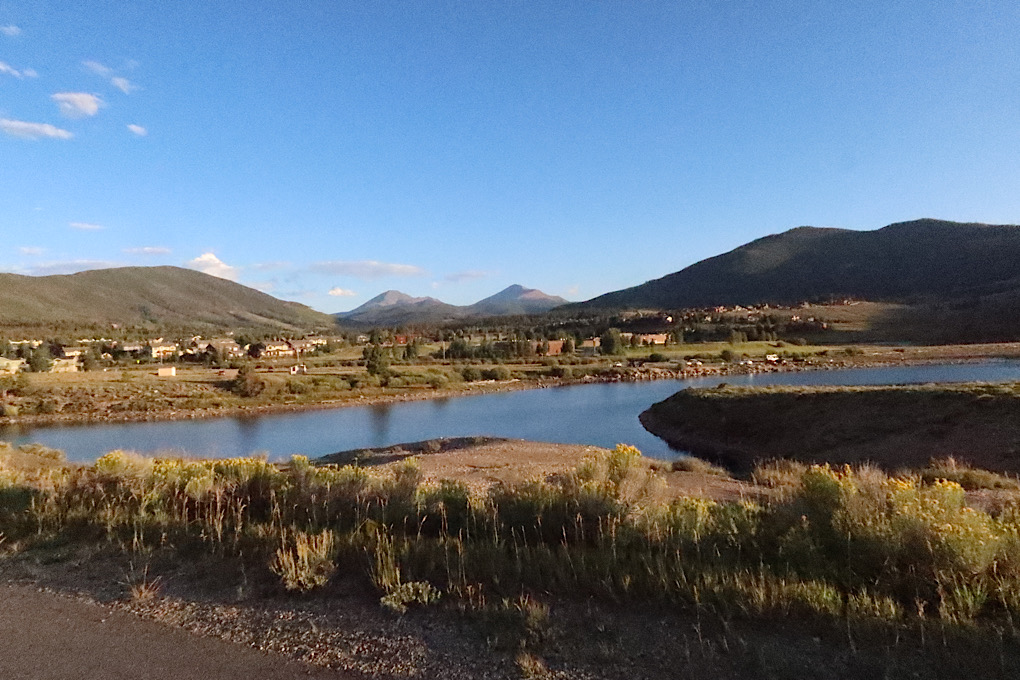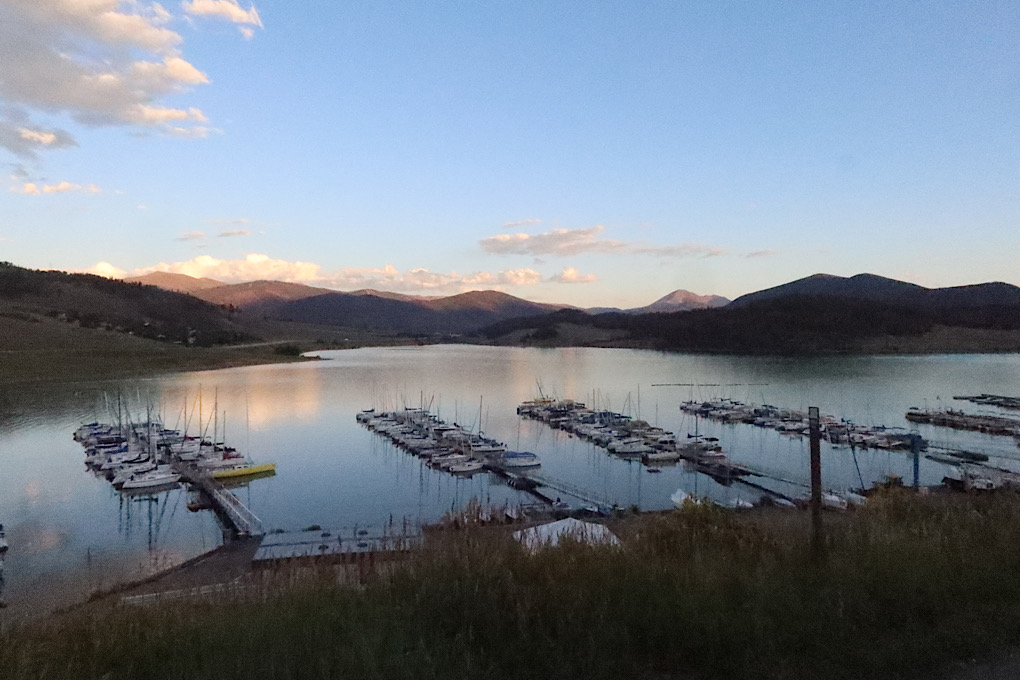 The first hotel I tried in town was full, so I cycled out to near the freeway. The first one there also initially said they were full, but then the guy at the desk thought a minute and said "actually, I have something available. But it has a jacuzzi and is a little more expensive." That didn't sound so bad to me, and he actually gave me a discount without me asking. So I got a pretty nice room with a bathtub big enough for actual soaking, which was magnificent. Easier to do laundry once I was out as well.
Loveland Pass was definitely a challenge, but I made it and have a little bit more confidence that I will be able to do this trip. I'm definitely not doing another pass tomorrow though, so I made reservations for a private room in a hostel in Breckenridge, which is about 15 miles away without toooo much climbing. So tomorrow is almost like a rest day.