Patagonia day 33: Cerro Castillo to Camping Lago Pehoé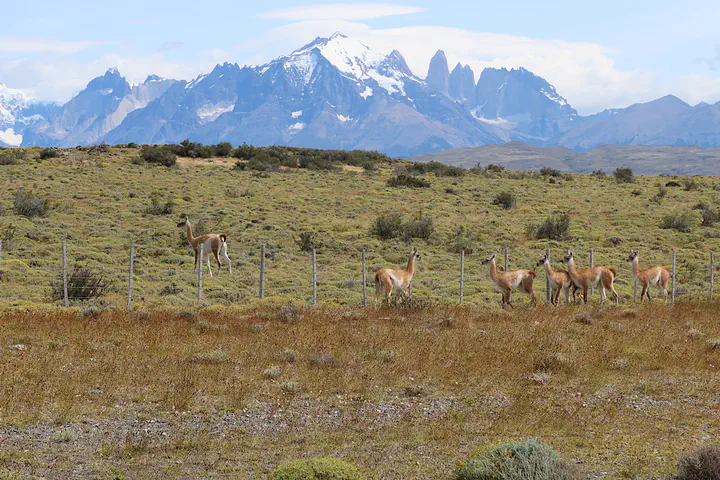 January 30, 2020. 81 km.
Today I made it to Torres del Paine. It was definitely the hardest day of the trip. I had hoped the wind would be better, but instead it convinced me that what I had experienced before was just Patagonian wind for beginners. Luckily I think there's some technique to riding in wind and I've gotten better at it over the last week. Otherwise I'm not sure I would have made it.
The day started with a section of road under construction (welcome to Chile!). The folks who came from Torres del Paine yesterday evening recommended riding on the new road being built beside the old road, but unfortunately there was enough active construction being down that I didn't think that was a good idea. I would have been sprayed with water and run over by trucks several times. Well, probably just told to leave. I guess that's an advantage to doing this section not during working hours, since the new road did look nice and smooth.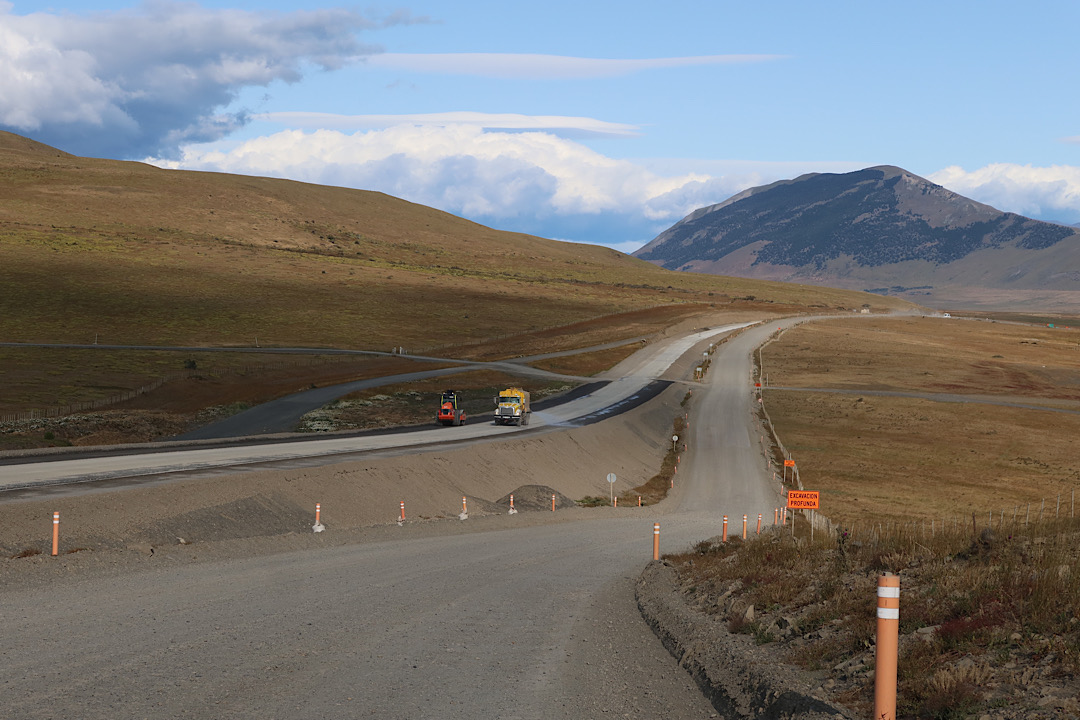 The first 10km or so were ok. The next 10km were HARD. The road crossed a valley, and the wind was tearing through the valley with gusto. The fields of grass by the road looked more like lakes with waves. I was reduced to walking for 5km or so, and that was kind of depressing since I still had 60 to go.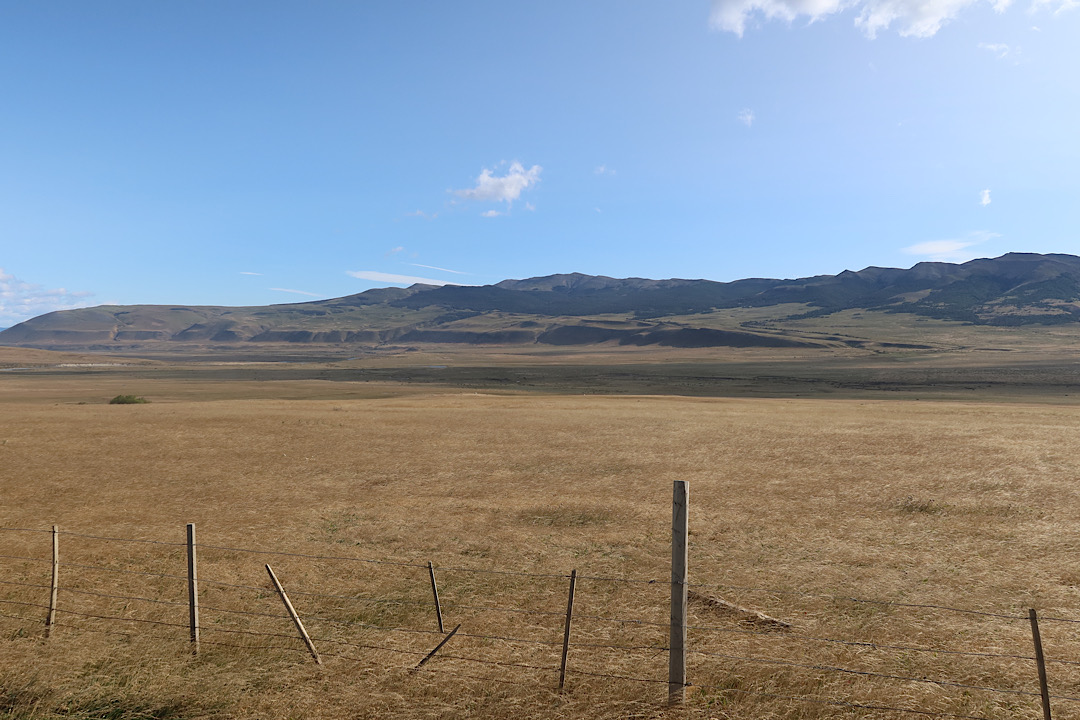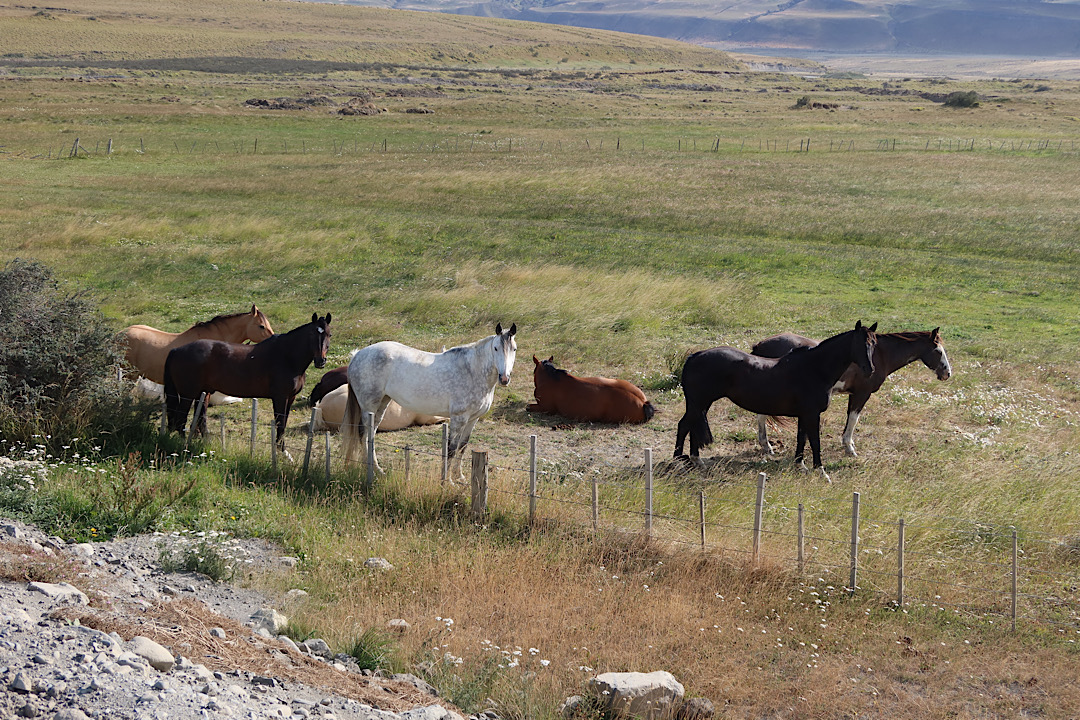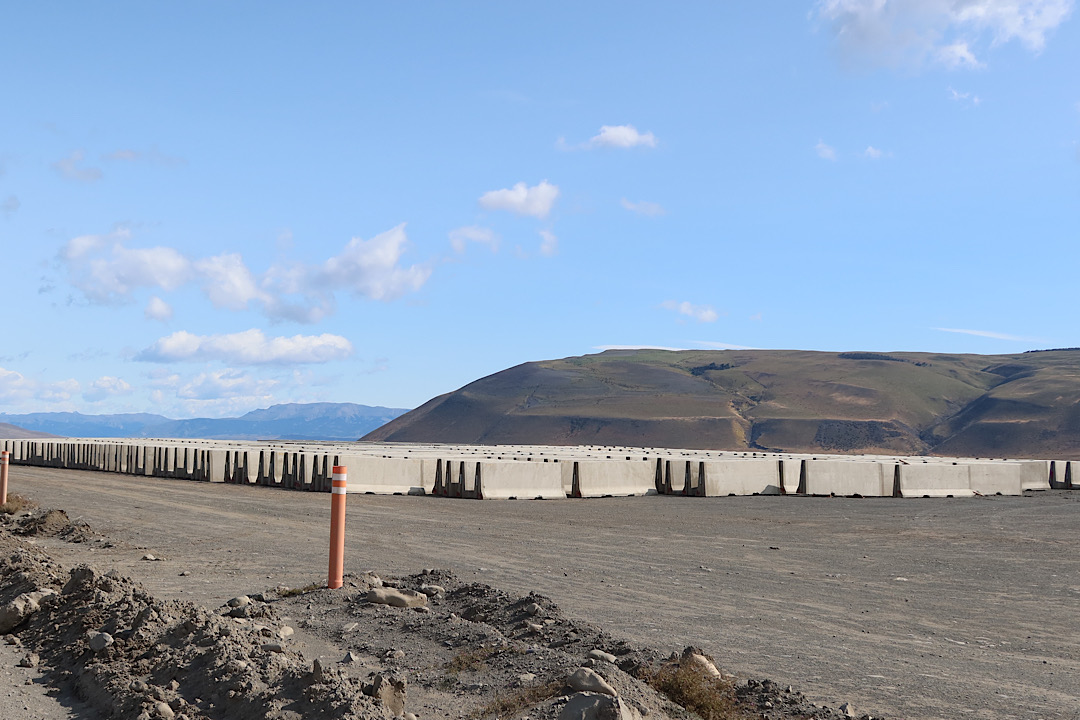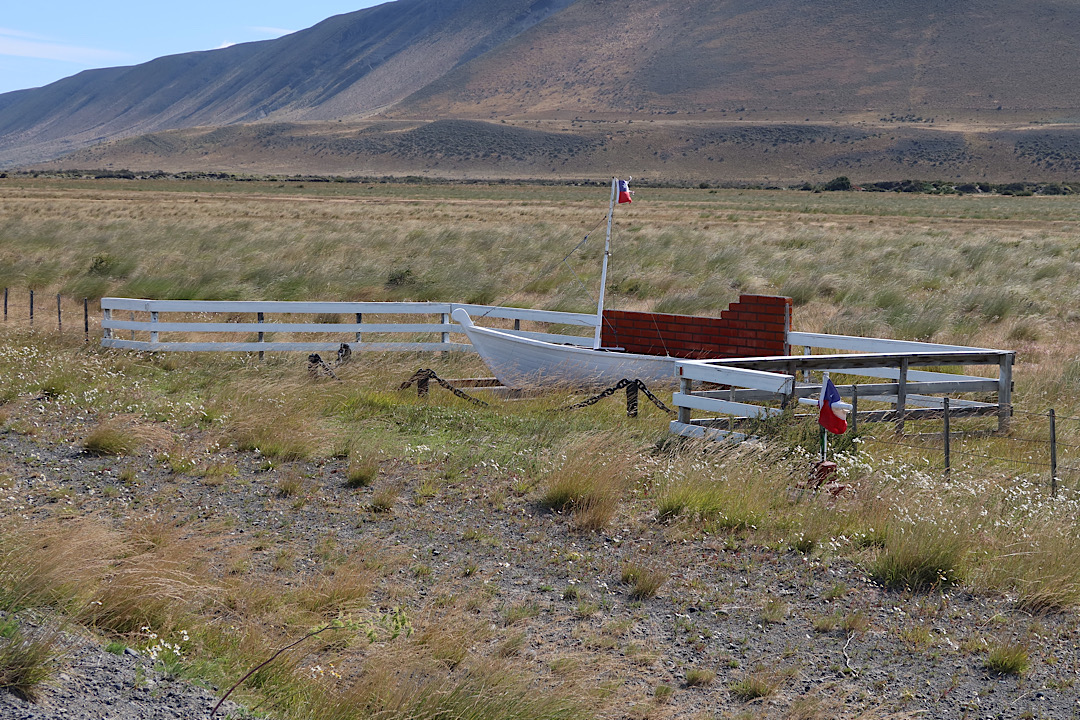 I took a break for lunch after only 20km or so in a small shelter that was a really welcome respite from the wind.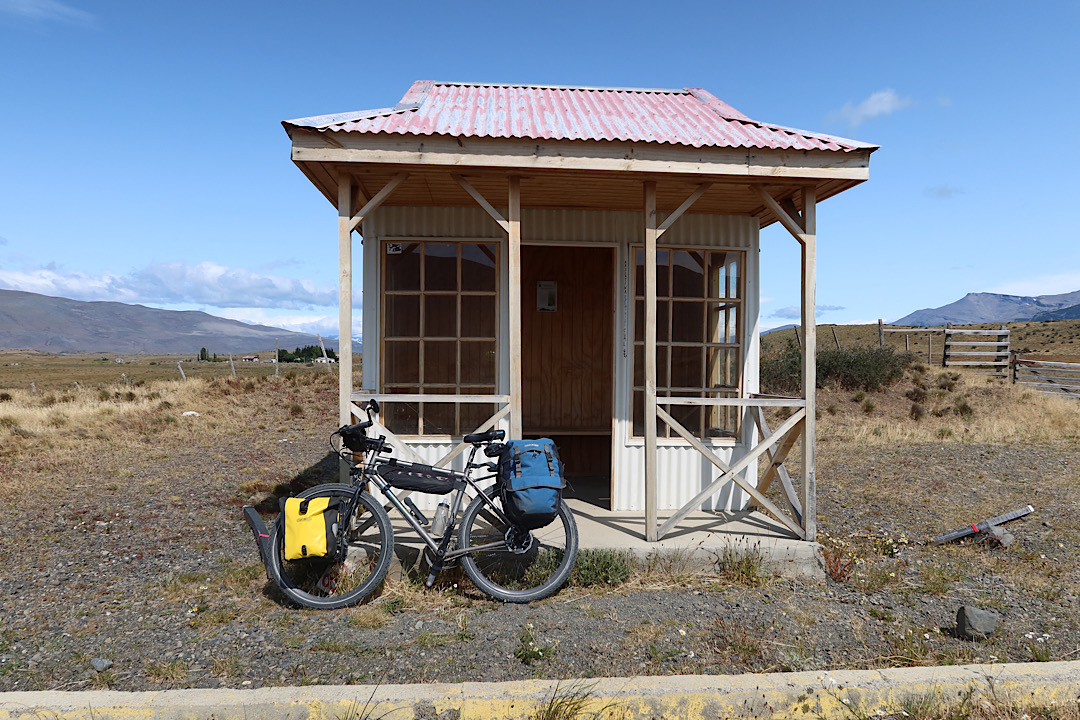 I had hoped that crossing the valley and getting a little shelter from some hills might reduce the wind some, and thank goodness it did. Thank you hill!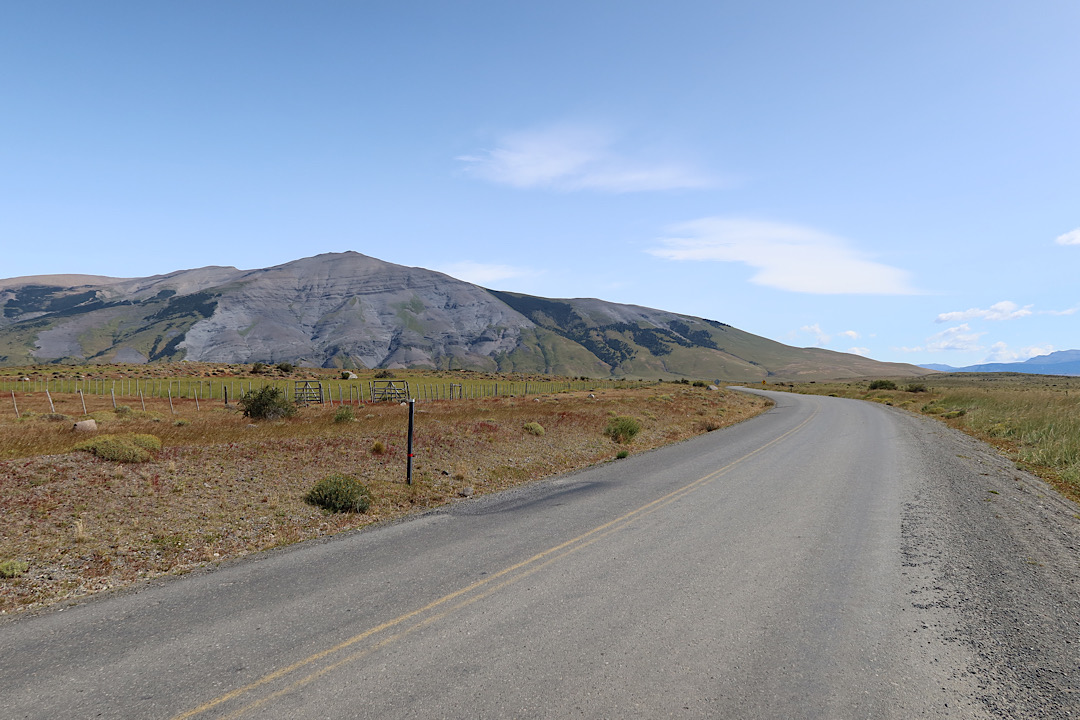 The road even turned for a little while and gave me a real tailwind. Wheee! I was grinning and singing and generally making a fool of myself, but it was amazing. Of course, it didn't last, but turning back into the wind also meant getting views of the Torres. Much closer than a couple days ago.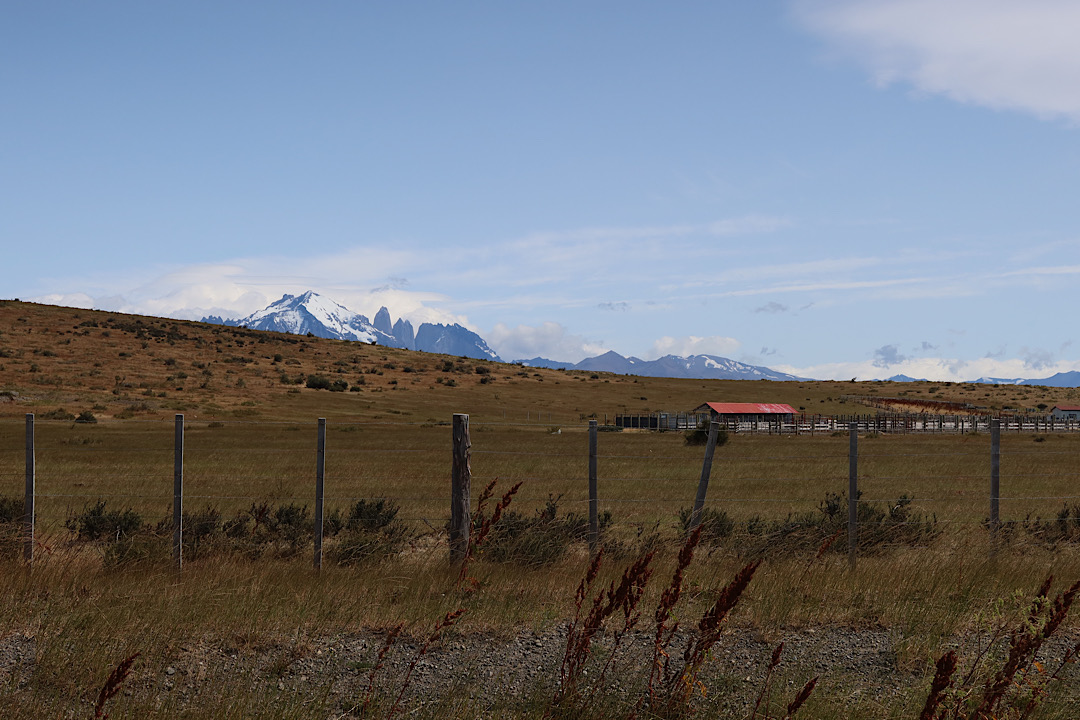 Then it was back to fighting the wind across an open valley. I don't really have any way to judge, but I think the wind was probably about as strong as some of the times I had walked previously, but I've improved my skills at riding straight when the air is trying to knock me over. Once again, getting to the hills provided a bit of a break from the wind (or else it just calmed for a bit, it's always hard to tell) and I got to enjoy "normal" riding past a few lakes and relaxing guanacos. I could even sit on an unsheltered bench for a cookie break.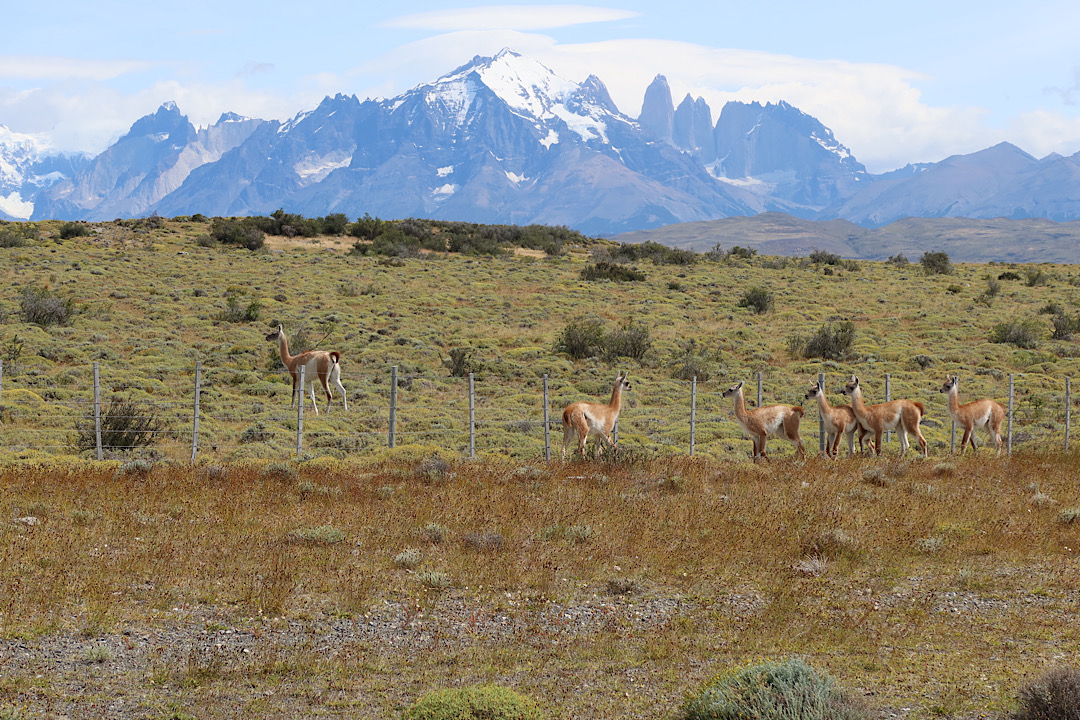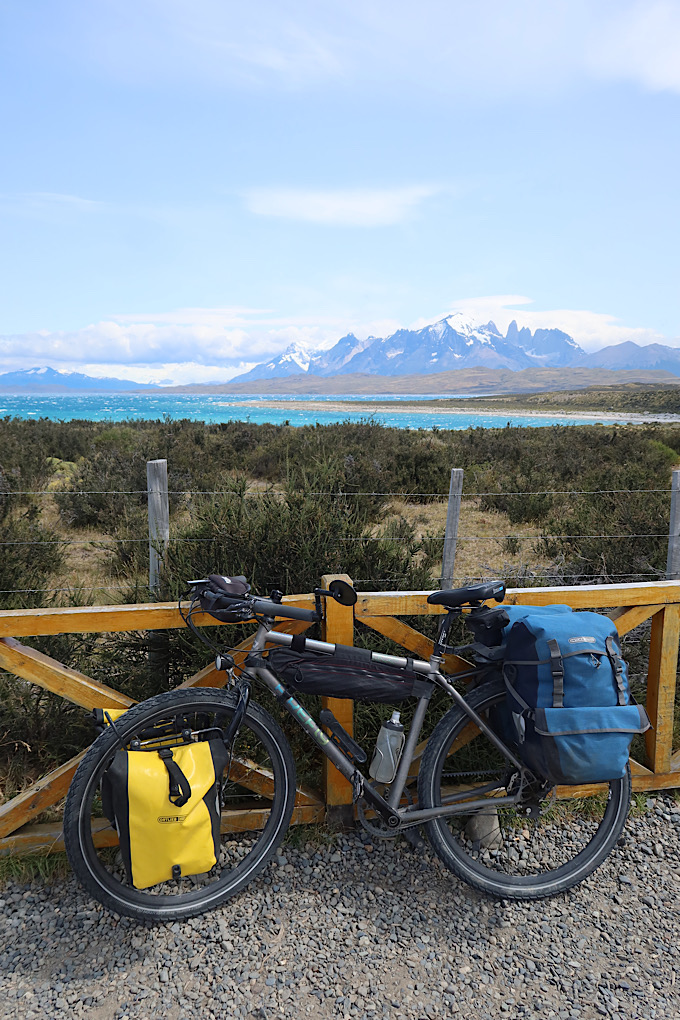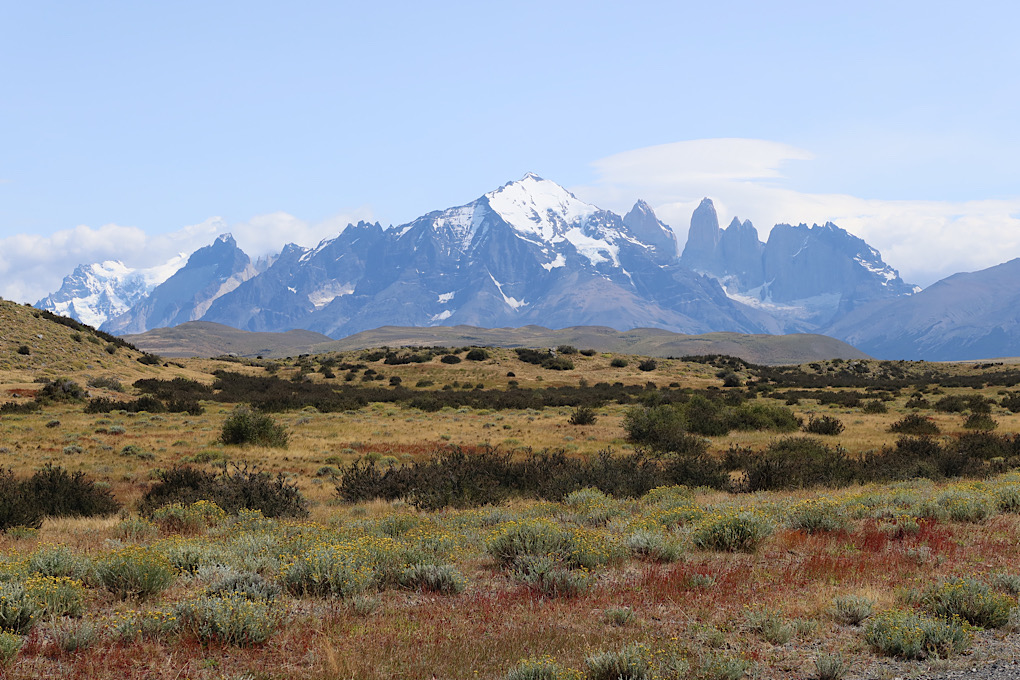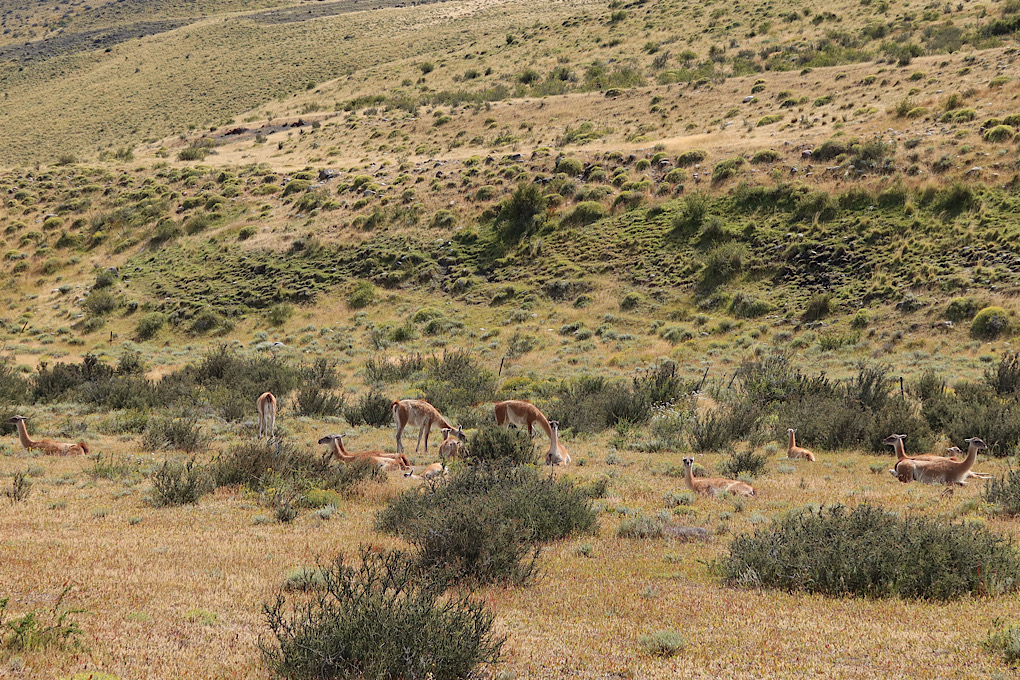 Mid afternoon I got to the park entrance, paid the entrance fee, and restocked water.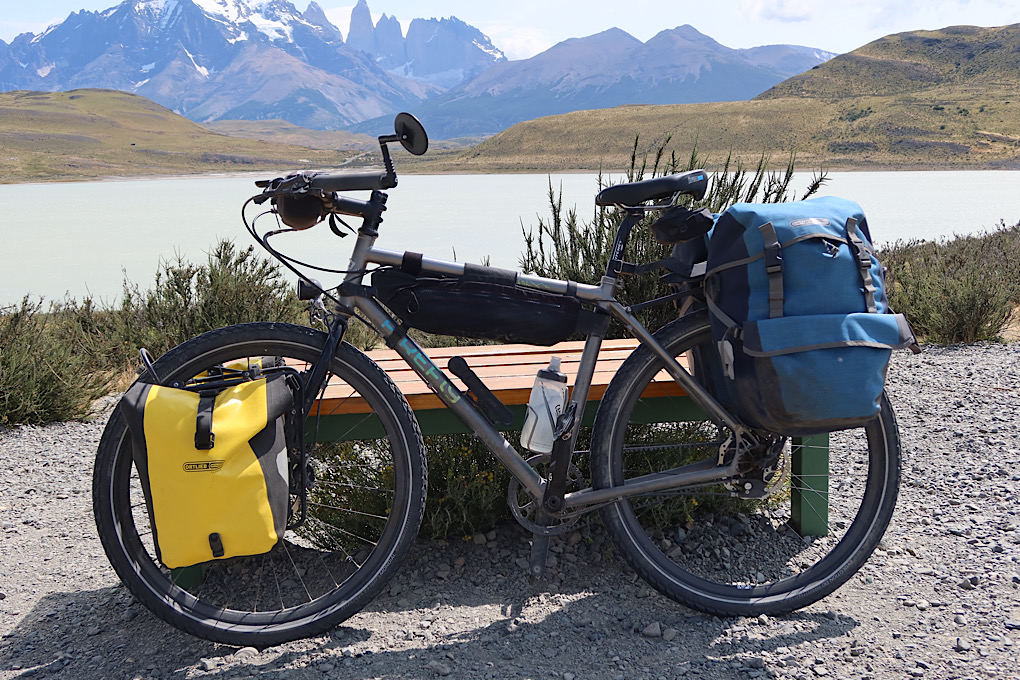 My goal was the Lake Pehoé camping zone on the other side of the park, about 25km away. Seemed like it should be manageable even with a relatively big climb right past the park entrance. The Central camping area was a bit closer, but I had heard it wasn't as pleasant and was more expensive anyway. The hike to the Torres themselves leaves from there, but that's a bit longer than I'm interested in doing anyway, so I set off for Lake Pehoé. Hardest 25km of my life.
The climb from the ranger station was long and sometimes steep, but the wind wasn't too bad and I just chugged up it and walked some of the steep / loose gravel sections. Took a while, but I got nice views.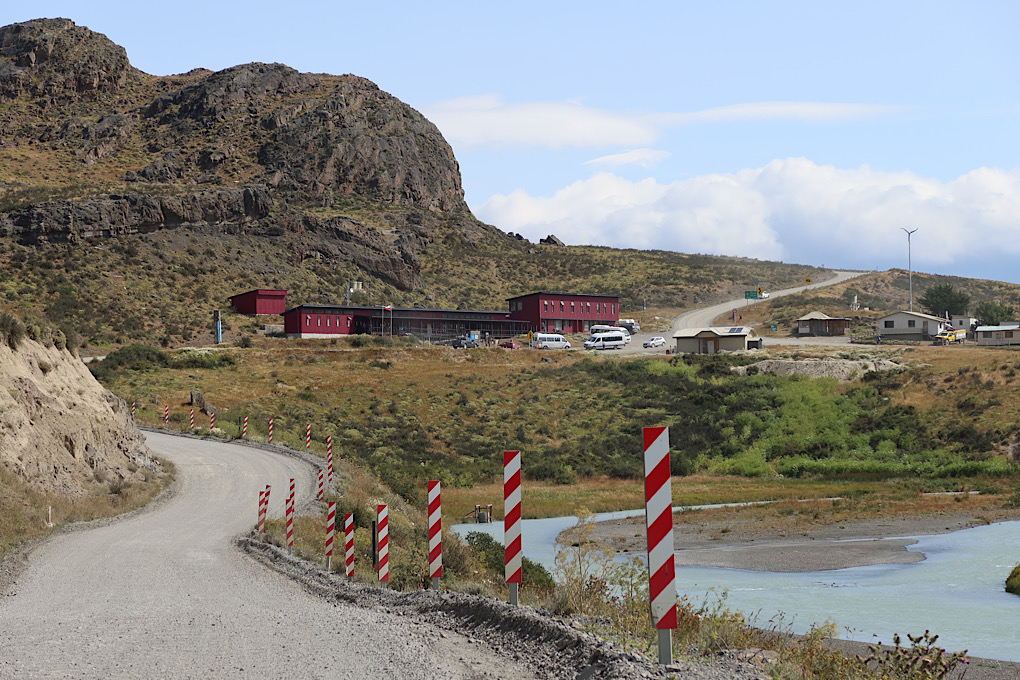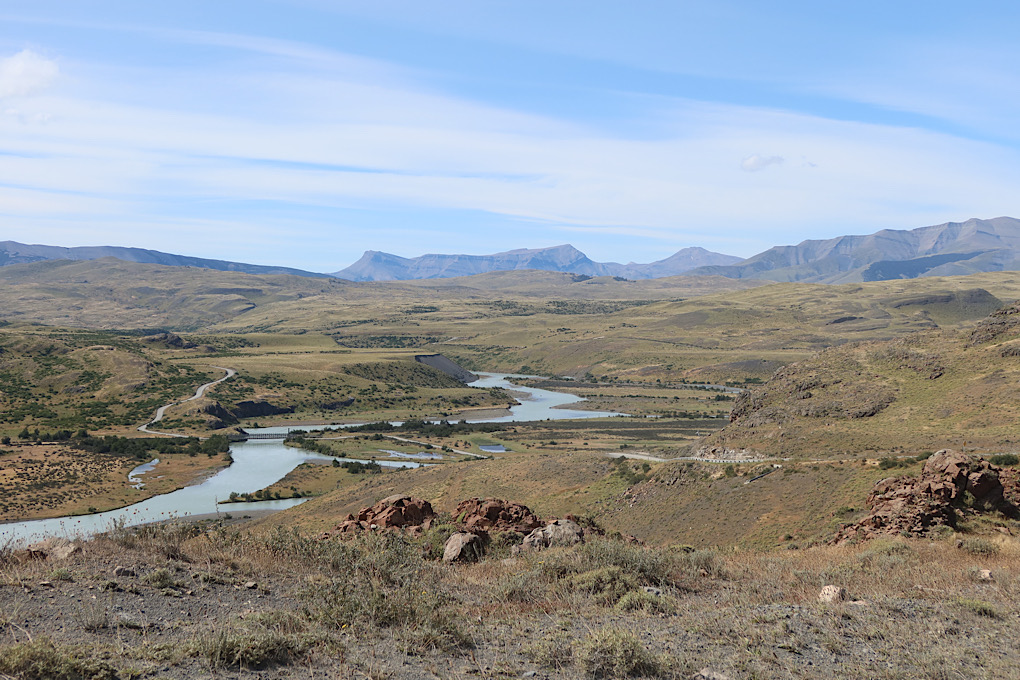 However, once I got to the top I found wind that put all the other wind I had experienced to shame. The small hills by the road seemed to work more as wind tunnels than wind blocks. The stronger gusts would launch small rocks and sand at me hard enough that I would have to turn around for a bit. The wind picked up water from the lakes enough that there were small rainbows in the resulting spray (neat, if I didn't have to bike through it).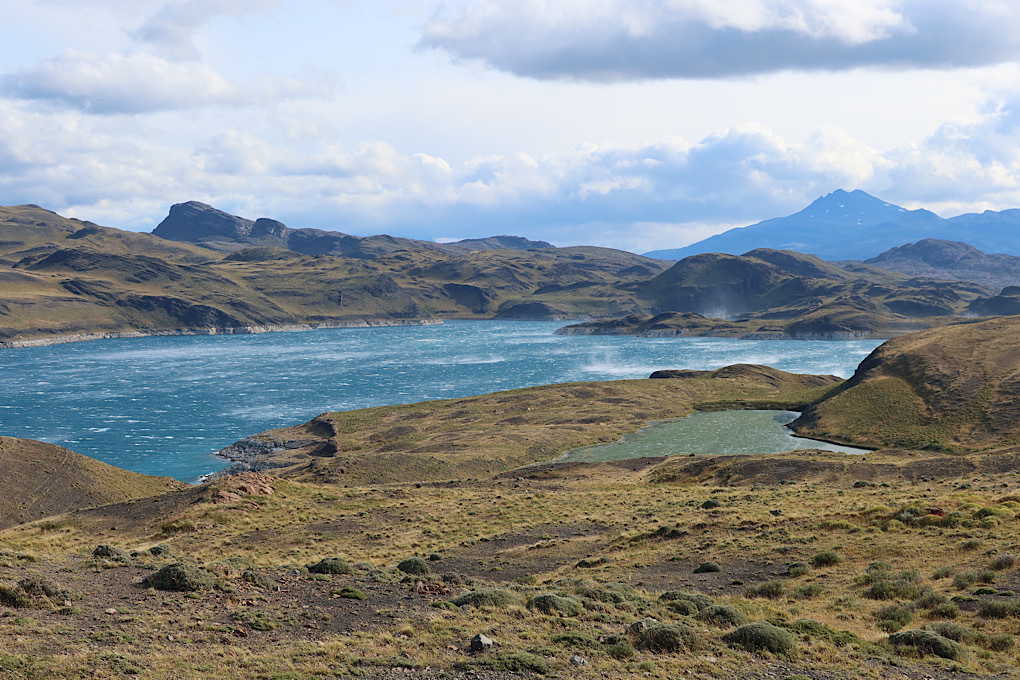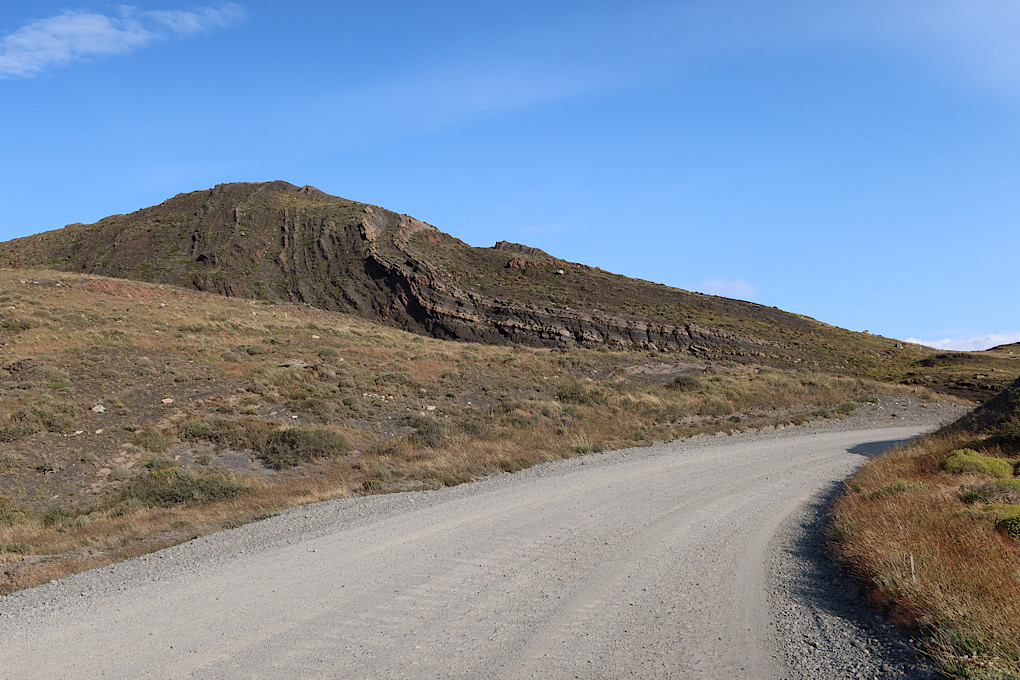 There was one curve in the road where the wind was so strong for a bit that I couldn't make any forward progress even walking the bike. While standing with my feet planted, the wind lifted the front of my fully loaded bike into the air and turned both it and me 90 degrees while I just tried to hold on.
It was pure force of will (and lack of options) that kept me going, taking advantage of small downhills and slight decreases in wind to ride for a little while here and there. Finally, for the last 8 km or so, the road descended a bit to the shore of Lake Pehoé and the wind decreased. Probably why the campground is down here and not up there. I was able to ride (though I was exhausted enough to walk up even small hills) and take occasional pictures. I even saw a waterfall (remember when those showed up every hour or so?).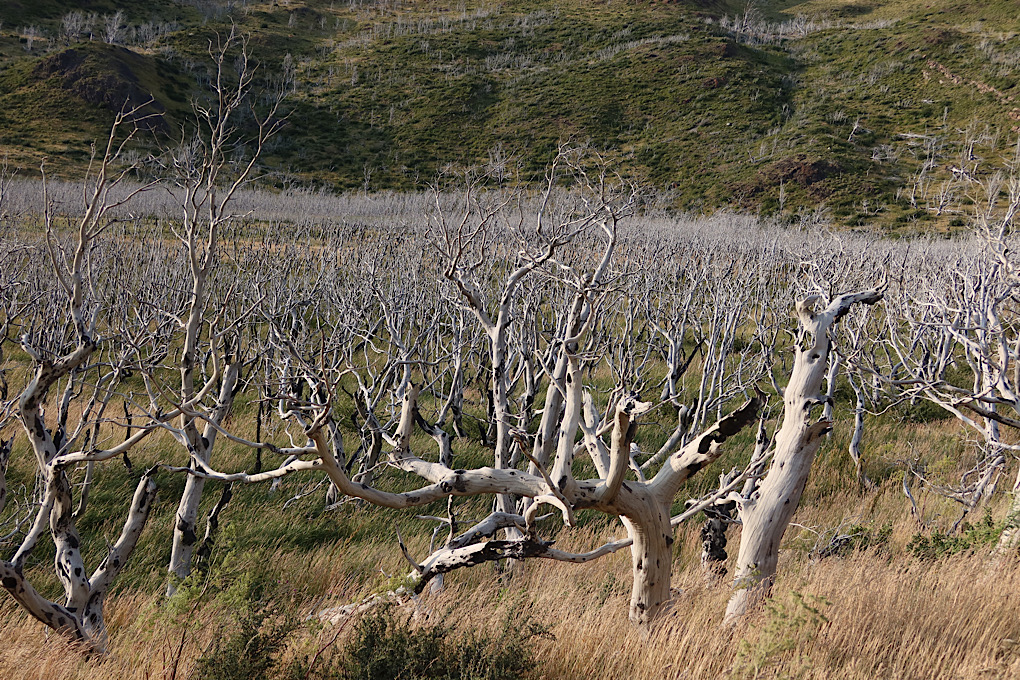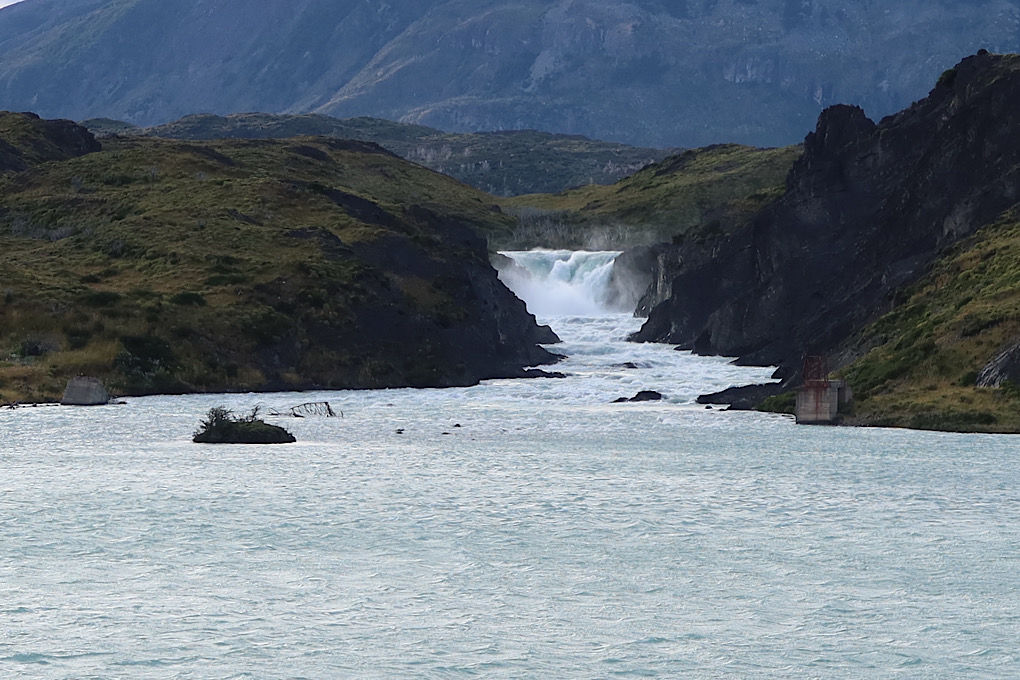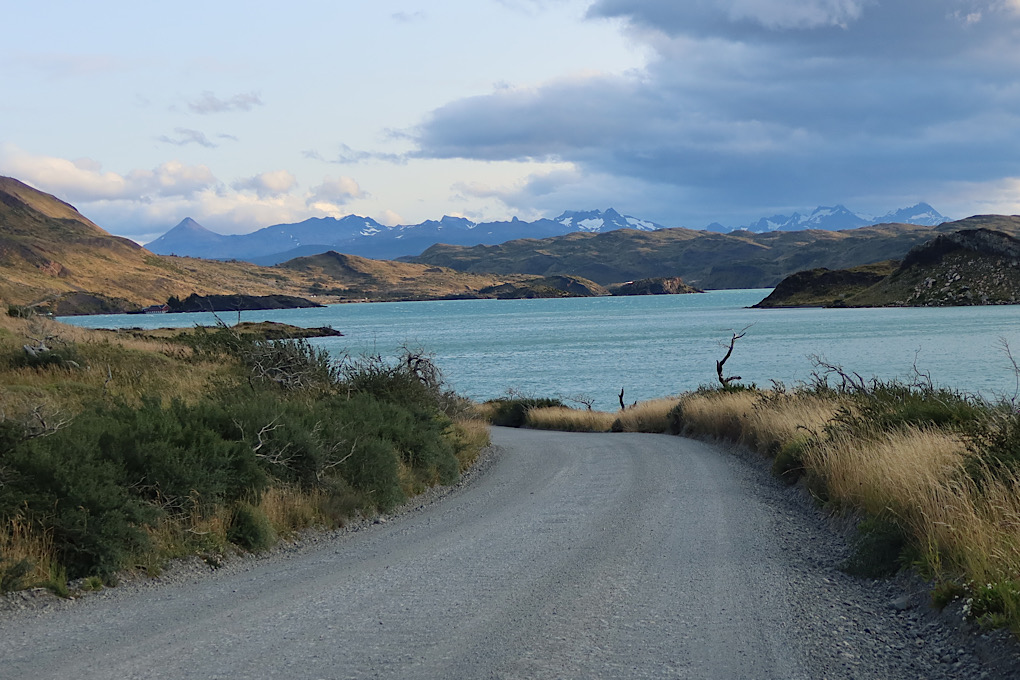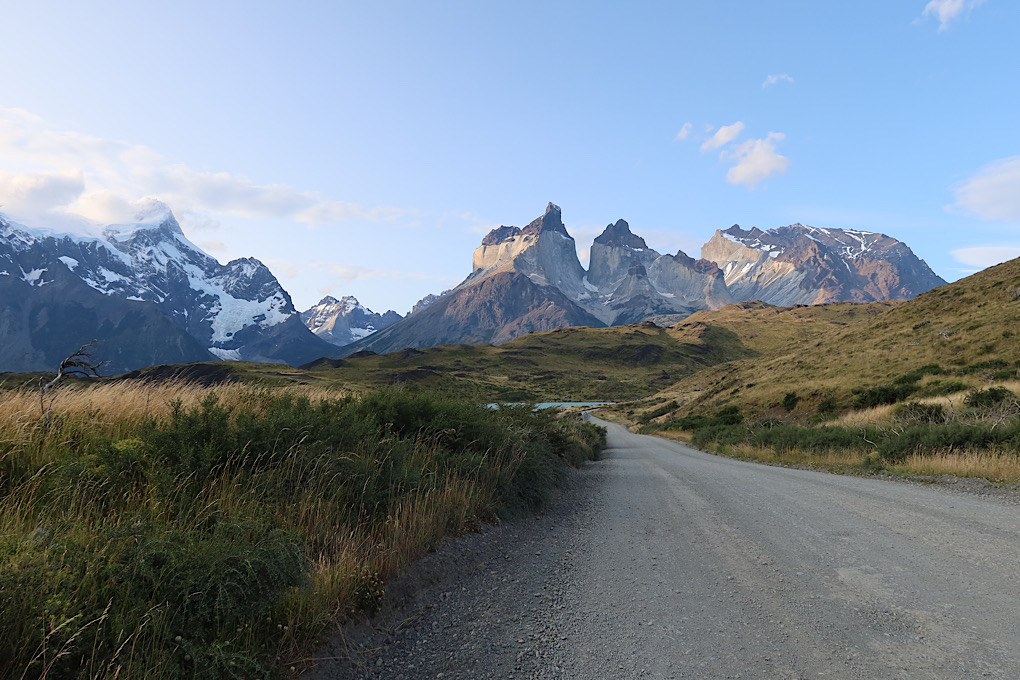 I was pretty excited to see buildings, though the first building turned out to be the lodge an I had to go another km or two to the camping area. I was pretty excited to see that too.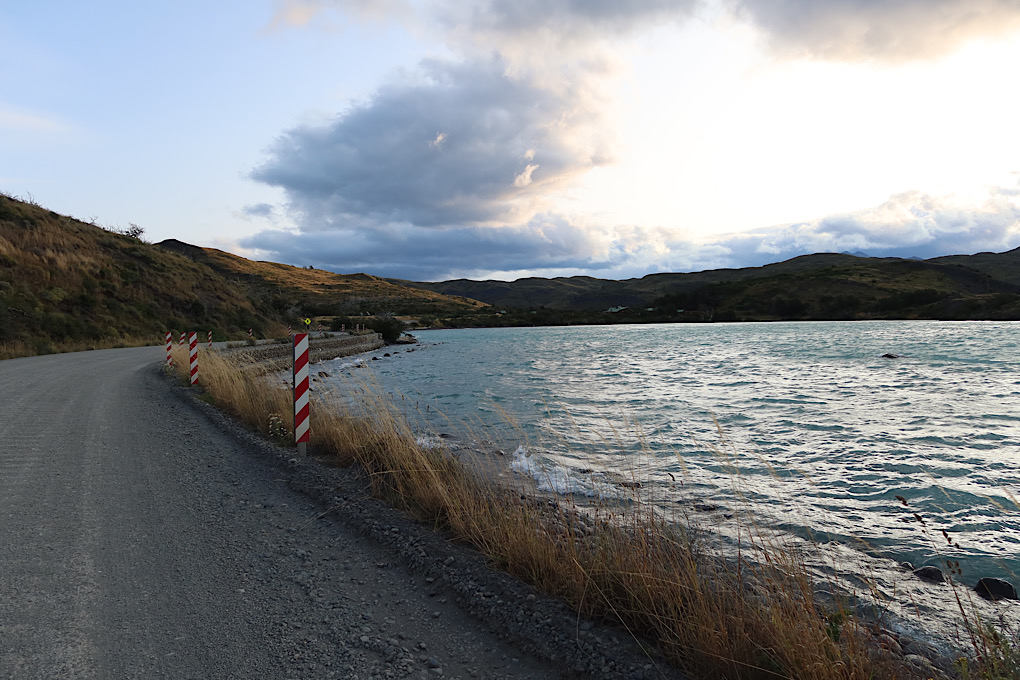 I got in at 8:45 or so, just before reception closed. The person at reception told me camping cost 12000 pesos as if maybe that would make me want to go somewhere else (Ha!). Instead, I paid for 3 nights and rallied the energy to set up my tent, take a shower, and cook food. Since I'm at the end of the trip I'm eating the remaining freeze-dried back up meals that I brought, so cooking was extra easy.
Any ideas of day trips back to the other side of the park are gone (not that I really thought I would), but I actually like this camping area quite a lot and am looking forward to a couple days of rest and short hikes in this part of the park.