Patagonia day 34-35: Torres del Paine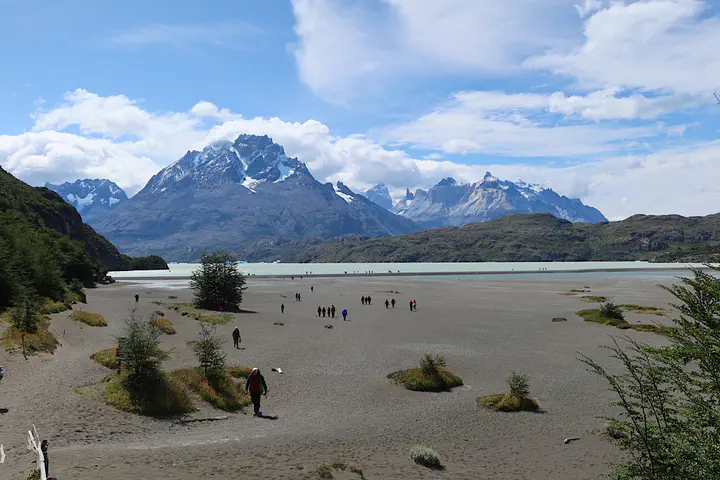 January 31 - February 1, 2020. 62 km.
I spent two days hanging around in Torres del Paine, mostly because that's how many days I had left before I wanted to get to Puerto Natales. It was good I had a bit of a break though, because I don't think I would have been able to bike again immediately after the adventure of getting here.
I had a lazy morning, discovered where to get electricity (campground reception), learned the internet only worked between 9pm and 9am, and bought extremely overpriced but much appreciated Pringles. In the early afternoon, I found just enough ambition to walk across the road to the short Mirador Condor hike.
I very much trudged up the hill, but there was no need to rush so that worked. The trail started through lots of dead (burned) trees. There were lots of warnings in the park brochure about not lighting fires except in specifically allowed places - looks like there have been pretty destructive forest fires in the past.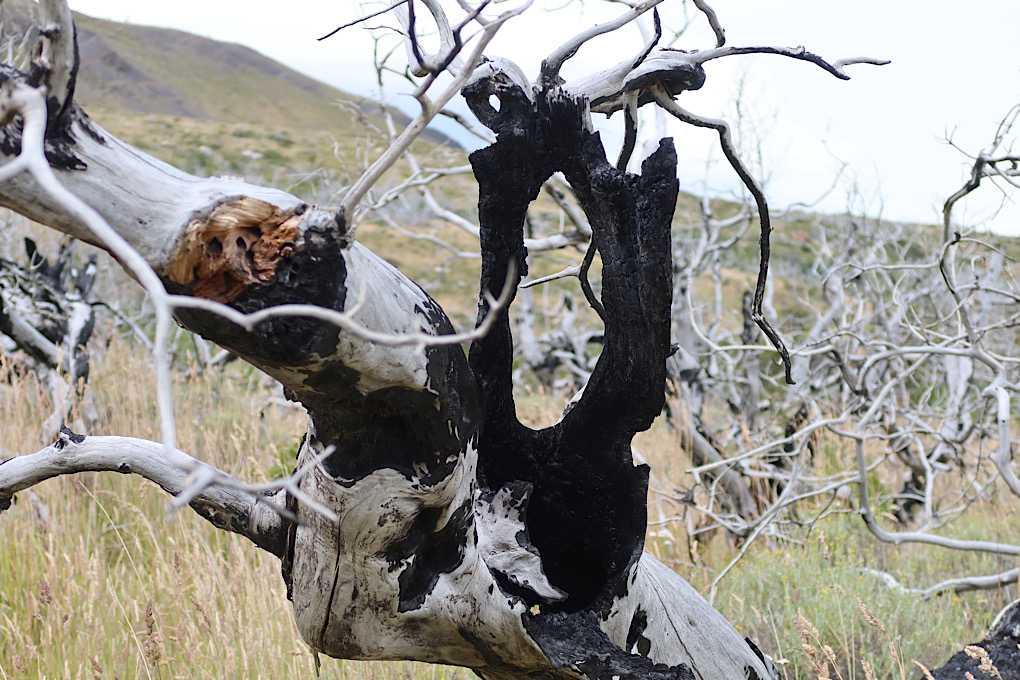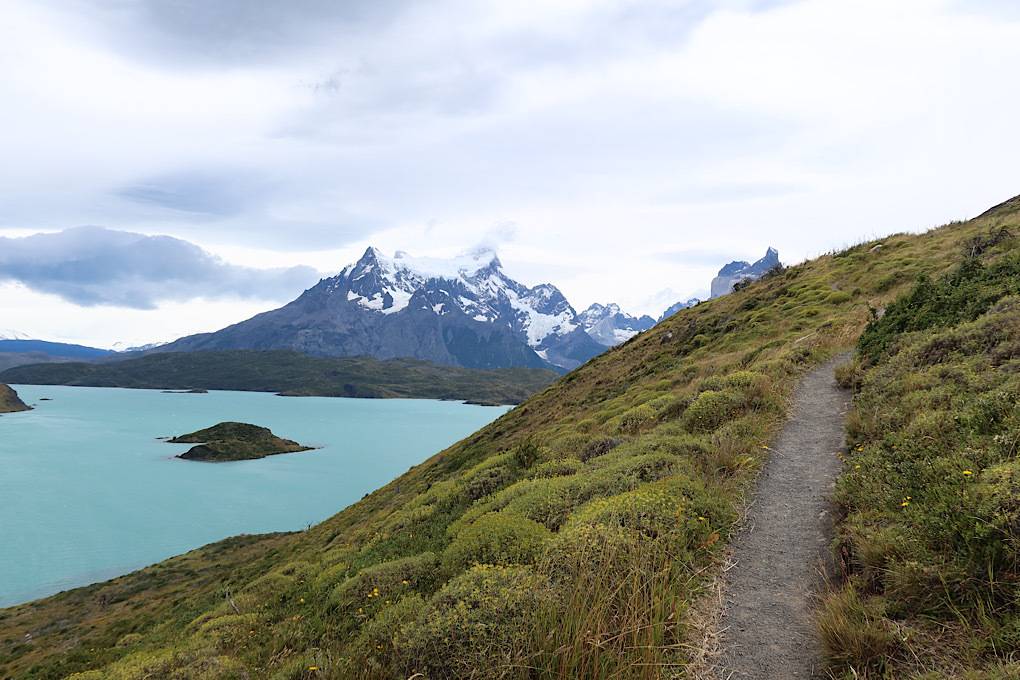 I got passed by a couple groups of eager hikers, but didn't care. I occasionally sat down on trailside rocks or logs and just stared at the view. Still, it was a short hike and I soon reached the rocky top of the hill. The rocks were all made of lots of little pebbles stuck together, which also seemed to allow for a lot of cute little plants to grow in nooks and crannies.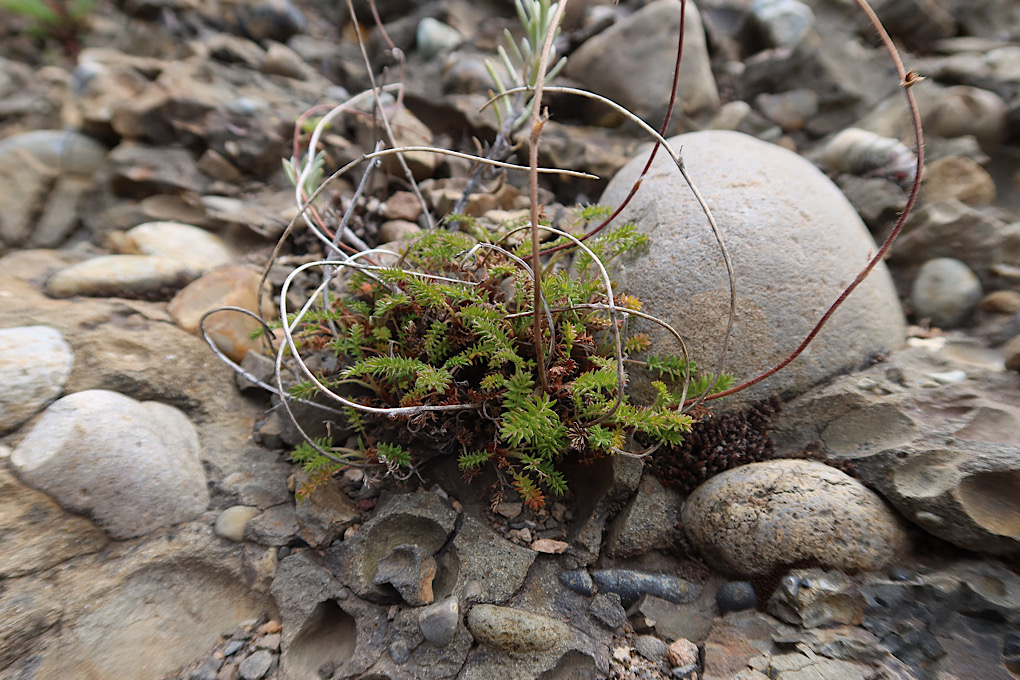 I don't think I get as excited about being at the top of mountains (or hiking) as some people, but there were nice panoramas over lakes in both directions. And wind. So much wind. They clearly put the campground where they did strategically, since the wind gets much stronger as soon as you leave in any direction it seems.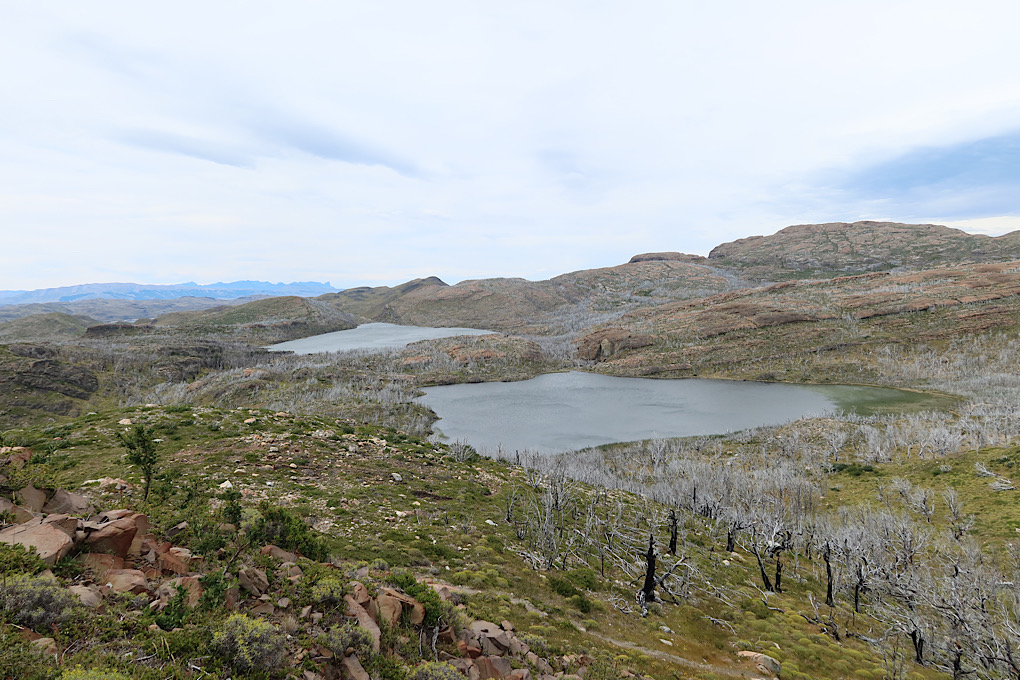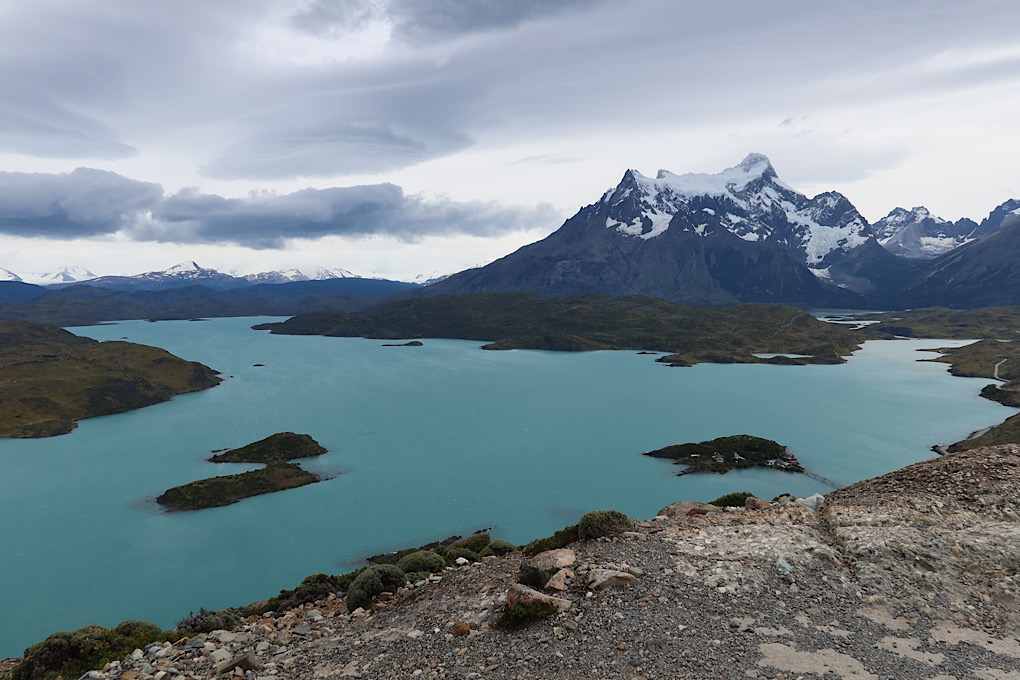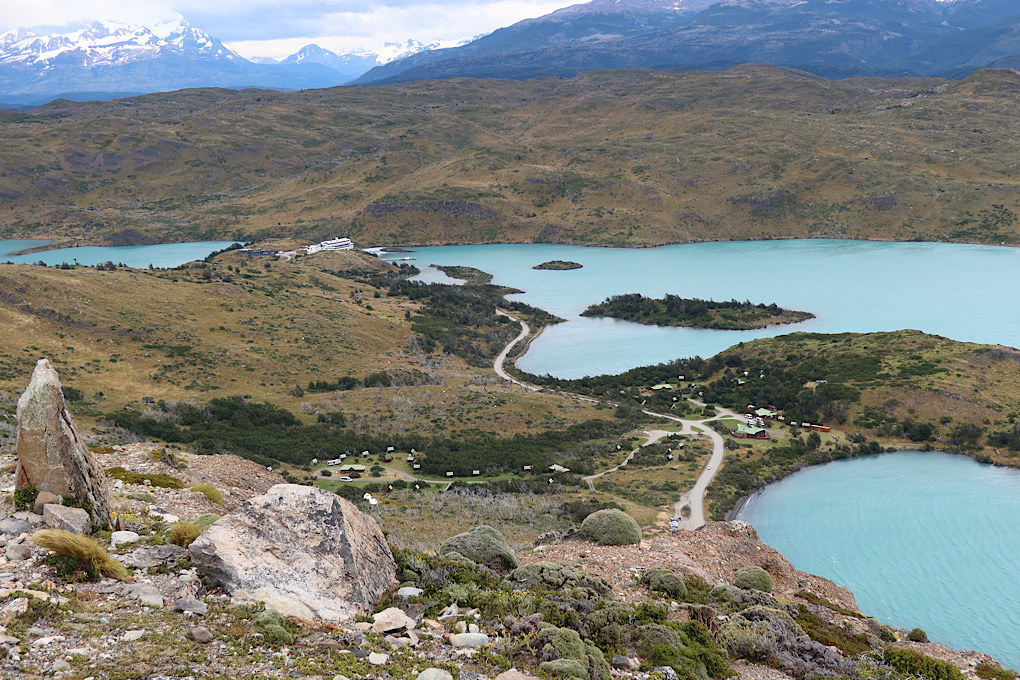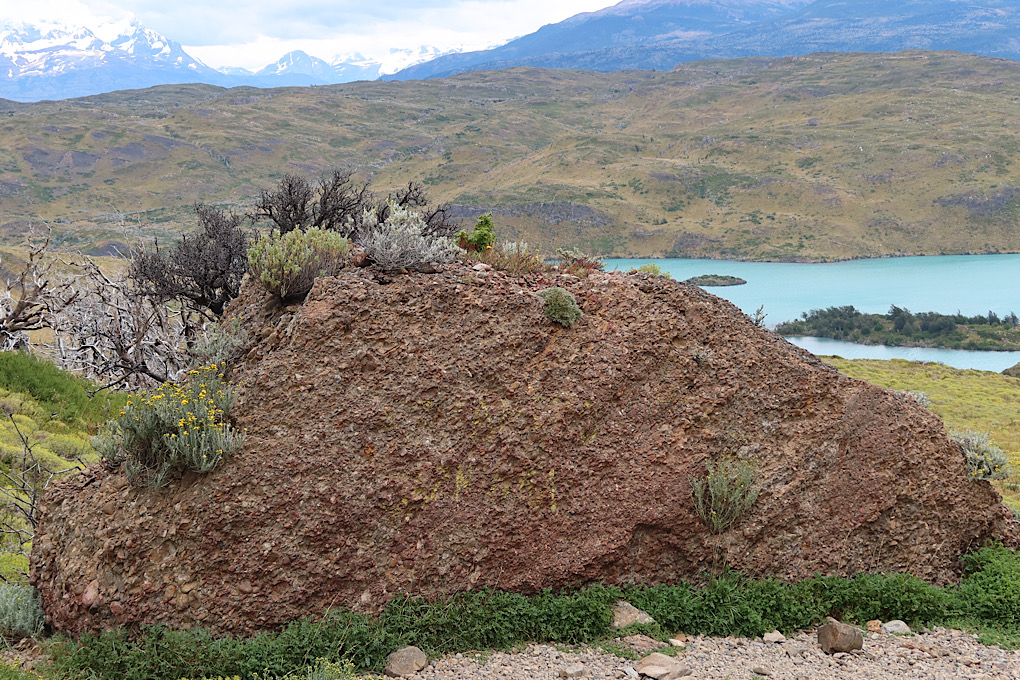 I spent a little while at the top of the hill before getting driven off by the wind. The way back down was faster of course, and I did an extra loop around a short path by the lake in the campground. But overall it was only a few hours, which was plenty for the day for me.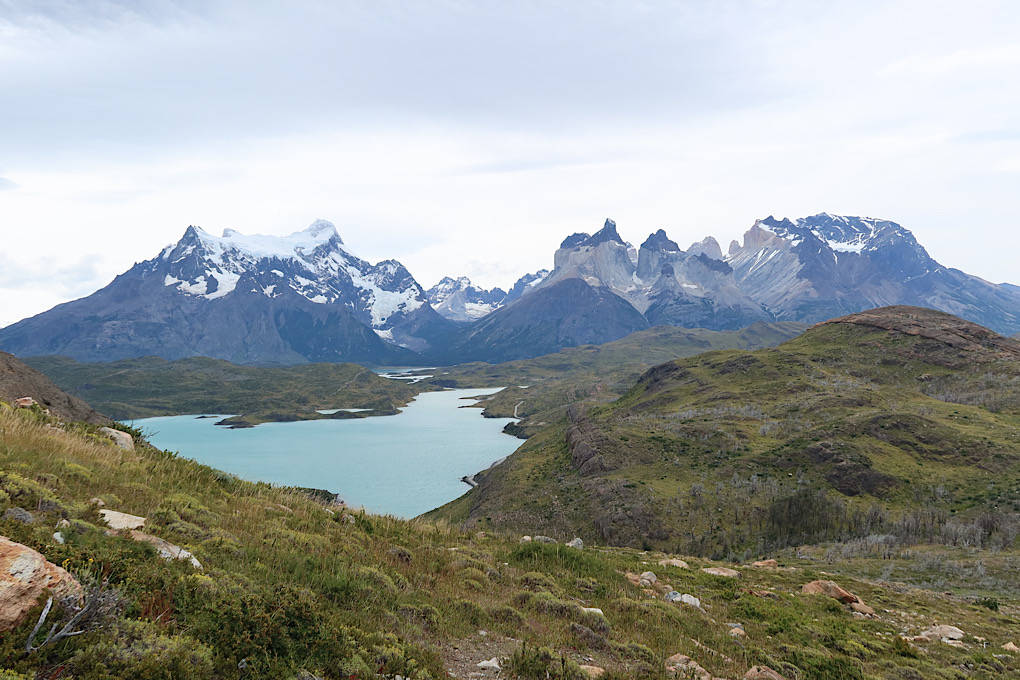 Day 2 in Torres started out rainy, but it cleared up around noon. I decided to do a day trip over to Lago Grey. It was a 26km bike trip one way, but relatively flat. I figured I would pick a hike once I got there (the unambiguous short hike to the glacier viewpoint or the much more ambitious hike up a mountain to another panoramic viewpoint).
The first 10km of the ride were pretty nice (and a preview of the beginning of my "real" route the next day). Riding my bike without any weight on it to speak of was a nice change too. The last 18 km or so were after the turnoff to Lago Grey. There weren't any hills (except one small one), but the road was really bumpy. I also had a bit of a headwind. I started to doubt my decision, but the wind was only moderate (and the unloaded bike was much much more aerodynamic) and I made consistent enough progress. Still, once I got to the end of the road I was not particularly eager to hike up a mountain so I opted for the easy walk.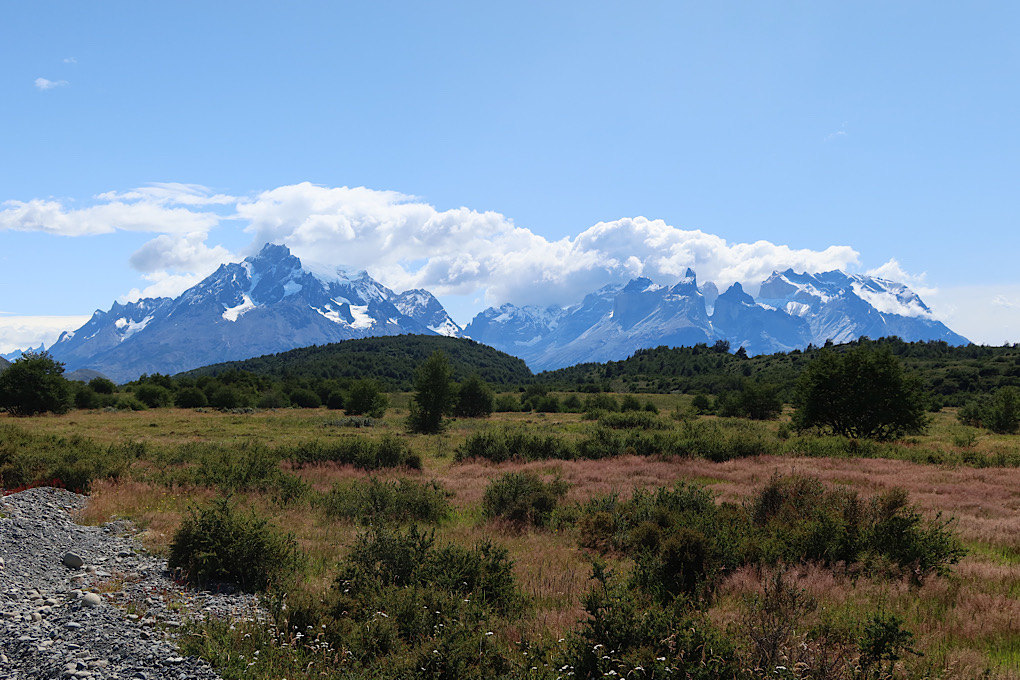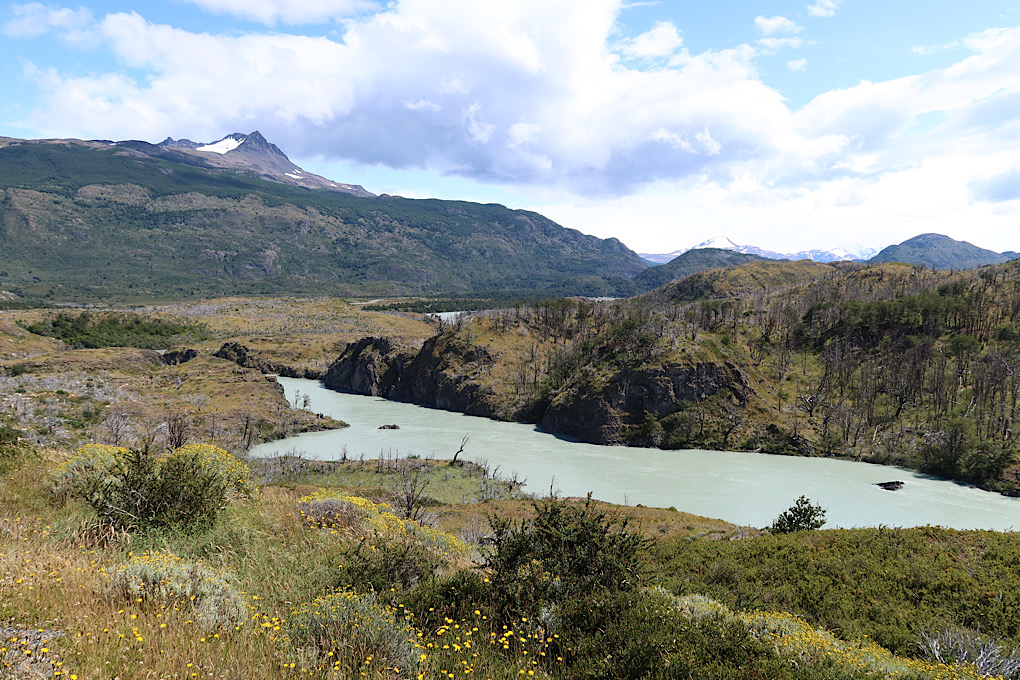 The first part of the walk was full of people. It went over a fairly long and bouncy suspension bridge and then through the woods for a few minutes before crossing a long, windy, sandy beach. Not all that fun to walk on.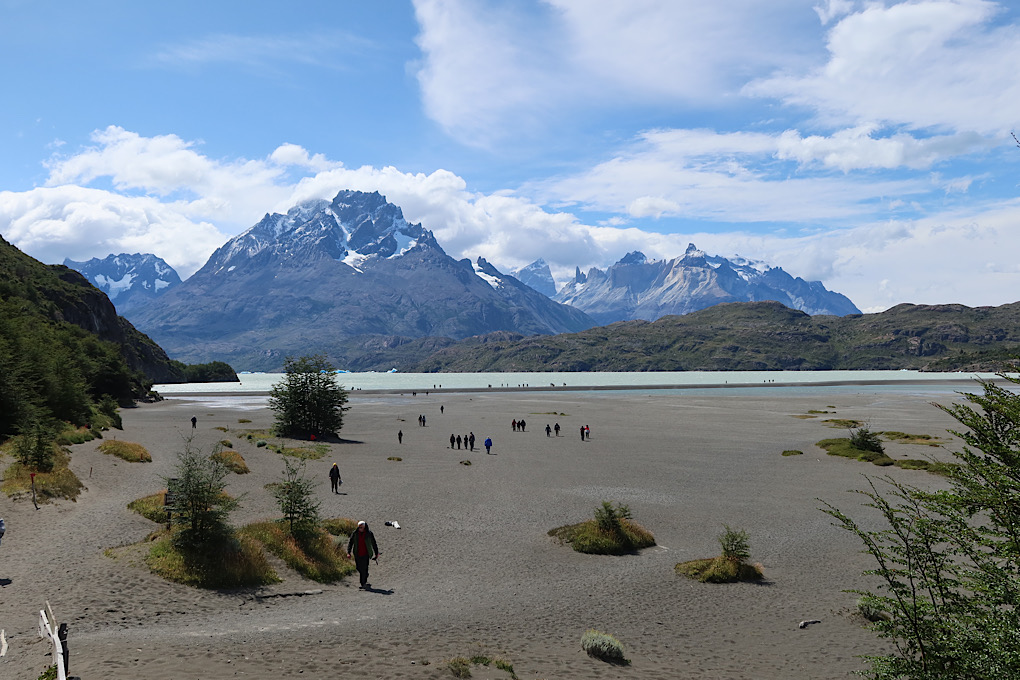 On the other side of the beach there was a short loop path over rocky ground to a glacier viewpoint. Much more fun, and also a lot fewer people.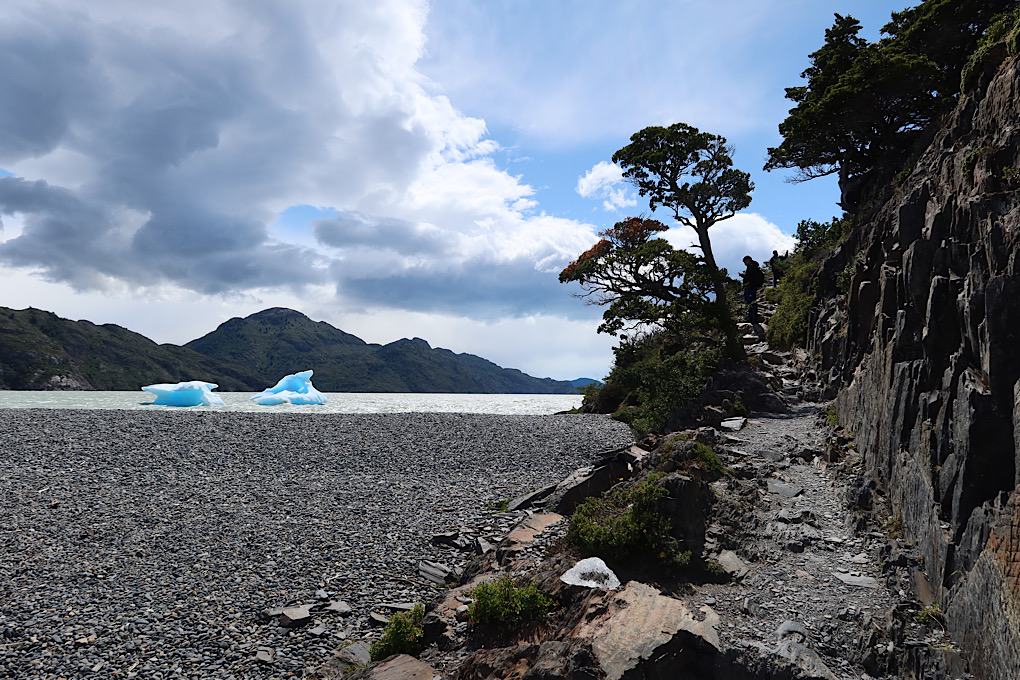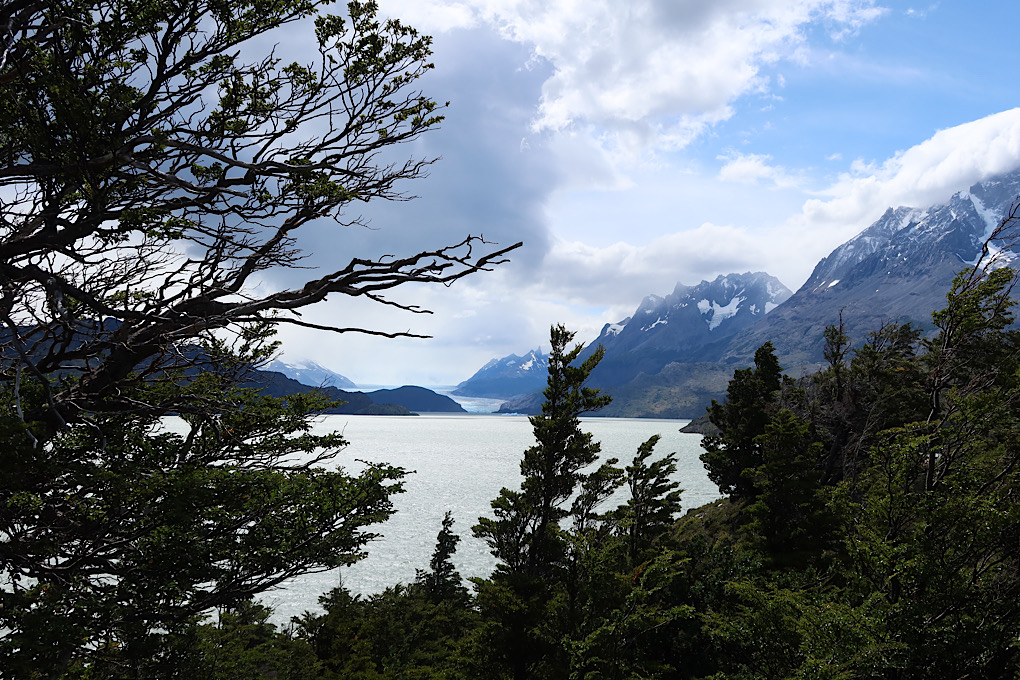 I had though about paying for the boat to see Grey Glacier up close, but it was relatively expensive and I had already done the boat-to-a-glacier thing in Calafate. So I settled for a long-distance view and a telephoto lens.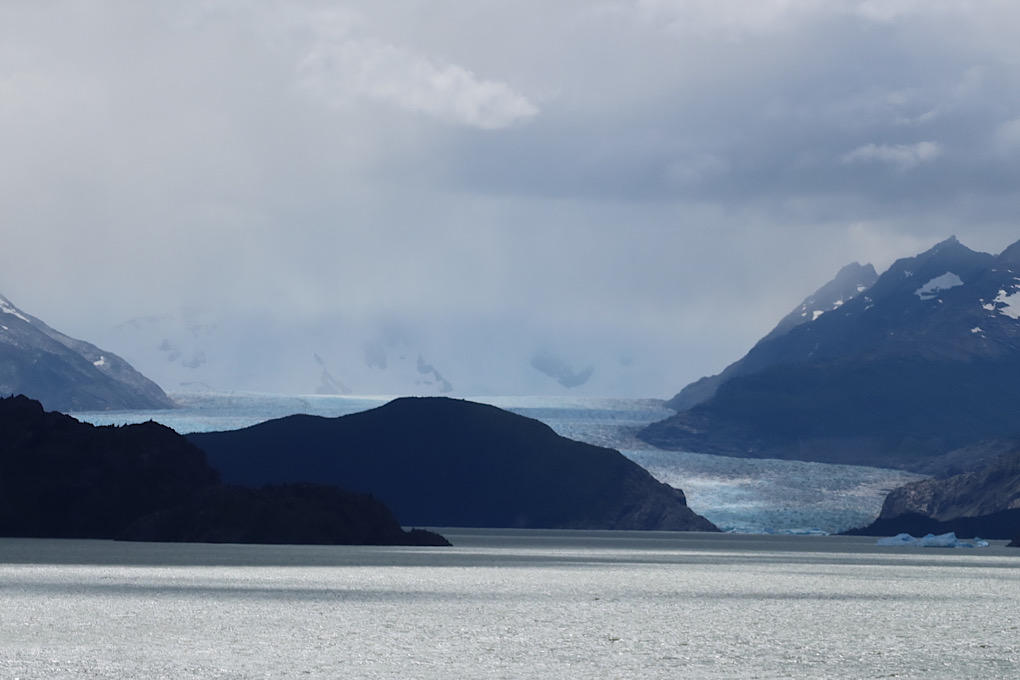 The trail went through non-burned trees, which was also a nice change. I enjoyed the stroll and was glad I hadn't tried to do the harder hike up a mountain. The return loop away from the glacier was still pleasant, and then I trudged back across the soft sand past the line of people waiting for the boat.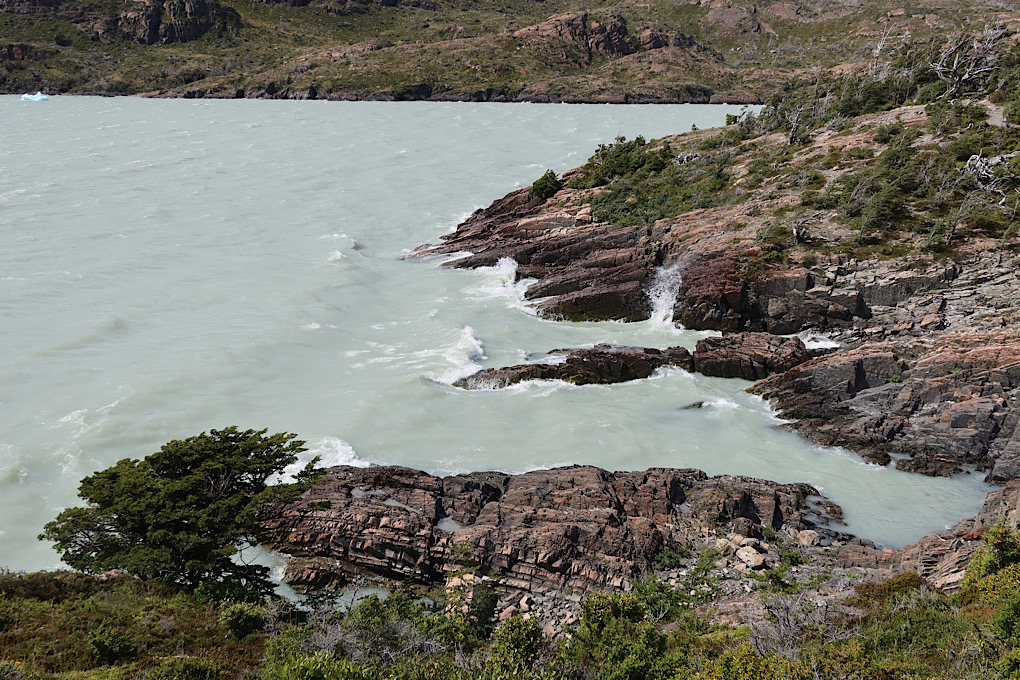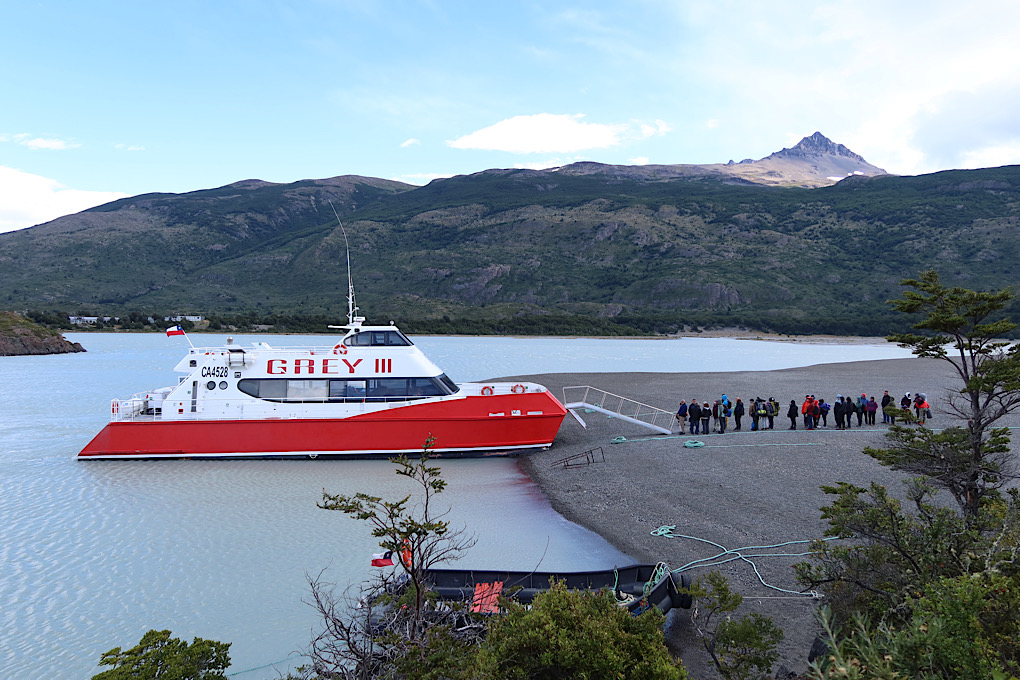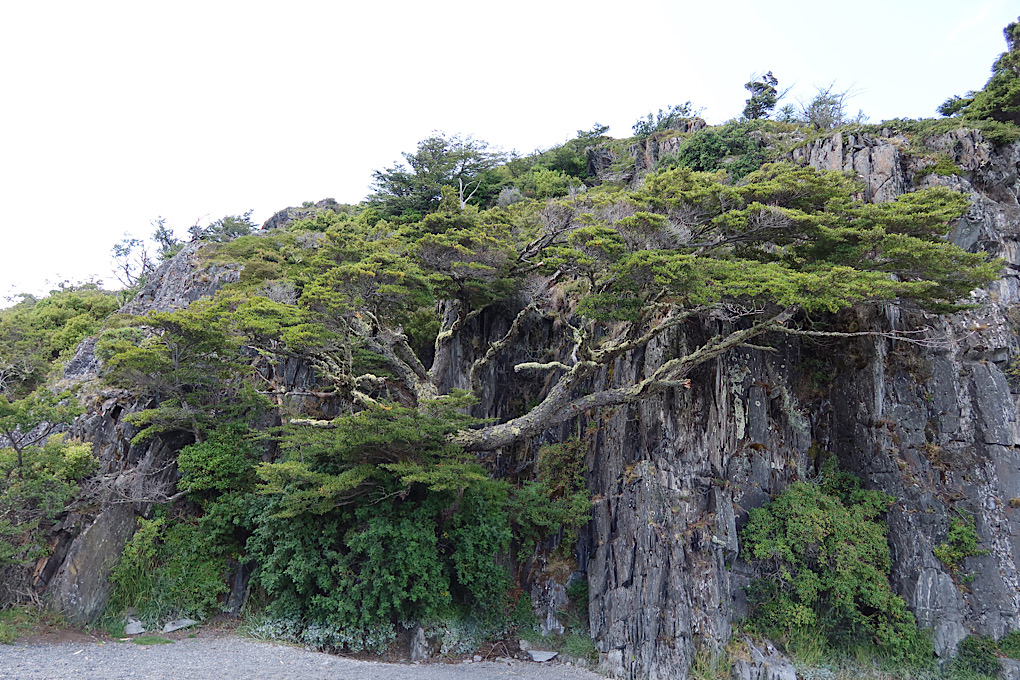 I decided one short hike was enough given that I had to bike back to the campground, so I got back on the bike and did the bumpy road in reverse. Somewhat unfairly, I didn't get much of a tailwind, though at least it wasn't a headwind. I was pretty glad to get back to the turn onto the smoother main road though. I got back to the campground shortly before it started to rain again, so on the whole I think I made the right decision in terms of hiking commitment.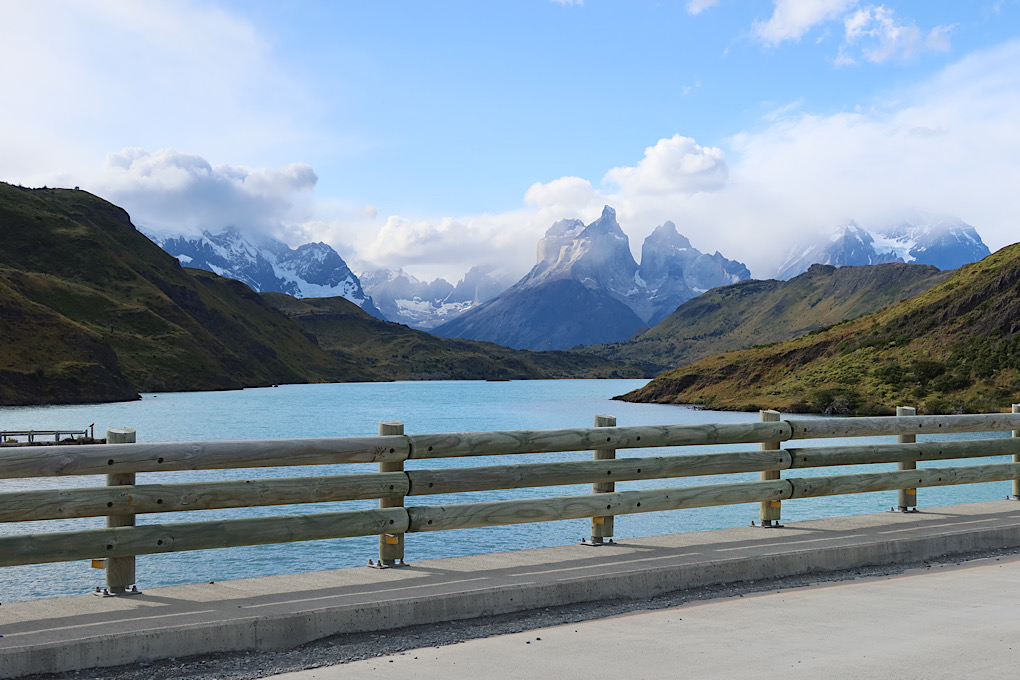 Overall, I did a lot less in my two days in Torres del Paine than the average tourist. But I still saw a few things, and it was a really pretty and pleasant place for a couple of mostly-rest days. I have no regrets.