Day 20: Bodega Dunes to Berkeley, CA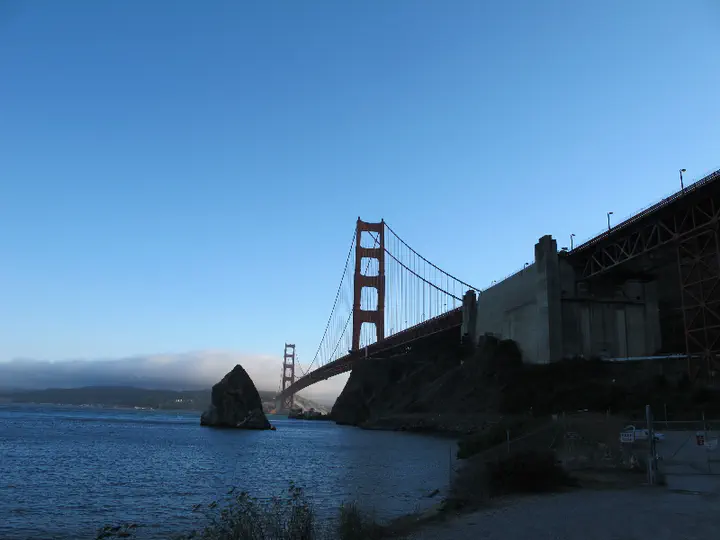 September 14, 2013. 79.64 miles.
This time I was not the last to leave the campsite. The retired permanent bike tourer was still there when I left. I was tempted to stop in Bodega Bay for coffee, but it didn't seem worth stopping having just started.
The road went inland across farmland. It was a bit disconcerting to be riding through dairy farms with fields of cows where everything was brown instead of green.  For some reason there were a large number of people driving loud fast sports cars around. I wonder why. They seemed a bit out of place next to the cows.
I went through a couple small towns that were relative dead, but at least one town – Tomales – seemed quite vibrant. There was a small local bakery who's sign said "open 7am until everything's gone". Everything going wasn't gone, so I bought a lemon curd and raspberry covered shortbread and a cup of coffee to eat while letting my phone charge for a few minutes. It seemed to be the meeting place for all the locals.
Sometime during the day I saw a second large RV hauling a cargo trailer (the first one had a UHual trailer, this one looked not rented). I fail to understand why someone with a vehicle the size of a bus would need a cargo trailer.
It was half way through the afternoon before I decided to stop for lunch (featuring a baguette from the bakery in Tomales). I ended in stopping at the hike/bike campsite at Samuel P Taylor State Park. It was right along the bike path I had been on for 10 moles or so. There were a couple people already there who were camping for the night, and it looked like a nice place. The park seems a bit like the little sibling to the Redwood parks farther north. Same sort of scenery, less grand.
I hit the San Francisco metro area with another 20 miles or so left before the Golden Gate bridge. The roads were actually pretty nice for buying – lots of bike lanes and signs pointing out low traffic routes. It was, however, a whole lot harder to remain un-lost than the more rural parts of the route. I got a little worried at one point that I was climbing the wrong hill on a narrow winding road, but luckily it turned out to be correct. Plus, all the traffic was going the other way (rush hour out of San Francisco I guess).
The route approached the Golden Gate at sea level, and then took a long series of switchbacks to get up to the bridge. Riding over the bridge itself was fun, though windy. One sidewalk is just for pedestrians and one is just for bikes. So I didn't have to worry about traffic or pedestrians and could enjoy the views.
Golden Gate Park on the other side of the bridge was rather confusing. Lots of roads and paths going every which way. I wasn't following the maps anymore, since I was aiming for a BART station so that I could get to Berkeley. I found a map of the park, and decided to aim for the "transaction to center" since that seemed like a place to start. I found it, almost by accident, and sure enough there was a city map showing the nearest station (about 30 blocks away). It looked straight forward to get there, but of course I soon managed to get turned around. I called Ben, who gave me new directions, which I managed to mess up. I called again, and this time got there successfully. I managed to get my bike on the train without trouble, and eventually got to the very comfortable house in North Berkeley by 9pm or so. Cities are kind of annoying to find ones way around in, but I'm looking forward to a few days of civilization. And seeing friends.