Day 19: Van Damme to Bodega Dunes State Park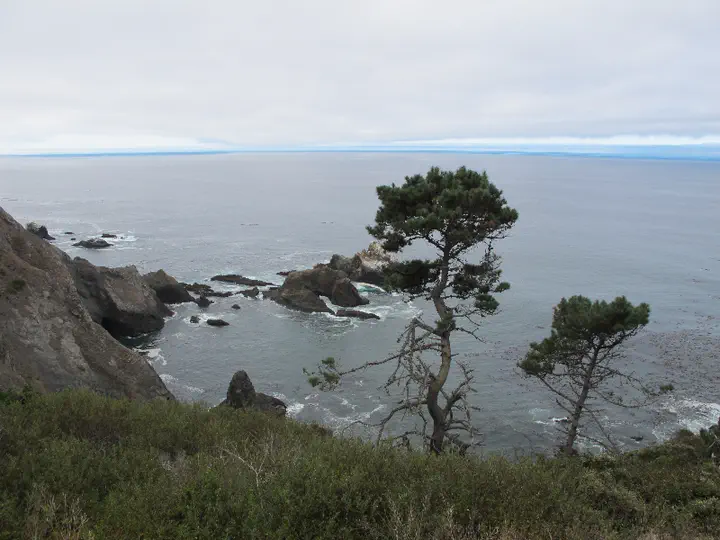 September 13, 2013. 94.3 miles.
For a third day in a row I was the last one out of the campsite, but this time only by a couple minutes.  I think some people get things a lot more pack up up the night before, but the way I have things set up I basically take everything off my bike and out of the bags to set up camp and dress to sleep, and then put it all back together in the morning.  I like my system, but maybe it's slow.
The two older Canadian bikers in the campground last night mentioned that the steepest hill of the trip was coming up today.  I think The Book (Biking the Pacific Coast — the book people use if they aren't using the Adventure Cycling maps) may have said that.  It might be right.  The hill in question was short, but I barely made it up even so.  Most of the hills around here (including the steep one) happen when rivers or streams enter the ocean.  Instead of a bridge over the higher, wider part of the resulting valley, the road tends to go inland and down, cross the water at almost sea level and then climb back up the other side. I'm sure it's easier to build the road this way, but it's certainly harder to bike.  Since there is typically a pretty sharp U-turn at the bottom of the descent, it's not even really possibly to carry any momentum into the uphill part.  It's kind of a slog.
I was hoping to stop in Anchor Bay for lunch, but passed through what I thought was town without seeing anything appealing.  Then I came around a corner and found the actual downtown which had a very cute little co-op with a coffee bar, good sandwiches and free internet. I hung out there for a bit checking e-mail and whatnot.  The standard clientele of the place seemed to be fond of dreadlocks, and there was a sign in the bathroom asking people not to use the sink to bathe (there were showers at a nearby park it said).  Hrm.
I was feeling really good all day (I finally got tailwinds, which helped), so I decided to aim for a long day to leave only 70 miles or so to San Francisco. I had computed about 85 miles, but the campground I was looking at on the map turned out to be one without a hiker/biker area and it was full.  So I had to go to the next one down the road (luckily not too far), which pushed the total mileage for the day to over 90 miles.  The longest so far.  Physically, I could have done another couple miles to make it a century, but I just barely managed to get my tent up before full dark as it was.
The road climbed some bluffs south of Fort Ross that involved some fairly noticeable climbs, a lot of switch-backs, and a narrow road on the edge of steep cliffs.  The cliffs were a bit disconcerting if I looked down, so I didn't.  Luckily, one advantage of biking a bit later in the evening (I guess it was about 7 at the time) is that the traffic is pretty minimal.  The descent back down to sea level involved giant switchbacks weaving all over the hillsides.
Riding through sunset was actually really beautiful, though I was a little stressed about getting to a campsite before dark.  Everything turned a rich kind of orange.  If it weren't for needing to set up camp, I would ride in the evenings more often.
The Bodega Dunes State Park is, as the name suggests, a very sandy place.  Makes for a nice surface for setting up the tent, but it's hard not to get sand in everything. 
The only person still up and about once I finished setting up the tent and taking a shower was an older man who was eating his dinner.  I asked where he was coming from and he said that he retired a few years ago and has been on the road since then.  "I'm crazy, and everyone else is stupid", he claimed.