Day 14: Del Norte Redwoods to Eureka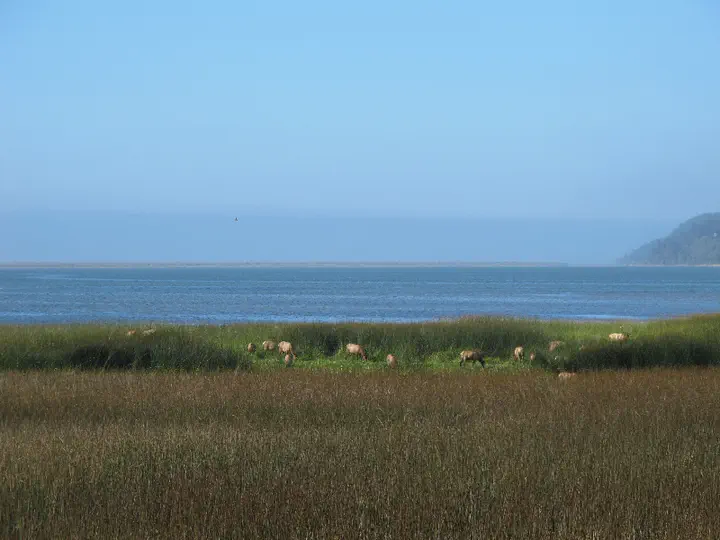 September 7, 2013. 83.41 miles.
The person in the mystery tent last night left right around dawn as I was waking up. Turns out that valley full of redwoods was quite chilly. I got up and going around 7:30 because I didn't think I would be able to warm up enough to get back to sleep.  I rolled out of the campground around 9, saying goodbye to the guy I chatted with last night who was still packing up.
The hill out of the campground wasn't nearly as bad with fresh legs as it seemed last night going down. Which was encouraging. The last third of the big hill on 101 was kind of unpleasant due to the lack of shoulder and the presence of traffic. Things got a bit better going down, mostly because there was construction that reduced the road to one lane. This meant that there was a traffic light, and that traffic came in predictable bunches afterwards.
There was very heavy fog over the ocean. At the top of the hill, I was over the fog/clouds. The road was on the edge of a cliff, and the fog made it look like the world just ended of the side of the cliff. Though I could hear the ocean crashing below.
As I descended into the fog, it got pretty chilly and the visibility went down quite a lot. I stopped in a parking area by a beach to snack and see if the fog burned off a bit. It didn't, really, but since the next but of road had good shoulders, I eventually decided to barge on.
While I was sitting at the beach, an older fellow on a very loaded bike stopped to chat. He said he had started in Arizona, had gone up to Montana, and now was on his way back. It seems he has biked the west coast a dozen times. Just goes back and forth between Arizona and Montana. Seems excessive to me, but to each his own. Anyway, this fellow mentioned that there was a good route off 101 from Klamath to the Newton B Drury Parkway. I listened to his description, but figured I would just go with the maps I have which stuck to 101 until the Parkway.
I went a bit down the road, and stopped in the parking lot to ogle the tourist spectacle of "Trees of Mystery", a place that had billboards 200 miles north. They have a giant statue of Paul Bunyan and Babe the ox. And busload of tourists.
While I was standing there, a newly retired man with a large backpack but no paniers stopped to chat. He is doing a hotel-based tour from Crescent City to San Francisco. He had a northern CA bike map that also showed the route that the previous guy mentioned. So I decided maybe it was a real thing.
I thought I wouldn't see the guy again since he was moving a bit faster, but as it happened I found him checking his map just at the turn-off for the aforementioned route. He sort of invited himself to bike with me from there – I think he felt responsible for making sure I found my way over the route he had suggested.
The first half of the route went smoothly. There was a bit of a hill, but on calm roads with gorgeous redwoods. We overlapped with the tail end of a fundraising 5/10k walk/run for the local fire department. And then the road basically ended. There was a road going up that said "state prison, do not enter" and the continuation of the road we were on. But the continuation was blocked by a barrier and was overgrown and clearly abandoned. We went with it anyway.
Much of the road was pretty decent to bike on. In places it was still sort of paved. In other places it was just gravel or dirt. There were one or two really steep sections of gravel (maybe 20 or 30 feet in length) that we had to push out bikes up (I barely made it up one – loaded bikes are hard to push).  There had pretty clearly been recent traffic over the road, though, so I had some confidence it was actually going somewhere. At one point we passed one of those lookouts with a stone wall and an interpretive tourist sign. It was kind of bizarre to find one of those on an abandoned road.  Anyway, eventually we found another barrier, and beyond that the road went back to being maintained.
The guy I was biking with said something about his maps being old. I wonder how old. Some googling suggests that section of Coastal Drive may only have been permanently closed for a couple of years, though I think perhaps it wasn't entirely paved even before then.
Getting back onto maintained roads was nice, and the redwood groves were dramatic as always. I think it was worth the rough road for the experience (especially the stranded tourist sign about golden sands) but I think the rough road did a number on my knee. It really started hurting a bit later in the day. Luckily, it got better again after getting worse (who knows about these things) so I still made it to Eureka as planned.
Anyway, we ran across the guy I had been camping with last night as we were going down the Parkway. I stopped with him for lunch at a picnic table at Prarie Creek Park. The guy with the map went on, and again I thought I wouldn't see him again. Campground guy had a  peanut butter, Nutella and banana burrito for lunch. I was inspired and might do similar in the future. The joys of bike trip eating.
I left lunch on my own, looking forward to a bit of biking on my own. It was made a bit worse by my knee hurting and my back brakes starting to rub. The brakes have gone really skewed, and I'm worried the tension spring is going out (as happened to the front breaks). I think I might get them looked at or replaced in Eureka.
The scenery was nice, there were a few hairy sections of road, I saw some Elk.
I was relieved to get off 101 near Patricks Point. My knee was feeling better too… things were looking up. In Trinidad, Map Guy showed up again, but only briefly. He said he was taking 101 into McKinleyville, and I continued on the back roads. The specific back road was pretty rough and narrow, but with no cars to speak of, and nice ocean views. Seemed like it was just used for beach access. Cars couldn't really go any faster than bikes anyway. After one exit worth of 101, I got an actual bike path for almost 10 miles followed by quiet farm roads.
I was starting to get pretty tired, and it was getting a bit late, but I really wanted to get to Eureka. So I pushed on through Arcata (nicely signed bike route) and back onto 101 (freeway, at that point) for the last 10 mile push into Eureka. I was really happy to roll into town just as it was getting dark, and really looking forward to a rest day.
I checked into a motel and then went looking for food. I ended up eating several thousand calories worth of spinach dip, pulled pork and coleslaw sandwich, and seasoned fries at the nearby brewpub. I think it may have been the first time I kind of overdid it with food (I had to take half the sandwich with me, but the 'appetizer' spinach dip was way more than a normal meal on its own).