Day 13: Gold Beach to Del Norte Coast Redwood State Park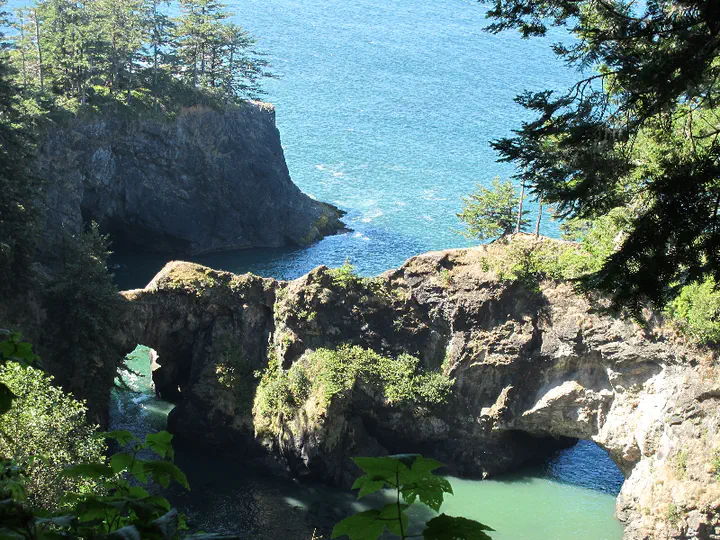 September 6, 2013. 68.63 miles.
Two states down, one to go. Of course, California is really quite long. So much less than 2/3 of the distance done.
I woke up earlyish, but what with breakfast and feeling sluggish I didn't get on the road until about 10. As usual.
It was a really sunny day, and the sky and ocean were both really blue. The last miles of Oregon were pretty smooth, though I started with a pretty big hill right off the bat.
Somewhere near Brookings (maybe Harbor, technically) I was biking up a hill past a graffiti covered wall. There was a picture of a shark and a caption that said "fish are friends, not food". I think it's the first Finding Nemo graffiti I've ever seen. Unfortunately, it wasn't really a safe place to stop and take a picture.
After Brookings, things got a lot more agricultural, and the route went onto side roads through fields. Somewhere just into CA, I saw a bunch of people planting what might have been garlic (?) in a field. They were on these machines that spanned a few rows, and had people laying on a platform that moved backwards as they worked. It also had a cover for shade, which is nice I guess.
I had stopped at the Oregon welcome center/park for lunch. It was a nice ocean view, but incredibly windy. Turned out to be predictive of the rest of the day, though fortunately the winds were tailwinds more than headwinds. Finally.  Around Crescent City, I got hit by a side wind while stopped at a stop sign and almost fell over.
The last 4 miles on 101 were stressful and difficult. A steep hill without much shoulder. I had to stop a couple times, and eventually found myself talking to the redwoods about how easy it must be to stand in the same place for thousands of years. I was really excited when I saw the sign for the campground. I was less excited when I realized the campground was down a 2 mile steep hill. It will be no fun getting back or in the morning. But that's a worry for tomorrow. I really couldn't have gone any further today.
The campground isn't attended, though they do have a site set aside for bikers.  There was one guy here (plus another tent which I assume has a person in it?) so we chatted while eating. There are also some pretty big redwood stumps, and my tent is set up right under a grove of tall skinny redwoods.  It's a pretty campground, even though it really is a shame about the hill.
The current plan is to make it to Eureka tomorrow and then take a rest day. I'm really starting to feel like I need one.