Day 12: Bullards to Gold Beach, OR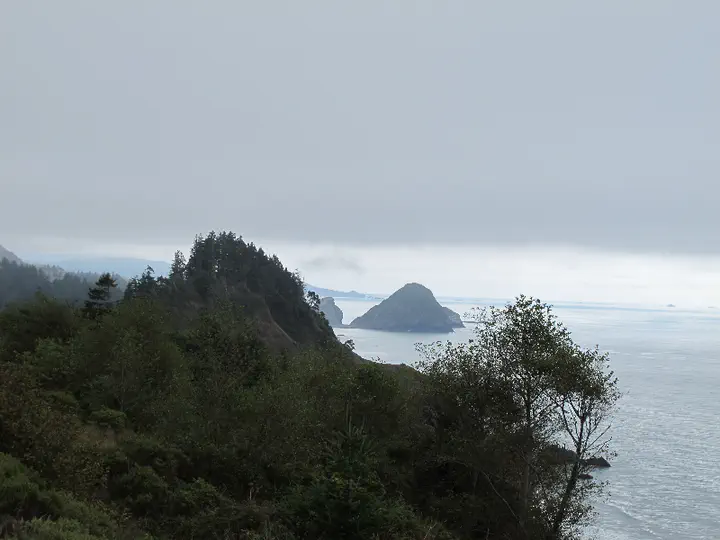 September 5, 2013. 65.28 miles.
The tandem couple left quite early (I think I heard them packing up just as it was getting light). If I had done the same, perhaps I would have made it to the last Oregon state park today. But I didn't get on the road til about 10am, so I only got as far as a Gold Beach motel.
I made a detour through Bandon to ask another bike shop about the click in the left crank. These guys immediately diagnosed a loose pedal, and tightened it for me. It seems to have worked. Yay! I also got directions to the post office and mailed home the other tire and a few other odds and ends.
Around noon, I stopped at a market in Langlois (pop. 177) for lunch. I had two of their "famous franks", which really were quite good (flavorful, with real pickles and good mustard). Also half a bag of Smartfood popcorn.
I passed through Humbug Mountain state park, which was really gorgeous. The road swept down a hill with dramatic ocean views into a forest with mountain streams and fog hanging over the hills. On another trip, I wouldn't mind spending more time in that area. I bet there's some really nice hiking.
The last 16 miles were a detour off of 101 on roads with barely any traffic.  The first half was gradual climbs past a golf course, some farms, a ranch, and a lot of nothing. Just as I was getting really tired, I got a few miles of coasting down out of the hills into and along the Rogue River valley.
Gold Beach didn't turn out to be particularly interesting. I biked through town to scout it out, then didn't feel like backtracking so stopped at one of the last motels in town. I asked the price, he said $89 plus tax. I said I would go down the street. He said $79. I looked skeptical. He asked what my price was. I said $60. He said $69. I said OK. I think maybe the fact that it's after Labor Day has some perks – in addition to most of the RVs being replaced by school busses.
I called home to wish my dad happy birthday, took a shower, then checked what the internet suggested for food (Annie's By the Sea, or something like that). It turned out to be a cozy restaurant and wine shop run by a couple of older guys and featuring lots of wine and a small menu. I ordered the duck breast, and then got to watch the owner cook it (everything in cast iron skillets). The duck and mashed potatoes were pretty amazing. Another couple came in for dinner and wine soon after me, which was nice because it took some of the pressure off me to keep up conversation with the proprietors.
On the way back to the motel I stopped at the grocery store to stock up for tomorrow. Then I ate a container of raspberries, some chips, and 3 truffles. Even though I had just eaten dinner. Doesn't really seem to matter these days.