Day 11: Honeyman to Bullards Beach State Park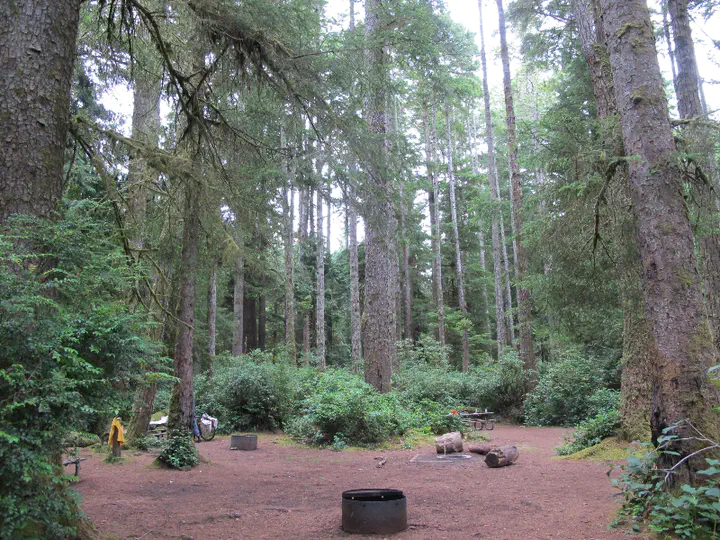 September 4, 2013. 69.45 miles.
I woke up bright and early (well, before 7 at least). I ventured on the long trek to the bathroom, then went back to the tent to look at the map. My neck was really sore, so I laid down with the sleeping bag liner wadded up as extra support under my neck. Next thing I knew, I was awake again and it was after 9. But my neck didn't hurt at all! Perhaps I just needed the sleep.
The first part of the day was through the Oregon Dunes. Mostly, the road actually went through forest, but then I would notice that behind and among the trees was a whole lot of sand.
I stopped at some point for lunch at a place that claimed to specialize in sourdough, which sounded tasty. It really wasn't. I had a tuna melt which was incredibly bland and still cold in the middle. Oh well. There was more of it than even I could eat.
There was another long (also architecturally interesting) bridge that I walked over coming into North Bend.  Right over the bridge was a bike shop, so I stopped to see if they had a better tire. They didn't have many options, but they did have a 32 tire with relatively light tread, so I bought it. Now I have an extra tire that is quite nice but just too heavy for this.  I think I'll probably send it home and use it in winter or something.
Leaving North Bend was what I think was one of the steepest hills so far. I had to stop and take a break several times before getting to the top. There was rolling terrain at the top of the hill. It felt moderately like I was high up (smaller trees etc).
Somewhere earlier in the day I had been passed by a couple on a tandem bike (normal in back, recumbent in front). I passed them at the top of the big hill.  Then they passed me at the bottom of the next hill. Then I passed them going up (the woman in front seemed to get off on steep hills and walk). Then they passed me at the bottom (they kept their momentum longer going back up)…
The new tire is much better. I almost feel like I have my old bike back. Except that there is a periodic click in the left crank somewhere that is getting annoying. The bike shop people in North Bend didn't have any ideas for getting rid of it.
I got to the campground before 7, just a few minutes after the tandem couple.  They seemed to also be Swiss, judging from their flag. Perhaps the guy at the campground last night was right. They said they were to heavy for their bike and therefore had to reduce the weight for the hills.  They also said they had heard rumors of my as the person who got in really late at the campground last night.
The guy at the bike shop had warned me that the mosquitoes at this park were extremely bad (it was even on the news, he said). I decided to brave it anyway. There are certainly mosquitoes, but with enough clothes, it wasn't even too bad to eat outside at the table. I did hunt down 3 or 4 in my tent once I closed it up for the night.