Day 5: Centralia to County Line Park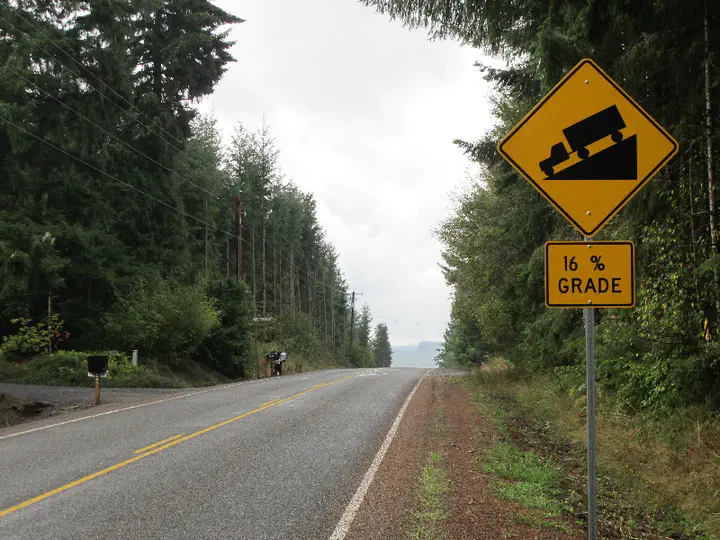 August 29, 2013. 68.35 miles.
I woke up around 8 for the motel breakfast.  It was better than I expected, even featuring a waffle maker.  Ace was there, as was some high school kid who was apparently on a last-hurrah vacation before starting school next week.  He though the breakfast was pretty bad.  He asked us where we were coming from and going to, but it wasn't until I mentioned something bike-related that he realized we were riding.  His response: "Why don't you drive a car??"
Ace mentioned that the weather looked pretty rainy for the day.  Oh joy!  As he left the motel, I headed across the street to try to get a replacement phone.  Sure enough, it was starting to rain.  The guy in the wireless store sold me a used Nokia bar phone (not as nice as my old one, but what can you do) for $10.  It takes the same battery as the old one, so at least now I have a spare.
I packed up and headed out of town as it started raining more seriously.  I didn't bother with my actual rain coat since it wasn't cold.  It turns out that my bright yellow biking jacket still keeps me somewhat warm while totally soaked, and it's also quite visible which is nice in bad weather.
Leaving Centralia I also left the river valley, and in fact spent most of the day crossing between river valleys (which is not nearly as nice as going down them).  There was more logging country on the ridges, more farming country in the valleys, and hills in between.  Luckily, the hills were the kind I can just go into my lowest gear and chug up without getting out of breath.  It's just tedious to go up long hills at 4 mph.  The long downhills were great though.
The rain kept up through most of the day, but fitfully.  I would just be about dried out, and then it would rain for 3 minutes so that I was wet again.  Repeat.  Better than steady rain, I think.  And luckily, it didn't rain on me while I was fixing my first flat of the trip, just as I was entering Toledo.
The last climb of the day was into the Columbia River valley.  The climb was the longest so far, so it was quite satisfying to realize I had reached the top and was following a stream downstream instead of upstream.  The decent down the other side of that hill lasted for miles and was just the right amount of slope to be relaxing.
The Columbia River is much more grand than any of the smaller rivers from earlier in the day.  I had to stop and take a few pictures even though it was starting to get late and I was a little worried about getting to the campground before dark (no functional headlight still). 
I've gotten pretty used to the sound of various types of vehicles coming up behind me, but as I was biking along the river I heard a sound I really couldn't make sense of.  I looked behind and didn't see any cars, and then noticed a giant ship passing me in the river.  It was probably going about 20 mph (or at least, faster than my 14 or so).
I reached the County Line Park before it really got dark.  I wasn't sure what to expect, but it turned out to be a small bit of land by the river.  Most of it is taken up by a packed RV parking lot, but there's also a tent area.  A sign said "tent area full", but as I was looking around trying to figure out what to do, the campground host came over and said I could set up my tent on a patch of grass near the river.  She said they never turn away bicyclists, and never charge them money either.  So that was nice.
The tent site I have is right near the river, but it's also right under a street lamp.  This could be annoying, except that I can sleep basically anywhere after biking all day.  Since I have no flashlight, it's actually kind of nice to be able to look at maps in my tent without one.  There's no shower at this campground, but I was rained on all day, so maybe that's enough.