Day 4: Belfair to Centralia, WA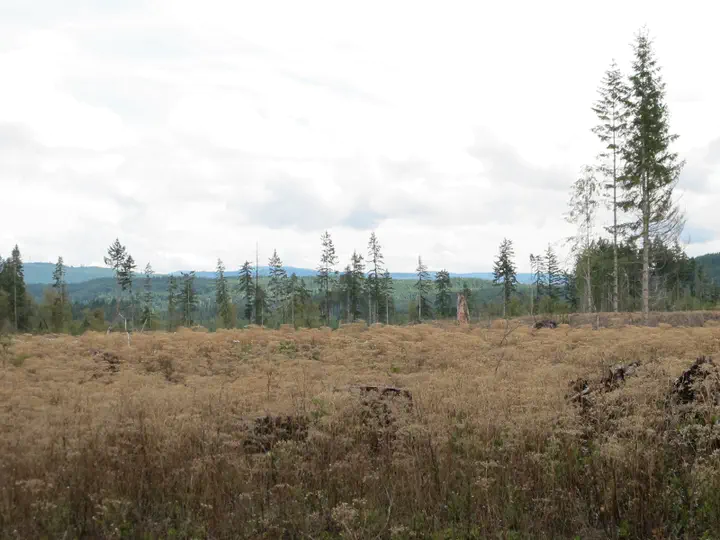 August 28, 2013. 88.7 miles.
I was going to get an early start, but when I woke up at about 6:30, it was still raining.  I went back to sleep and woke up again at about 9.  It wasn't raining anymore, but what with trying to dry the tent out as much as possible, I didn't get on the road until 11.  So much for an early start.  Also, so long to any hopes of reaching Lewis and Clark State Park (it would have been over 100 miles, so that probably wouldn't have happened anyway).
As I was approaching Mason Lake, I met another loaded cyclist going the other way.  We stopped on opposite sides of the road to chat, as traffic occasionally zipped between us.  He was from Connecticut, and was on the last day of his trip to Seattle (had been on the road for a couple of months).  Apparently he was going to take a ferry from Seattle up to Alaska next.  He's on a bigger adventure than me.  He warned me of a very short but very steep hill coming up, and we eventually went on our ways.
I found his hill, and managed to get up it (it helps when you can see the top from the start).  There was a bunch more up and down after that, through logging country with periodic lakes surrounded by vacation cottages.  The views were nice from the ridgelines, though marred by the  periodic clear-cut patches.
Eventually, I got a really nice long gradual downhill along Cloquallam Creek down into the Chehalis River valley. Looking at the maps, I saw the rest of the trip to Centralia was through the river valley and so would probably be flat or slightly downhill.  Yay!
The road was flat, or slightly down hill, though much of it was surfaced with crushed gravel just sort of stuck into tar (I gather this is called something like "crushed stuck").  It was a pretty bumpy surface for riding.  Luckily, through laziness or budget or something, they had neglected to resurface the shoulder in many places and the old surface was much smoother and in good condition.  It was almost like a bike path along the road.
The country in the river valley was farming country.  I saw quite the variety of farm animals: cows, sheep, chickens, goats, llamas and alpacas.  And dogs.  Lots of barking dogs.  Most of them weren't a problem, but two were very much a problem.  They sort of snuck up on me, and then started barking and trying to herd me.  One ran alongside my bike, and the other jumped right in front of me.  I couldn't really do anything except run into the dog.  Couldn't have been pleasant for the dog, and I hit the pavement.  Luckily, I wasn't severely damages (bruised hand and scraped elbow).  The dog seemed fine too.  The owner was yelling for the dogs to come back, but didn't acknowledge me at all (it seems like asking if I was OK might have been polite).  I gained a new-found appreciation for people who fence or chain their dogs.
I made it into Centralia just as it was getting dark.  I guessed that the motels mentioned in the map would be near the intersection with the freeway, and I was correct.  I stopped at the first motel I saw (was about $60, which seemed reasonable).  I showered, and was leaving to find some food at one of the restaurants across the street when I passed a guy wheeling a loaded bike into a room down the hall.
Turns out his name is Ace.  He's from the Bay area, and is on a bike tour arranged around visiting skate parks (he had a skate board strapped to the back of his bike).  He was hungry too, so we went to dinner together at the only place still open after 9pm (a Mexican restaurant). It was nice to trade stories with another cyclist. I opted out of a beer (and the motel hot tub which the receptionist had emphasized) and headed back to my room to sleep.
When pulling out my phone to set an alarm (early starts are great, even though I never get them), I realized it must have gotten hit by something when the dogs knocked me over.  The screen is totally shot.  Too bad, I liked that simple brick phone.  Worked very well for what is was.  There's a wireless store across the street, though, so I can get another one in the morning.