Day 3: Fort Casey to Belfair State Park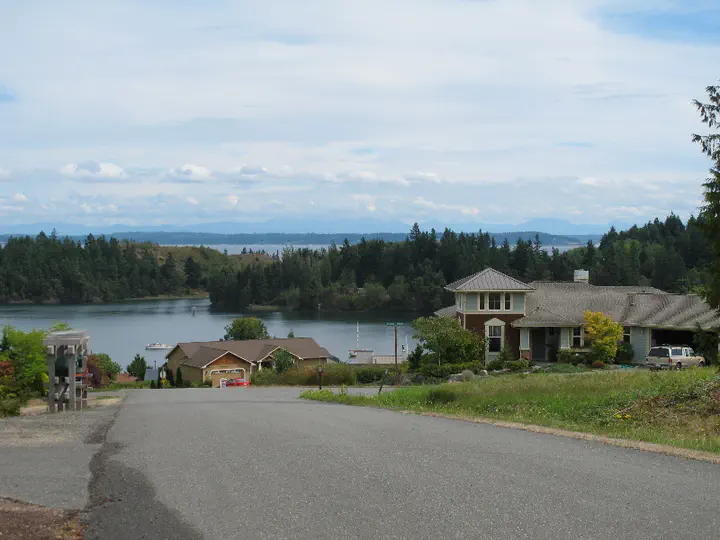 August 27, 2013. 80.79 miles.
Today started out with a rather unfortunate detour.  I got up early, and was all set to catch the first ferry of the morning (7:20am).  When I took out my wallet to pay for the ferry, I noticed something was missing – my ATM card.  After thinking for a minute, I realized I didn't remember taking it out of the ATM yesterday back in Coupeville.  So… I confirmed that my ticket was good for a later ferry and headed back the 4 miles to town. Of course the bank didn't open til 9, so I stopped at a grocery store for some assorted protein/snack bars, and then hung out outside the bank for a an hour and a half.  They opened the door, and I told the woman that I thought my ATM card had been eaten by their machine.  She asked if I was a customer of theirs, I said no, and she said "I can't give you back your card".  Panic!  I asked why not.  She said "policy".  I must have looked as distressed as I felt, because she asked if I was from nearby and when I explained the situation, she admitted that there were exceptions to every rule.  After talking to a couple people and producing both my drivers license and passport, I finally got my card back.  Phew.  I will be paying more attention to things like that in the future.
I left the bank at 9:07 and sprinted the 4 miles back to the ferry, managing to just make the 9:30 departure.  The ferry itself was relaxing (featured nice views and a blueberry muffin).  There were a number of bicyclists getting on as I was getting off.
I detoured a bit more as I tried to find the entrance to the bike path in Port Townsend.  Turns out you have to go through the parking lot of a shipyard, and there's no indication that there's a bike path on the other side or that you are welcome to pass through at all.  Probably would have been faster to just continue on the main road, but it's the principle of the thing.
The next 20 miles or so were pretty, but what I remember most is that they were full of hills.  The annoying kind of hills that are just long and steep enough to be hard to get up, but small enough that you don't really get time to enjoy going down them.  Or maybe there actually was more up than down.  It's hard to tell.
Getting through Silverdale and Bremerton involved a lot of annoying urban cycling.  The stretch just past Bremerton featured a few miles on the limited access portion of highway 3.  The shoulders were not quite as wide as I would have liked, but luckily I was going in the down-hill direction, and the few miles were over quickly.
Between there and Belfair the route left 3 and followed some really secluded roads through the forest.  It was quite pretty and peaceful, but also getting rather grey and darkish under the trees, so I was glad to see the turn-off for the park.
The hiker/biker area at the park is, unfortunately, right by the road so gets a fair bit of traffic noise.  The rest of the (rather large) campground has some very nice and semi-secluded sites. But it wasn't worth paying more just to sleep in a prettier spot.  I got the tent set up, went to take a shower, and when I came out it was pouring rain.  I guess I could have just stayed outside and saved the 50 cents.  Though I guess the rain might have been a bit cold.