Day 2: Larrabee State Park to Fort Casey State Park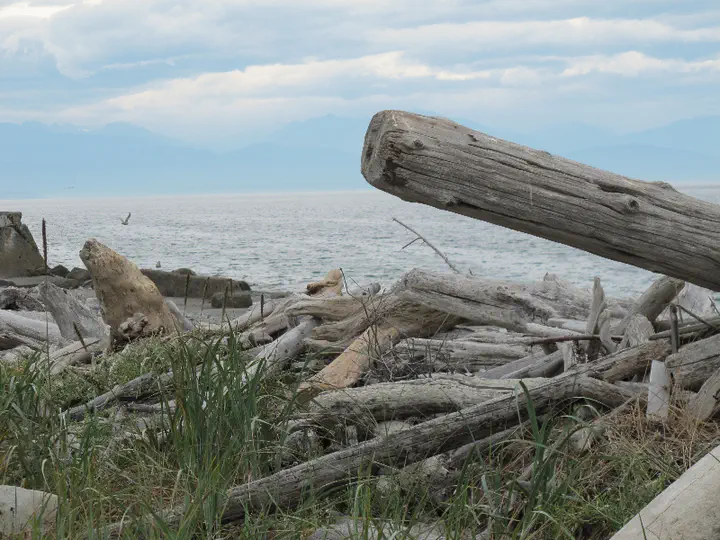 August 26, 2013. 58.15 miles.
This morning I actually noticed the area around the campground that I was too rushed to notice last night.  Chuckanut Drive is really quite scenic, through dense forest with lots of ferns, and periodic views out over the bays.  At one point I passed a guy with a Westfalia van who had pulled off the road and was sitting on a rock playing guitar.  It seemed appropriate.
I got a nice long downhill into the lowlands.  I stopped to take a picture at the bottom in a parking lot across from a small cottage with a large sign that said "TEA".  As I was getting ready to move on, a man came out of the cottage and said hi.  We chatted for a minute.  He seemed quite new-agey, and invited me in to chat more, but I wanted to get going.  I said I liked his sign – he said it was his nickname in college.
The next few miles were through pastoral country, but with a pretty heavy headwind for much of it which made it less enjoyable. Quiet roads and pretty country, though, with constant views of mountains to one side and  bays to the other.
Near Bay View there was a short (2 mile or so) bike path.  The entrance to the path was blocked by gates, with a set-up that was apparently designed to let bikes through.  The design was unsuccessful.  It was two parallel metal bars, with enough space between them to allow a bike to pass (followed awkwardly by the rider).  For a standard adult bike, the pedals would go under the bars and the handlebars would go over.  My front paniers fit under, but I had to take the back paniers off to get through.  There was a family behind me, and the father had a trailer for his infant.  I helped him lift the trailer over the barrier.  Children's bikes also had to be lifted, because the handlebars were at the wrong height and hit the barrier bars.  Anyway, it seemed quite badly designed, and really overkill to keep cars out.  Also, as I was navigating through, I heard something snap.  Couldn't figure out at the time what it was, but it turned out to the be switch on my headlight.  So now my headlight is probably perfectly functional except that I can't turn it on.  I'll probably get another one when I get a chance, mostly to have a light at camp.
Deception Pass onto Whidby Island was gorgeous.  I walked my bike across the bridge on the narrow sidewalk (the road with no shoulder and lots of traffic seemed unappealing, and this way I got to look at the views).  The narrowness of the sidewalk did mean I had to stop and wait for groups of tourists to go back to their cars a couple times, but at least I had something to look at.
Whidby Island itself was nice in a slightly desolate sort of way (at least in places).  I spent a while right  by the coast on West Beach Road.  There were lots of houses for sale. Great views of the Straight of Juan De Fuca, but surrounded mostly by sand and driftwood.
I stopped  at Coupeville to use the ATM, get quarters for park showers, and get dinner.  I ate at a little Italian place, and had mediocre pasta.  But the nice thing about biking all day is that even mediocre food tastes good.  The proprietor of the place was very approving of the whole biking thing, and said he used to do long trips when he was a younger man.
The last 4 miles to the park were uneventful.  I biked up the rather steep road into the park proper, only to realize that the campground was down the other side right next to the ferry terminal.  So I could have avoided the hill entirely.  Oh well.  I did get to see some of the fort ruins, though I didn't look that closely since I thought I would be coming by them again in the morning and was eager to get my tent set up and a shower.
The campground is on a little stretch of beach right near the ferry terminal.  It's mostly full of RVs, of course, and there was a sign on the check-in board saying "no sites available".  I panicked a bit briefly, until I saw that there was a price listed for the hiker/biker area behind site 7.  It turned out to be a fenced in area (which was nice, blocked the wind a bit and made the RVs less  noticeable) and totally empty.  So I set up camp and then wandered over to the coffee shop by the ferry terminal and got a chai and a brownie.  Not bad.