Day 1: Vancouver to Larrabee State Park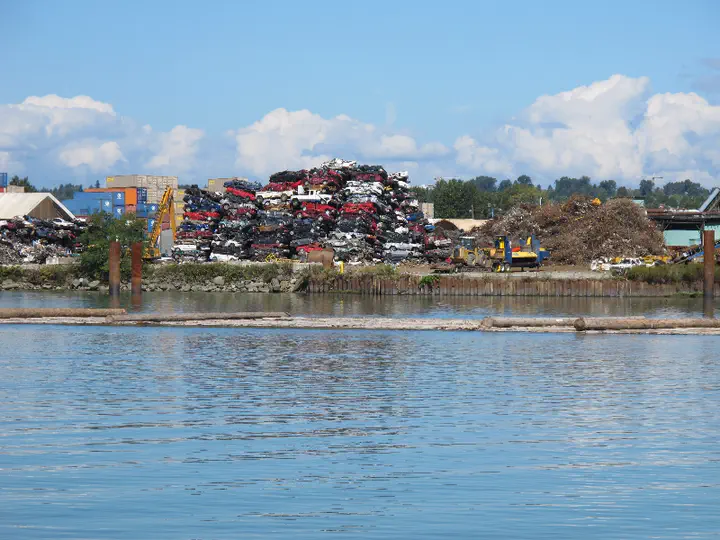 August 25, 2013. 84.72 miles
I started out the day by missing the turn (before hitting the mapped route) and adding a couple miles to the day.
The first part of the route was through residential Vancouver. Quite prosperous looking. Calm on-street bike routes.
Things got a little hairy trying to find my way over the bridges since I had to cross a couple major roads. The bridges themselves had sidewalks, luckily.  Got pretty turned around coming off one though. I could see the road I wanted, but couldn't figure out how to get there and ended up going around the long way.
Spent a while on an island that reminded me a lot of Neville Island in Pittsburgh. Industrial, and deserted on a Sunday. Except the industry around Vancouver was all timber rather than coal – timber barges can be really long! On the end of the island were some residential areas with cute houses with nice gardens.  Pretty, with views of the river, but also surrounded by industrial wasteland.
While crossing the bridge off the island, I met a couple with lightly loaded bikes. They said they were only going for a short trip, but had biked down to central CA in the past. They said Oregon is best. The woman said that when she finished grad school, they spent six weeks biking around France. I guess I'm not the first to have removed idea of a bike tour before dealing with the real world.
Shortly after the bridge, I successfully failed to get lost despite some very inadequate directions. After that, the rest of the route to the border was all on numbered streets, which made navigation easy. But it was basically all suburbia, which was pretty boring. The last few miles before the border had acres of blueberry fields (with lots of ripe berries), which was slightly more interesting. Shows what I think of suburbia.  Though I did glimpse some people playing cricket.
The border was uneventful, and I got to pass the giant line of cars. The border guard responded to my statement that I was biking south by saying "what do you mean?".
Washington on the other side of the border was rural, and not all that exciting.
I stopped for pizza around 6pm, about 7 miles before the campground.  The pizza was OK,  but I really enjoyed the balcony seating with heat lamps.
I didn't really pay attention to those last 7 miles since I really wanted to get to the campground before dark. I succeeded, barely, though all the walk-in sites were full so I had to pay more for a standard site. Boo.