TAS day 29: Cradle Mountain to Gunns Plains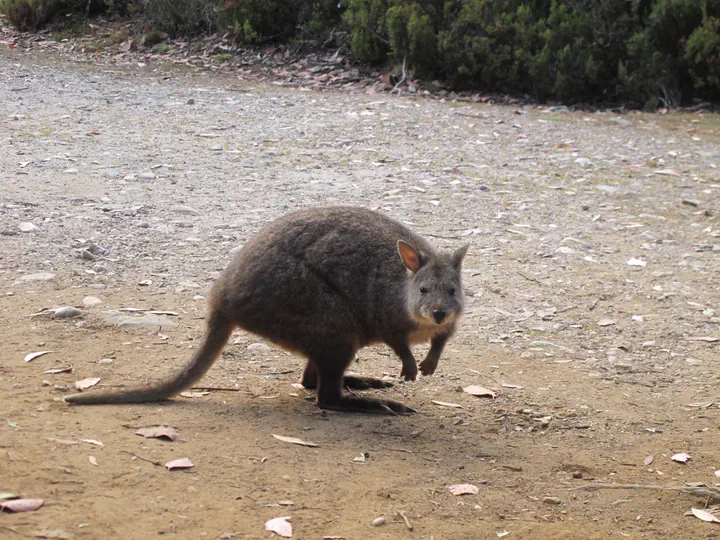 January 24, 2016. 75km.
No animals woke me up trying to get to my food at night, but I was snacking on Pringles in the morning when this fellow started nonchalantly approaching. I took a picture before scaring him off. My salty snacks are all for me!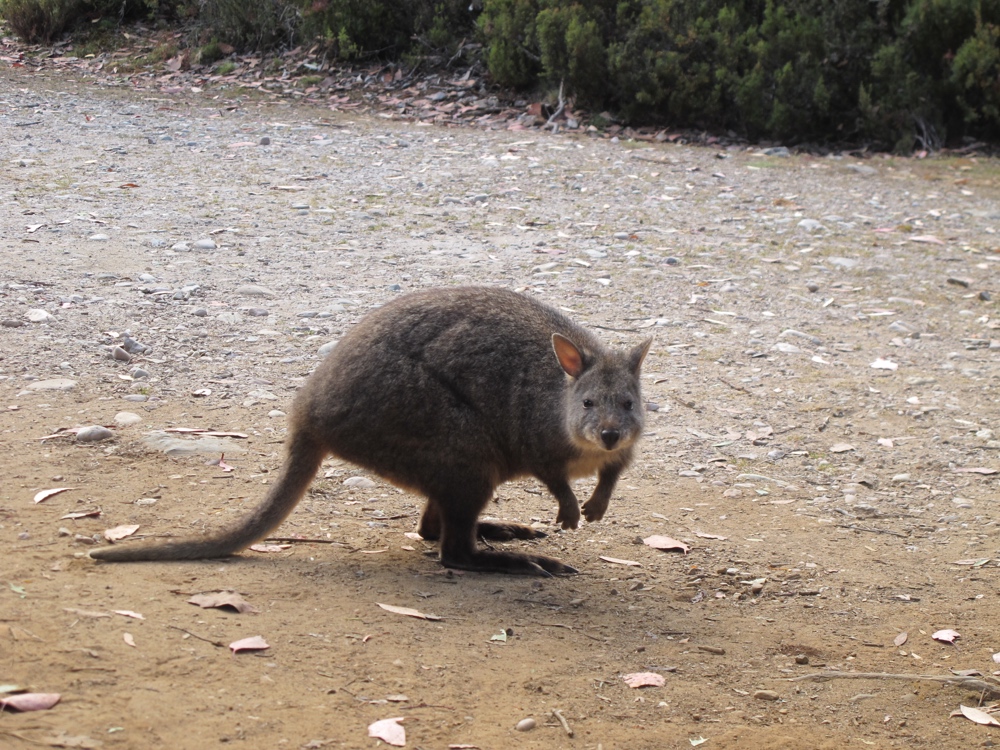 I woke up quit early, but didn't get on the road until 10am or so. First it was too cold to want to leave the comfort of my sleeping bag, and then I stopped at the camp store for yogurt and an oatmeal bar for breakfast. By the time I did leave it was quit comfortable for biking with a light jacket.
Today's ride was theoretically mostly downhill, but it didn't feel that way. Partly my legs were feeling pretty tired from biking to Cradle Mountain and then hiking all day yesterday. Partly it was just that there were 1000m of climbing, some of it quite steep.
The standard Giro Tasmania bike routes all go from Cradle Mountain to Gowrie Park or Sheffield, but since I have an extra day to use up, I decided to head farther west to Gunns Plains. There isn't much in the way of a town there, but there's a wildlife park that is supposed to be one of the better places to see Tasmanian Devils, and a cave that's supposed to be quite impressive. The wildlife park also has camping. Good enough for me. Besides, when I got to the turnoff toward Gowrie Park the entire valley was full of smoke. My whole at required more hills, but kept me out of the worst of it.
The scenery wasn't all that impressive today. I'm getting back into the farmland of northern Tasmania. So back to brown fields and patches of green trees.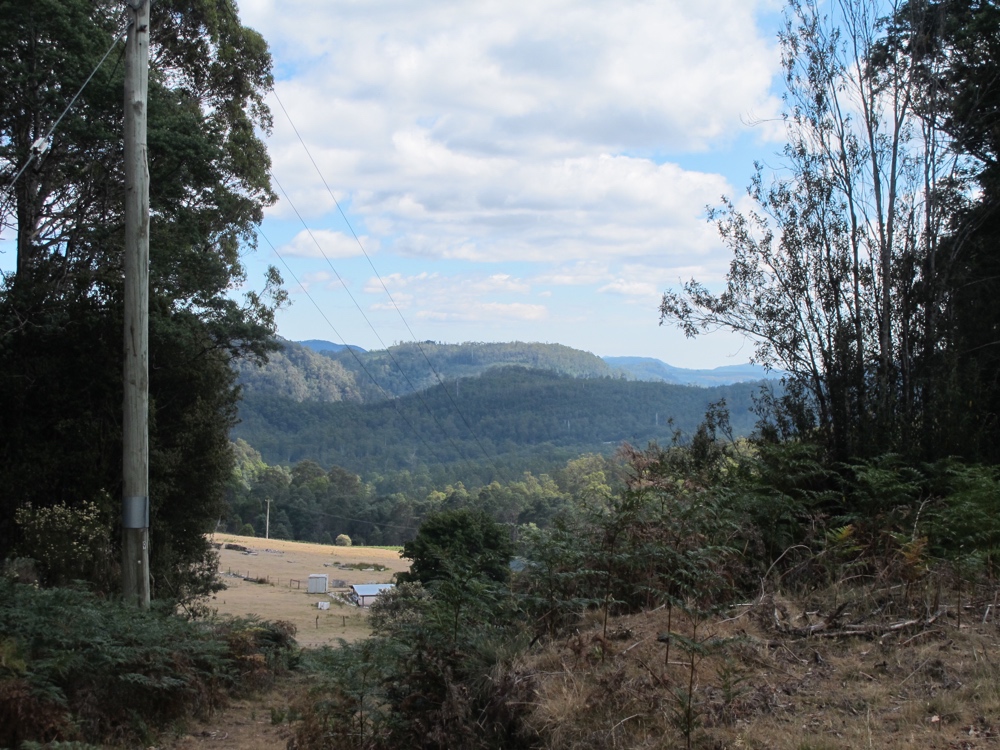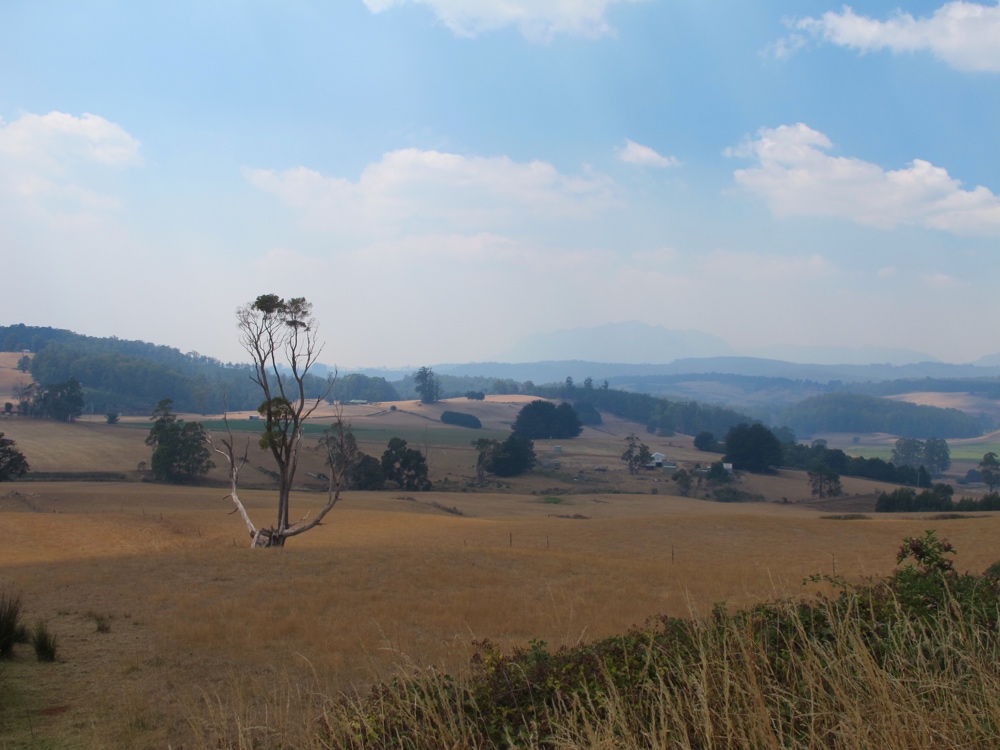 One thing I knew going in was that this route would have a steep bit where the road plunged into and then out of a narrow river valley. The way around was a lot longer and still had hills, so I figured I would manage. In the end I did, but it wasn't the most fun I've had.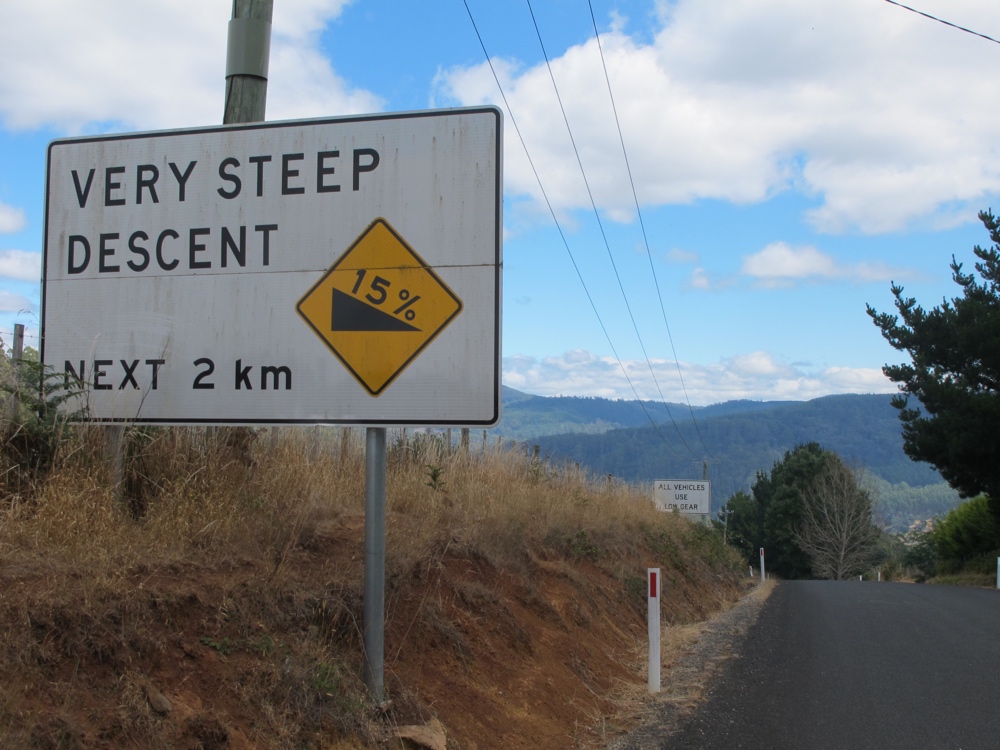 The road going down was extremely steep (the way out was a bit less so because they had room for some switchbacks). I had to have my breaks on pretty hard the whole way, and it felt a bit like I might fall over foward. Not really all that fun. Then, just across the bridge over the innocent looking little stream that was all that was left of whatever water made this valley in the first place I heard a very loud bang, and found that my back tire no longer had any air whatsoever. The rim of the wheel was really hot, and I hypothesize that all that braking caused enough heat to blow out my tube. Or something. Probably a good argument for disk brakes on my next touring bike. Luckily there was a large flat area by the steam to change the tire.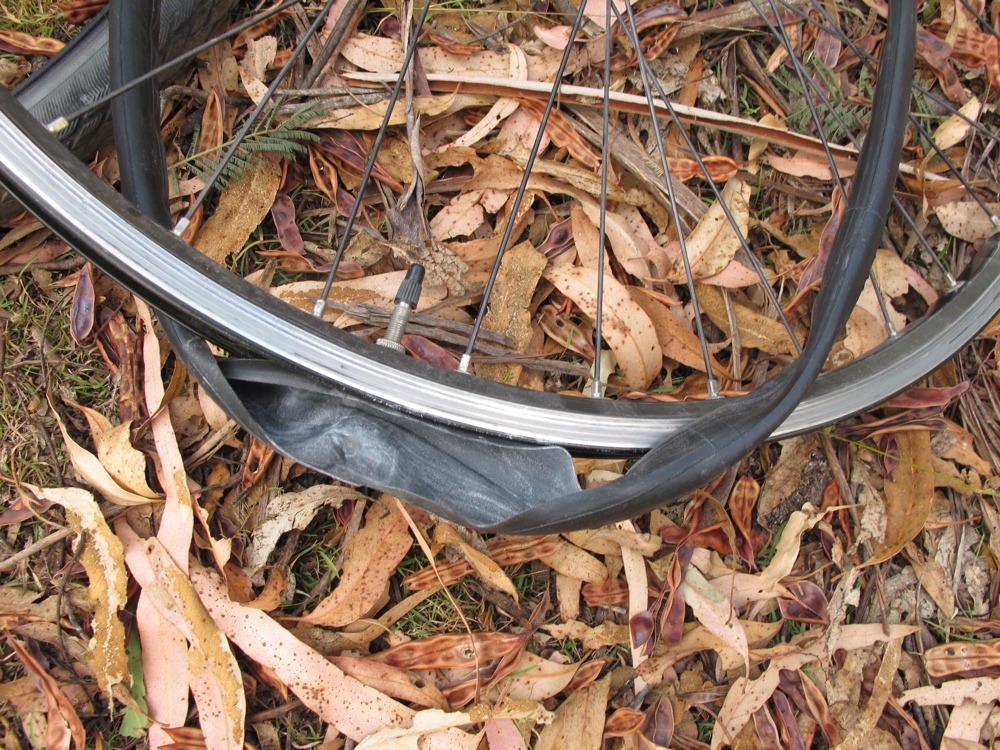 The way up the other side was slightly less steep, but still steep enough that I had to walk several hundred meters in spots. I figured it couldn't go on for all that long, and it didn't. Eventually it flattened out to just the normal Tasmanian sort of uphill. Then it was rolling farmland backed by mountains for a while.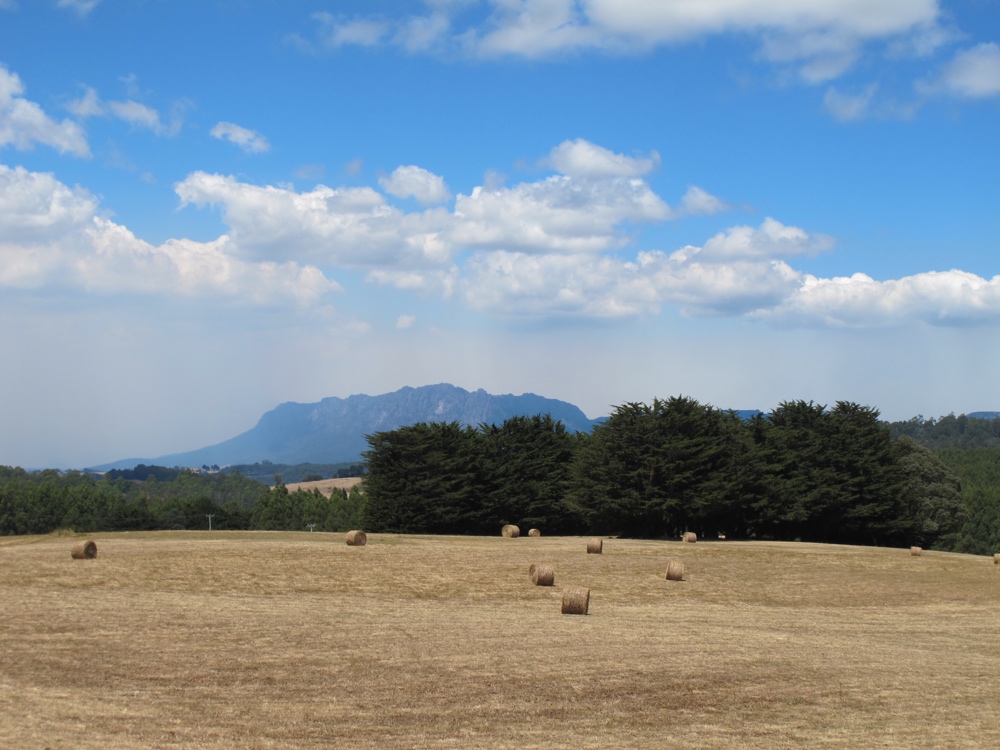 There was one more uphill for the day before got to coast down a nice long descent into the valley at Gunns Plains.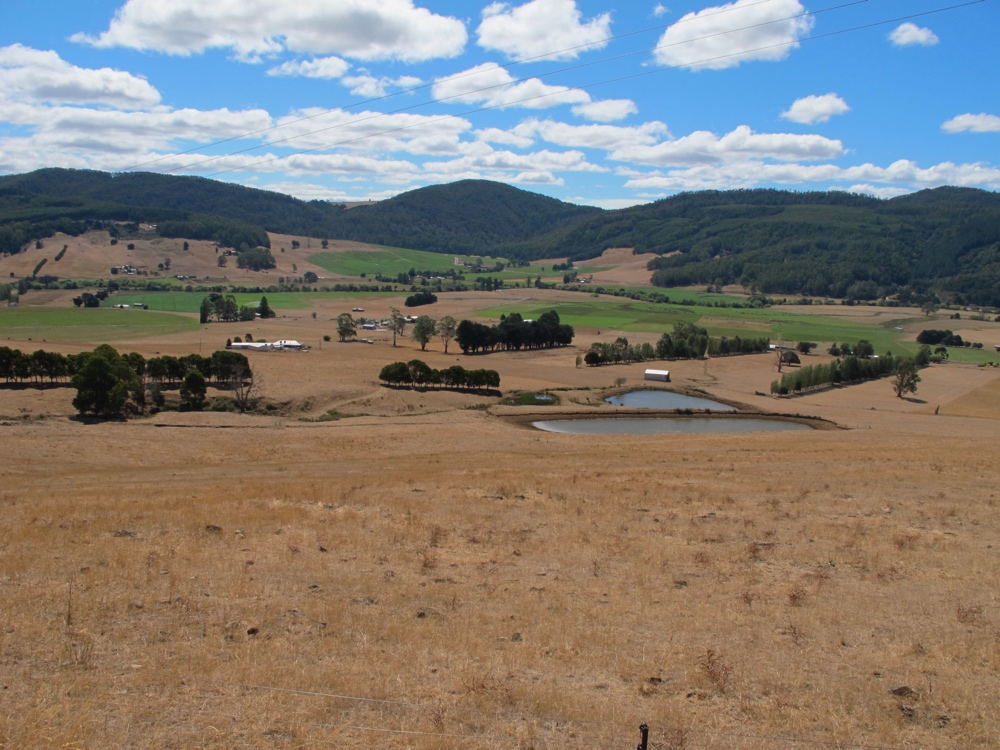 I got to Wings Wildlife Park just before 4 (when the office closes) and the owner offered my a quiet shaded place to pitch my tent by the picnic shelter (closer to the facilities and not competing with the large vehicles and giant tents in the main camping area). I'm back in the land of no water, so bought a large bottle from the shop (I might be able to filter the untreated and rather orange water from the bathroom taps, but didn't bother).
All in all, not the hardest day of riding, but far from the easiest. Tomorrow I'll explore the caves and wildlife park, and the the next day I'll bike th last 40km or so to Devonport. I have a motel reservation, and so will be able to relax, perhaps do laundry, and actual see what there is to see of Devonport (I never went into the actual town on the way in to Tasmania).