TAS day 7: St Helens to Douglas Apsley National Park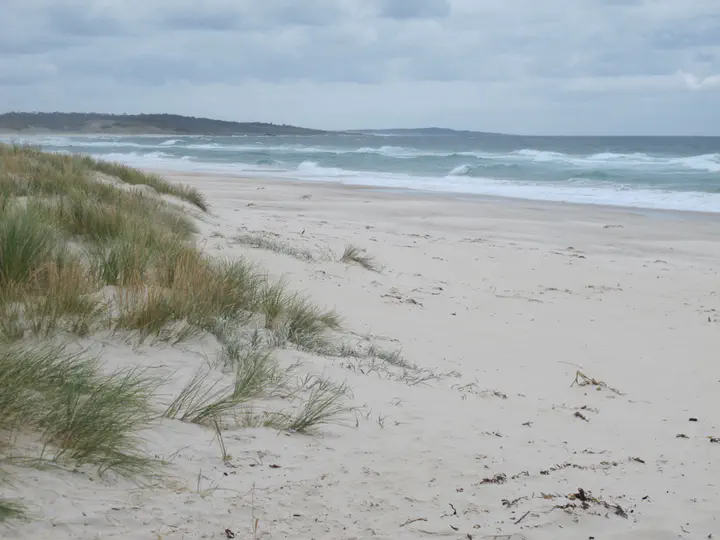 January 2, 2016. 77km.
The (self proclaimed, repeatedly) Hill Billy Tasmanian clan had a breakfast going of bacon and sausage and toast and eggs, and insisted on feeding me, so I had a much better breakfast than my usual granola bar and handful of nuts.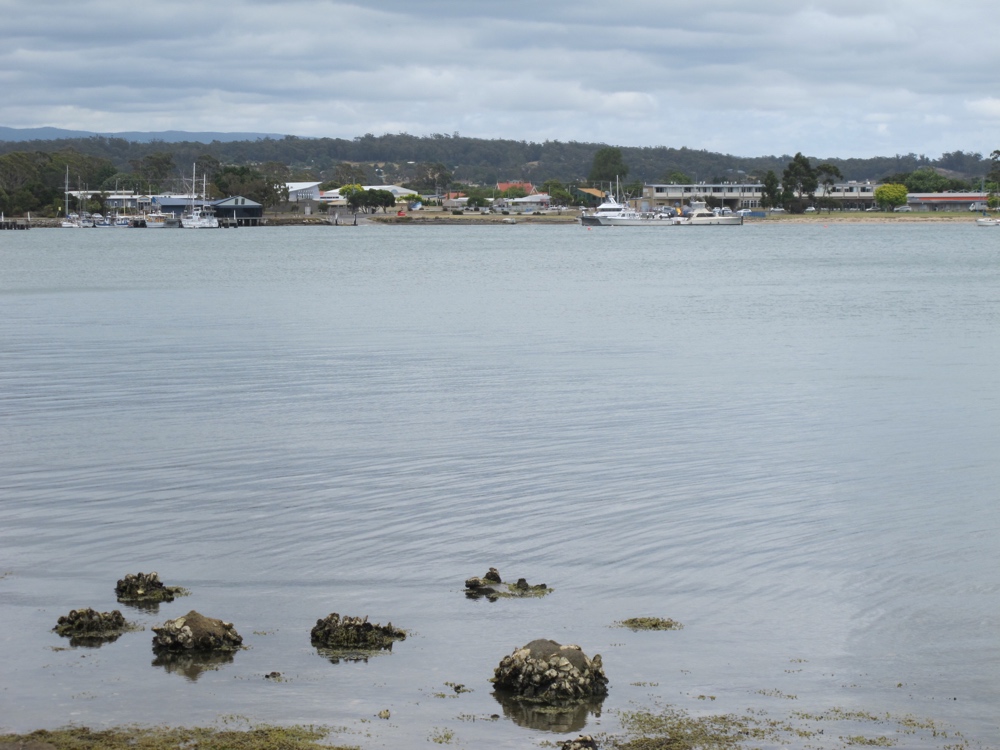 The ride out of town was relatively traffic-y, though there was a bike path for the first km or so, which was nice while it lasted.
The headwinds from yesterday evening were still going strong (perhaps stronger) so it was a slog down the coast. The ocean views were probably a bit more dramatic than usual as a result. Less tranquil terquoise ocean and white beaches, more grey sky and crashing surf.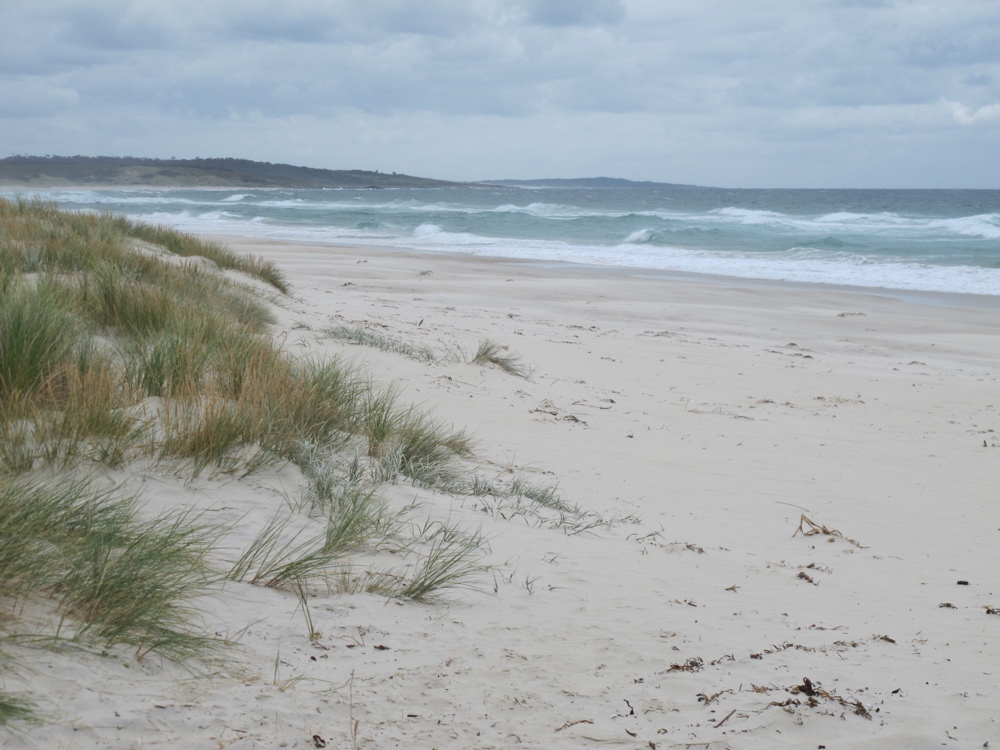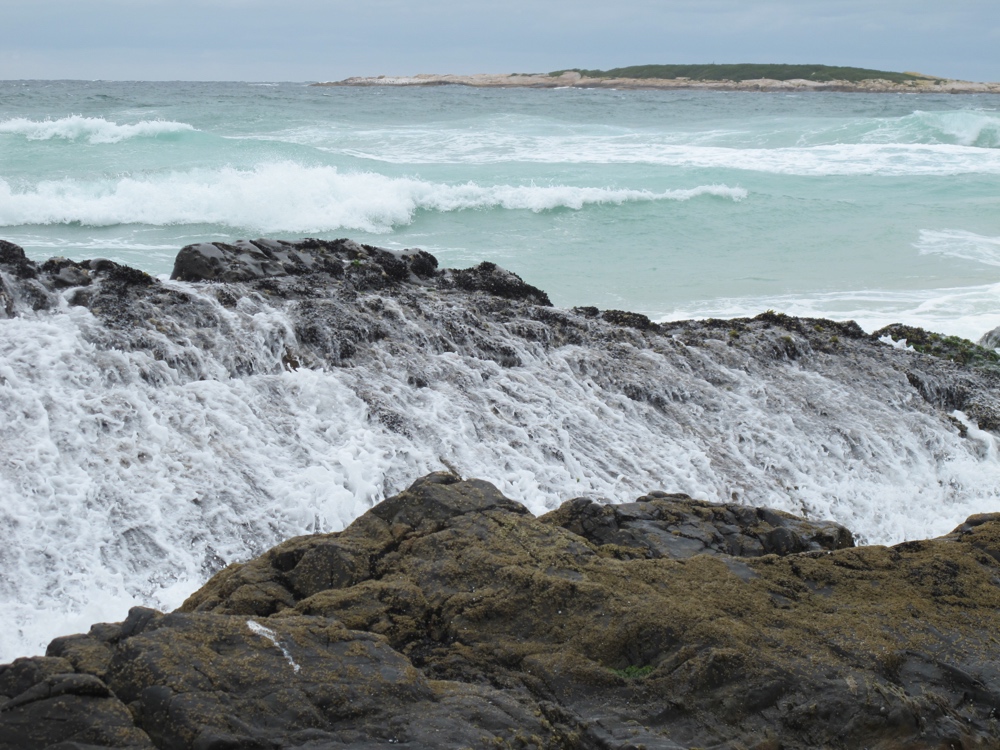 At the beach where I took these pictures, I met a woman with a couple of dogs who was very happy that the weather had cooled off because the air conditioner in her car was broken. I agree about the cooler weather being nice. The accompanying wind – not so much.
Somewhere before the 20km mark I went through the tiny town of Scamander (I can't help but think salamander when I see that name). Like many small towns around here (it seems) they had a walking/biking path coming in to town as well. I suppose it makes up for narrow roads and no sidewalks. Though this one started farther from town than I expect people would walk.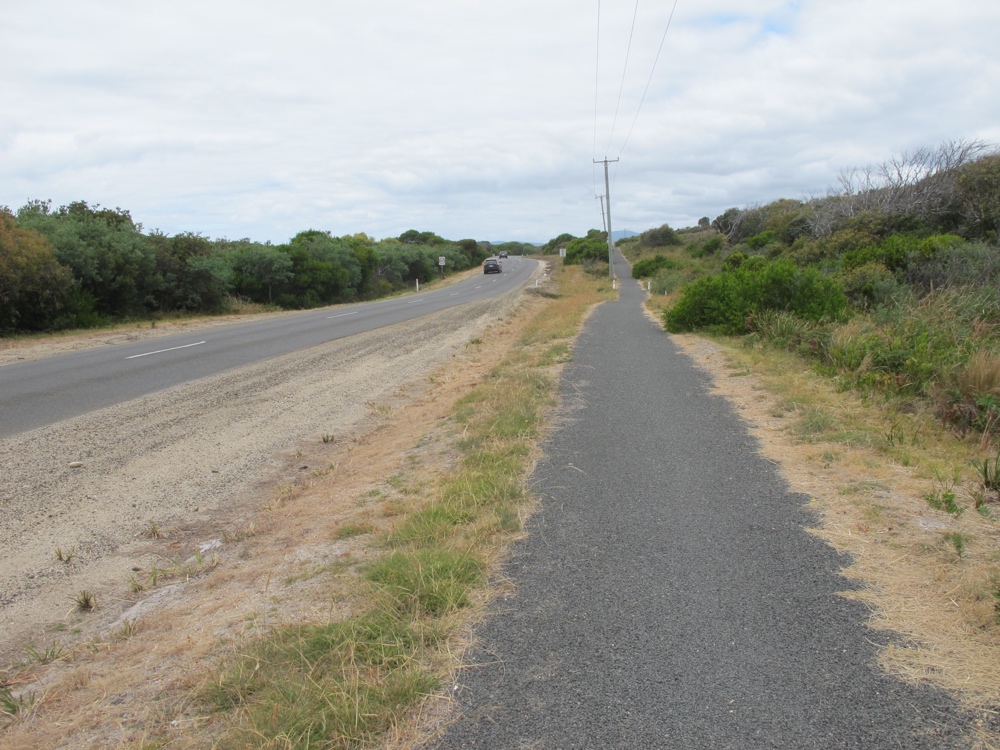 One nice thing about bike paths is that you can look at the scenery without focusing on the rear view mirror, and you can stop and take pictures without finding a pull-off point. Like by this lake.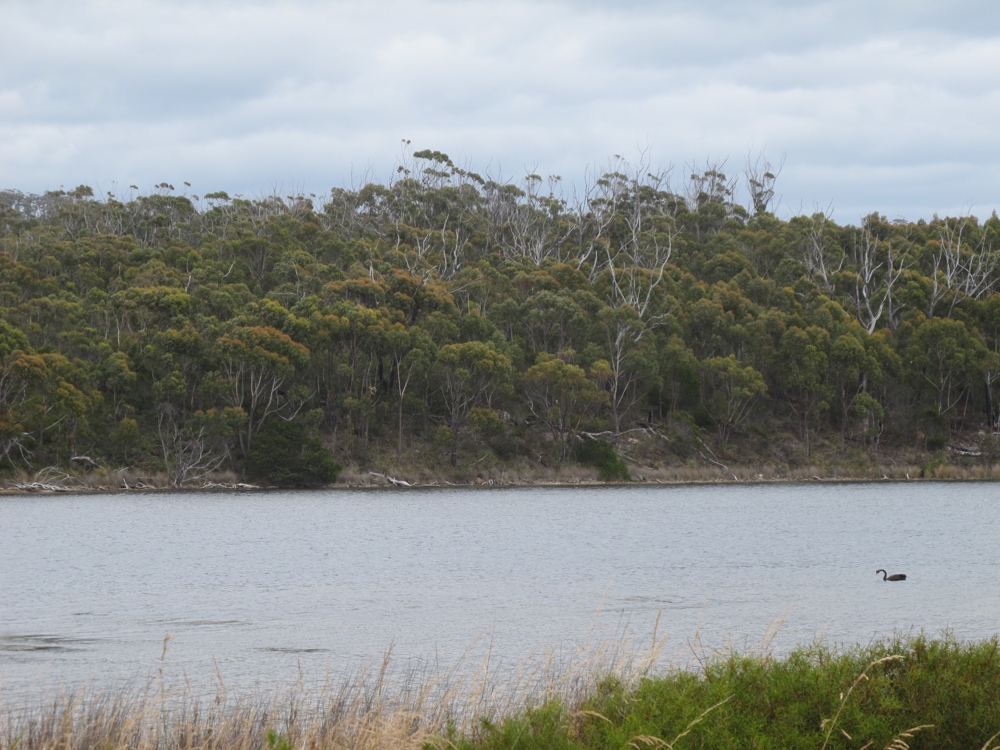 With swans.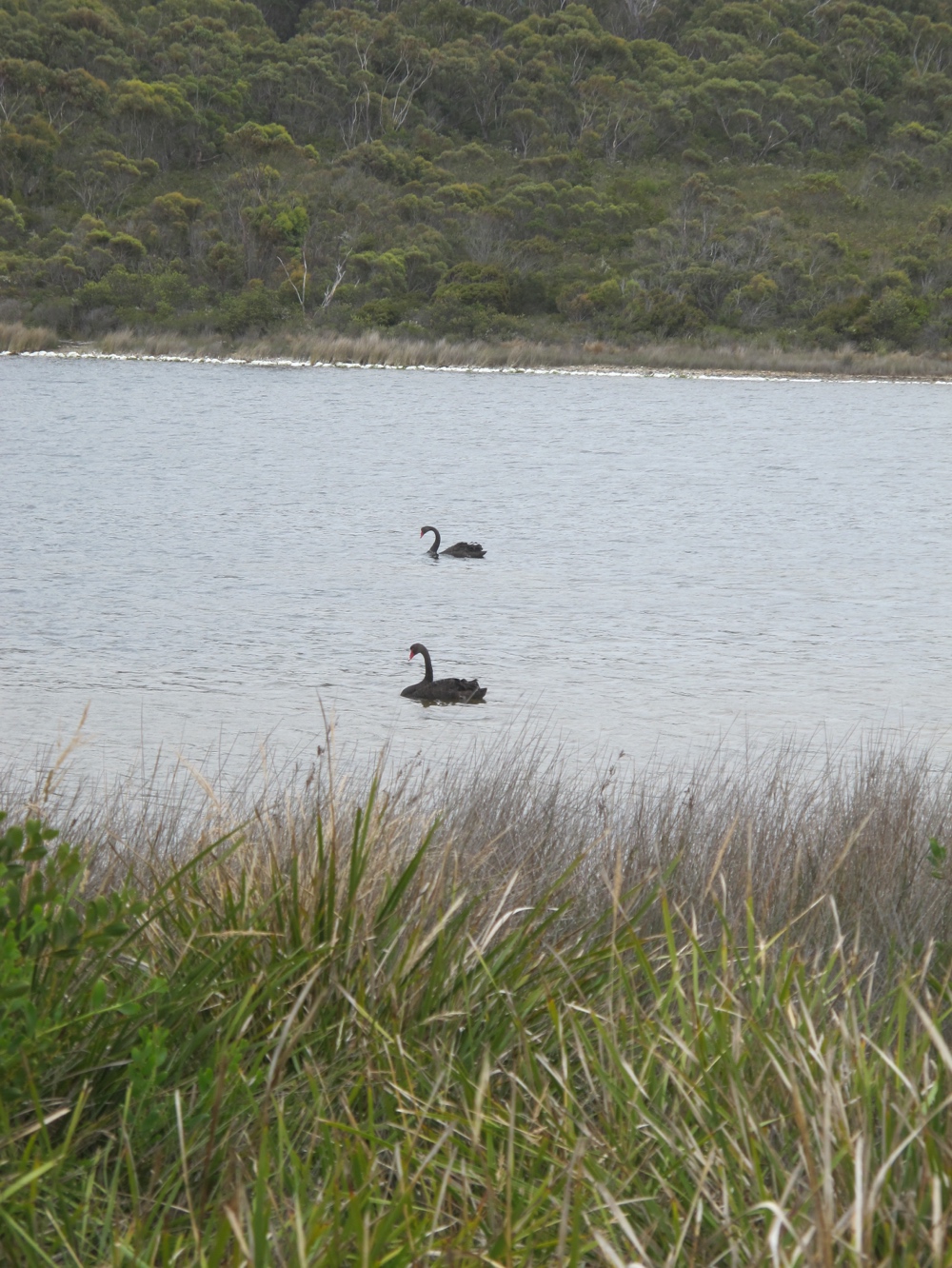 I stopped at the grocery store in Scamander for some provisions (including local wasabi cheddar cheese) intending to stop for lunch down the road. But then just on the other side of town there was a park by the ocean with a fish and chips place (Scamander Newsagency and Takeaway) that looked appealing. So I ate fried things instead. They were quite good.
The other highlight of Scamander was this stand of trees, which I found aesthetically pleasing.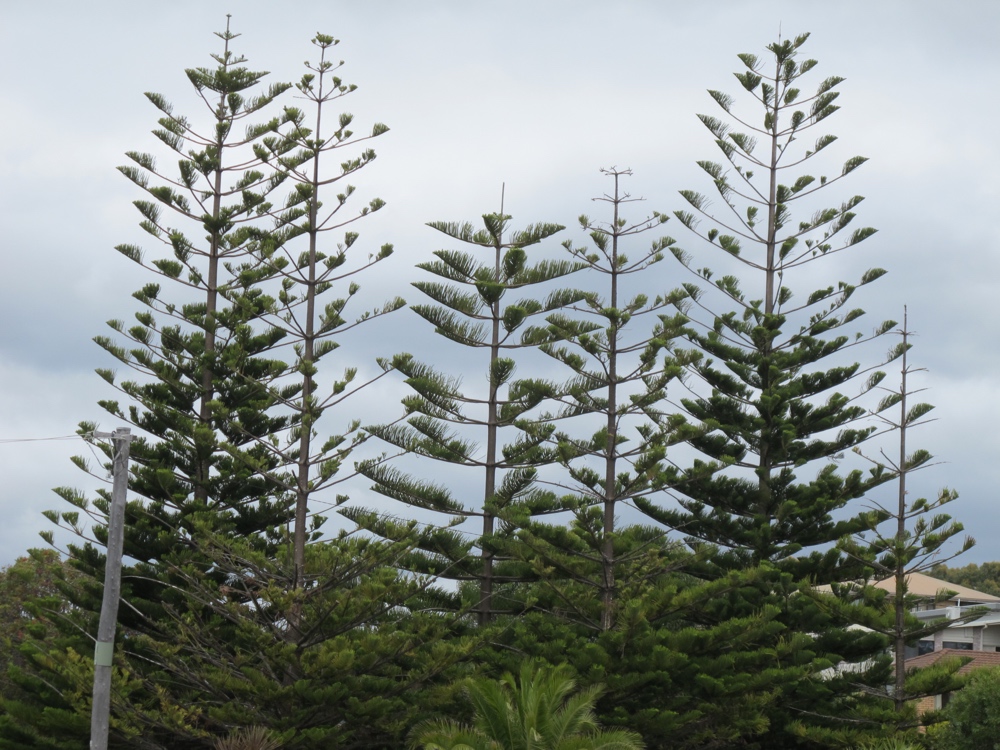 A few km down the road from Scamander, the A4 split off from the A3. I guess the A4 goes inland and is slightly more direct to Hobart, so most of the traffic went that way. I went the other way, which was a nice change. Back to the standard car every 5 minutes rural Tasmanian traffic levels. For about 5 minutes the road looped north and I got a tail wind instead of a head wind. It was amazing riding at 30kph without any effort, and with no wind whistling in my ears. Of course then the road turned back south and it was back to slogging as if going uphill.
At least the nice coastal scenery continued.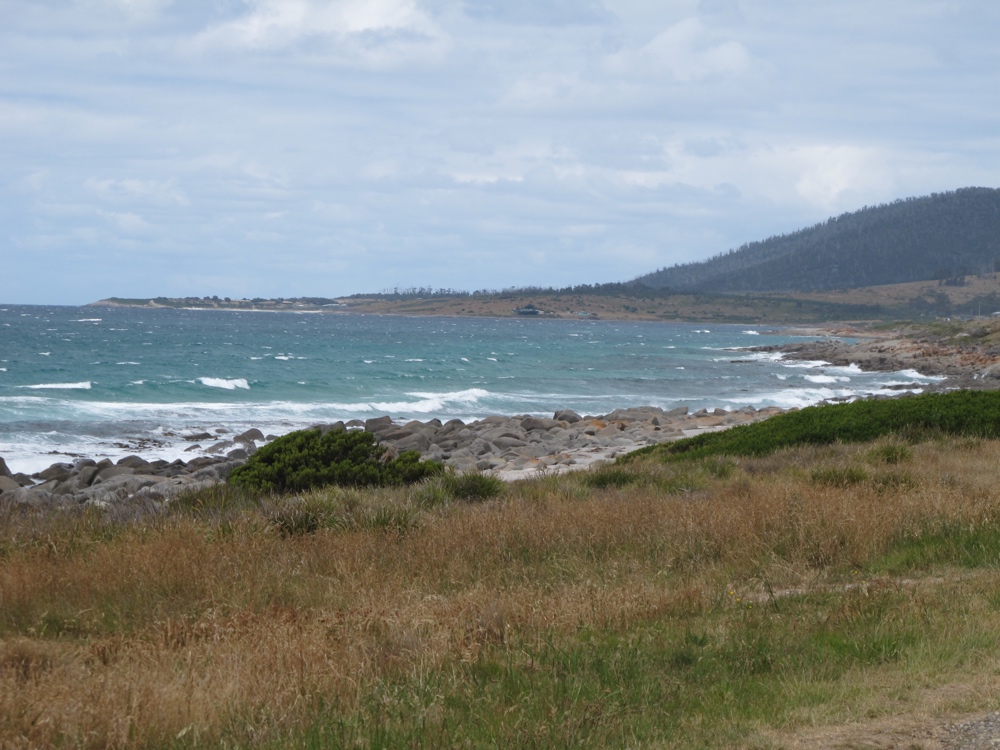 Somewhere in the middle of nowhere there was a free camping area (no water available, which is the all too common situation around here). I stopped to use the toilet, and found a couple of bike tourists camped there. I talked to one (the other was relating by a campfire). She was from Melbourne, and was doing a slow 10 week Tasmanian tour. She had come over on the ferry on the 12th or something, so was going at a completely different pace. Apparently her last tour was from Beijing back to Australia (I assume there was a boat involved at some point). This was a relaxing summer tour between years of a masters program in a pale where she could talk to everyone. She also pointed out that the vehicle-equipped campers all tried to give her water as soon as she arrived in the campground from their 1000 liter tanks that they haul around with engines.
When I told her I was continuing farther that day she highly reecommended camping at the watering hole in Douglas Apsley National Park. I had been planning on staying in Bicheno and making a loop to the park on the way out the next day. But since I had extra food because of the spontaneous fish and chips lunch, I decided to go to the park to camp. Turned out to be a good idea.
Somewhere down the road I saw what looked like someone doing a photo shoot on some sort of bike on the rocks.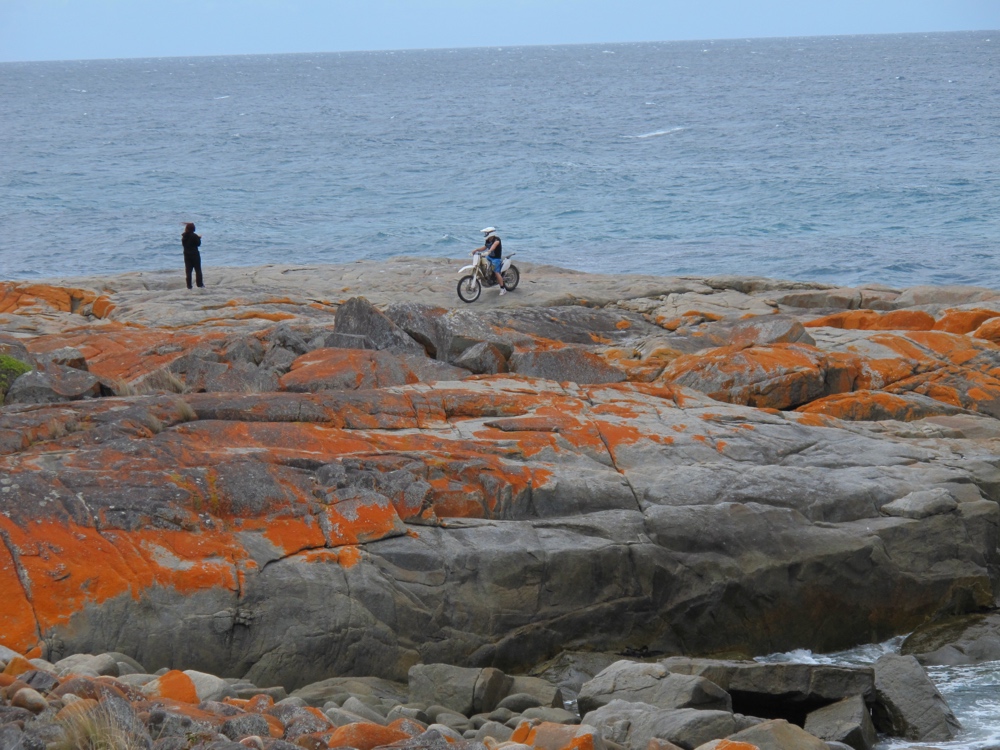 There were also sheep in a field of thistles (or similar).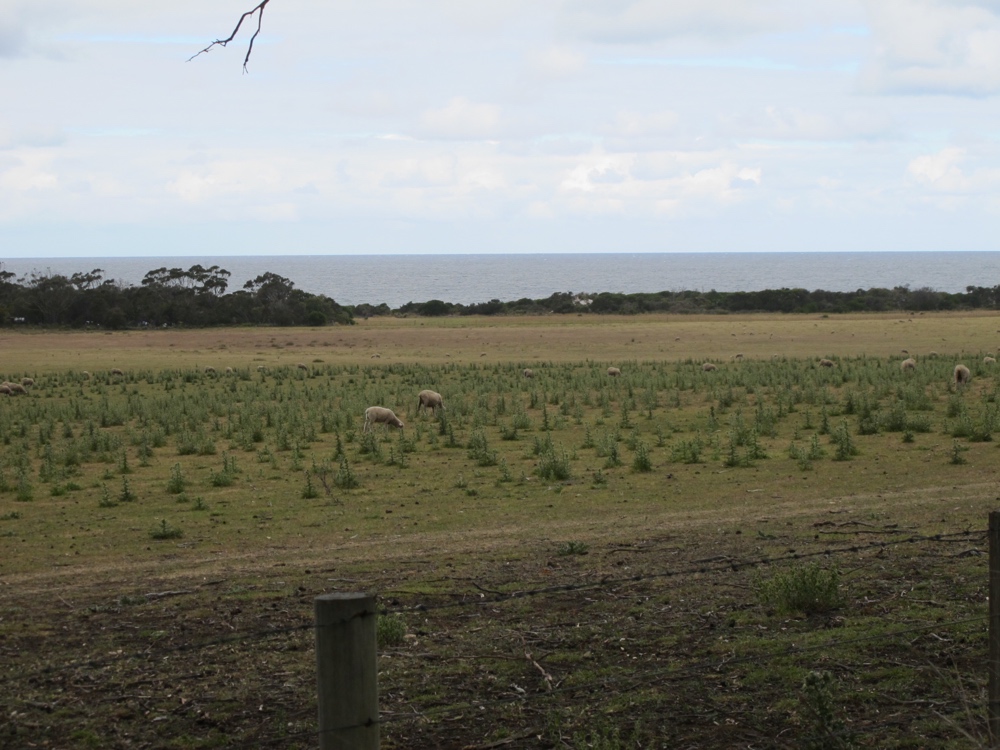 The turnoff for the park came with a  complete lack of traffic – yay! The road was even paved except for the last 6km or so. And the unpaved part wasn't bad.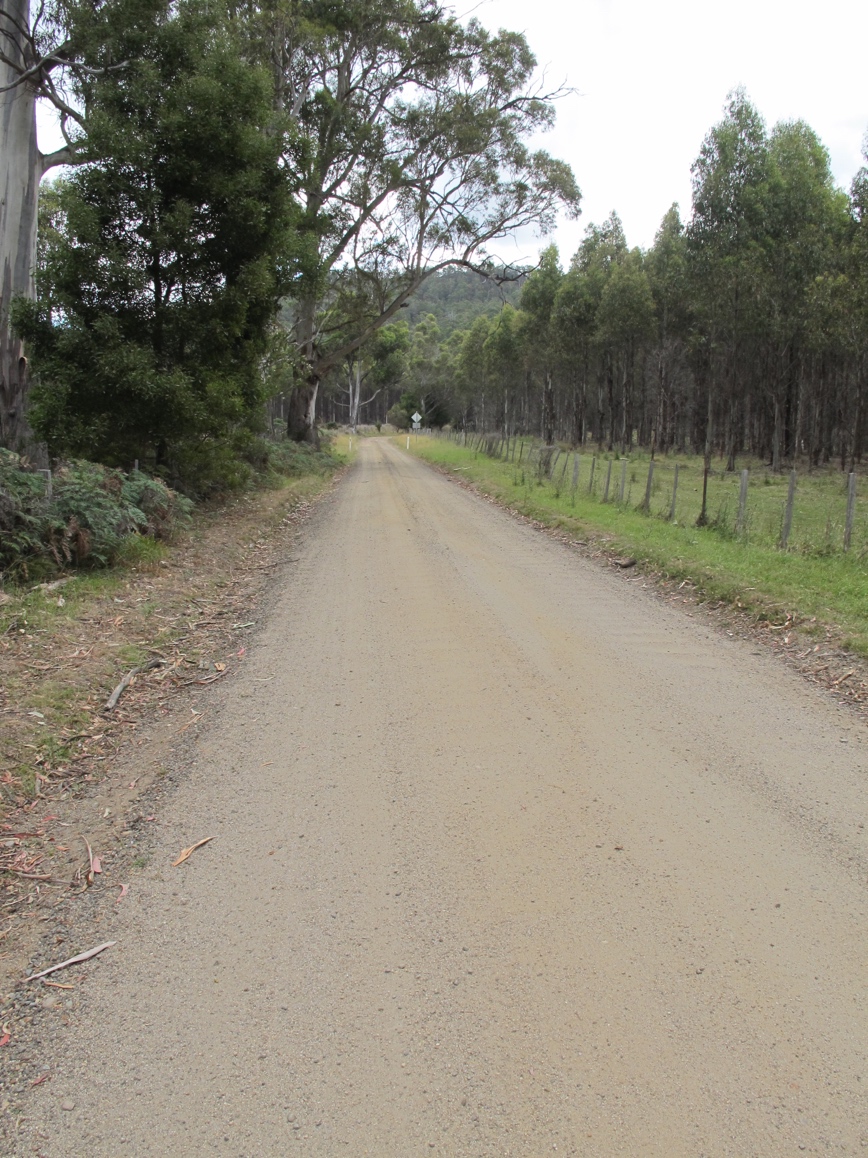 The trees approaching the park were very clearly a plantation, or perhaps herded by obsessive Ents.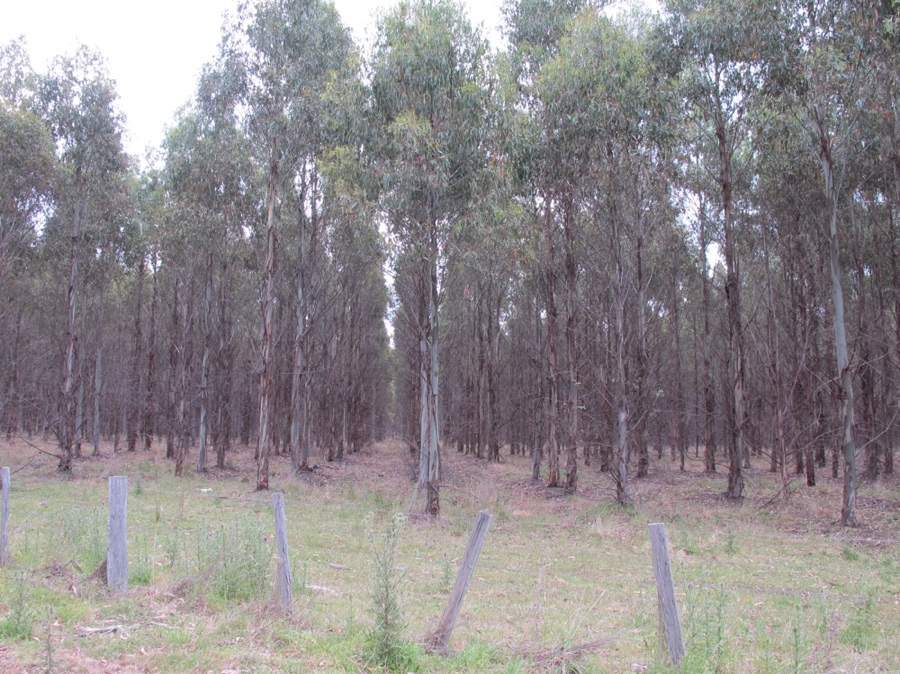 All down the coast, and even on the road out to the park there were a lot of houses and lots for sale. If anyone wants to move to Tasmania, there are a lot of options.
I found the park and the primitive campground easily. There was one other couple in the campground (traveling from Melbourne by car). I didn't talk to them much but it was nice not to be completely alone.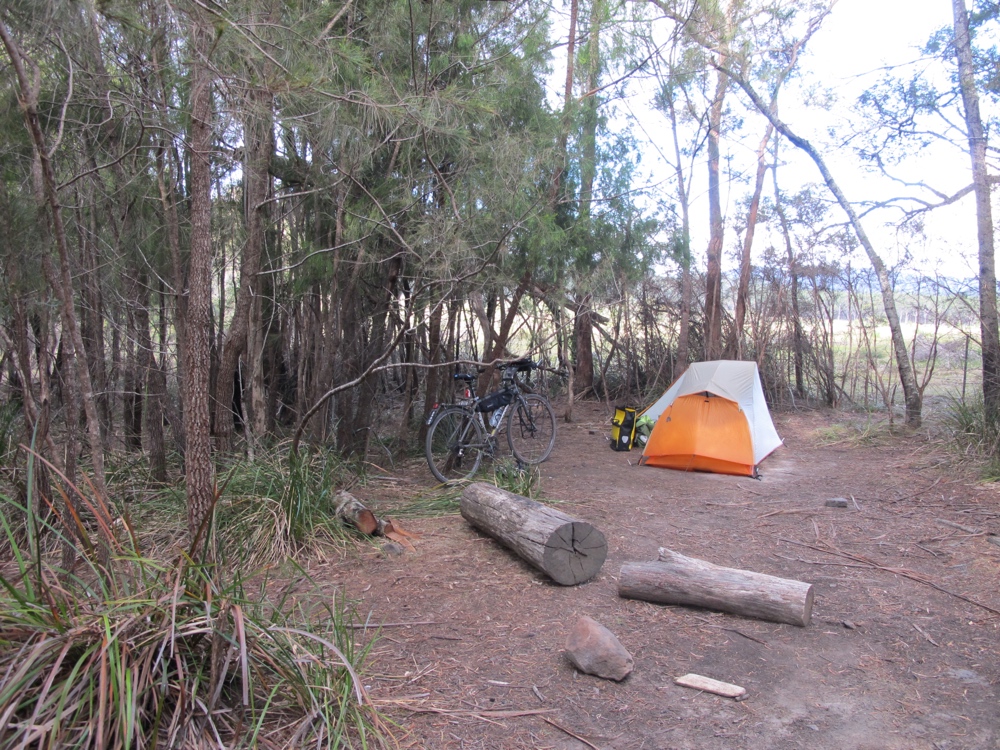 The main attraction of the south end of the oars was just a short walk down the hill from the campground. The watering hole and river were pretty low, but that just exposed more rocks. I would have loved this place as a kid because of all the rocks. In fact, I still loved the rocks as an adult. I washed out my clothes in the river, sat on a rock to eat my dinner, and then filtered water to replenish my supply. A very relaxing evening.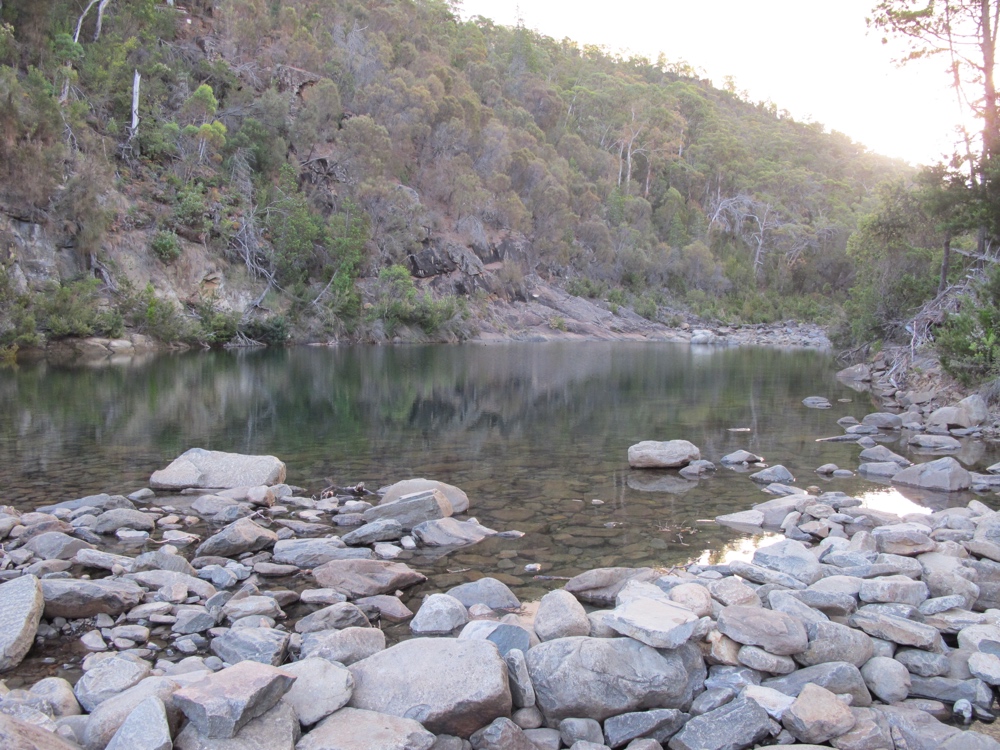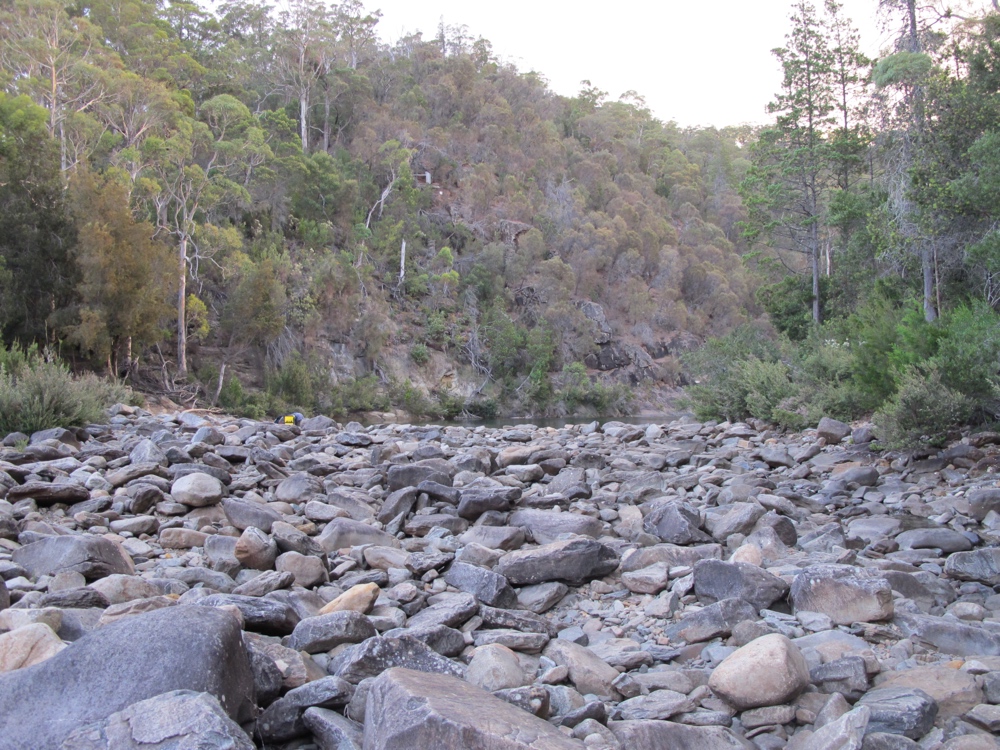 On the way back to the campground I saw a kangaroo.