Southwest Day 35-36: Desert View to Mather Campground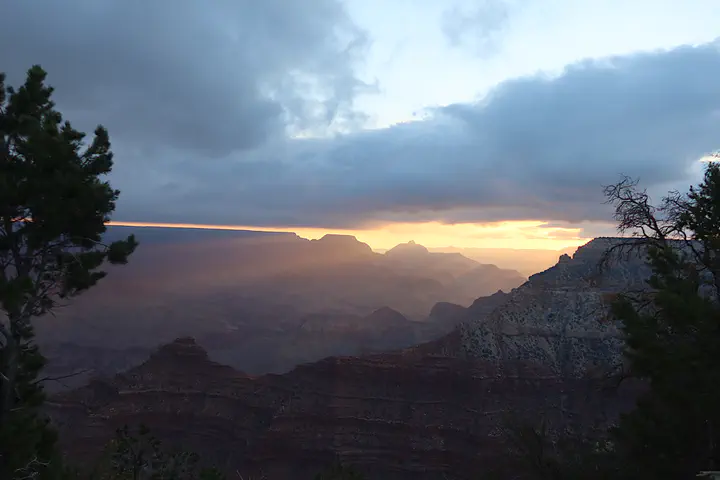 September 27-28, 2021. 25 miles, 1332 feet of climbing.
I haven't taken a full rest day since St George, and am starting to feel it. I booked two nights at Mather Campground (the main south rim campground) though, and it was only 25 miles from Desert View. 25 miles that definitely went up and down, but no sustained large climbs.
I took my time in the morning, first walking over to the watchtower viewpoint for sunrise. It was cloudy enough that we didn't really get a sunrise per se. There were some colors to the west, but the sun itself was almost entirely unseen as it got light. It was still pleasant to hang about and look at the canyon.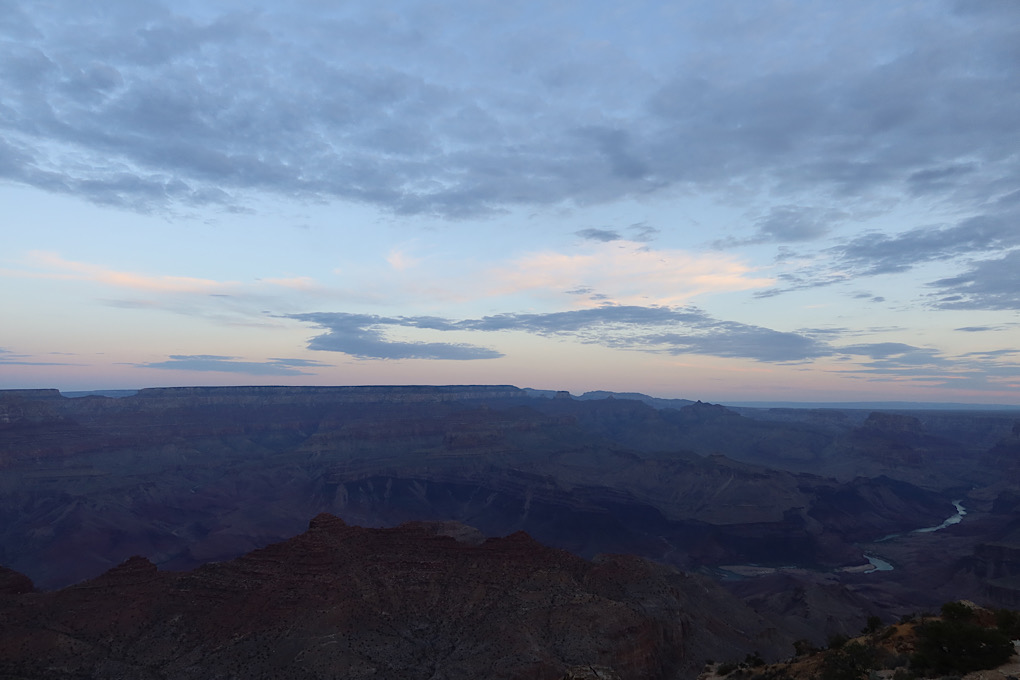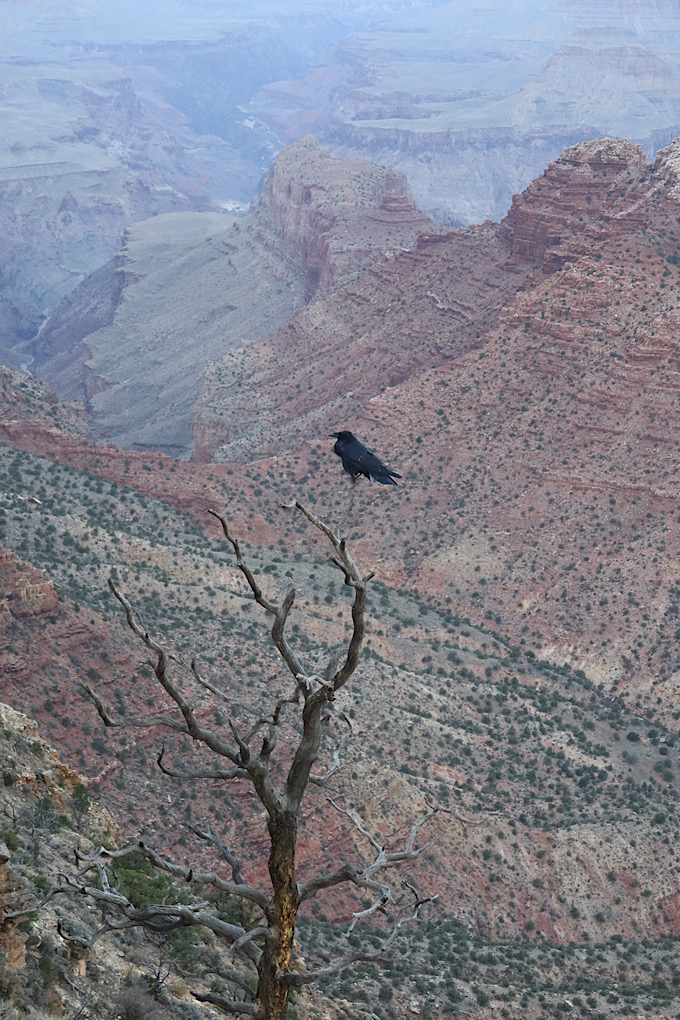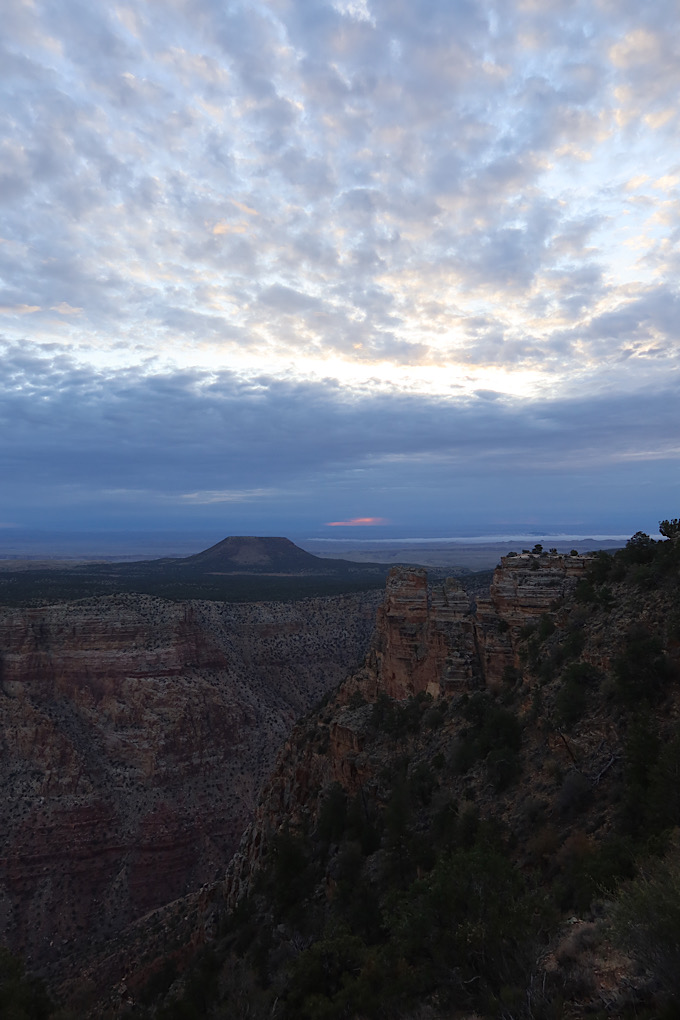 I think I probably packed up and started biking near the official late morning check-out time, resolved to take it pretty easy for the day. I stopped at most (though not all) of the overlooks between the campgrounds. They are all a little different, but not dramatically eough that I feel bad about missing a few.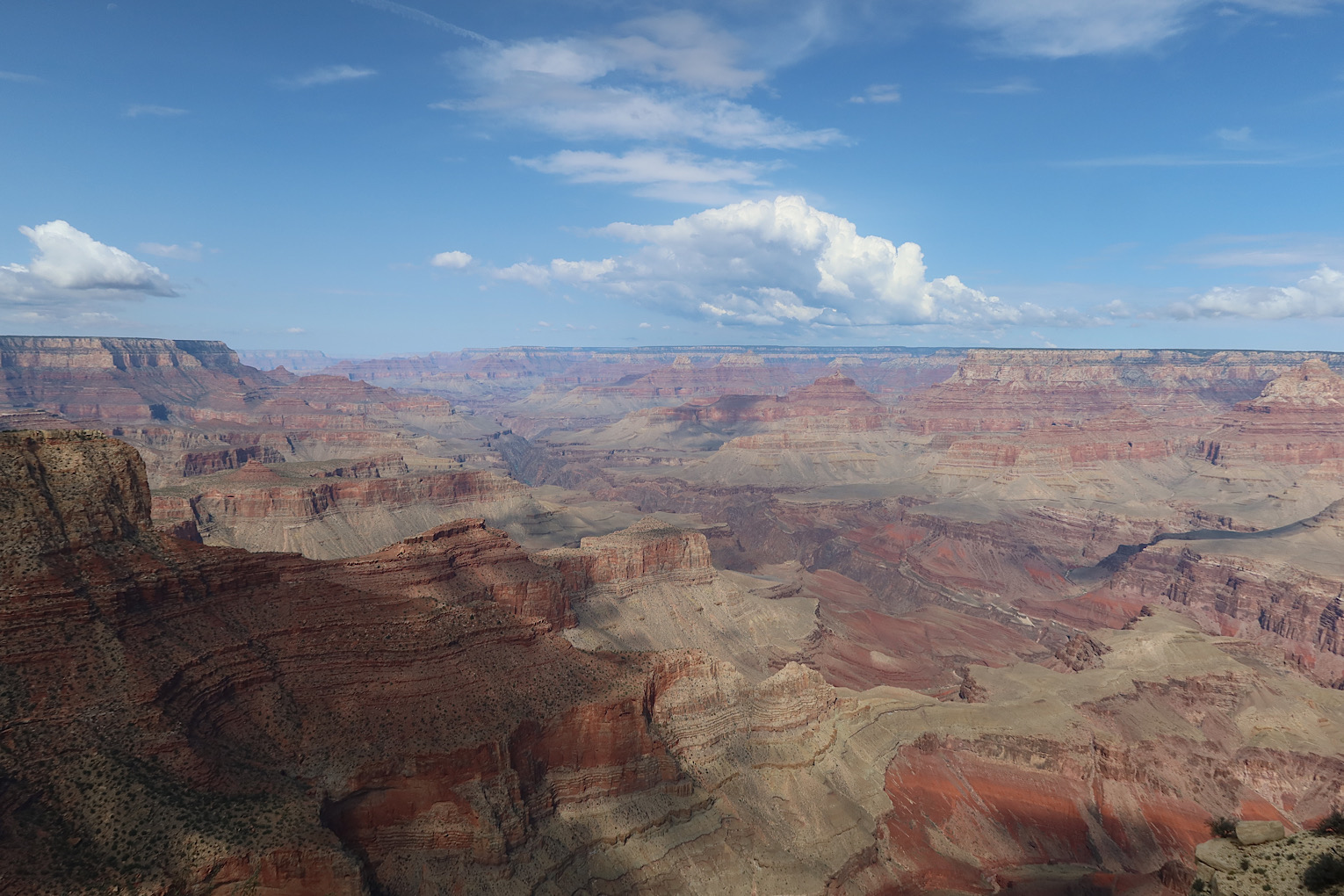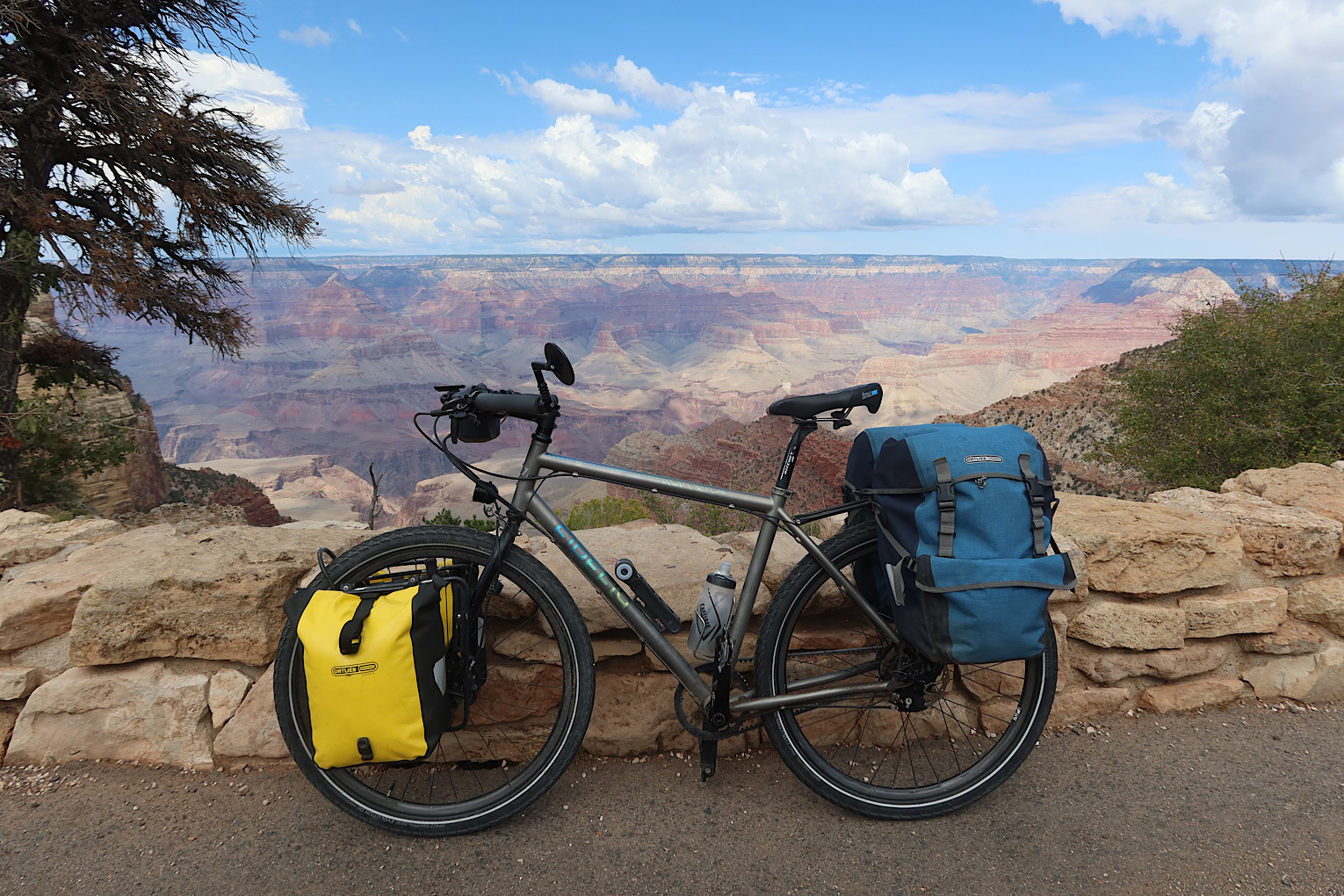 Once I got near the south rim establishment there was a nice bike path that connected most points. The road wasn't too bad, but paths are always nice. I was pretty happy to get to the campsite and look forward to a day without biking. A fair bit of walking, but that doesn't count - different muscles. I did walk around a bit to take a shower and rinse out some clothes, and grab some food from the market near the campground.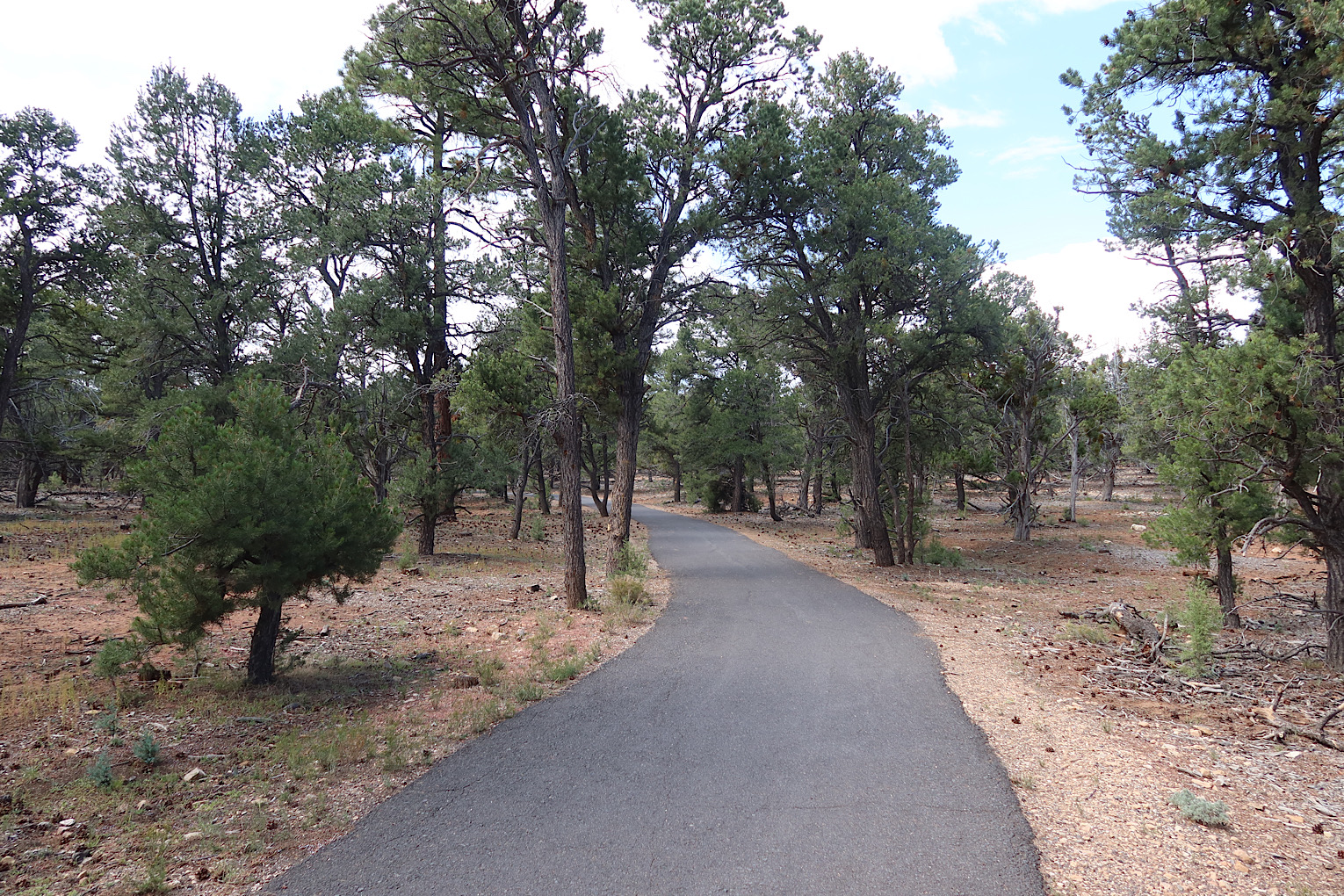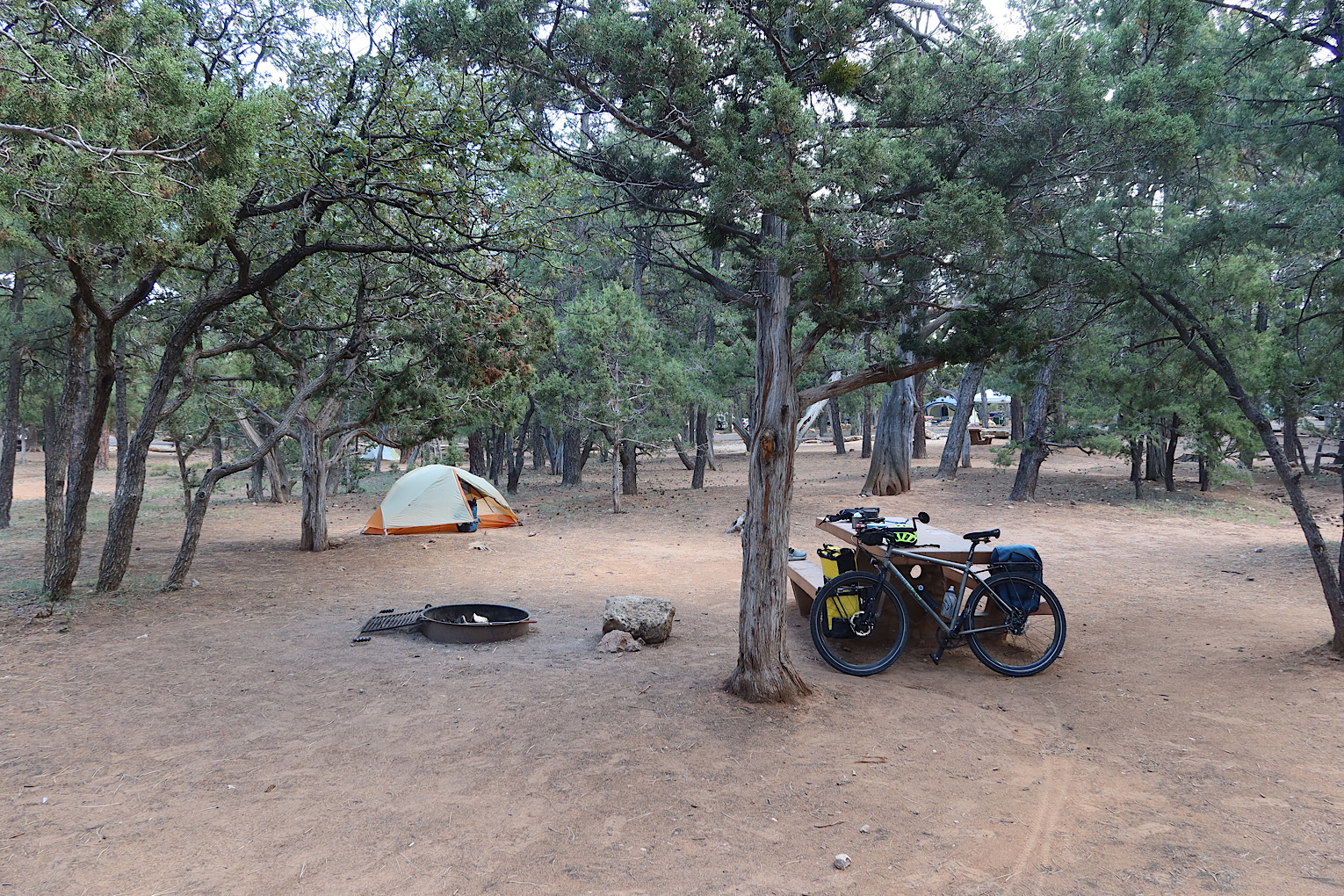 Mather Campground is nice enough, but the downside is that it's a lot farther from the actual canyon than either the North Rim or Desert View campgrounds. I guess it's a lot bigger too, and I think the fancy lodges get the prime real estate here. Anyway, because of that I never ended up going to the canyon for sunset, it seemed like too much trouble. I did see some pretty intense sunset colors through the trees at the campsite though. It also started raining soon after, so I didn't regret already being in my tent.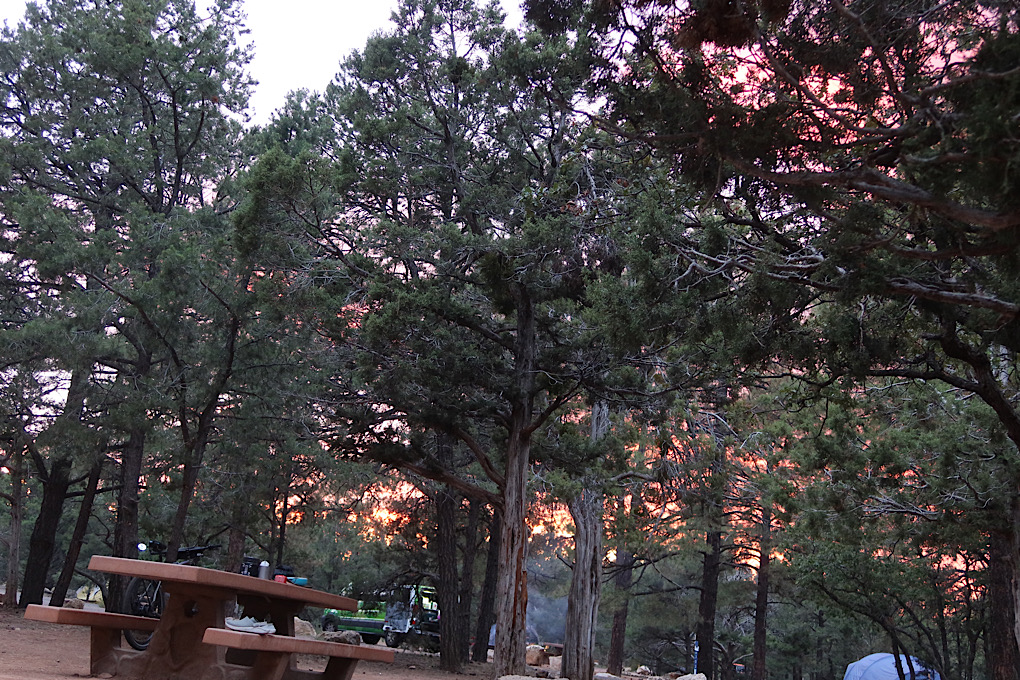 The thing about going to sleep as it gets dark around the equinox is that even I wake up before it gets light. It's not that weird on this trip for me to wake up at 4 or 5 am - which is, believe me, extremely weird in my life in general. I usually still manage to nap some more until it gets light. I suppose getting ~10 hours of sleep fairly regularly on a bike trip isn't the worst thing in the world. Anyway, I woke up really early but then napped a little longer than I intended and ended up rushing a little to see if I could catch sunrise over the canyon. It was a little more interesting than the last attempt, but still not that dramatic.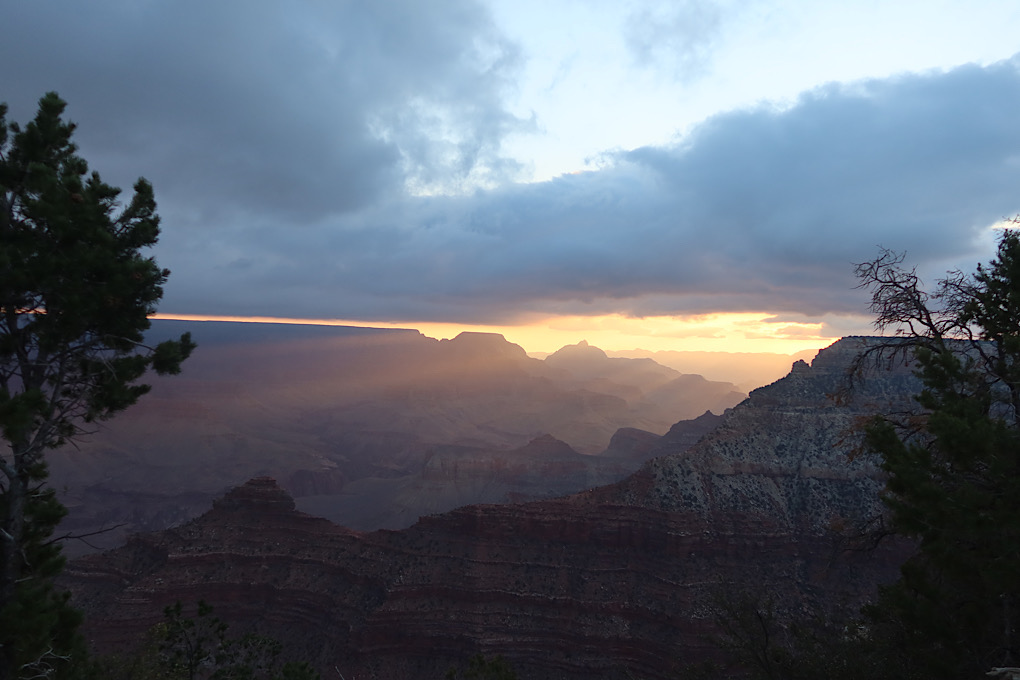 I spent much of the rest of the day just taking a slow walk around Grand Canyon Village and down a few miles of the rim trail. Mostly just lots of views of the canyon. It's definitely big, and really neat. I have to say that I think the Black Canyon of the Gunnison had more of a visceral effect for me. It's a lot smaller, but it's very narrow and steep. I think that just gave me more of a feeling of being on the edge of something. It doesn't even begin to compare with the Grand Canyon for overall scale though.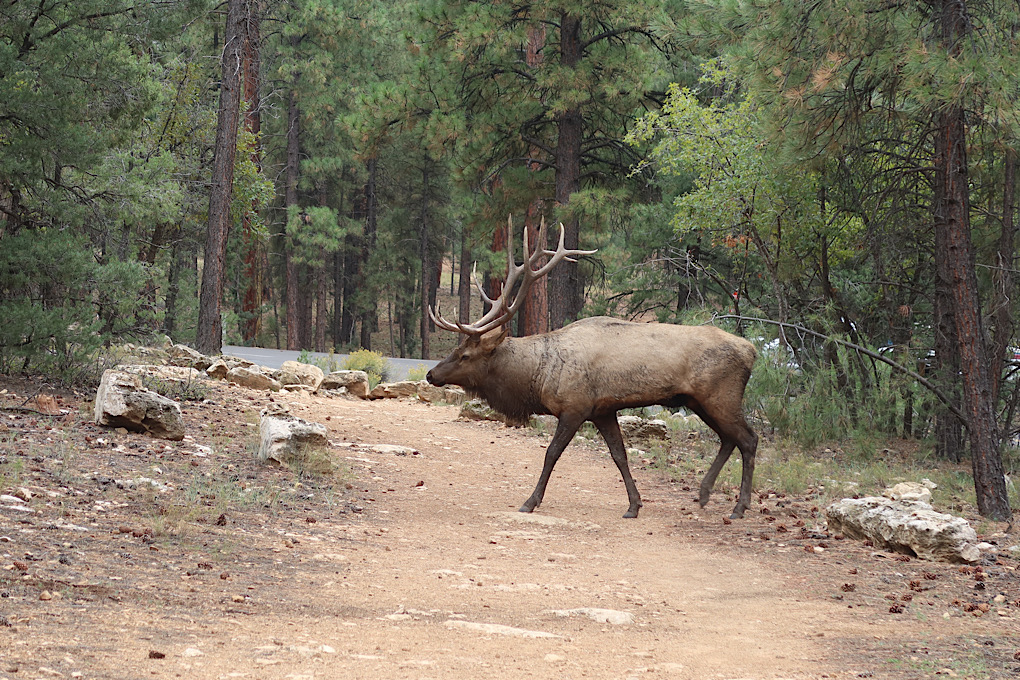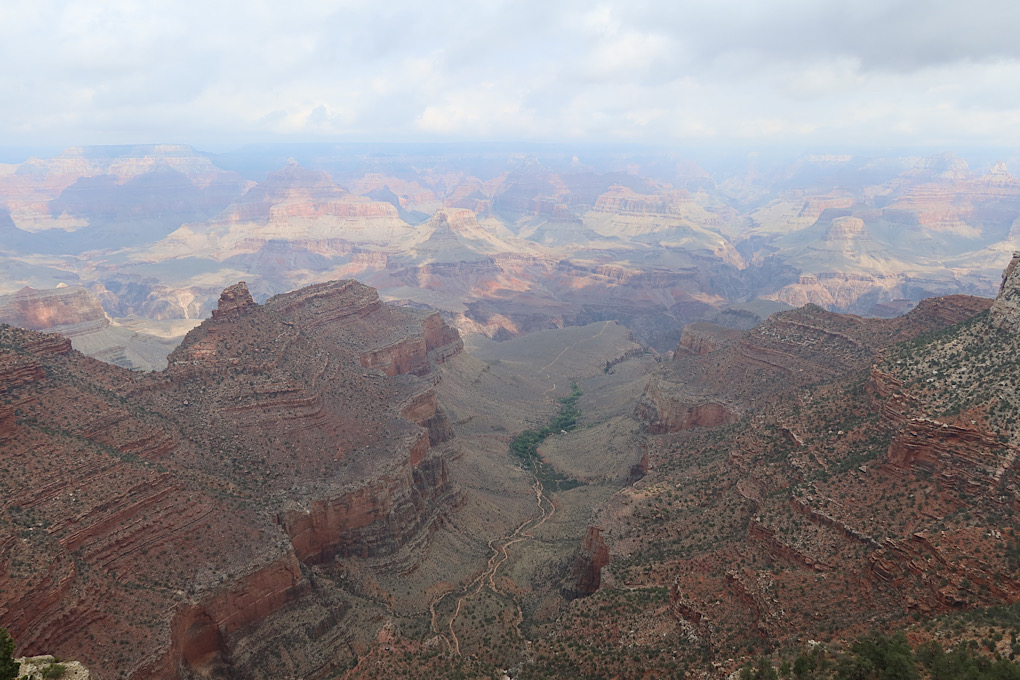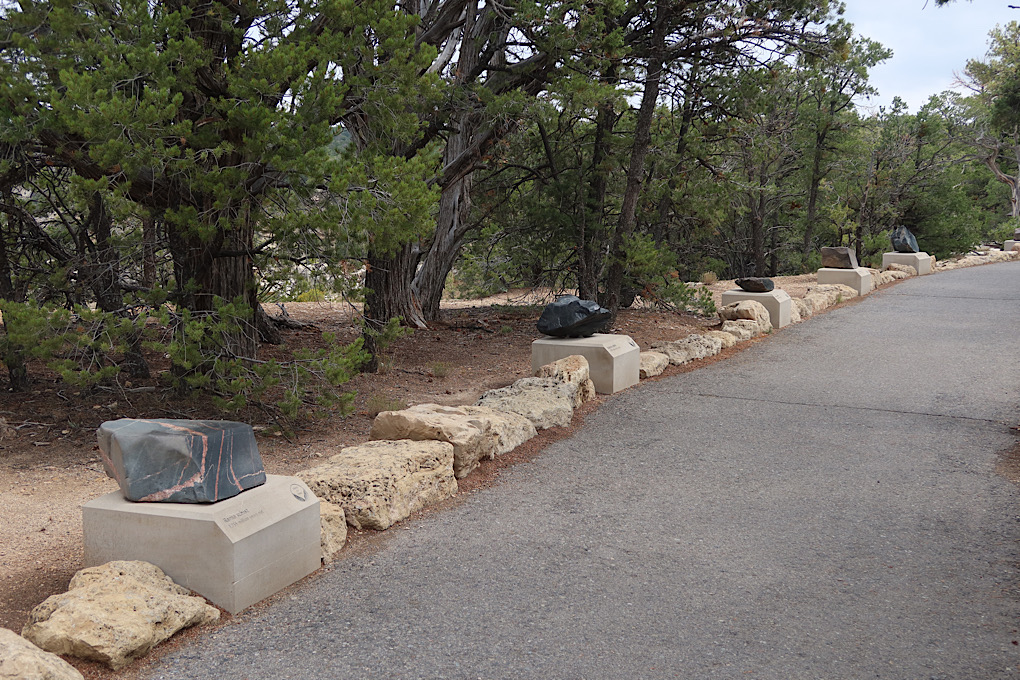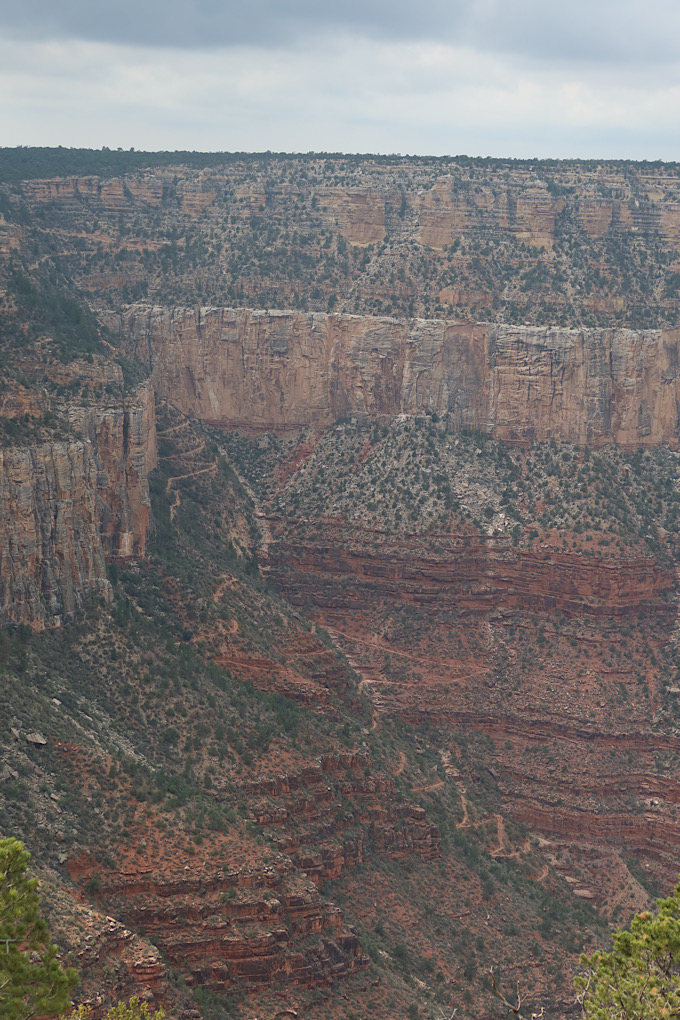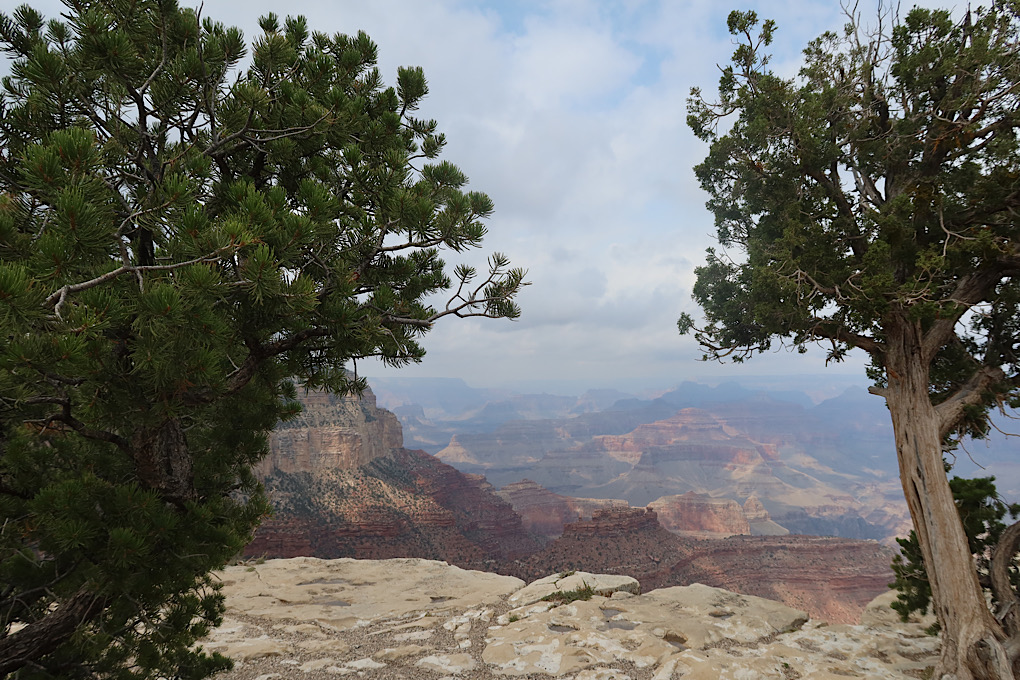 A day off from biking was nice, and I think I'm up for the last (and longest!) day of the trip tomorrow. I decided to aim for getting to Flagstaff in one day and having a day to hang out there before the train. There's on possible stopping point in the middle (Valle), but it doesn't seem very interesting.