Southwest Day 20 & 21: Zion National Park to St George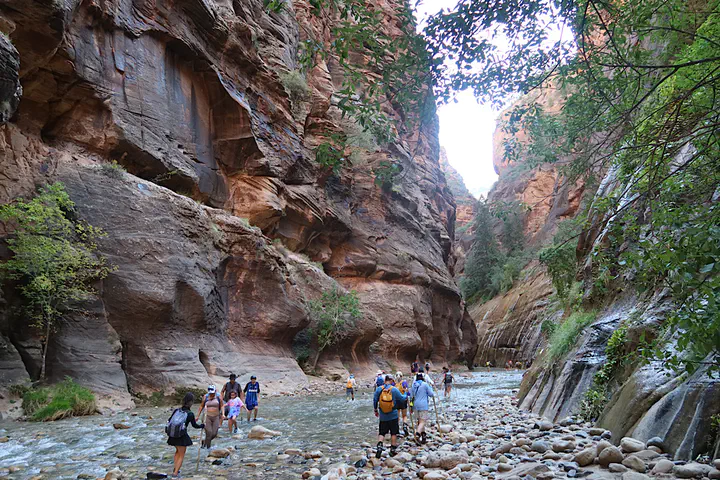 September 12, 2021. 24 miles of biking and hiking. September 13, 2021. Some boring driving.
Yesterday I pulled the bike out of the back of the SUV to explore Zion. Today I drove to St George. Only one of these things really deserves a blog post, though I am fairly proud of myself for getting the rental car back in one piece. Cars are big and fast and scary and I have no idea how to fix them if they break. Bikes are so much more approachable.
Anyway, yesterday I headed out soon after it got light to bike along the scenic drive in Zion. The road is open to bikes, the frequent park shuttle busses, and a very few private cars. Biking is definitely the way to go if you ask me, and there were quite a lot of bike rental outfits in the area supporting that idea. Mostly ebikes with walking stick holders attached to the back.
Anyway, after getting through the short line at the pedestrian park entrance, I biked along a trail past the (full) campgrounds. They looked nicer than the commercial place, but so it goes. It looked like there were some nice walk-in campsites near the bike trail and river. Something to remember if I'm ever back this way I guess.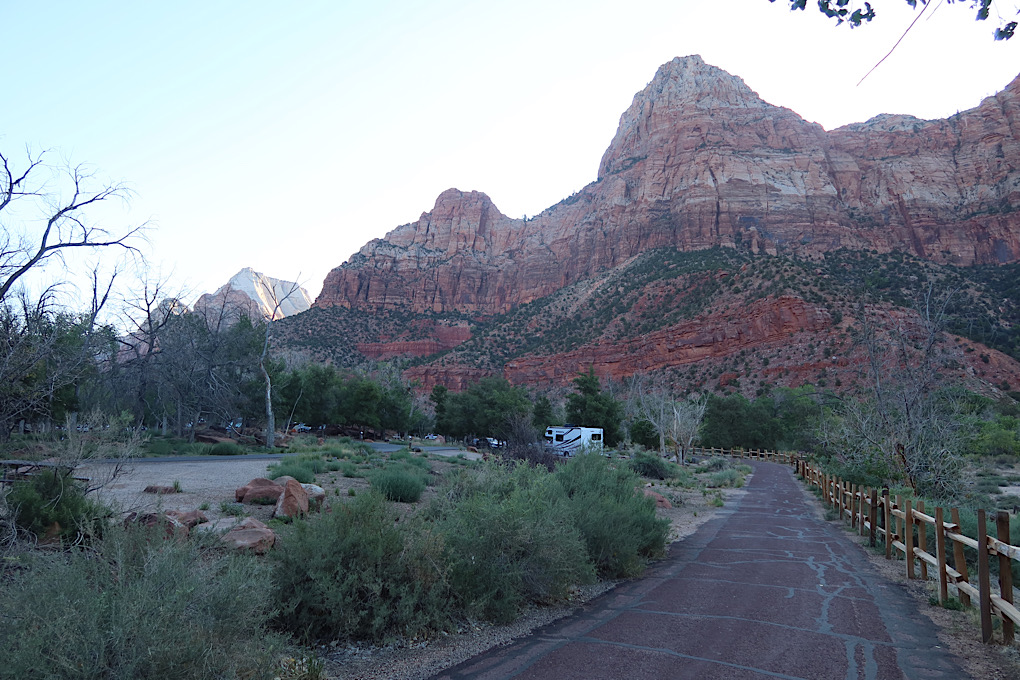 The trail followed the river for a mile or so with occasionl interpretive signs and a lot of warnings about not drinking the water because of toxic algae or something.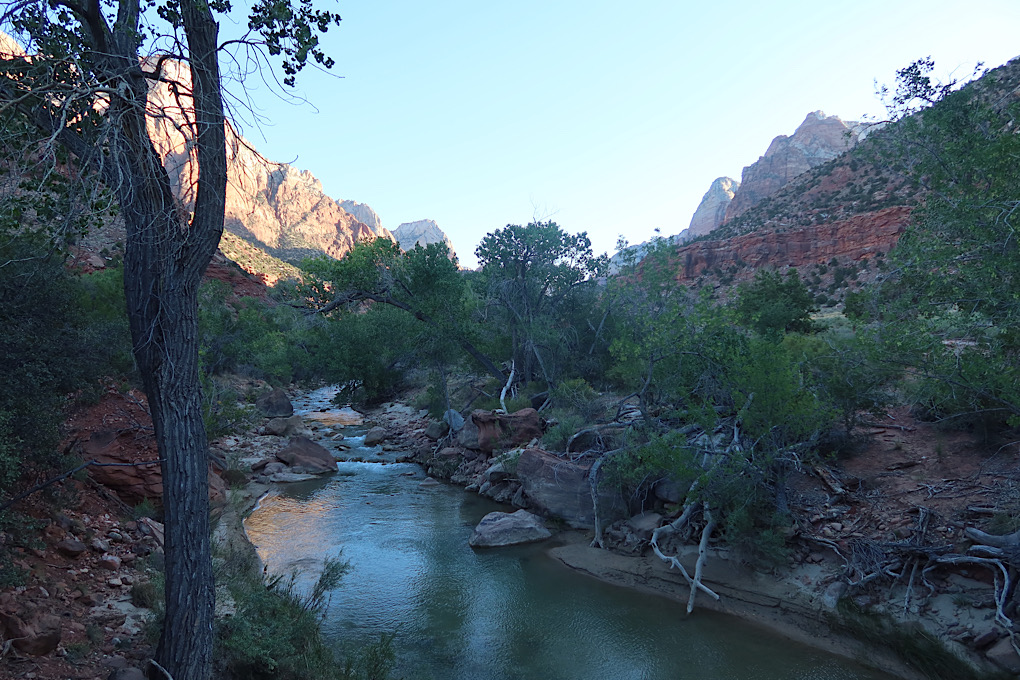 Soon enough the trail spit me out at the start of the canyon scenic drive and I headed (very slightly) up hill into the canyon.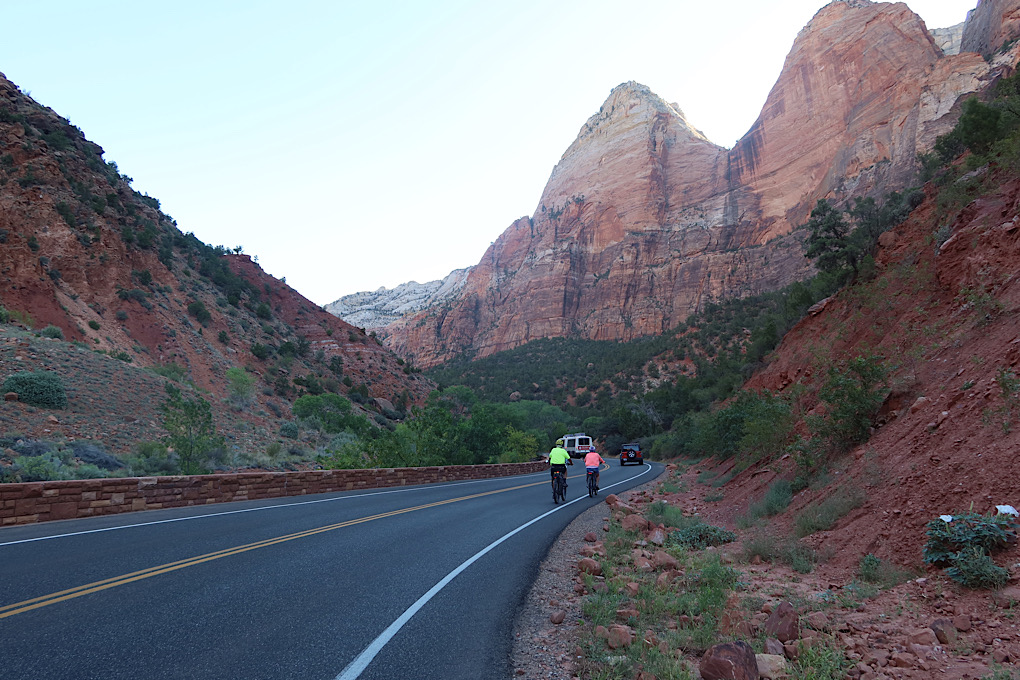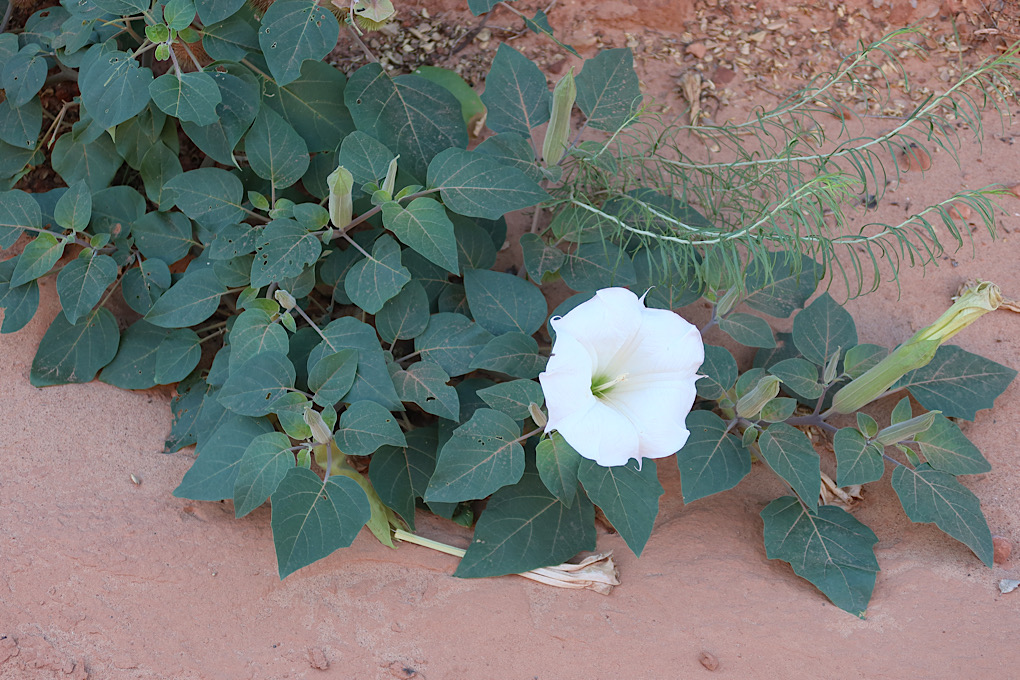 The busses went by every 5 minutes or so, and bikers have to stop to let them pass. That wasn't really a problem. There were lots of bikers of various sorts (serious road bikers, tourists on rented ebikes, etc) as well as a fair number of people walking down the road as well. The canyon walls gave a lot of shade much later into the morning than I'm used to, which was nice.
Near the Zion lodge I stopped and walked a mile or two down a more or less randomly chosen path. There were lots of people, though it wasn't super crowded quite yet.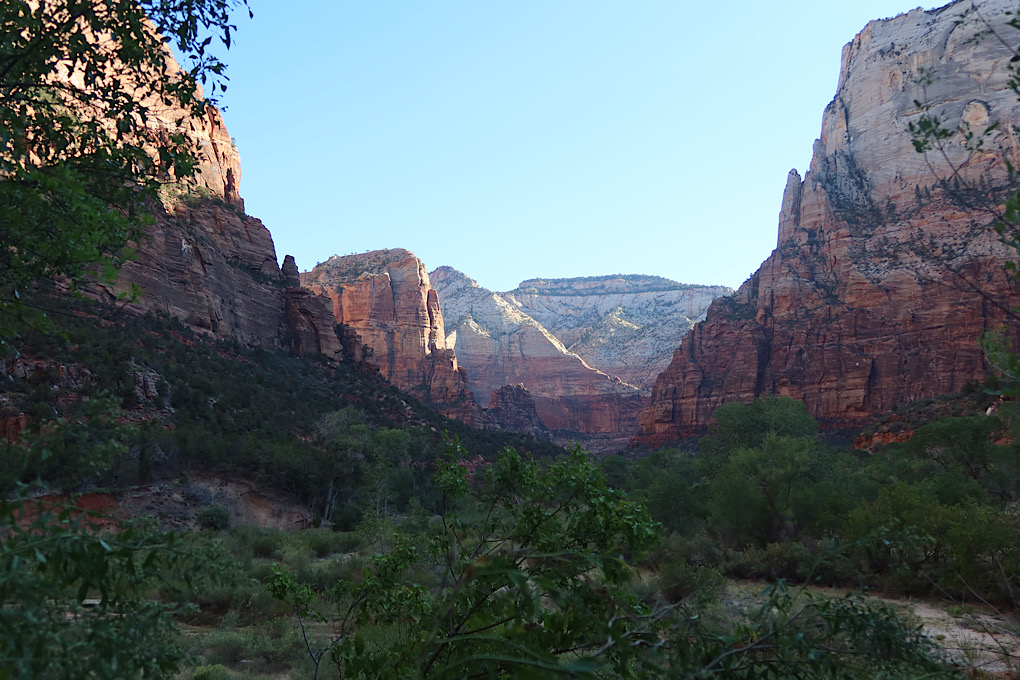 The hike was nominally to a waterfall, though the waterfall was currently… unimpressive. The trail was still nice.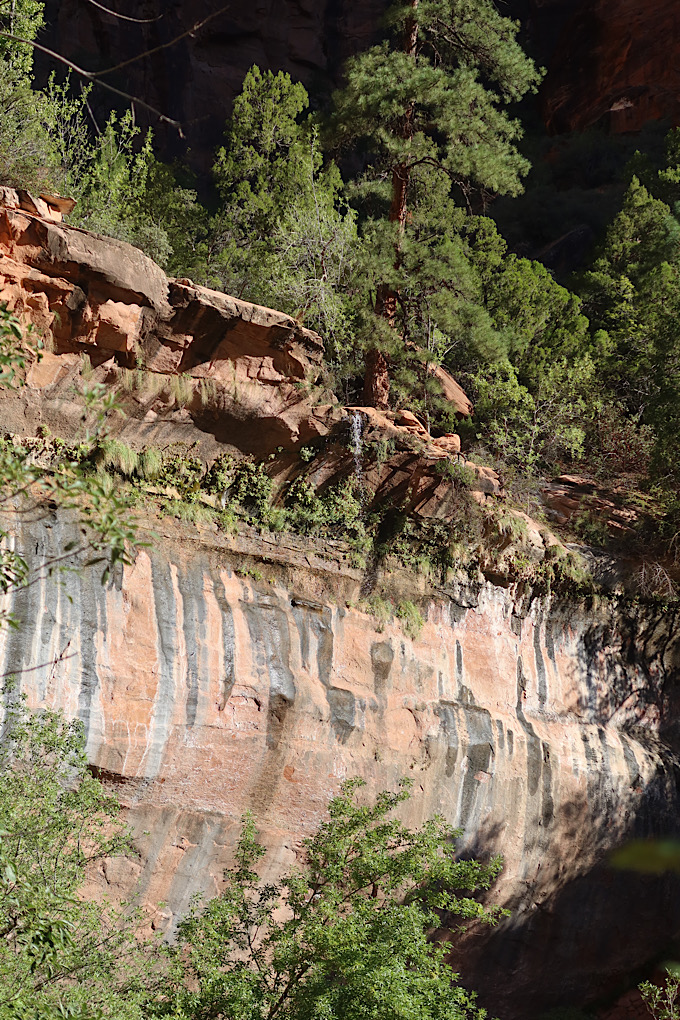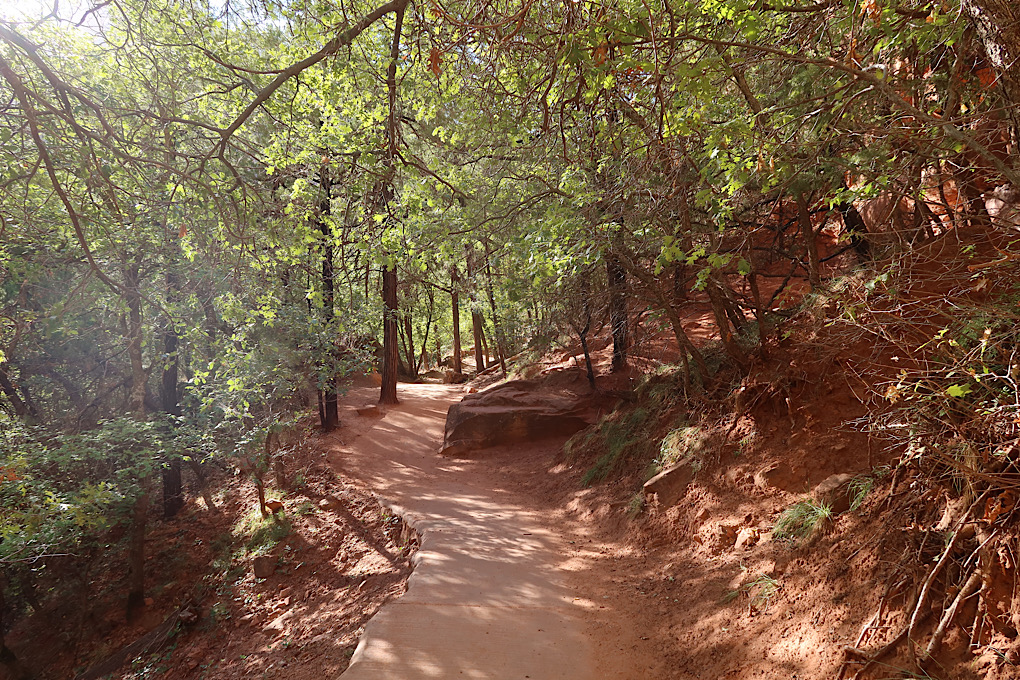 Back on the bike, I finished the last few miles to the end of the road and the hike to the narrows.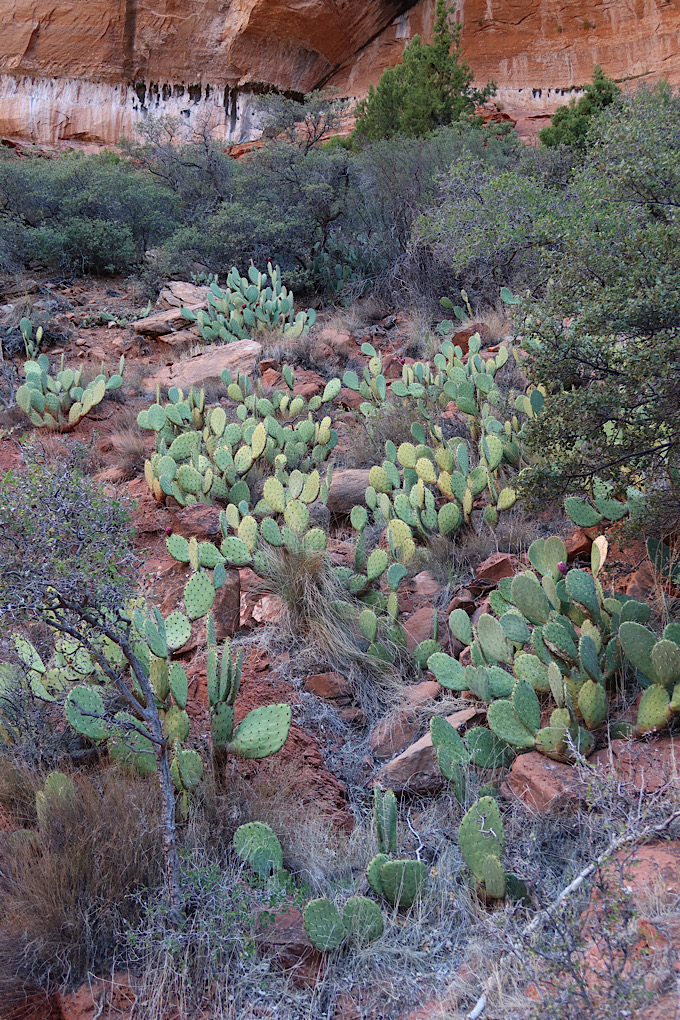 This is where it really started to feel lemming-like. Lines of people more or less continuously pouring off the shuttles. Lots of bikes already there. Everyone filing down the trail in a line. I went anyway.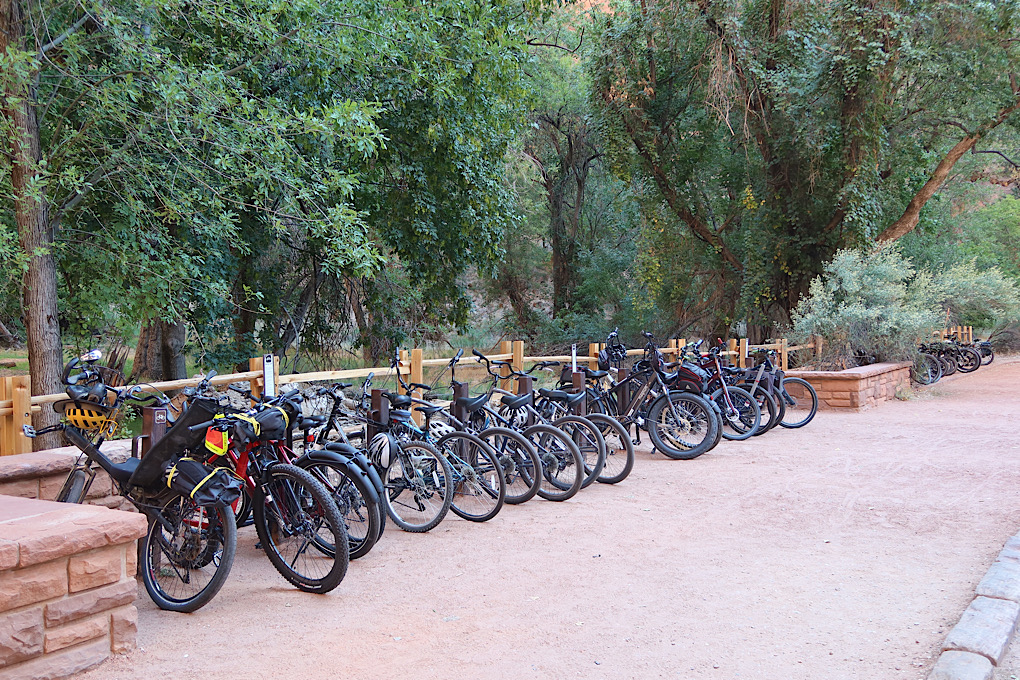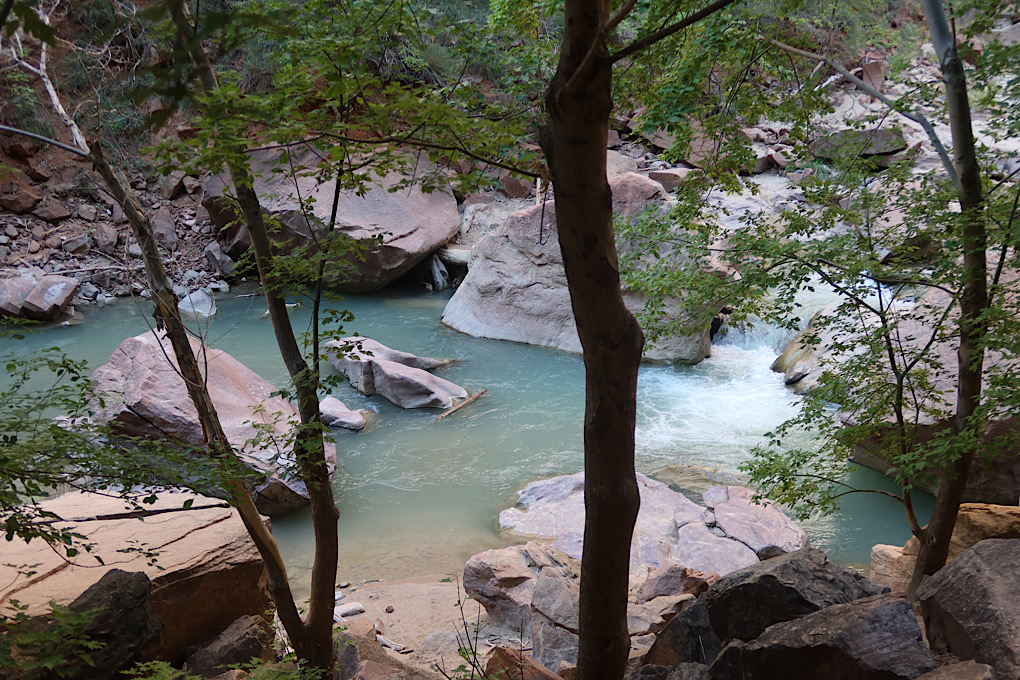 The main attraction here is the bit after the end of the trail where everyone keeps going and lemmings, er, wades their way through the river upstream. I have a pair of very unfashionable crocs clogs for hiking (https://www.crocs.com/p/literide-clog/204592.html), which work pretty well for hiking and are easy to carry, but usually seem pretty odd. In this case they were the perfect footware. Very good traction, waterproof, drain well, etc. I grabbed a makeshift walking stick from the pile at the start, and headed upstream. It was actually really pleasant to wade through the cool water.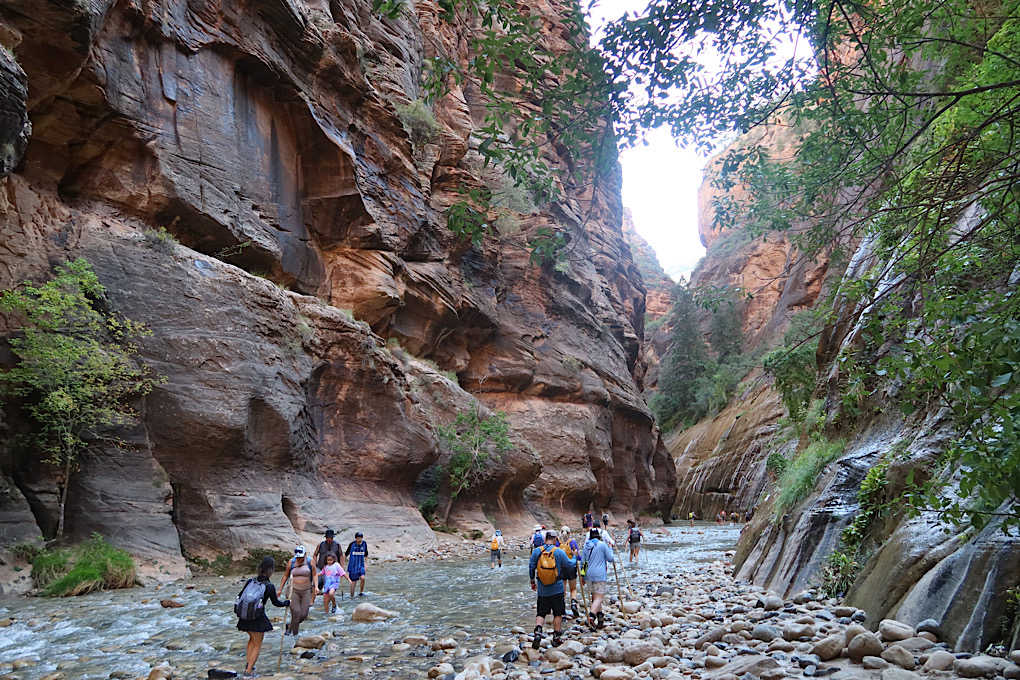 The deepest section was about mid thigh, but everything dries so quickly around here that it wasn't a problem. I didn't really have a particular destination in mind, so I just sort of followed the crowds until they started to thin out a lot and then turned around when it seemed like a good time.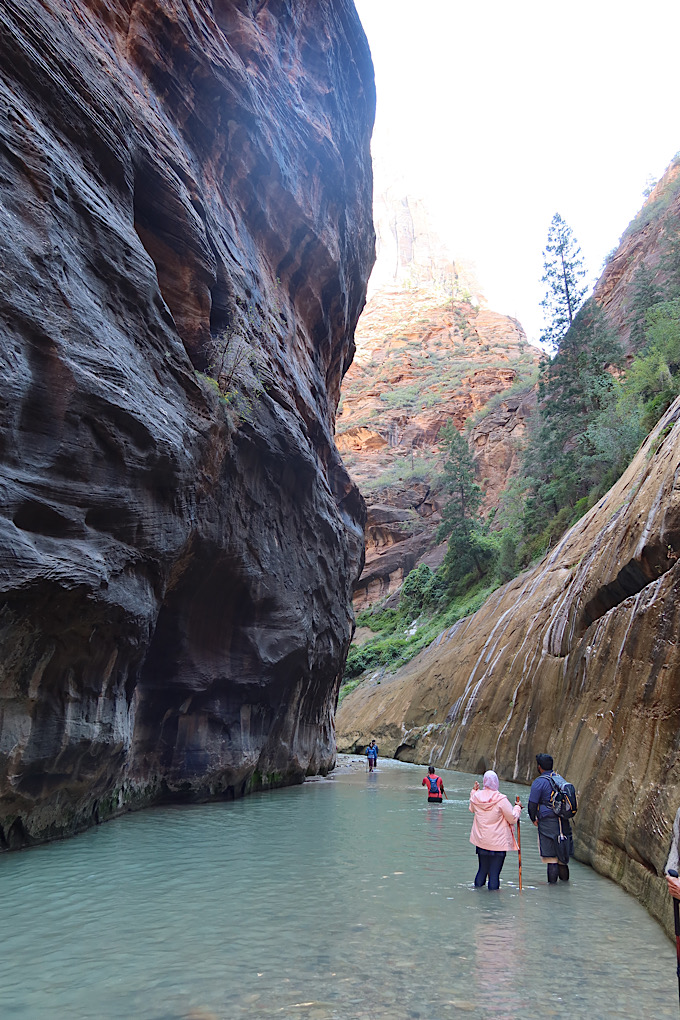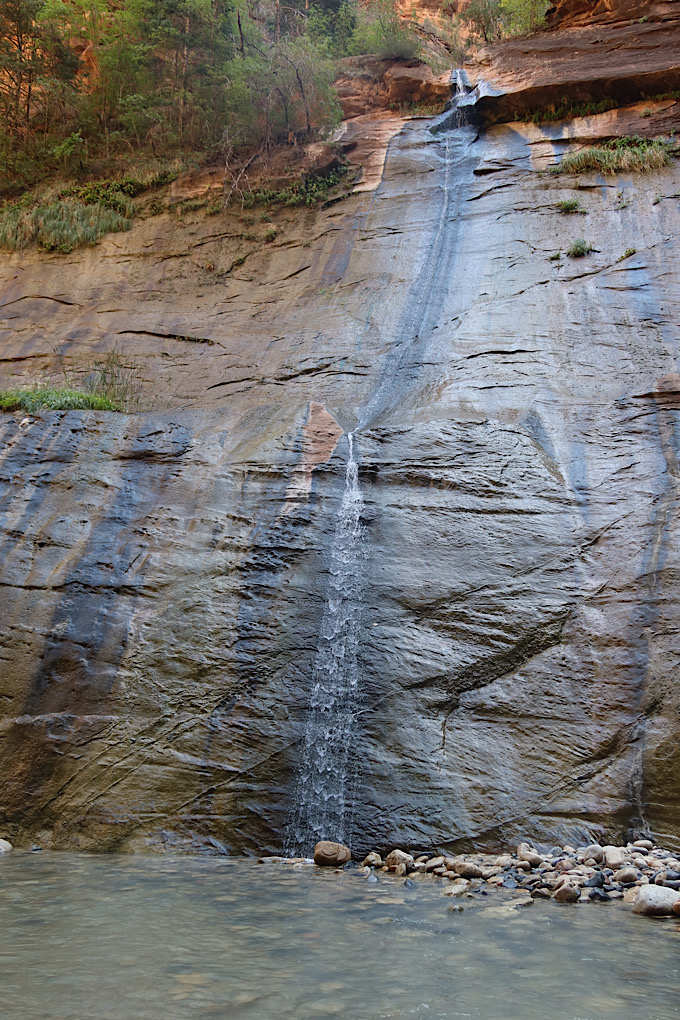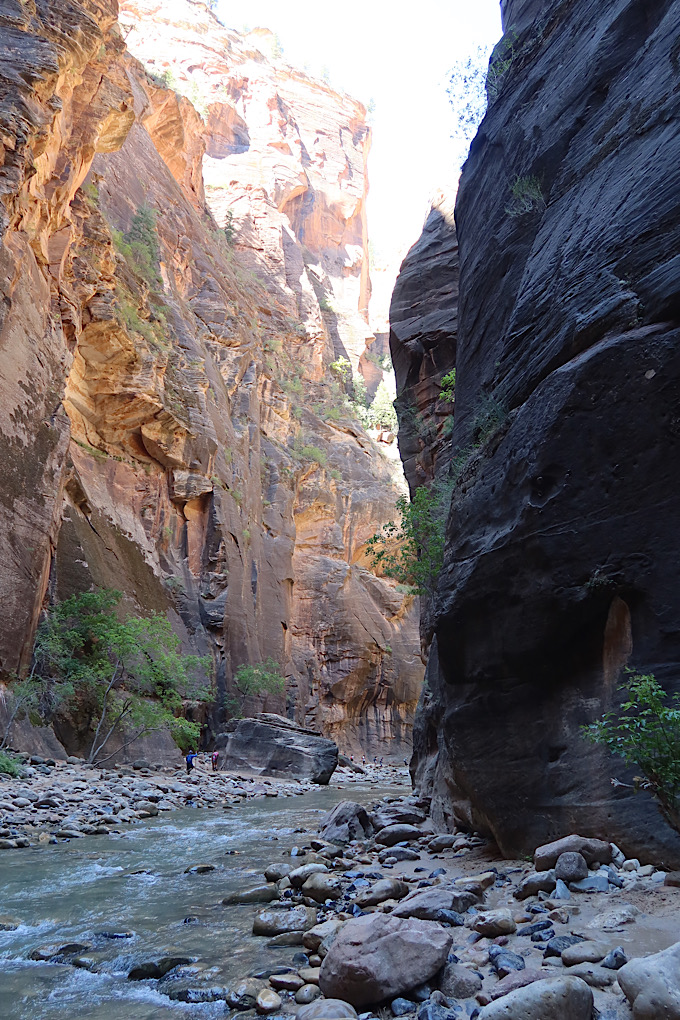 By the time I got back to my bike it was definitely getting hot and sunny. Luckily, it turned out that the way back was more downhill than it had seemed coming up here so it was a very easy and relaxing ride back to the park entrance.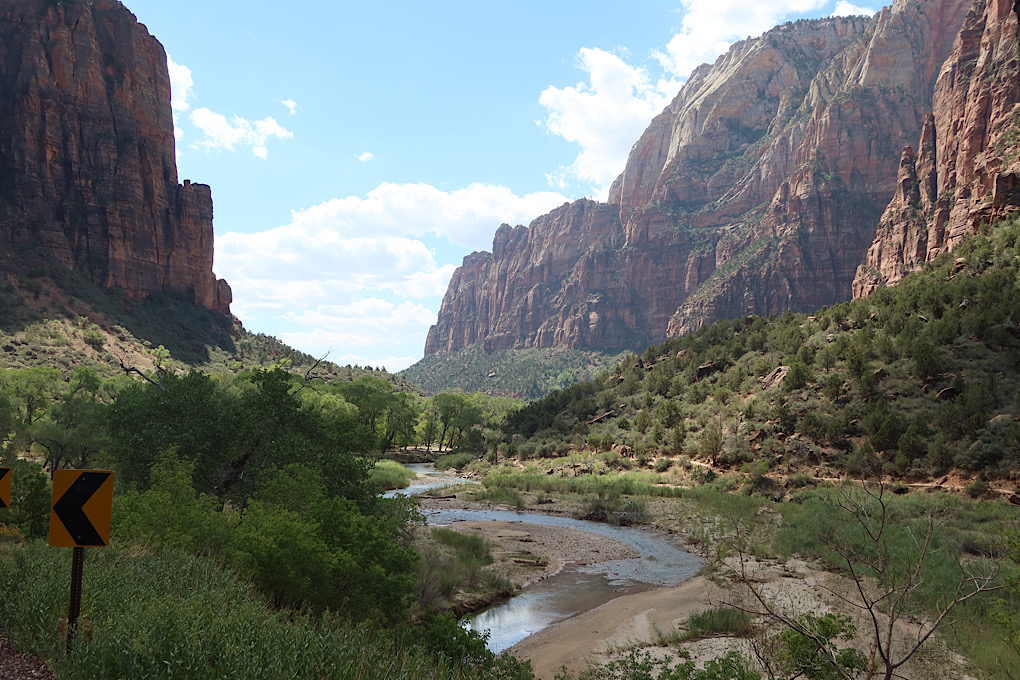 It was only early afternoon by the time I got back to the campsite. I could have driven to St George yesterday, I suppose, or gone on another hike. Instead I worked on some blog posts for a litle while and then ate dinner at the restaurant next to the campground (spaghetti squash enchiladas, surprisingly tasty). I went to sleep as the crowd of guys in the next site over were setting up their monstrosity of a palace (I mean, tent) and sitting around a campfire. Not sure why anyone wants a campfire when it's still too hot after dark, but to each their own.
This morning I had a leisurely start and hung out at a cafe with a lavendar latte for an hour or so. I fixed the flat that became apparent overnight (first goadhead thorn of the trip, here's hoping I don't encounter too many more) and loaded everything back into the car for the last 50 miles of driving. Getting to St George wasn't too bad. I stopped at the post office to mail home a couple odds and ends I don't really need, and then the hotel let me check in 4 hours early (yay!). I was actually pretty relieved to drop off the car. Feels like one less thing to worry about. I'm back to being able to lift everything I have.
This afternoon I've been hiding in the hotel room. It's hot outside (turns out the days I spent driving were also the peak of another heatwave out here, so that was accidental good timing). It's supposed to be hot in St George pretty much forever, so my plan is to leave early tomorrow to head north (and uphill) toward Pine Valley. Supposedly it's cooler up there. I imagine pretty soon I'll be worried about it being too cold overnight. Temperature is hard to get right.
Anyway, I was worried that a couple days of driving would snap me out of bike touring mode and make it hard to start up again. I think it's the opposite. Even though the next few days are a LOT of uphill, I'm looking forward to it. We'll see if I still feel that way half way up the hills.