Southwest Day 7: Monarch Park Campground to Sapinero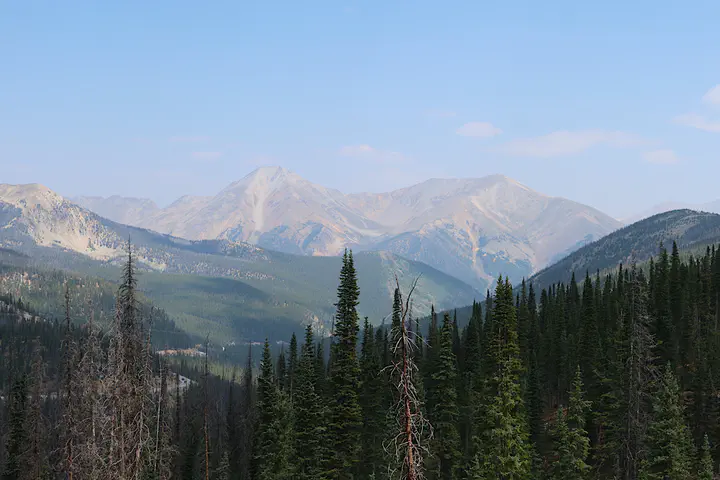 August 30, 2021. 73 miles, 2139 ft of climbing.
Today I again had a couple possible destinations: Gunnison or Sapinero. Gunnison would make today shorter, but Sapinero would let me tackle the construction zone first thing tomorrow morning. I ended up making a long day of it made it to an amazing cabin at Blue Mesa Outpost that booked from the top of Monarch Pass. A shower has rarely felt as good.
The day started later than I planned, mostly due to enjoying my campsite and not wanting to leave my tent in the chilly morning. I think it was a little before 11 by the time I was on my way.
I spent a couple of hours trudging slowly up the rest of Monarch Pass. Not too hard, just slow. There were tons of dead trees, and a lot of evidence of logging and such to deal with them.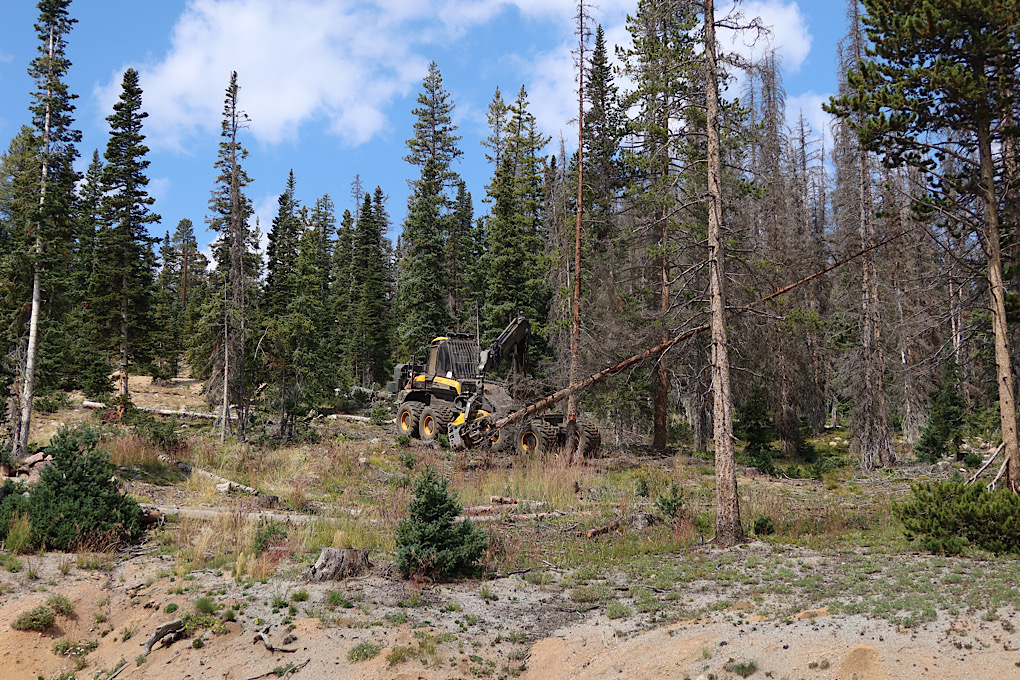 None of the passes have had nearly as nice a summit for hanging out as Berthoud pass on day 1. So I took the pass sign photo, ate some cookies, took a picture or two, and headed down.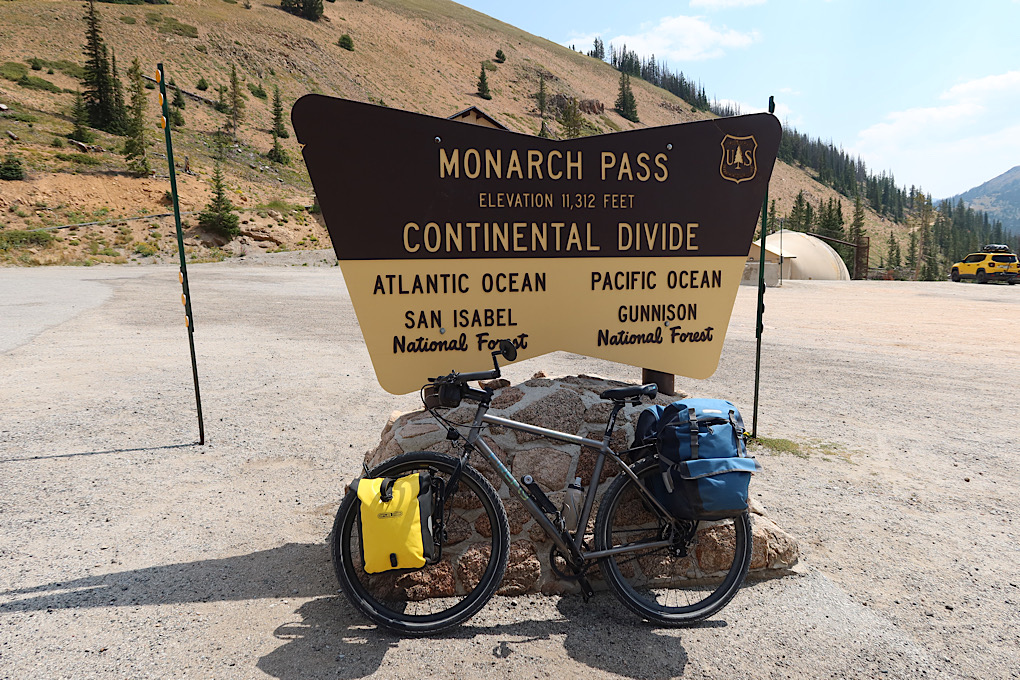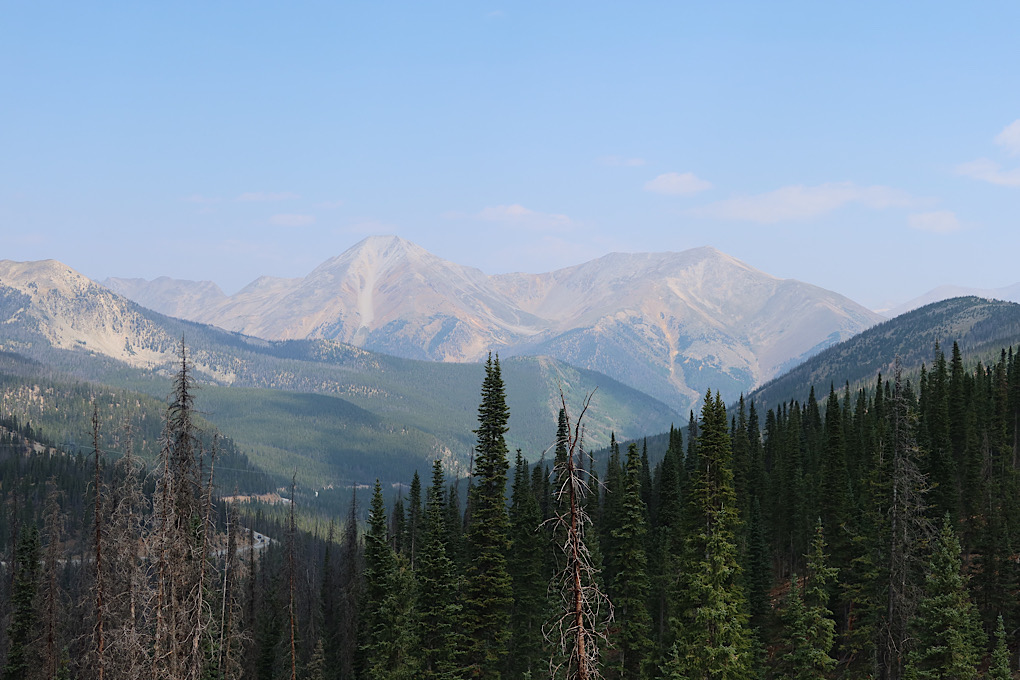 The signs at the top of the pass said that both directions had a 6% grade for miles, which is about the same as the other passes. Made me think that maybe I am getting better at this.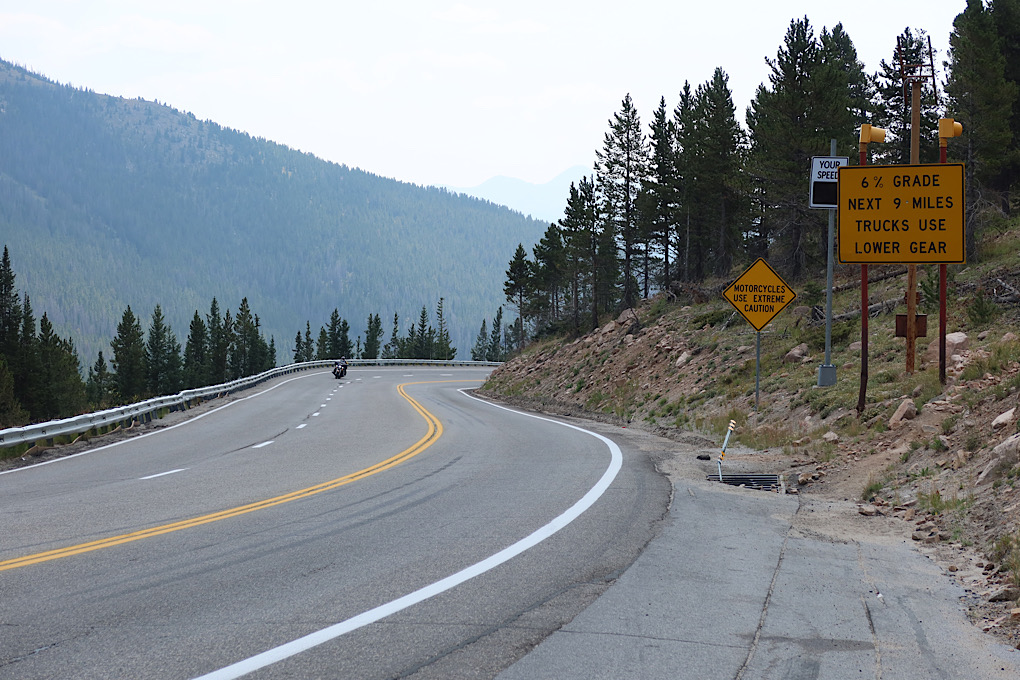 The way down was pretty fun, though it was clear I went over this pass the right direction. It was fine going down, but the uphill side of the road was along the side of some cliffs without a shoulder to speak of. I think climbing that side would have been stressful.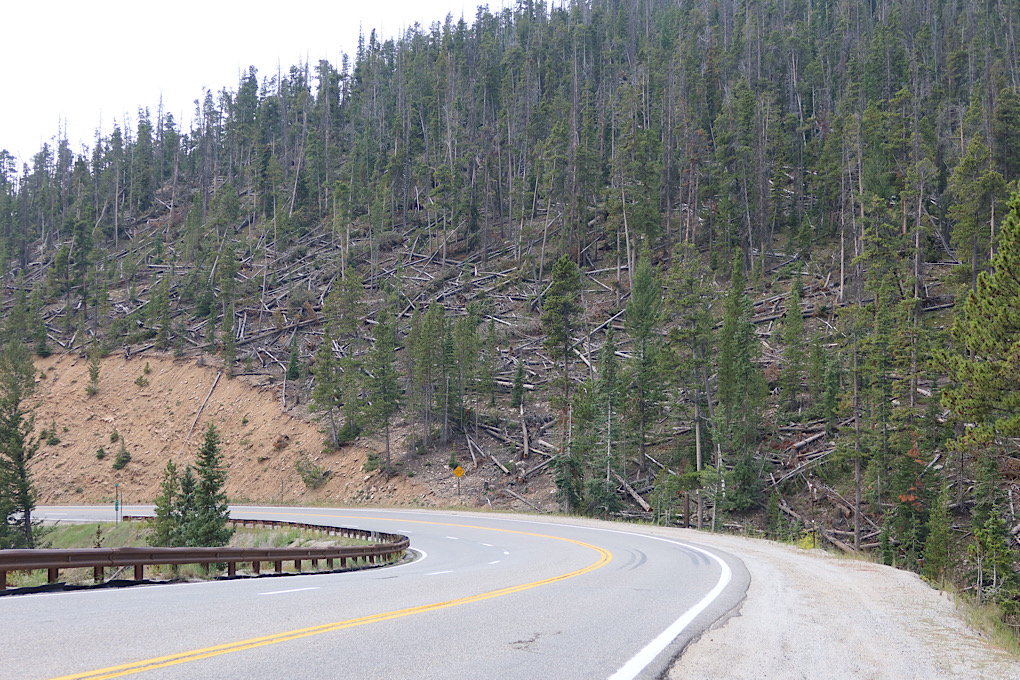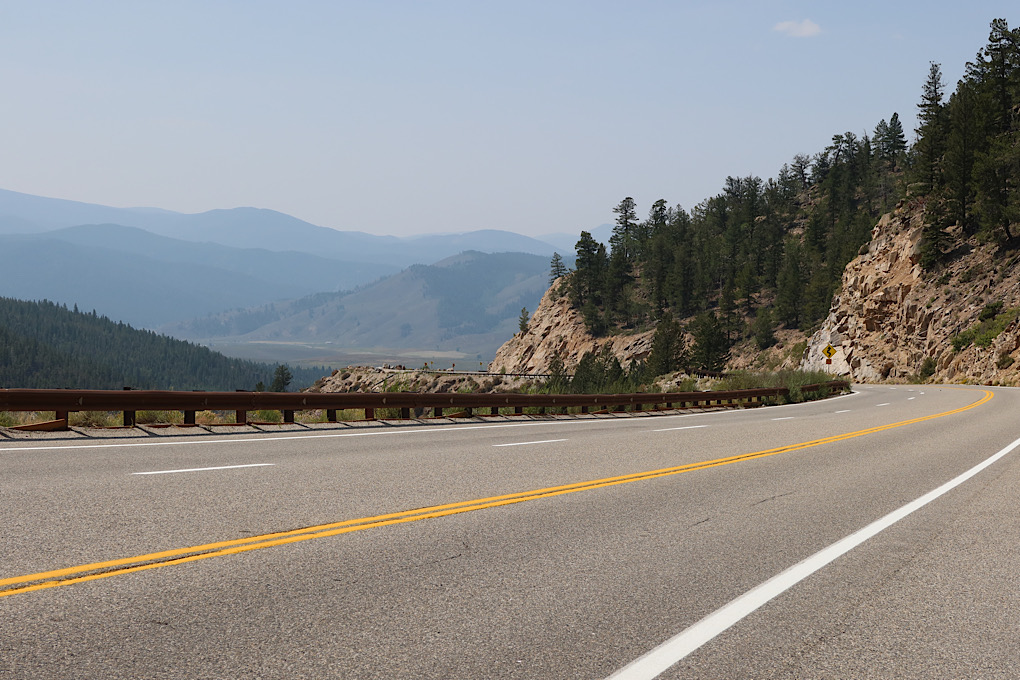 I was hoping for an easy ride to Gunnison, but once the steep mountain road ended I got rolling hills with a meaningful headwind. Not anything like southern Patagonia wind, but still enough to be annoying. I was going at a reasonable pace, but it wasn't as easy as I was hoping for. The scenery wasn't all that exciting either. Lots and lots of dry land, with occasional irrigation and greenery. No shade.
The other reason why tackling Monarch Pass the other direction would be tough is that there really isn't anywhere to stay very close to it. There was one very uninspiring RV park, but otherwise one would have to start in Gunnison and have many miles of mostly-up cycling before getting to the real pass. In any case, if you're thinking of bicycling over this pass, do it the direction I did.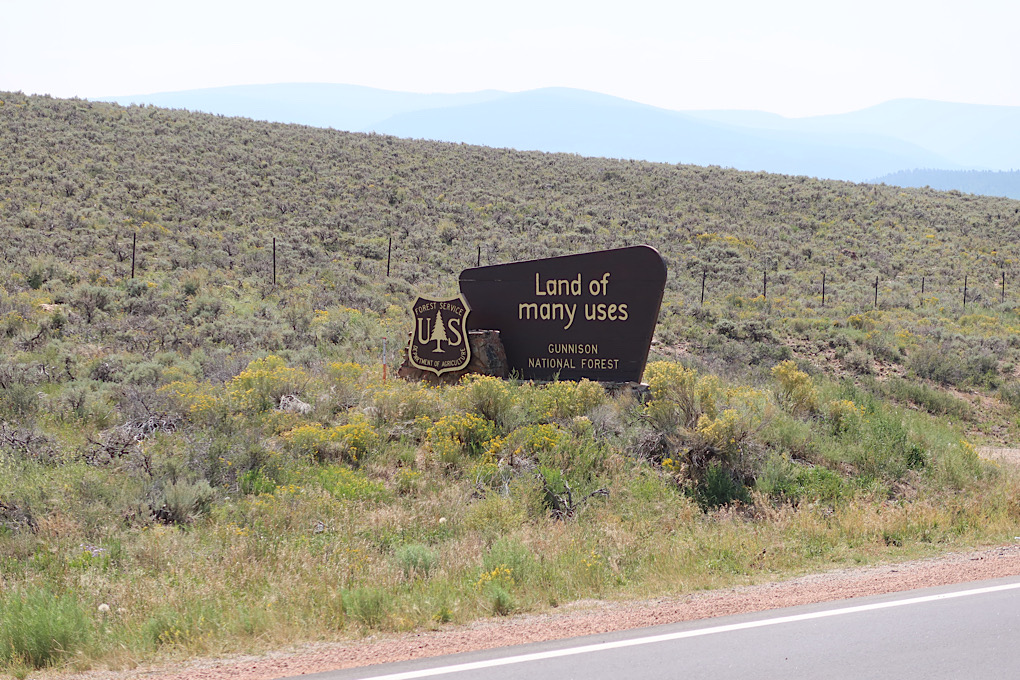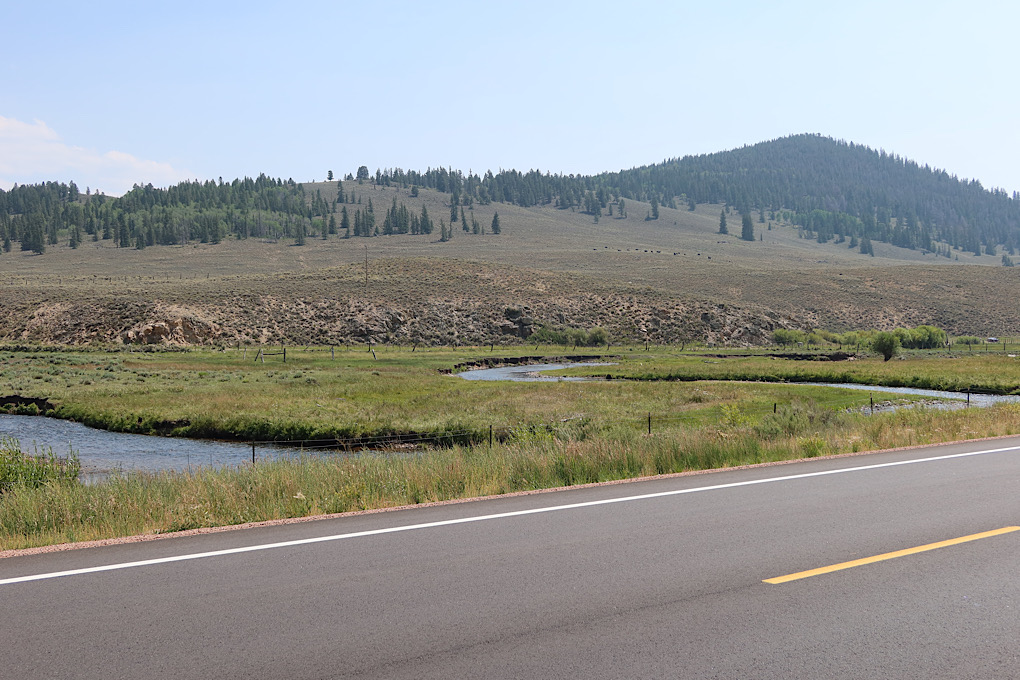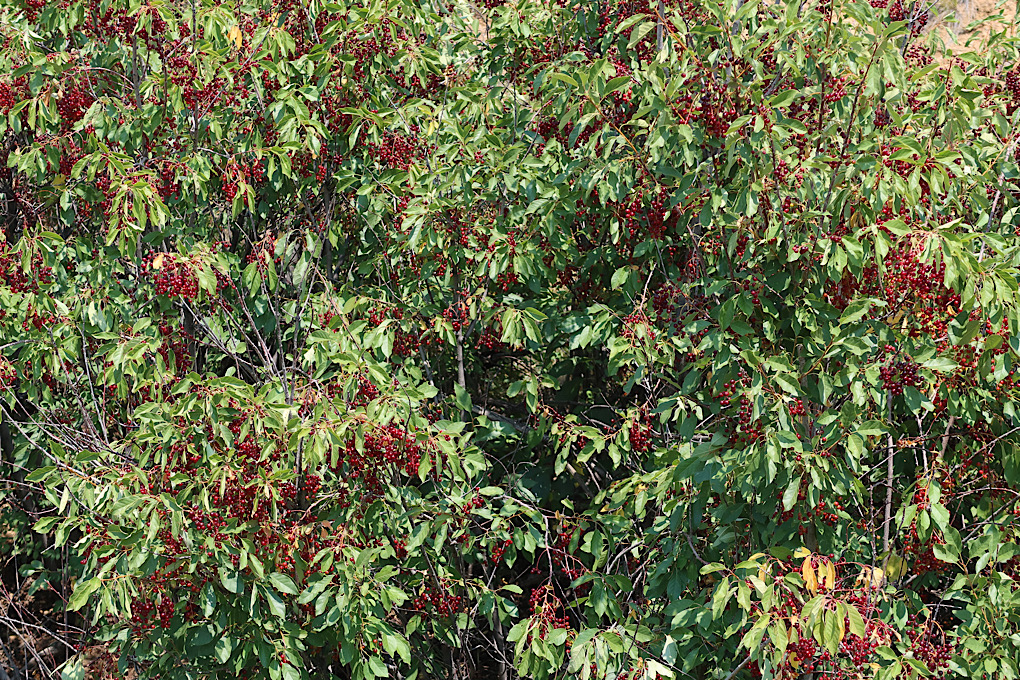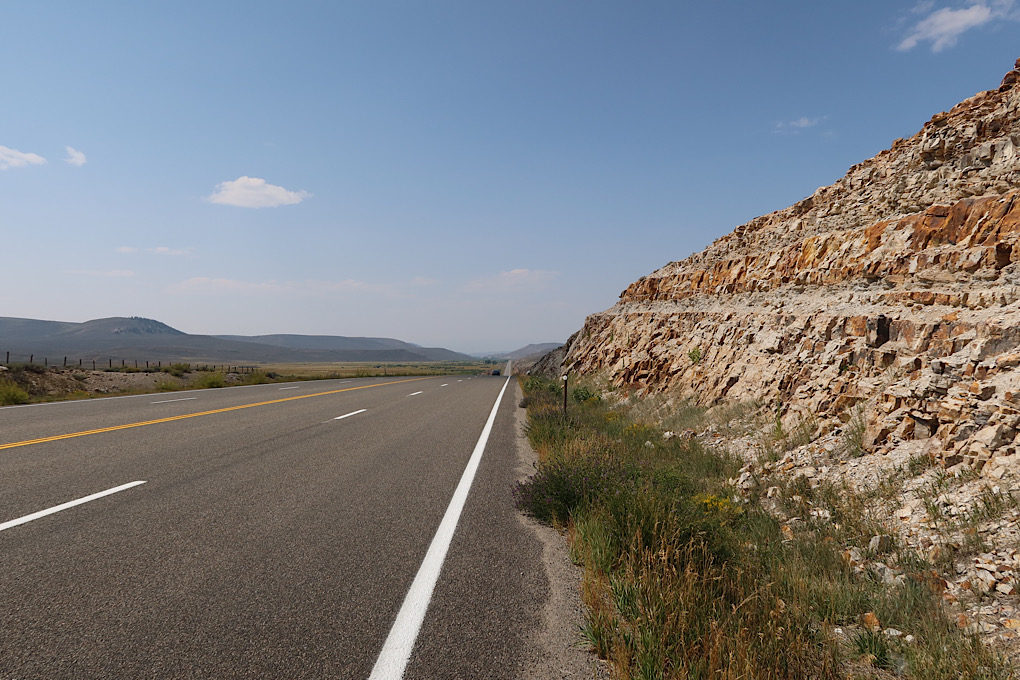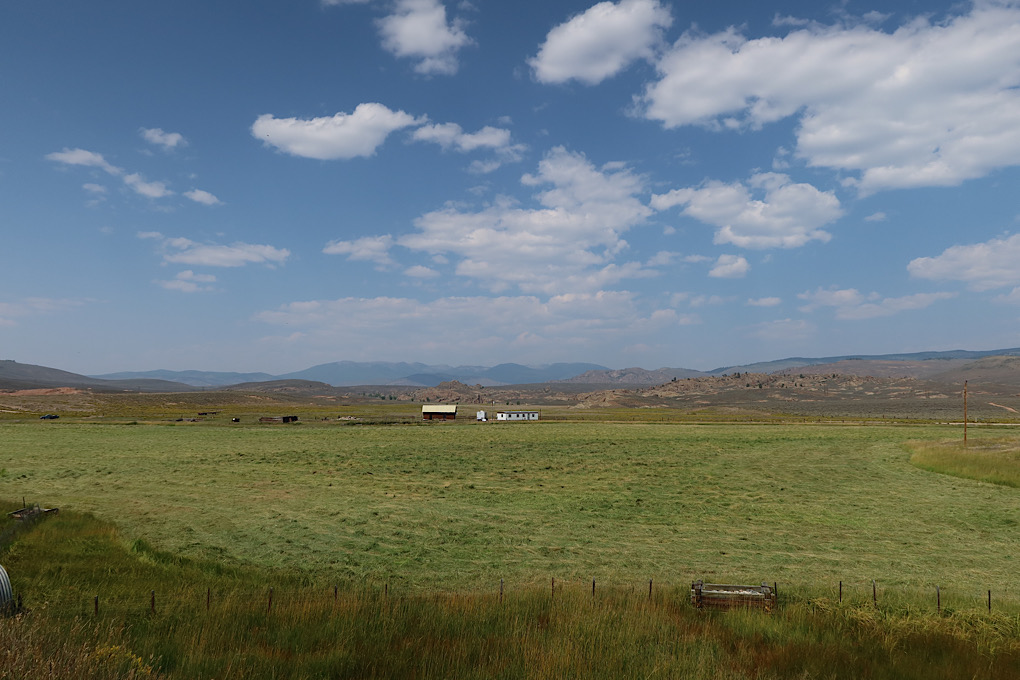 If I hadn't made a cabin reservation, I probably would have stopped at a hotel in Gunnison. The 26 miles to Sapinero sounded hard. But the cabin sounded appealing, so I took a short break in a city park, stopped in the grocery store, and kept at it.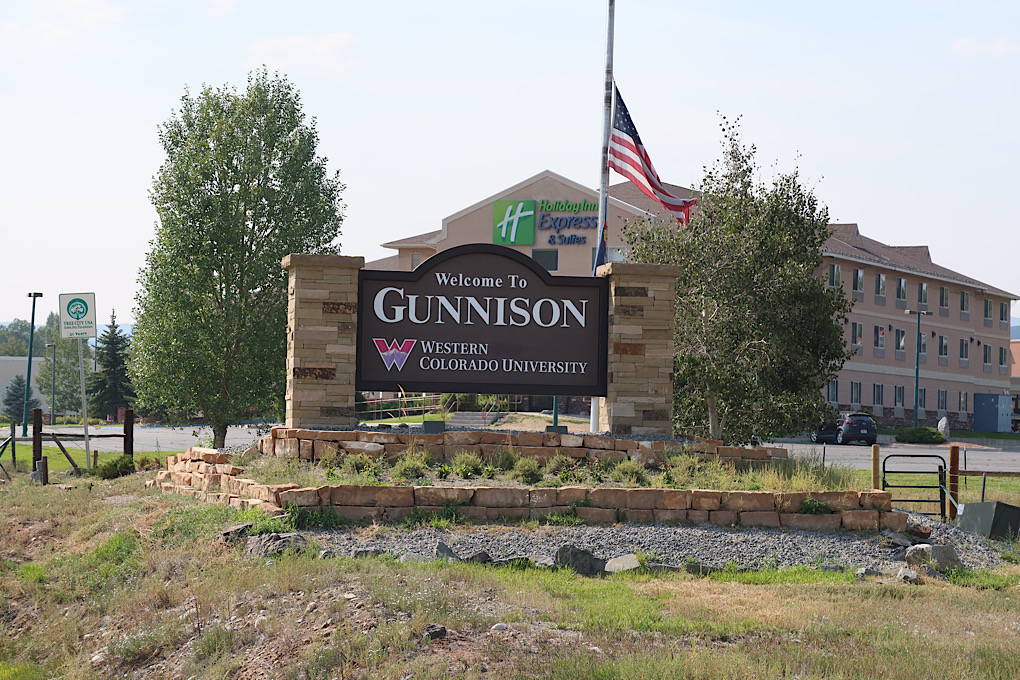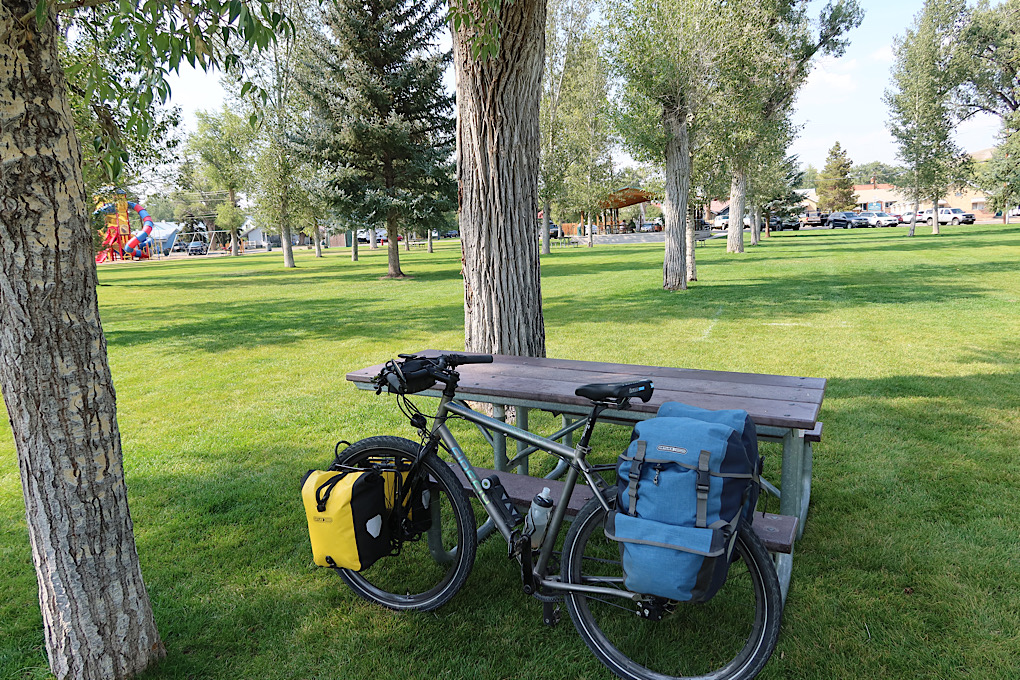 A combination of the elevation (maybe) and the exercise has made it hard to get myself to eat as much as I should. I just don't feel hungry, and food often doesn't sound appealing. It's easier to drink calories though, so I chugged a Naked juice at the grocery store, and also grabbed a big container of mixed berries that looked appealing. That probably helped get through the rest of the afternoon.
The scenery though Curecanti National Recreation Area was definitely more interesting than the approach to Gunnison. There was definitively less water than usual in the rivers and reservoir, but there was still some. And there were more dramatic cliffs and rocks and things. And occasional shade from the cliffs. Plus, as the sun started going down it got less intense.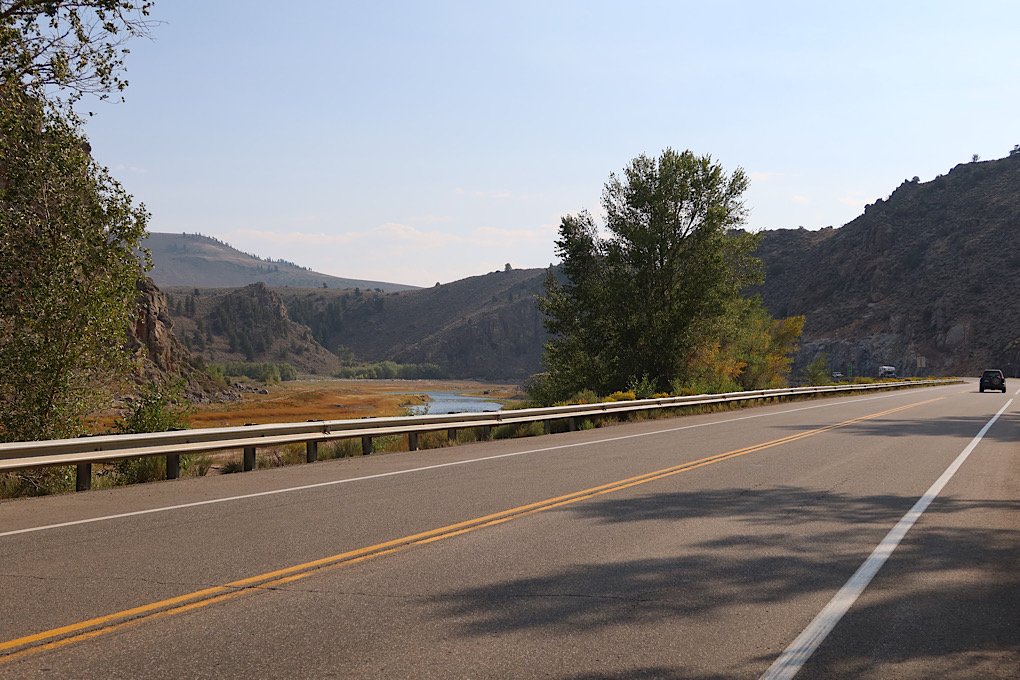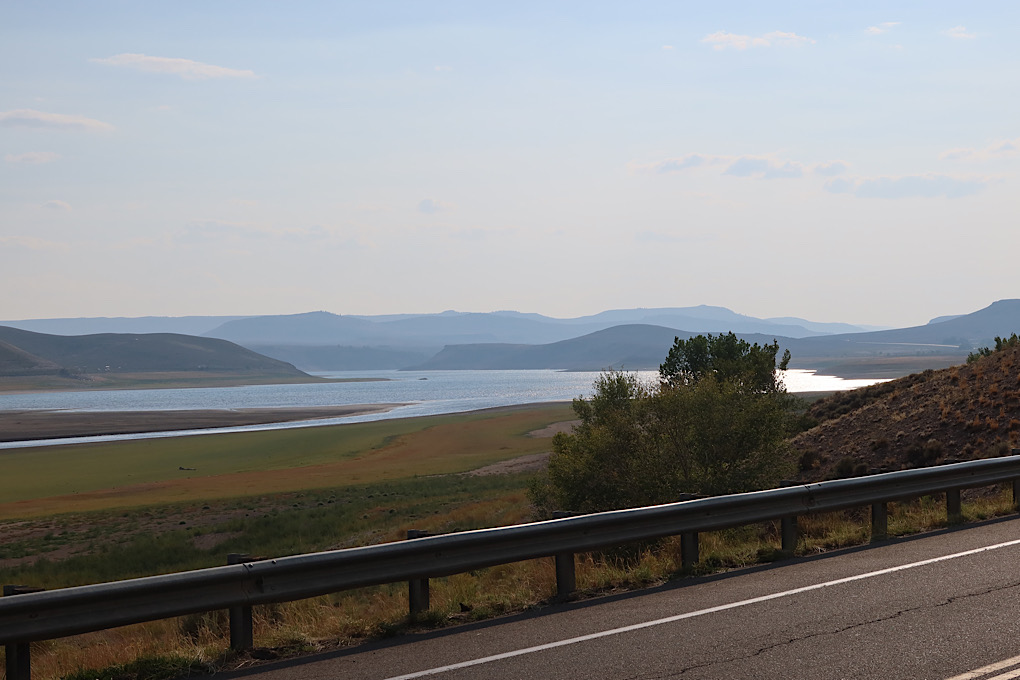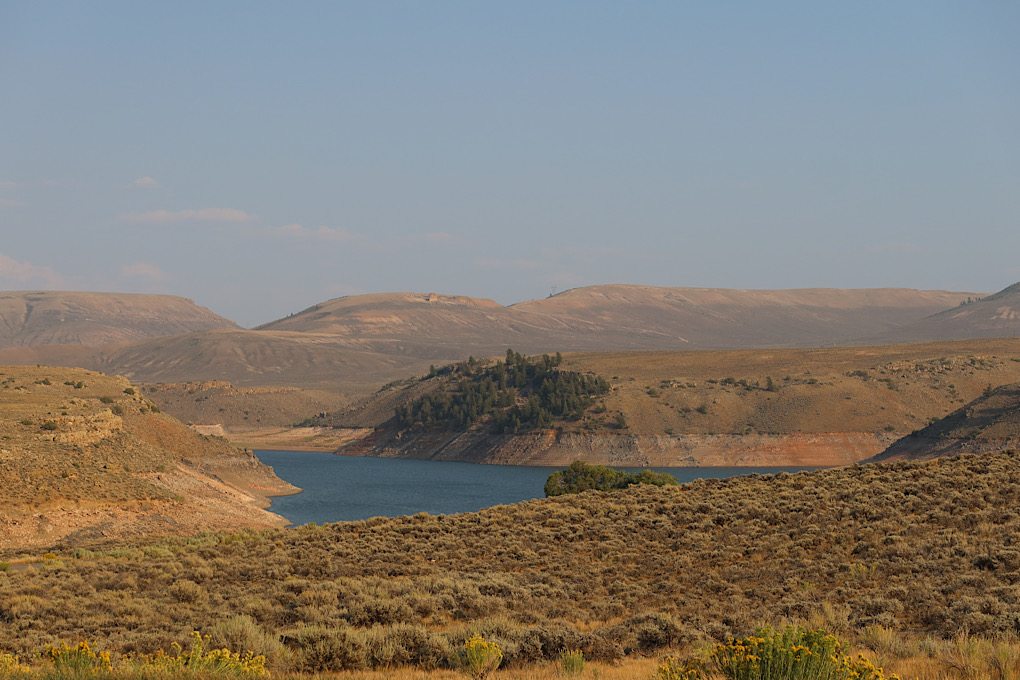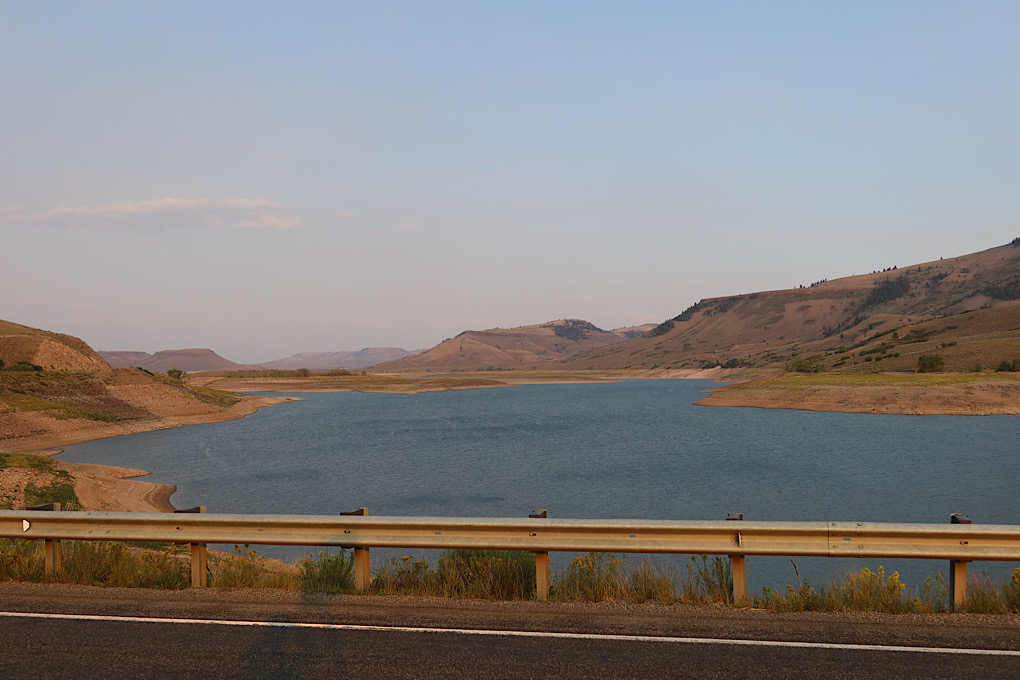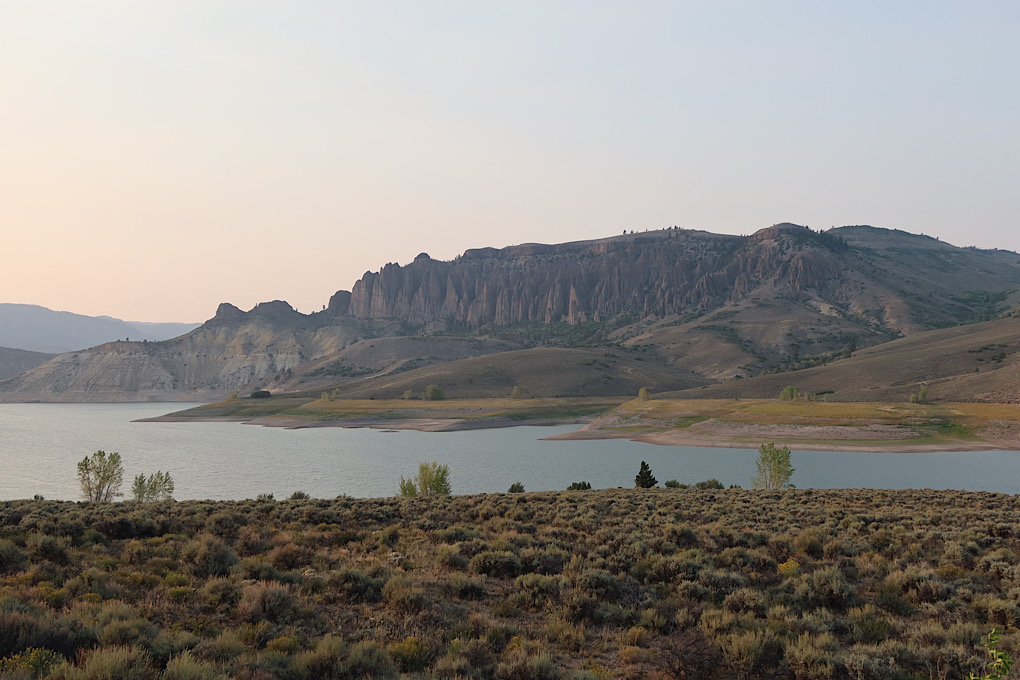 The shoulder was great, but the headwind kept up. I was definitely getting really tired by the time I spotted my destination across the water. I was very glad I booked a cabin, because I had no desire at all to set up camp.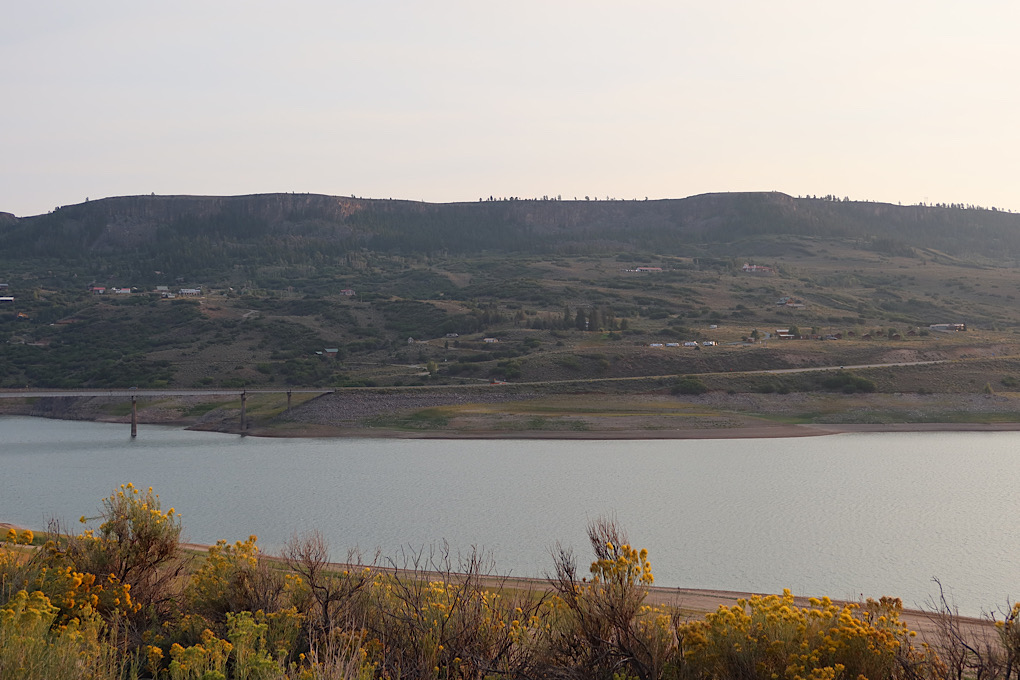 Even though it was a long day, I was glad that I ended here. The cabin is great - very cute, a great view, comfortable, and with a fantastic shower (any shower would have been fantastic I imagine).