Southwest Day 0: Amtrak to Winter Park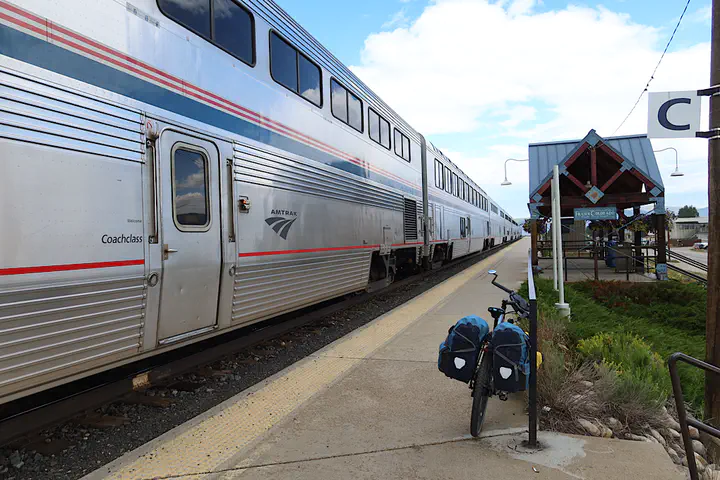 August 21-23, 2021. 1500 miles by train, about 15 by bike.
Another bike tour, and back to blogging. This time I'm both culturally and physically closer to home - following some Adventure Cycling routes through the southwestern US. The plan (subject to change is to start in Fraser, CO and follow the Great Parks South route, then a segment of the Western Express route through southern Utah, then the Grand Canyon Connector to Arizona, ending in Flagstaff. Lots of mountains, not a lot of water or oxygen, but lots of scenery and pretty nice looking parks. But as planned, the route is quite a lot shorter distance-wise than previous trips, so I'm hoping I can manage the Rockies by just taking it slow. Wish me luck!
I left home around 10pm on Saturday the 21st to catch the midnight train to Chicago. It was kinda weird to spend the day freezing peaches and Concord grapes from the garden and doing other household chores and then bike away from home right when it felt like it was time to curl up and get ready for bed.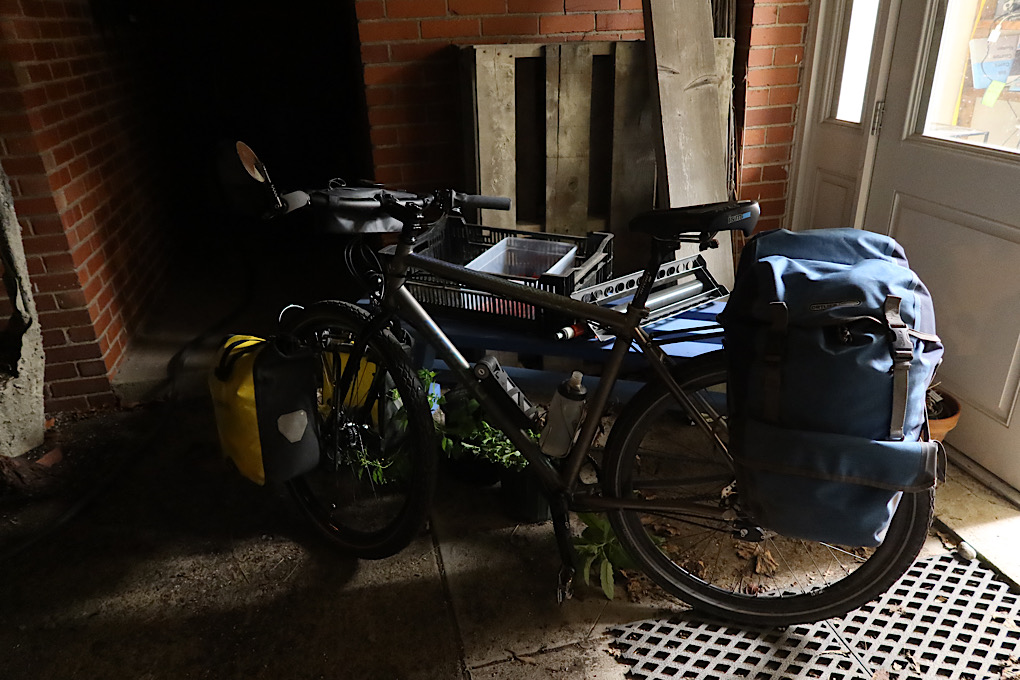 The ride to the Amtrak station was uneventful and one I've done hundreds of times. I was kinda expecting the bike to fall apart a mile from home or something, but it didn't. The nice thing about this trip is that Amtrak doesn't require disassembling bikes, so I got to skip the part where I take the bike apart and then put it back together again except invariably missing some small piece and slightly misadjusted. Trains are cool.
The most dramatic part of the trip to the train was going into the train station to get the claim tag for the bike. Since I had to go outside and around to avoid stairs, I did that early and hung out on the walkway outside the building mostly populated with waitstaff from the nearby restaurant.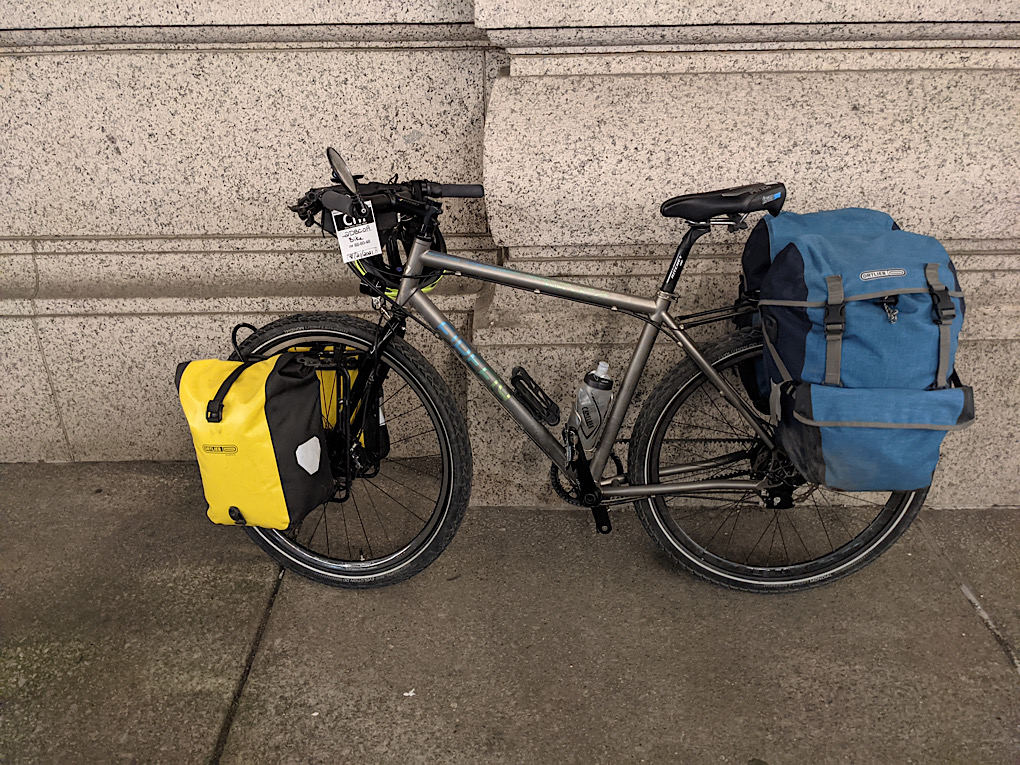 Another biker showed up a little later. He said he had come from Philly (though not originally, it sounded like) and was taking the same pair of trains as me except going all the way to San Francisco. He said he was going south to San Diego, which is the worst part of the west coast for biking if you ask me, but to each their own. We had to wait for 5 or 6 bikers to take their bikes off the train in Pittsburgh, but that meant there was plenty of room for us. We just rolled our bikes into the baggage car and hung them on racks. Easy! And slightly less stressful than wondering whether airline checked bikes will survive and arrive. I still worried a little.
I booked a "roommate" for the trip, so I had a (small, but perfectly sufficient) space to myself for the trip. I'm a fan. The roomettes would be pretty tight for two, but are perfect for one. I watched the scenery as we left Pittsburgh and then went to sleep.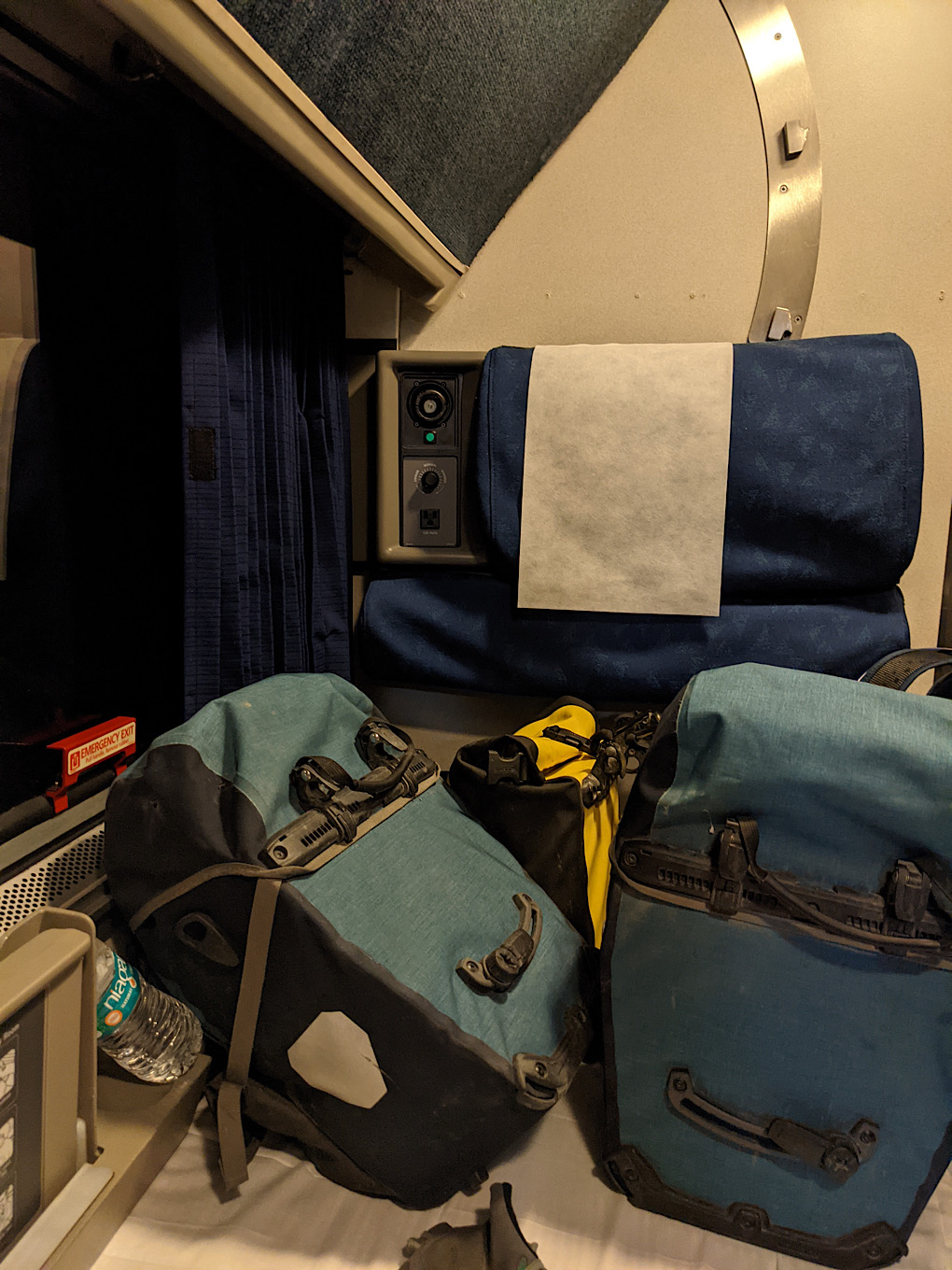 From Pittsburgh to Chicago I was in an upper level room. The internet seems to think they are better due to better scenery, but you really do feel the train swaying a lot. The rooms are also along a busier hallway. On the second train I was on the bottom level, and I think I prefer that. Dead end hallway, close to the luggage racks, less sway, and perfectly sufficient windows. Anyway, turns out I like sleeping on boats more than sleeping on trains but it wasn't too bad. Mostly just bumpy sometimes.
And then, sometime in the early-ish morning, someone pulled the emergency brake on the train as we were going 80 miles an hour. I only sort of noticed since I was asleep, but it woke me up and pushed the door of my room open and caused us to be about 5 hours delayed. They didn't tell us what had happened until later, but I guess they needed to check over things in the moment, and then we were delayed enough that we had to pull off at Bryan, OH for a couple hours to let freight trains through. They never figured out who pulled the emergency brake, so the conductor came through and lectured every car about how serious and dangerous it was. I'm glad a delay was the worst of it.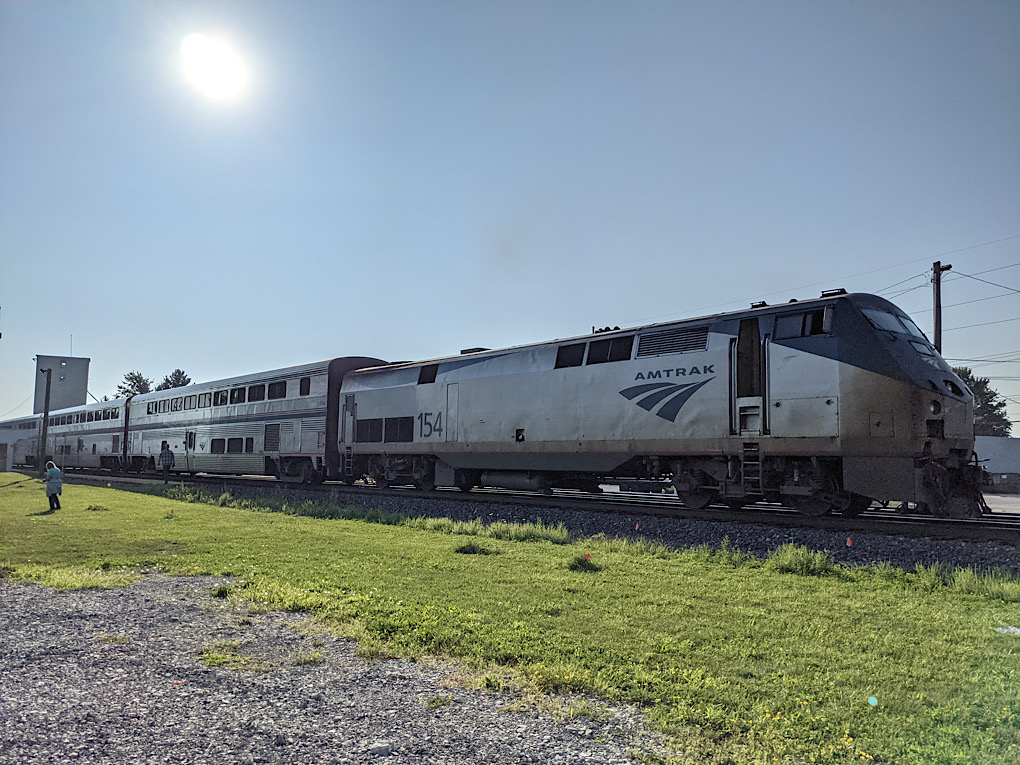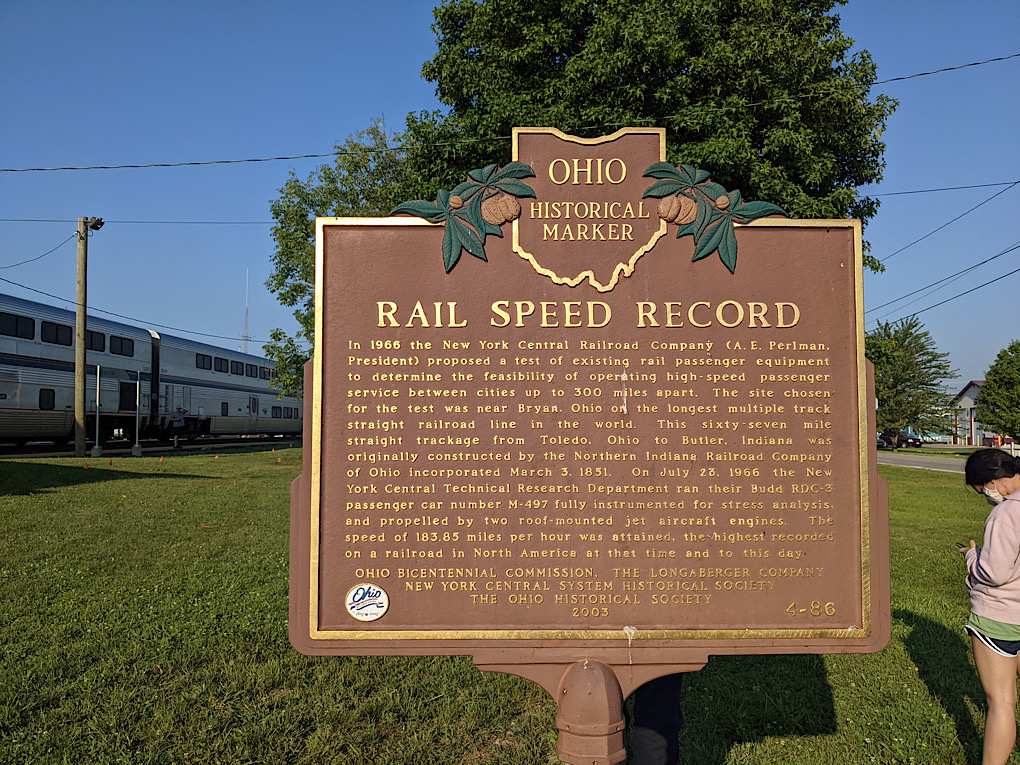 With the delay, we got to Chicago at about 1:50pm, with my next train scheduled to depart at 2pm. We were supposed to go to the baggage people and get new claim checks for our bikes, but the people in the baggage car suggested we go straight to the train, which we did. It worked out in the end - the conductor on the California Zephyr got us claim checks after a couple of stops and we even got to go check on our bikes part way through the trip to put them on. There weren't any bike racks this time, but the bike did fine leaning up against a luggage rack.
This was a longer ride. I went to sleep shortly after seeing the sun set over Iowa cornfields. I woke up to see the sunrise over Nebraska cornfields. There are a lot of cornfields.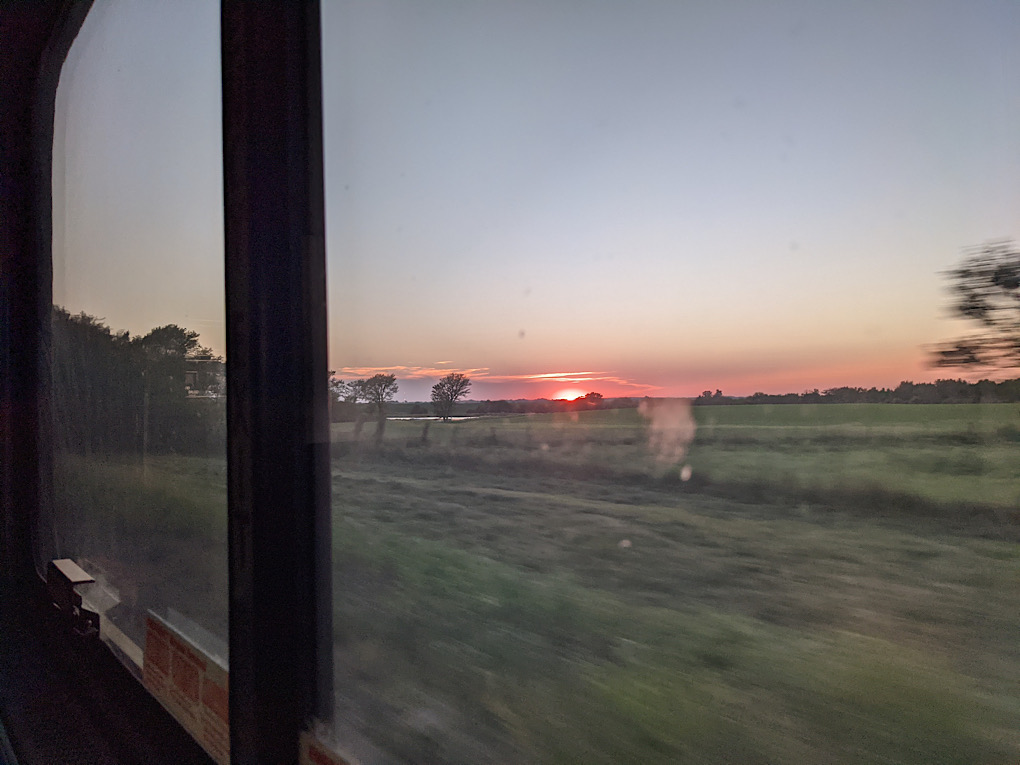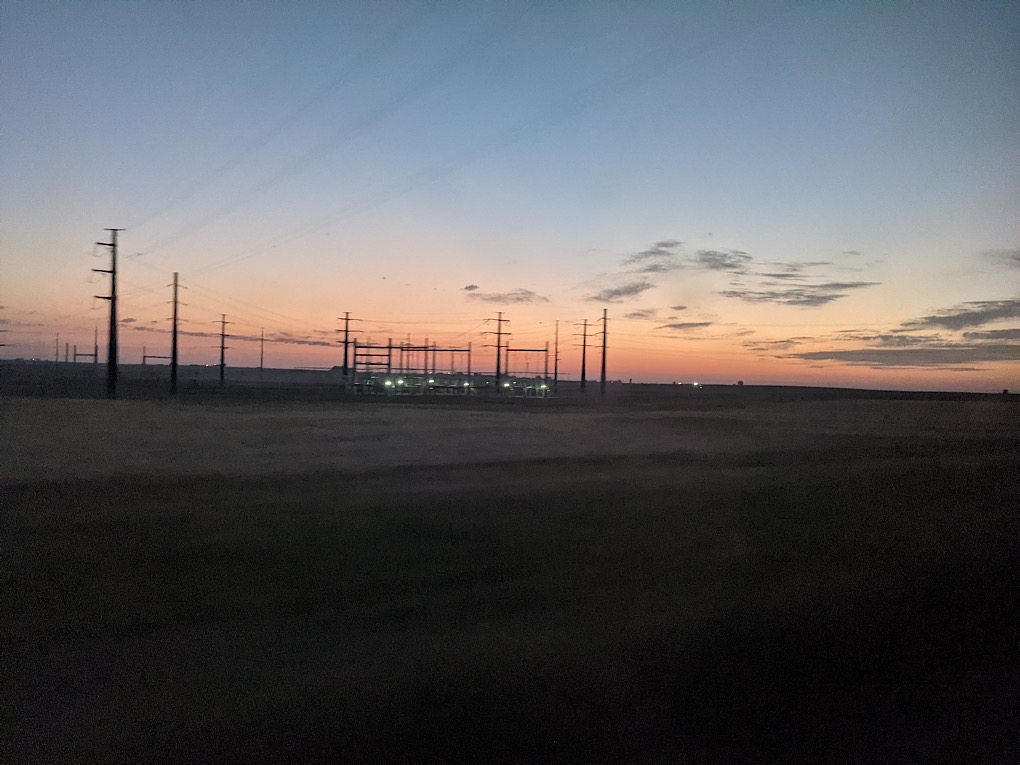 They had opened the dining car for sleeper car passengers on the California Zephyr, though they weren't sitting multiple parties together so I got to be antisocial (unlike in traditional train dining). It felt weird enough to be around people for a few minutes there, so the private room was definitely the way to go.
The second train was on time - we actually got to Denver about 30 minutes early and had over an hour to wander about. It was lovely weather, and a pretty nice train station.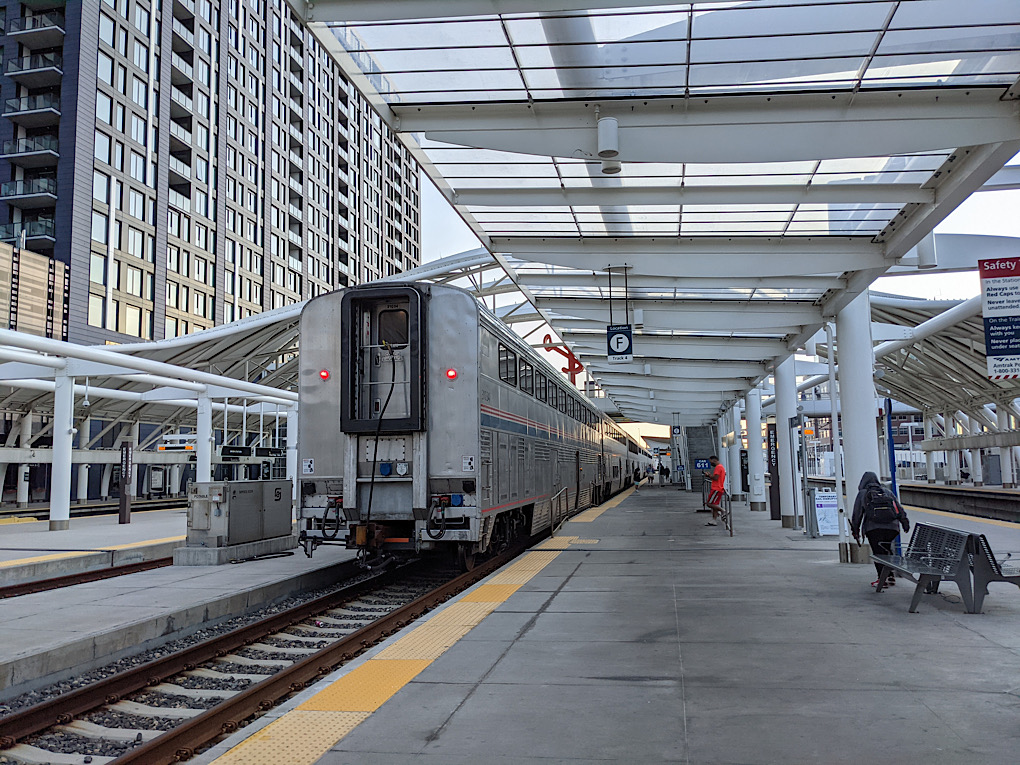 After Denver I had about two more hours on the train, going up and up with a lot of fun switchbacks, track on the edge of cliffs (we didn't fall off) and one pretty long tunnel under the actual continental divide.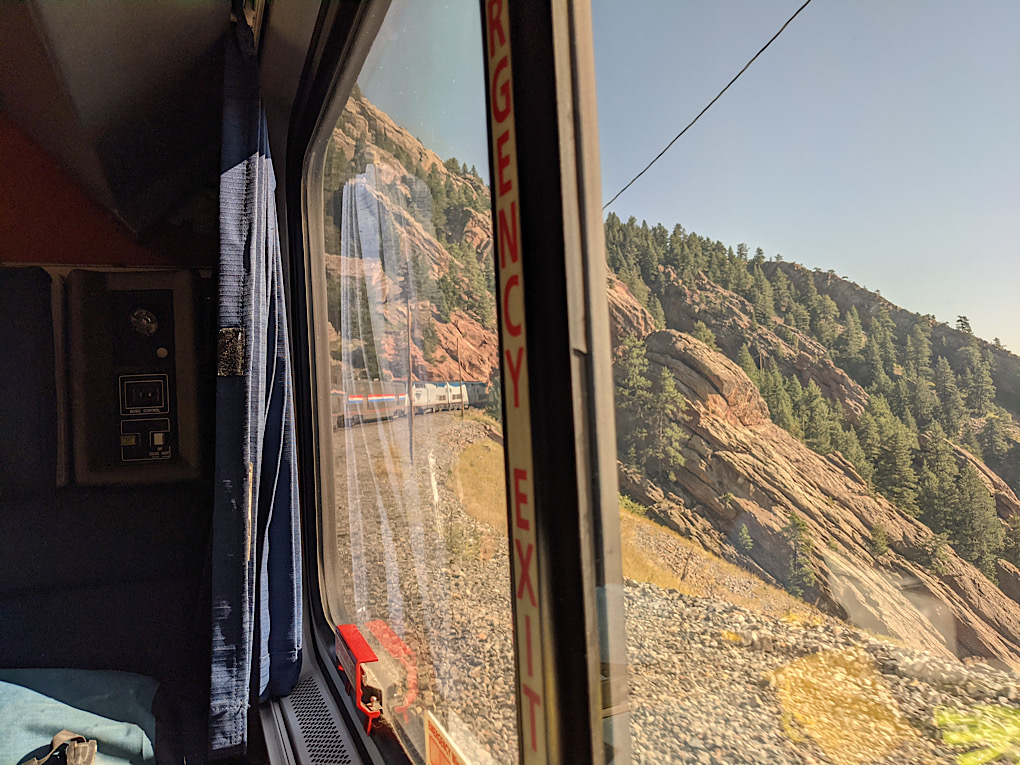 I spent a while being slightly worried that the train would leave with my bike before I could grab it, but they were very organized and both me and my bike made in to Fraser, CO.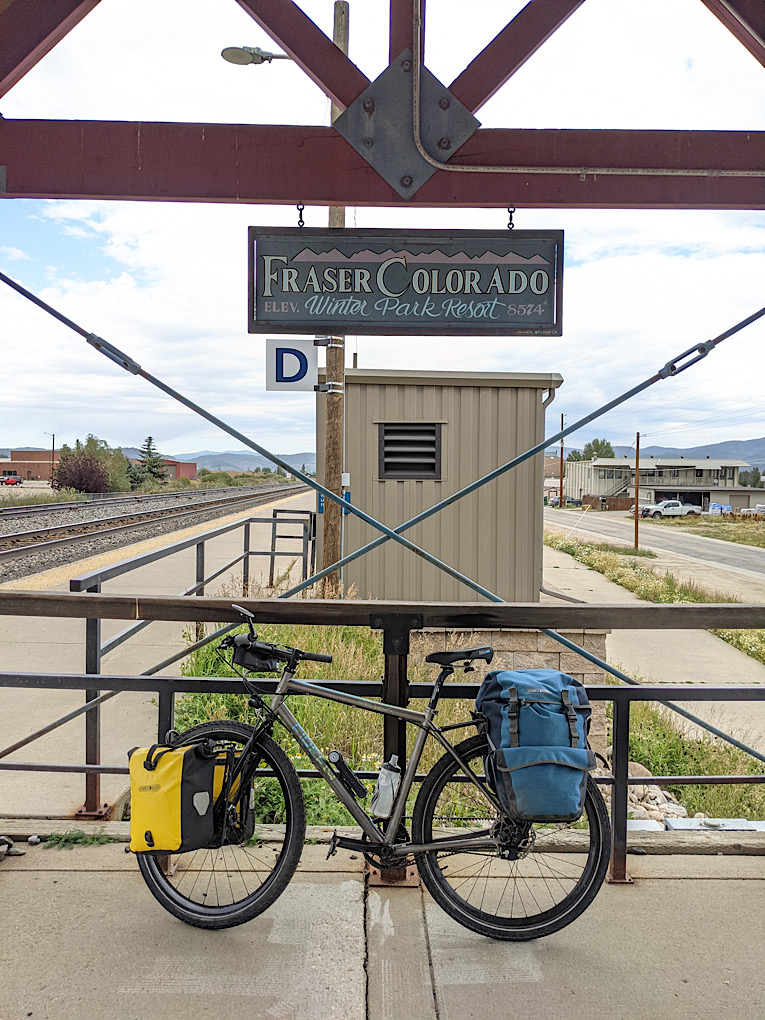 Today I only biked about 5 miles from the train station to Idlewild campground just past the town of Winter Park. It was mostly flat, but so far I haven't noticed any issues from the elevation (knock on wood) except that the small container of Pringles I had with me was quite puffy. There were bit of bike path between Fraser and the campground, and since I arrived around noon I got an excellent site right near the little river.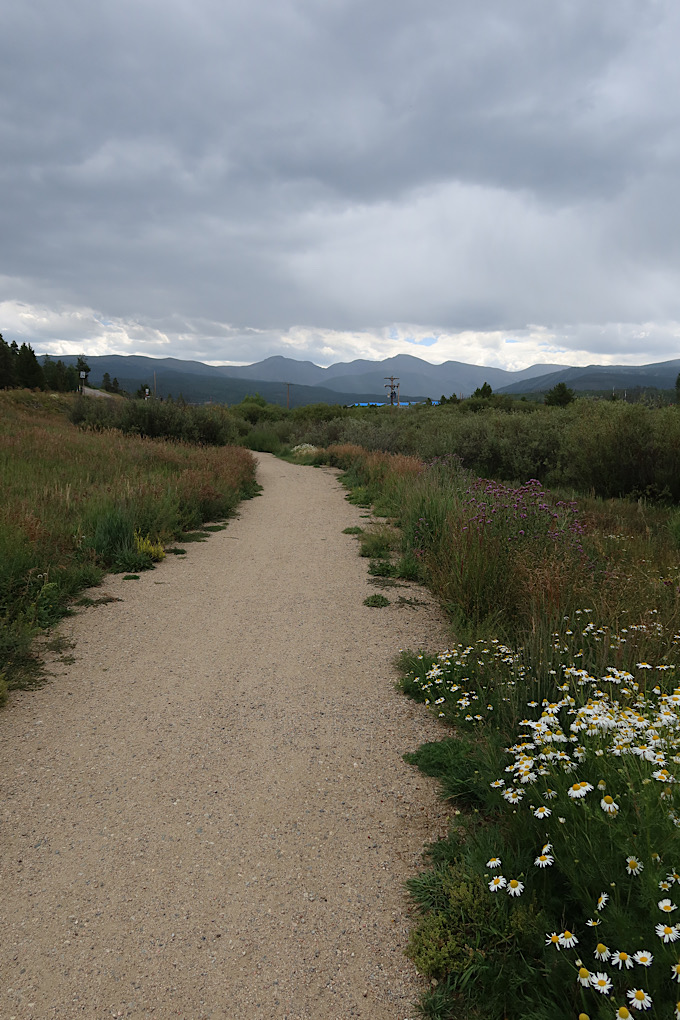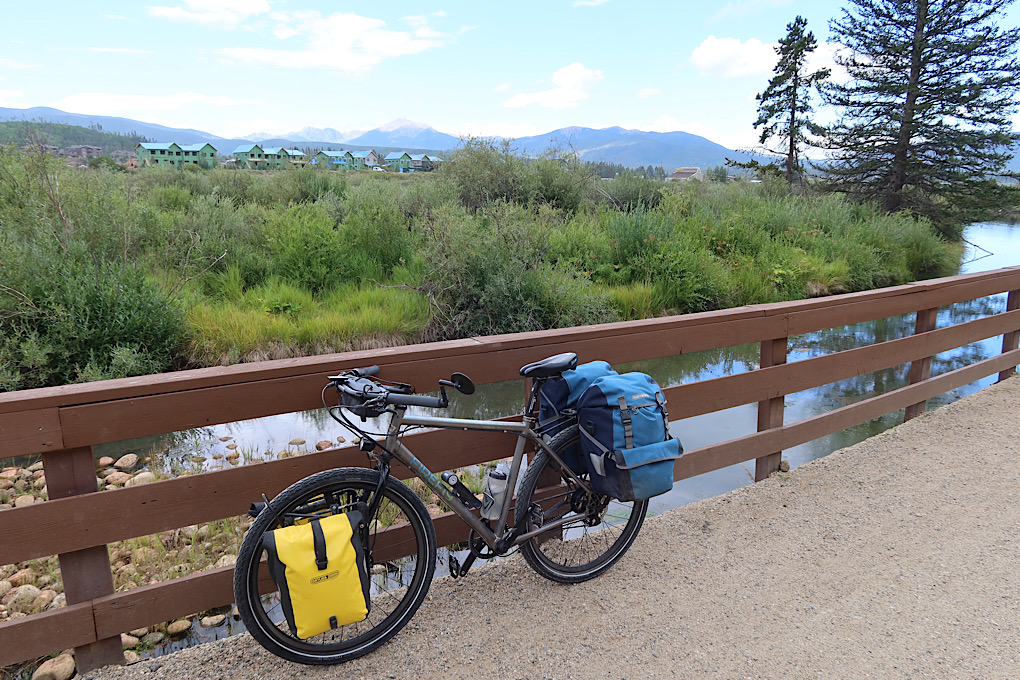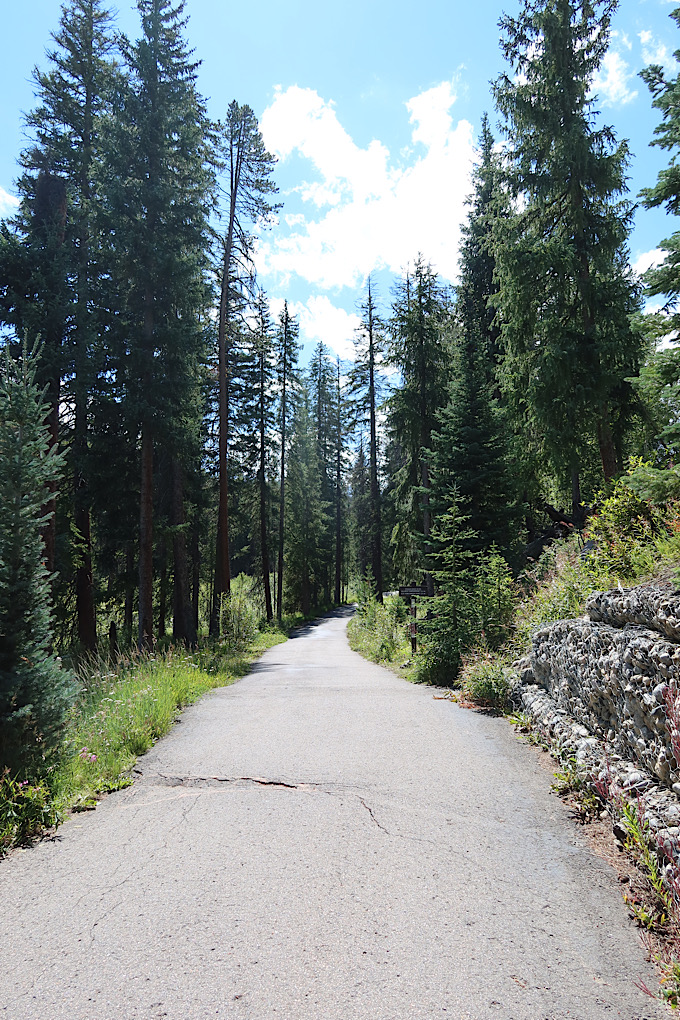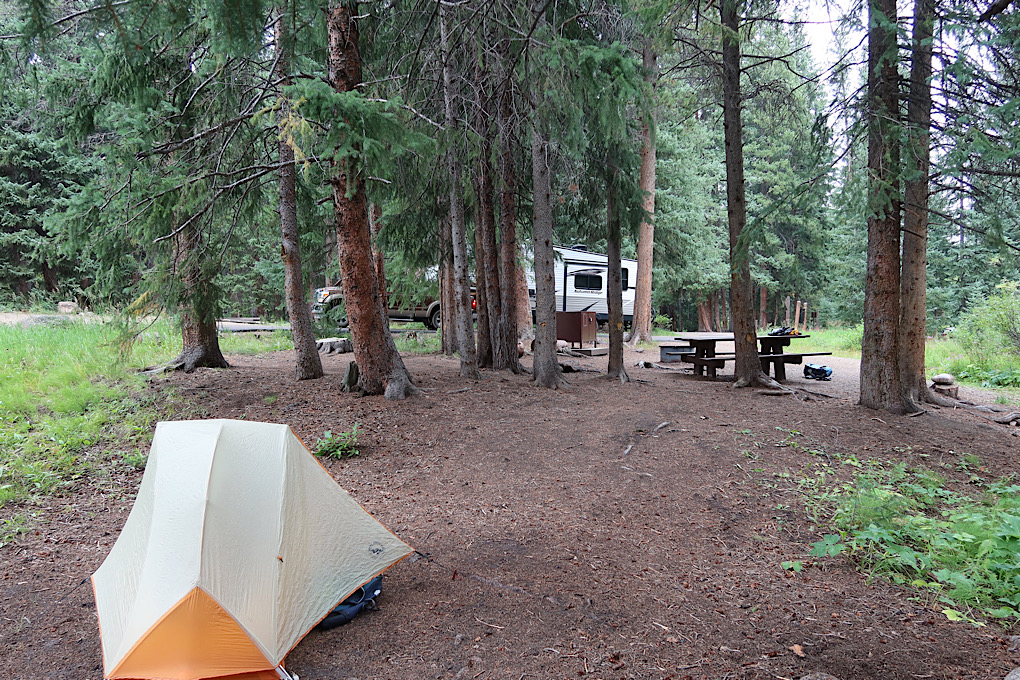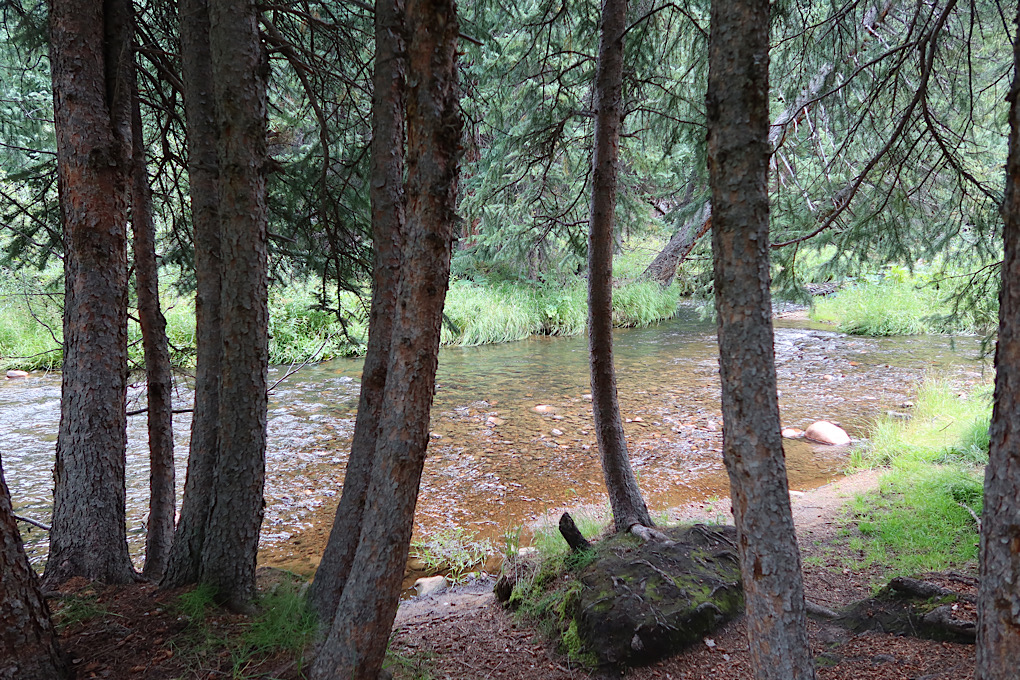 I set up camp, made some mac and cheese for lunch, rinsed clothes in the river (things dry fast around here, which is great), then biked back to town for a couple groceries and to poke around the cute tourist town a bit. It was pretty empty, which is probably part pandemic and part Monday.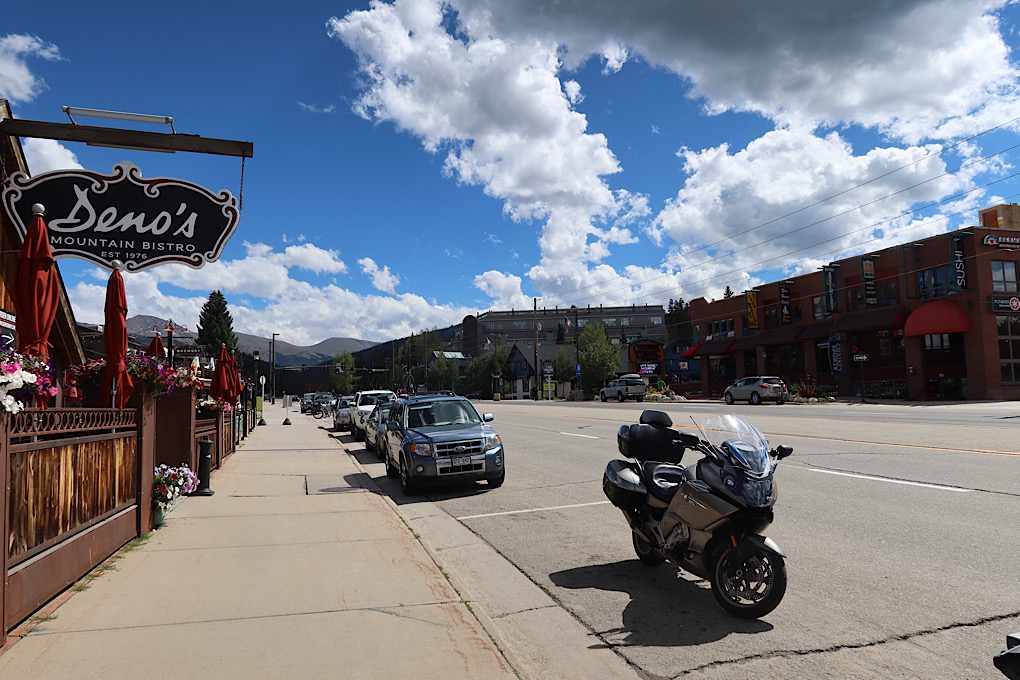 Tomorrow the real work begins - in theory I'm going over Berthoud pass. Nothing like starting off a trip with a couple thousand feet of climbing!