Patagonia day 27: El Chaltén to La Leona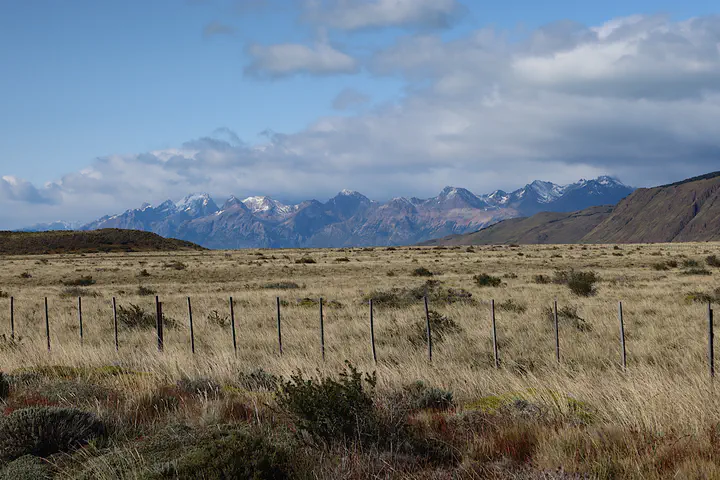 January 24, 2020. 108 km.
Staying three nights in the same place felt like a whole lot of time to not be moving (normal on a bike tour is so different from normal in the rest of life). So I celebrated by birthday with my first full day of biking through the dry Argentinian scrublands.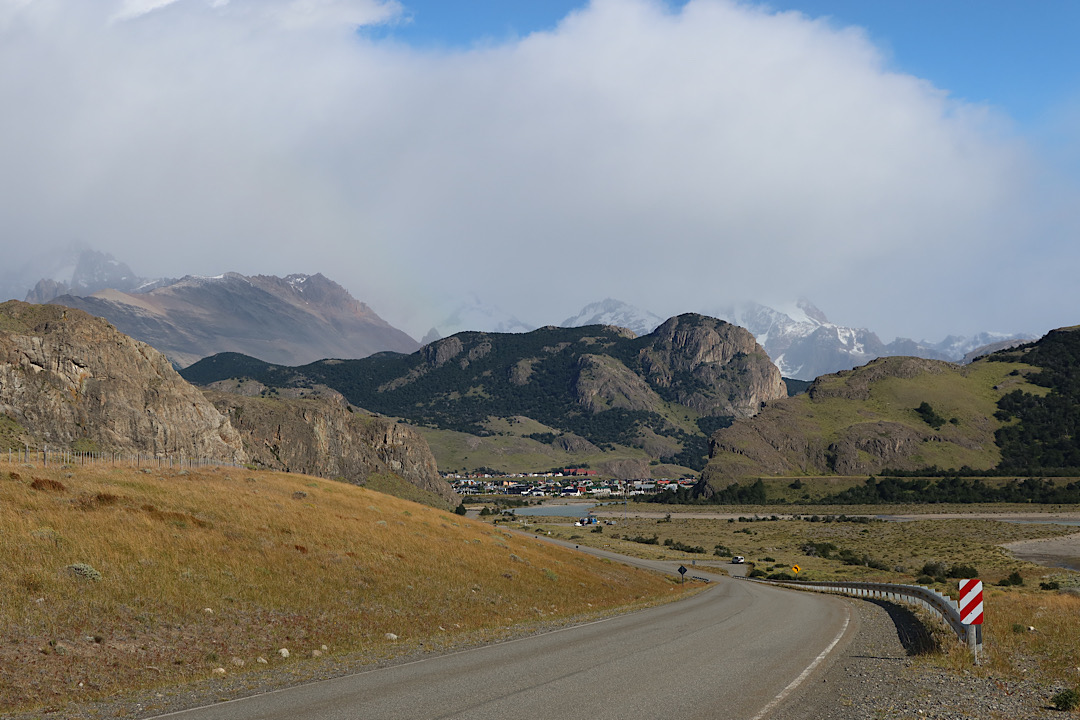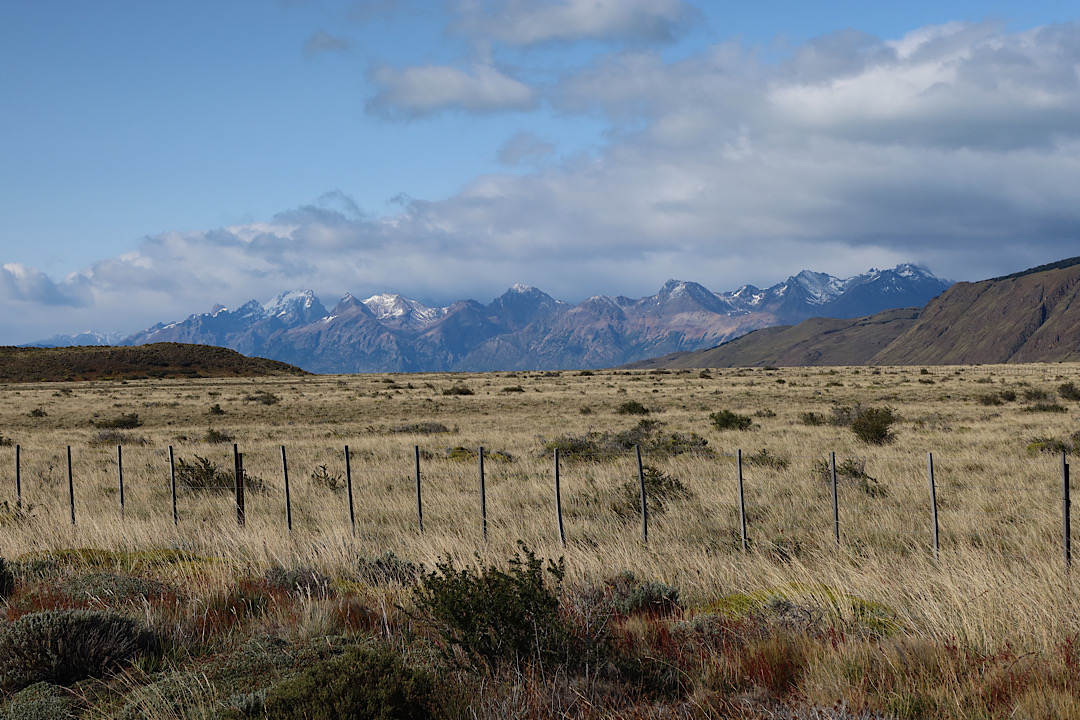 The wind was fairly strong, even in the morning. But as is usual, it was blowing from the west, giving me a tailwind for the first 2/3 of the day (distance-wise). I don't know exactly how strong the tailwind was, but I was going at about 30 km/h while hardly pedaling. Even going uphill, the wind was pushing me forward a bit without me doing anything. One of the weird things about strong tailwinds is that it feels a bit like you are going slowly because there's no wind in your face. Usually going 30 km/h would generate a breeze, but not when you're moving with the wind.
It was really enjoyable to ride with the wind, and also to ride on pavement for the first time in a while. The first 80km flew by in just a few hours, even with a stop hiding from the wind behind some rocks for a snack. I saw a couple of cyclists going the other way. "Enjoy the tailwind!" they shouted as I zoomed past them. I also quickly spotted the thematic local animal - groups of guanaco along the road (also lots of horses).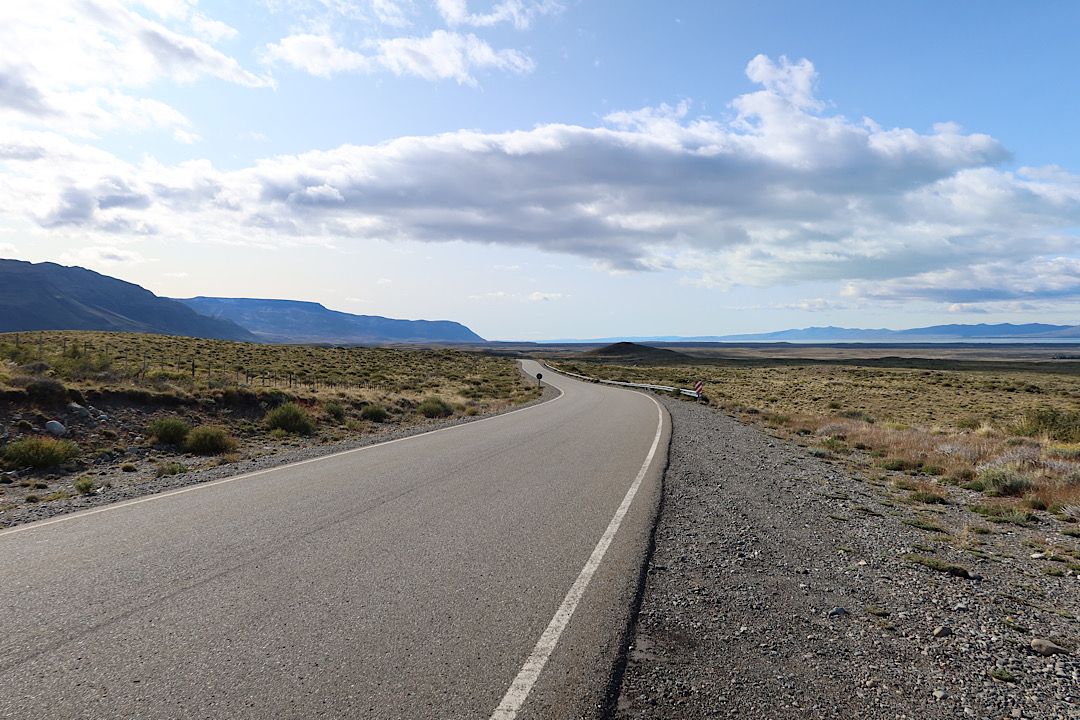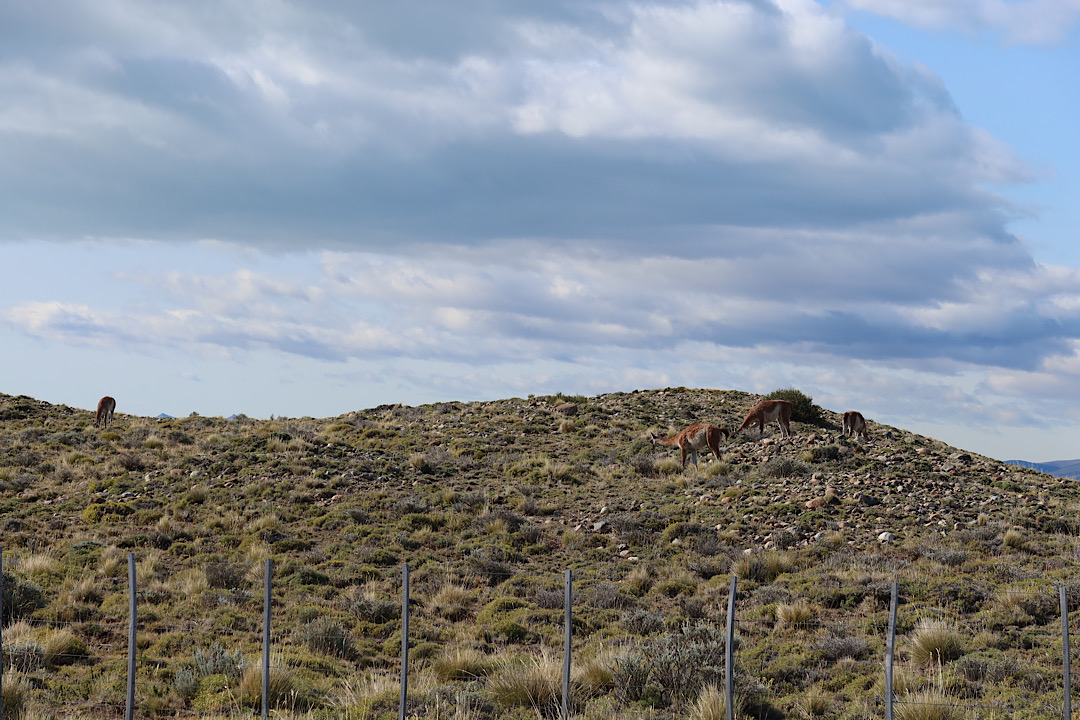 Of course, the problem with strong tailwinds is that they don't stay tailwinds if the road changes direction. In early afternoon I reached the intersection with route 40, turned right, and my tailwind became a strong headwind or crosswind (depending on the road section). Even though it was expected, the reality of it was a bit of shock. Tailwinds are great, but you don't really feel the wind. When you're going into the wind you feel it. A lot. And hear it. It's loud enough that I couldn't listen to my book or hear traffic behind me. Just wind.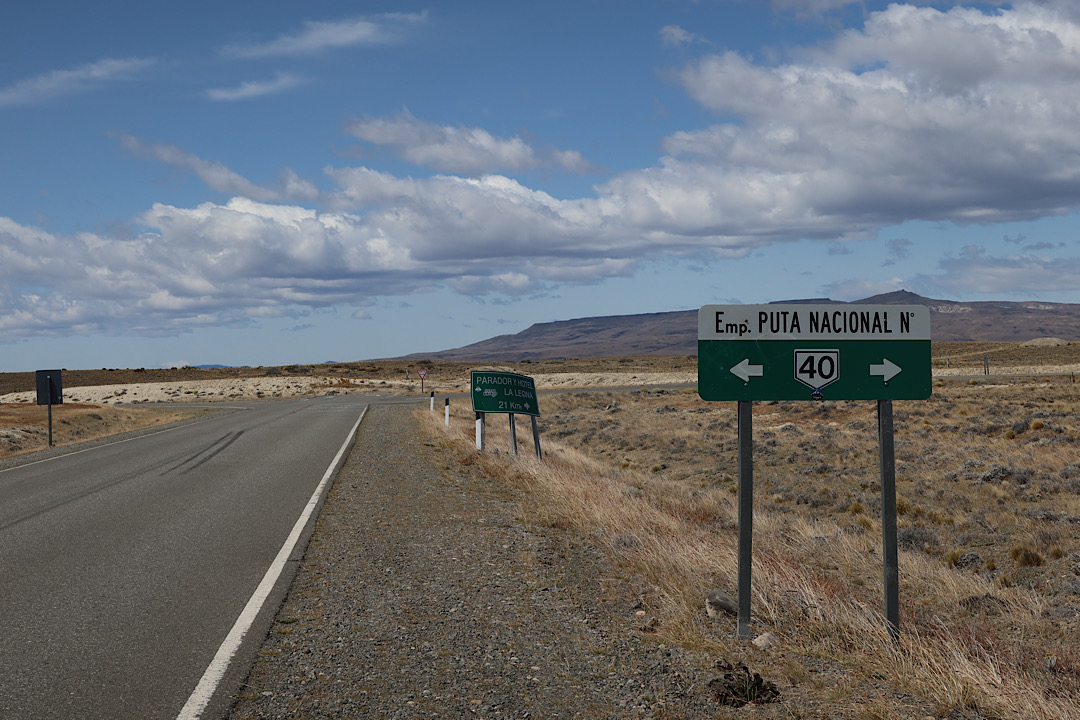 Headwinds are hard, and it's quite the change to go from an average speed of 30 km/h without any effort to something like 10 while pedaling a lot. But crosswinds are worse. Headwinds just slow you down. Crosswinds try to knock you off your bike or blow you into traffic. Luckily there isn't much traffic. Even so, as the wind got stronger in the mid afternoon, I ended up walking the bike for most of the last 10km or so. It was basically impossible to ride in a straight line across the wind.
I was pretty happy to see the La Leona hotel, and decided I would definitely stay there. The other option was 10km further along - the moderately famous "pink house" which is an abandoned restaurant turned unofficial cyclists crash pad. iOverlander reviews were pretty down on La Leona due to it being "expensive" ($10 US for camping), but I really didn't want to go another 10km in the wind. Plus, I'm totally ok with paying $10 for a shower and WiFi.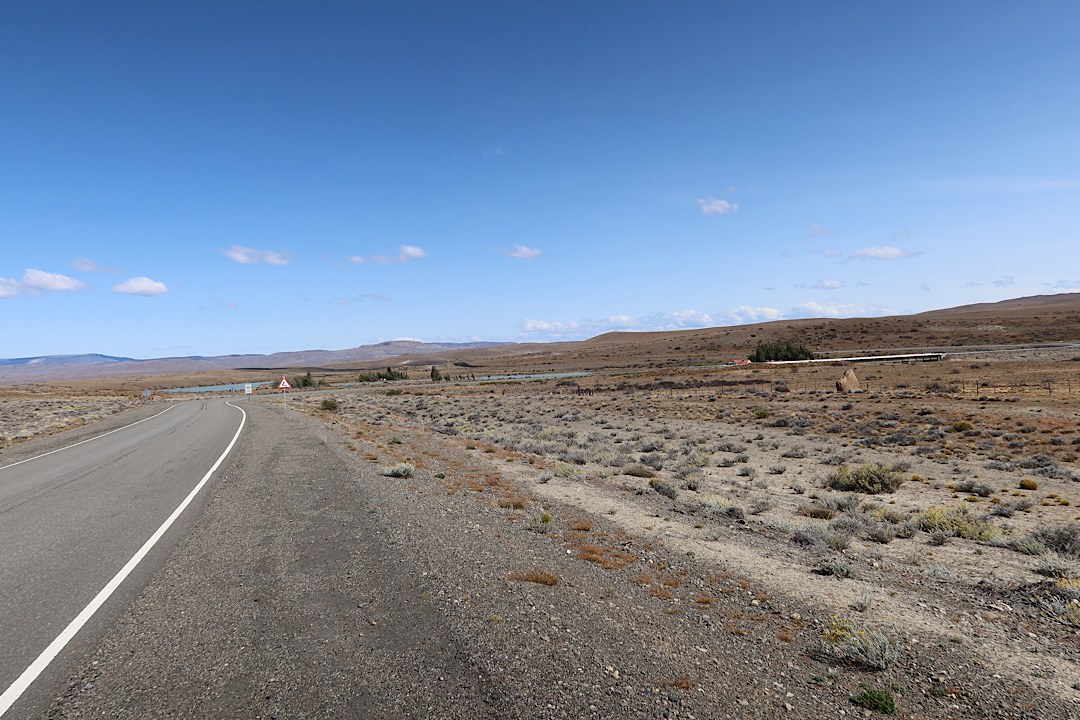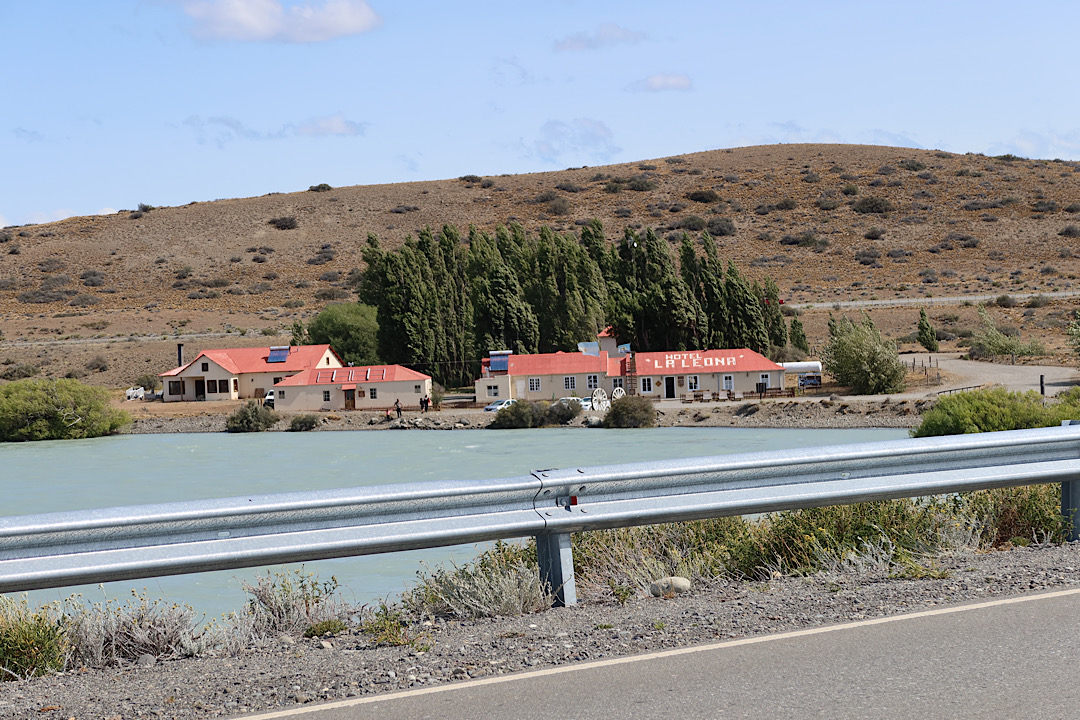 The camping area turned out to be pretty nice, in large part because there were enough trees to provide a pretty good wind break. The restaurant also provided a nice place to sit indoors while catching up on internet things (and booking a glacier cruise for my day in El Calafate).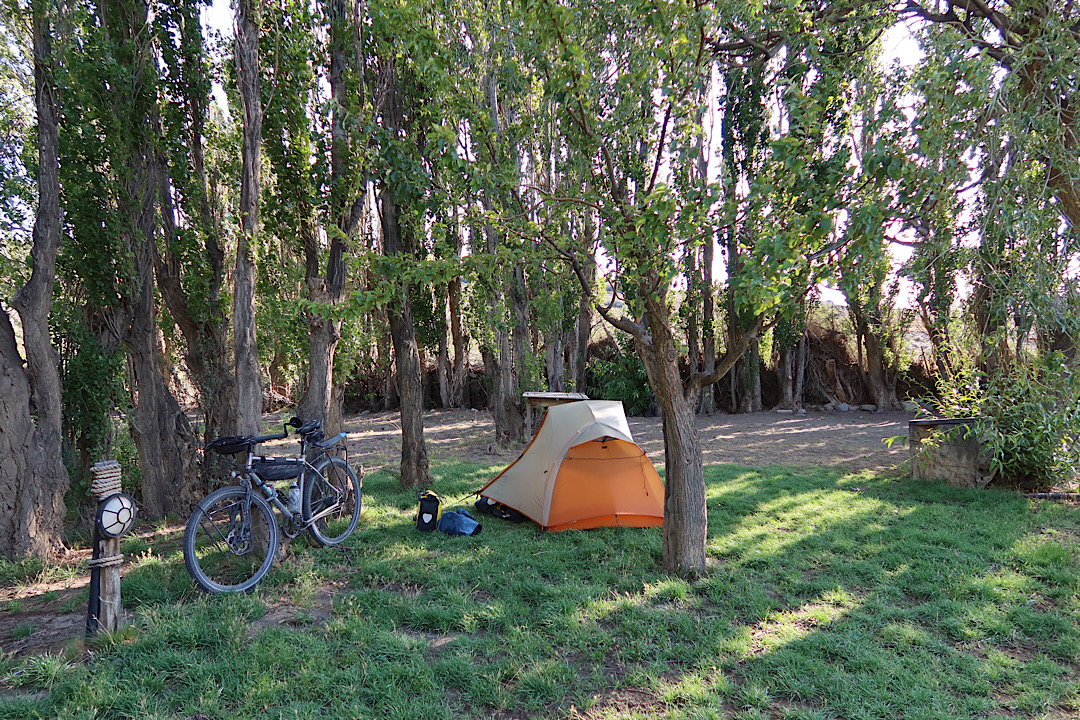 Coming back from setting up camp, I noticed a couple other touring bikes outside the cafe, but they were gone soon after. Based on the time of day, I assume they were going south as well but pressed on to the pink house. To each their own.