Patagonia day 17: Camping Ventisquero Leon to Predio Santa Eva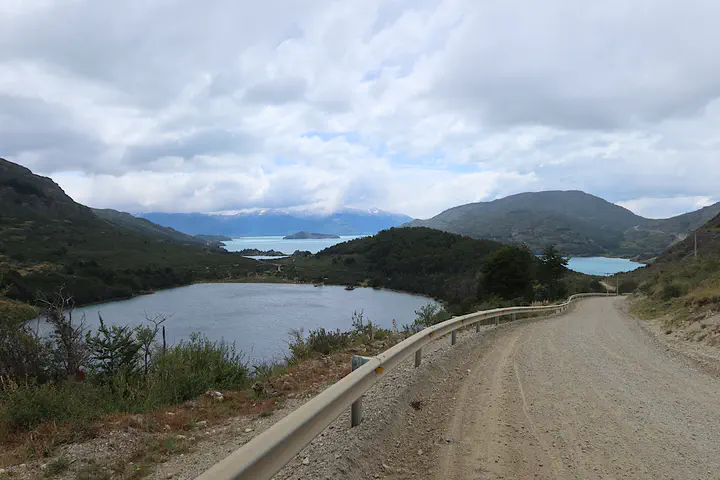 January 14, 2020. 42km.
I spent a while this morning lounging about in the refugio over breakfast, chatting with the four other cyclists who had camped there. The South African couple are also going south, but this is their second time doing this route (they apparently mostly live on bikes these days). They are taking their time because they are catching a ferry from Puerto Yungay to Puerto Natales and have some time to kill before it leaves. Apparently they aren't too keen on doing the Villa O'Higgins border crossing again. I still want to do it once. The Swiss father/daughter pair are going north. Everyone recommends El Mosco as a place to stay in Villa O'Higgions (note taken).
I had thought I might get as far as Cochrane today, but I didn't leave camp until after 10, so decided that was probably unlikely. Besides, I didn't want another long day like the one to Rio Tranquilo. Instead, I decided to aim for an established but very primitive camping area beside the Rio Baker. iOverlander said it was good, and the Swiss pair had also stayed there. So I wasn't too rushed, which was good because the road was really washboarded and going was slow. There was at least one steep, loose gravel section that I walked up. But only a few minutes of rain (the forecast had looked worse). Mostly there were lakes.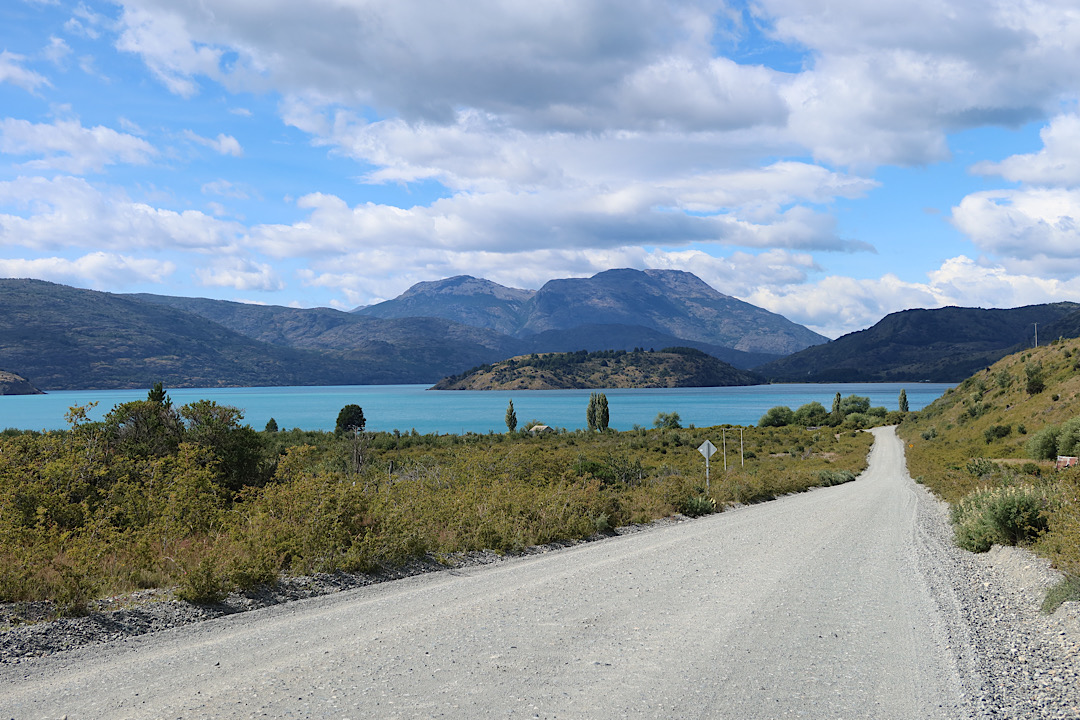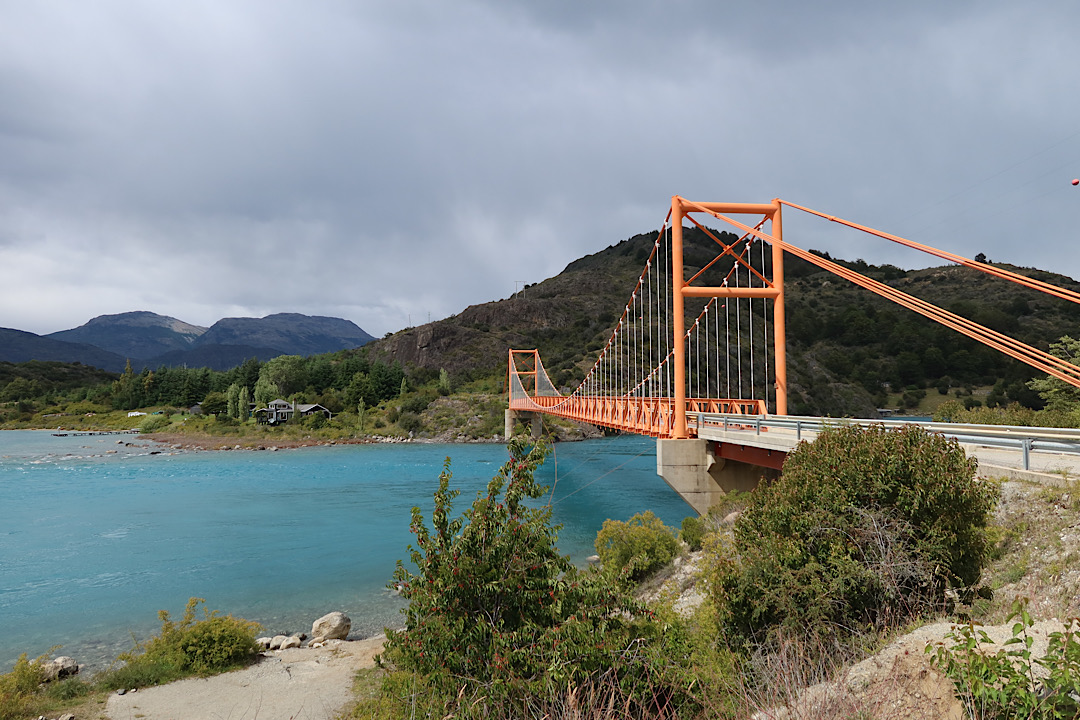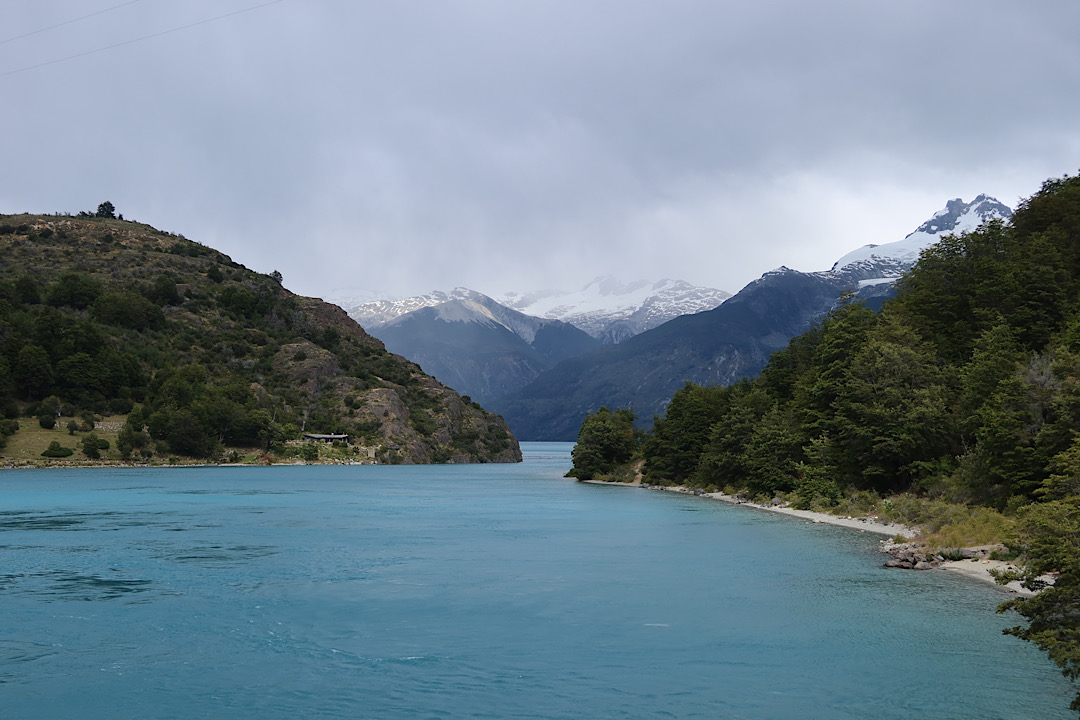 There was a bit of road not by lakes (but apparently by some sort of zipline canopy tours, judging by this sign).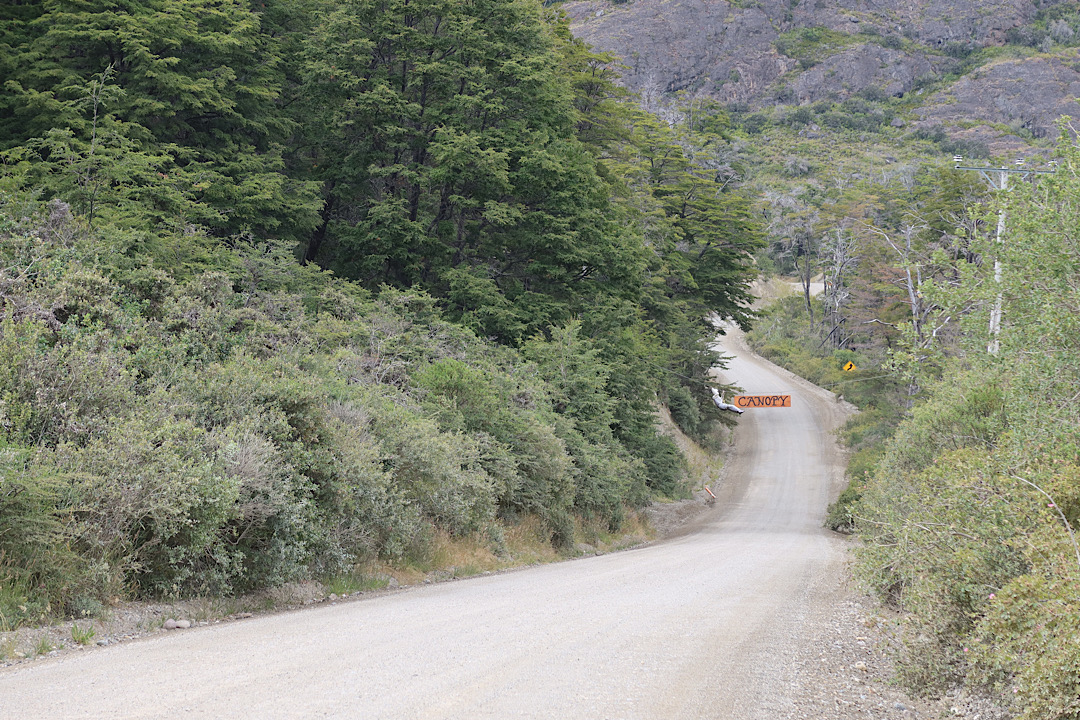 But then it was back to lakes. The worst road section was the climb right after the intersection with the road to Chile Chico. But it did reward me with a really nice view of three lakes.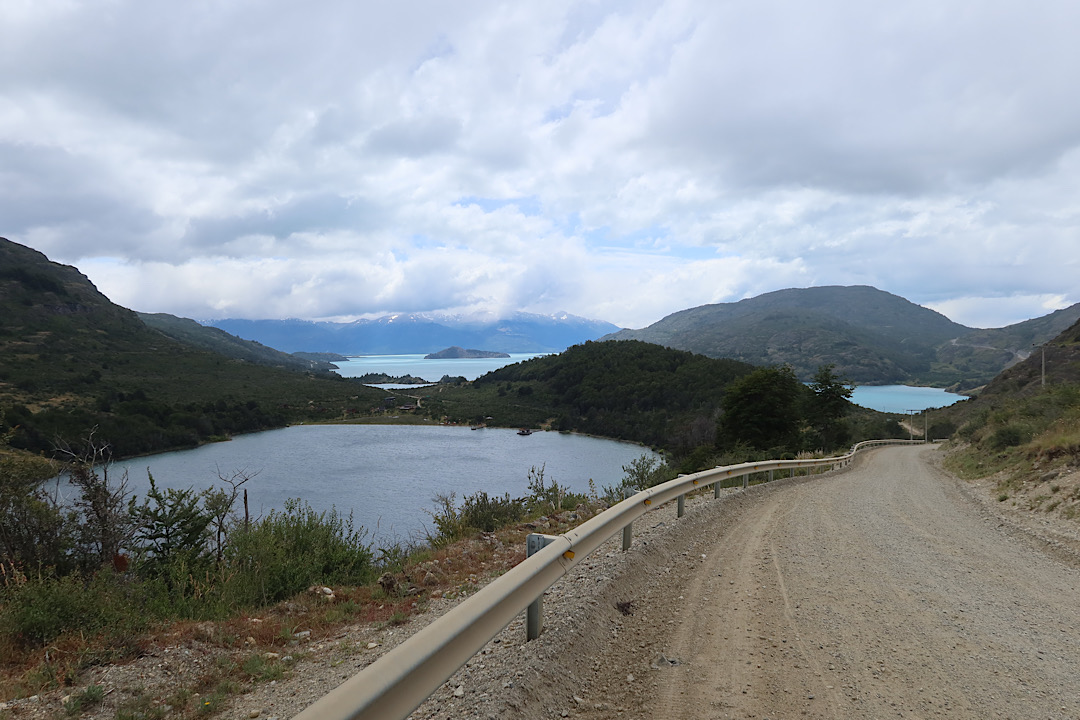 And on the other side of the hill, the road skirted the edge of another lake or two, this time getting close enough to spend a few minutes right on the shore.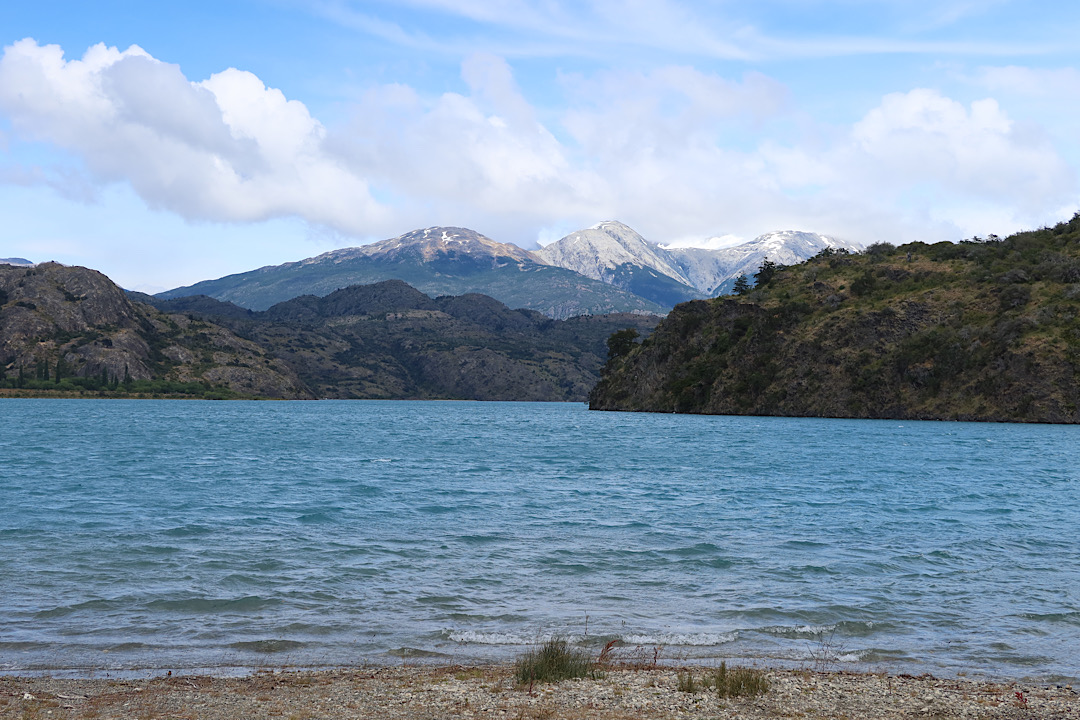 Finally, the road veered away from lakes and back into ranching country, with occasional farms and cows on the wrong side of fences.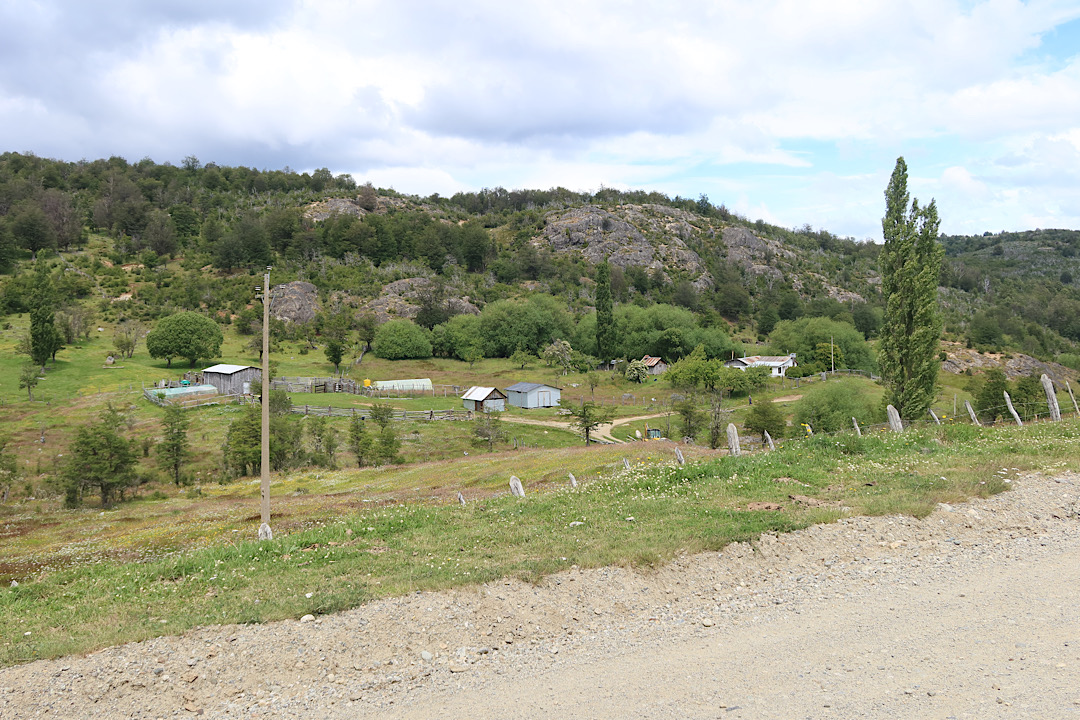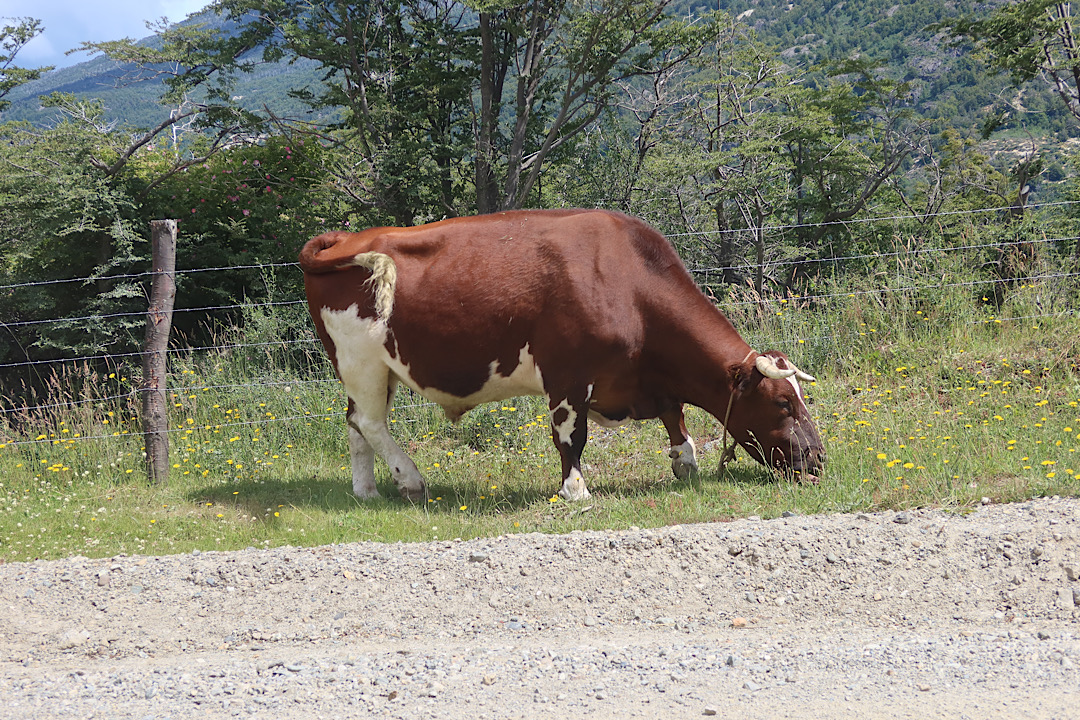 I passed a tiny town that I didn't stop in, and switched from following lakes to following a river (Rio Baker). It's they typical very-blue Patagonian sort of river, and quite scenic.
I made it to my targeted camping area around 4pm. I was happy to stop though, and definitely didn't want to do another 40km+ to Cochrane. The camping area was indeed quite primitive (just a pit toilet, and the owner can't make change so it's best to have exactly 3000 pesos), but it's right by the river and the owner showed me to a site with a bit of wind protection from a line of trees. I'm the only person here, and it's really quite pleasant. The day wasn't even too sweaty, so I don't miss the shower all that much (I have a pack of wet wipes, and there's the river, and that works for a day). The wind is impressively aggressive though.