Patagonia day 10: Refugio Rio Cisnes to Camping Las Torres del Simpson
January 7, 2020. ~120 km.
My plan for today wast to brave the rain and bike a shortish day to Villa Manihuales. The morning was very wet and I was going to look for an indoor place to stay in town. But about when I got there, the rain stopped and I didn't see anywhere to stay that was particularly exciting. So I decided to take advantage of the sun and press on. Due to changing my mind about what route to take later, and an expected camping location not really existing, it turned into a long day.
I didn't start particularly early, partly because I didn't expect a really long day and partly because I had a really delicious large bowl of oatmeal at the refugio cafe for breakfast.
Once I got on the bike, the route started with another set of switchbacks, but paved this time, and leading to a really nice view of the campground from the night before.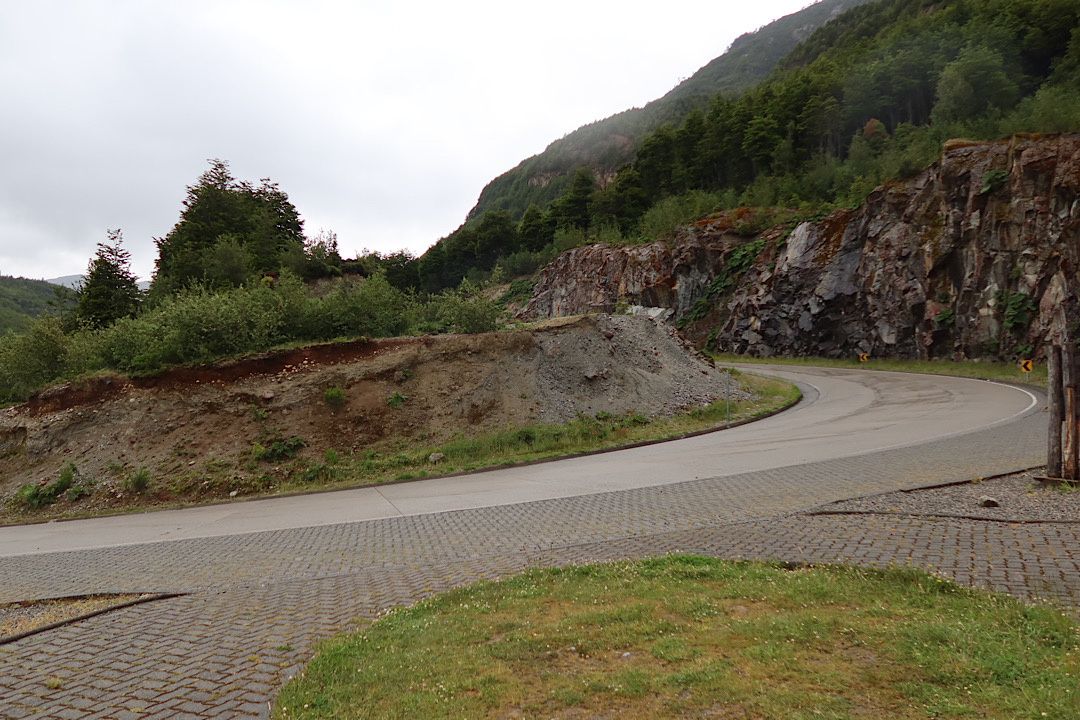 It also seemed like a nice place for a bike portrait or two.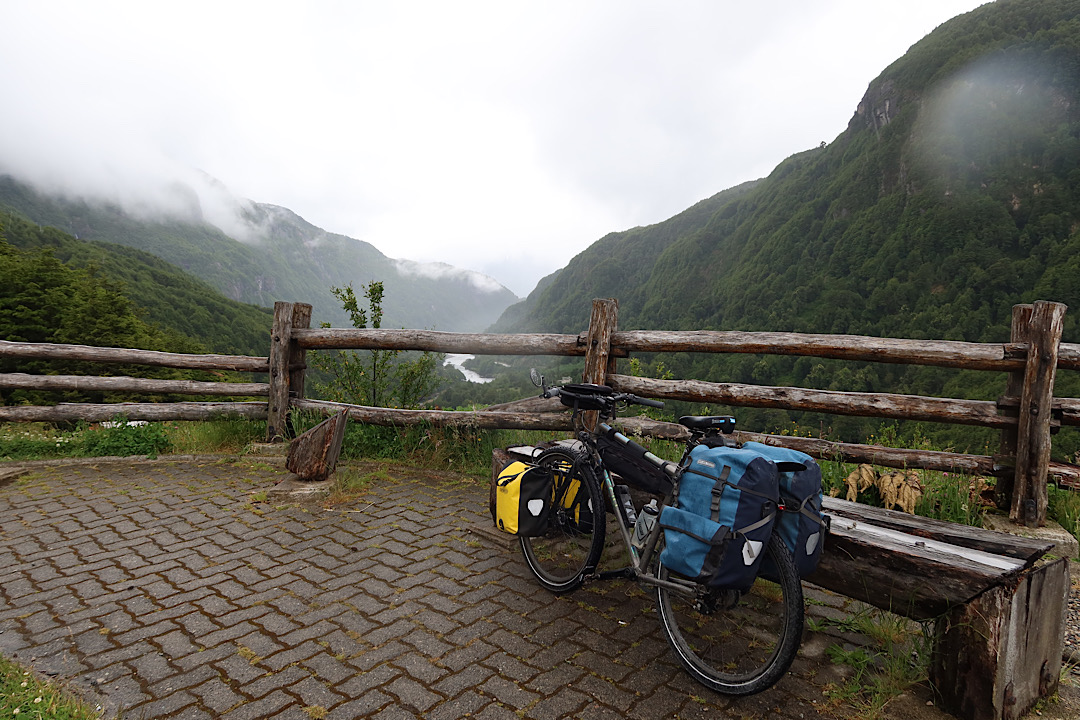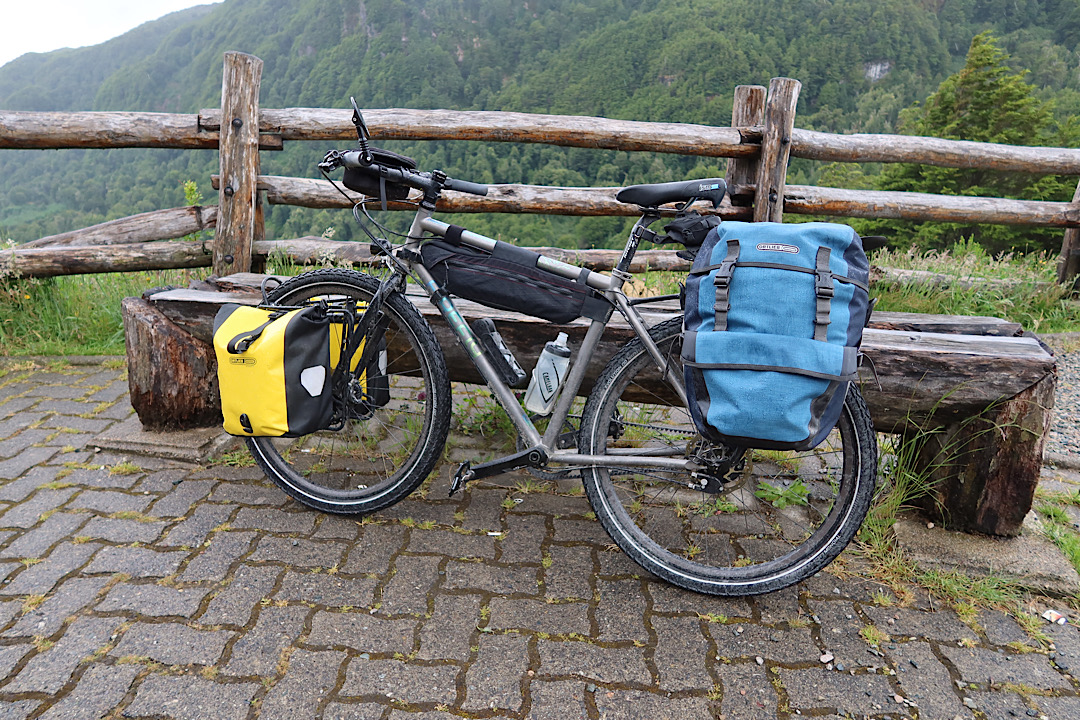 The roadside flowers switched over to lupines. There were areas with giant swaths of them along the road, but due to it starting to rain pretty hard, I only took a photo of one of the first bunches that I saw.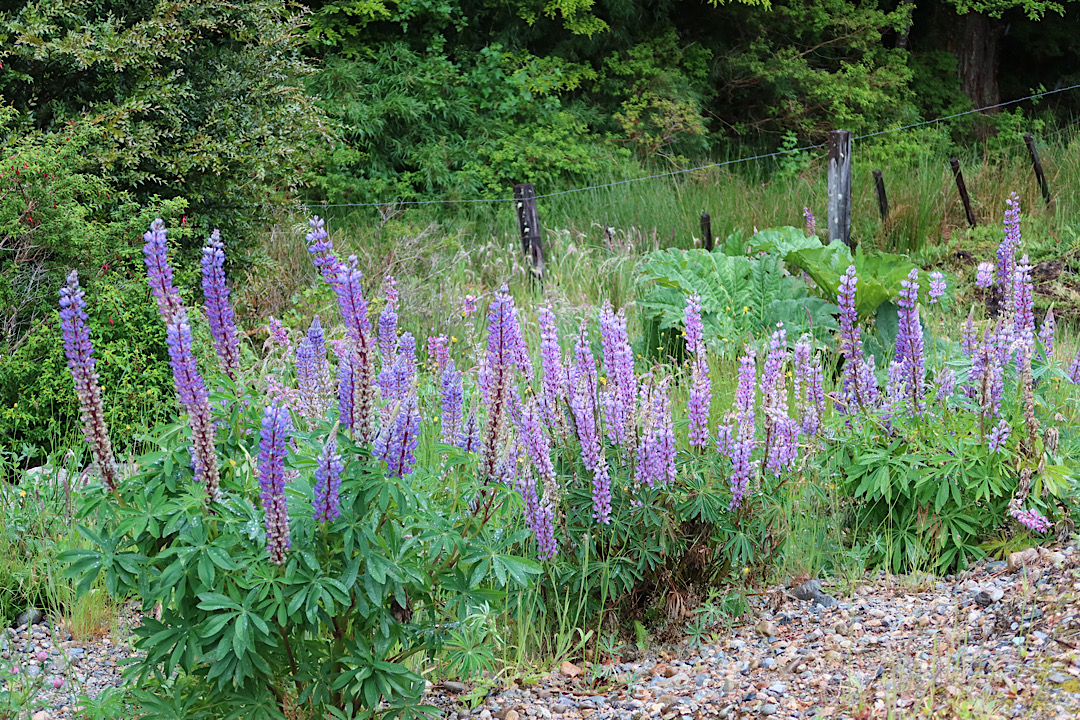 The first part of the day was mostly cloudy, again with water everywhere and what looked like painstakingly constructed waterfalls.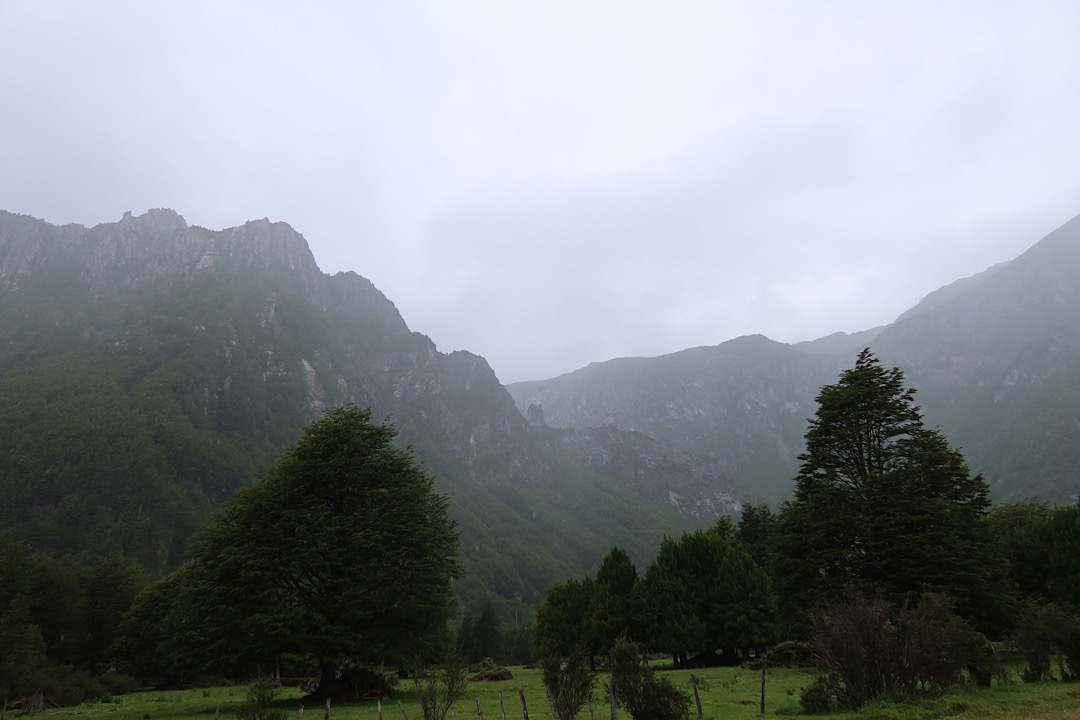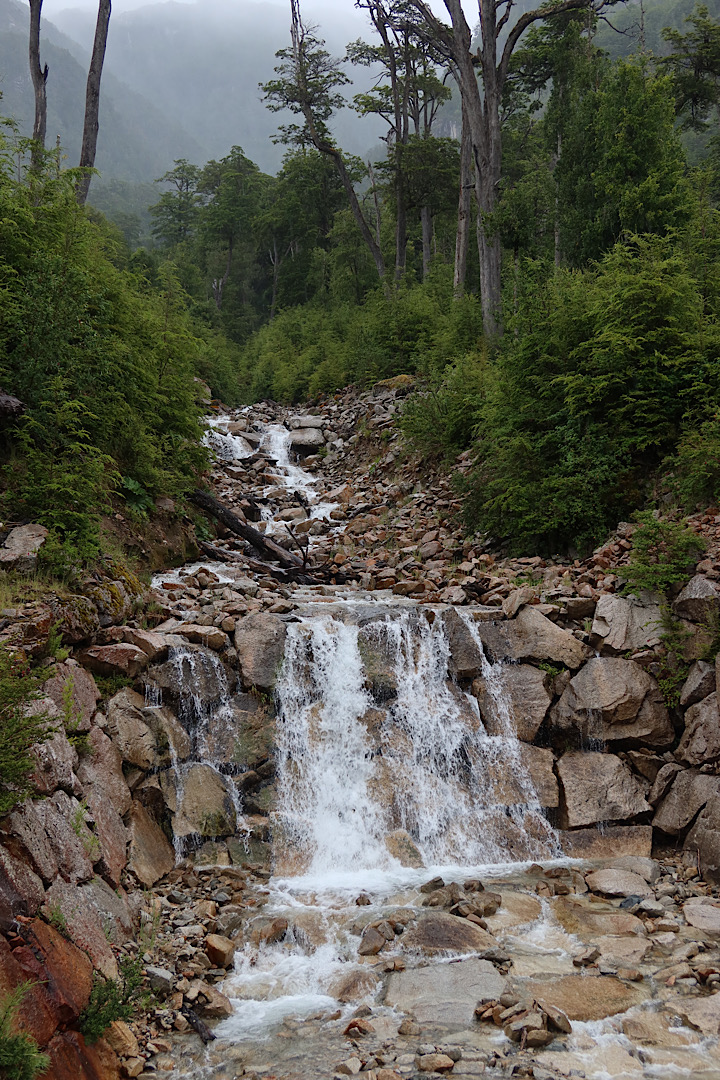 It started raining quite a lot, and I occasionally took shelter in bus stops to check the map or just have a few moments to be out of the rain and watching really wet cows instead.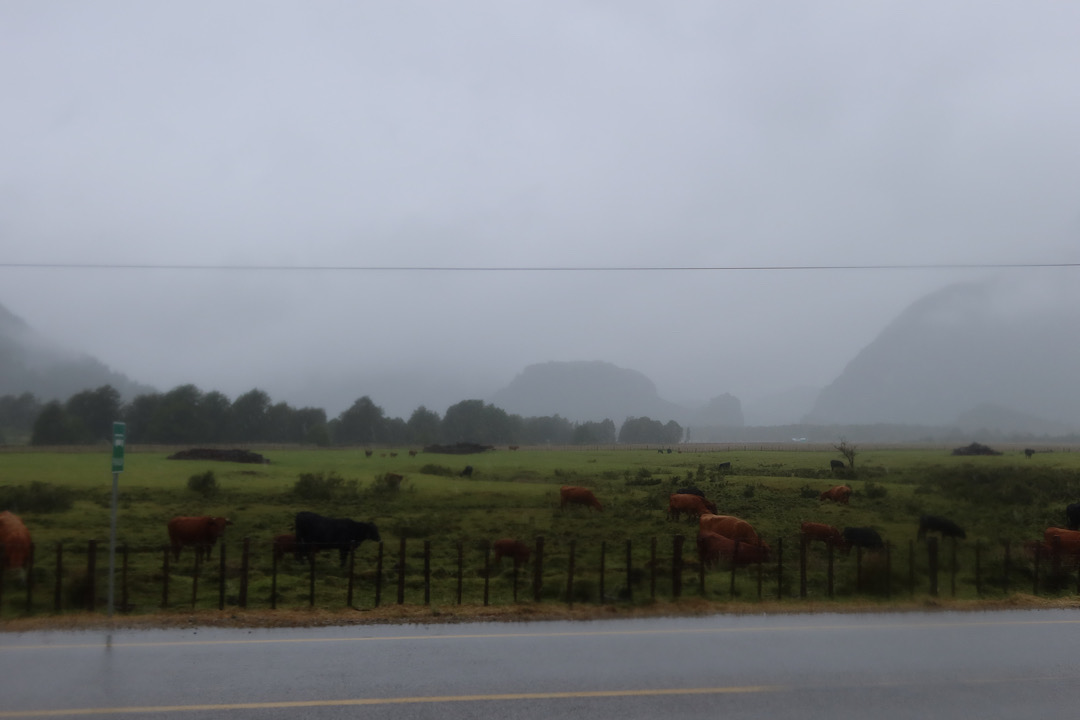 I was really looking forward to getting to Villa Manihuales, but just as I was getting into town the rain stopped and I started enjoying biking in the non-rain. The hostel I scoped out didn't seem open at the moment, so I dediced to check out the campground at the edge of town. That didn't seem too appealing, so I decided to keep going.
The village had a really neat park in the center with all sorts of play structures and paths. There were several cyclists haging out there, probably having shelteredf from the rain.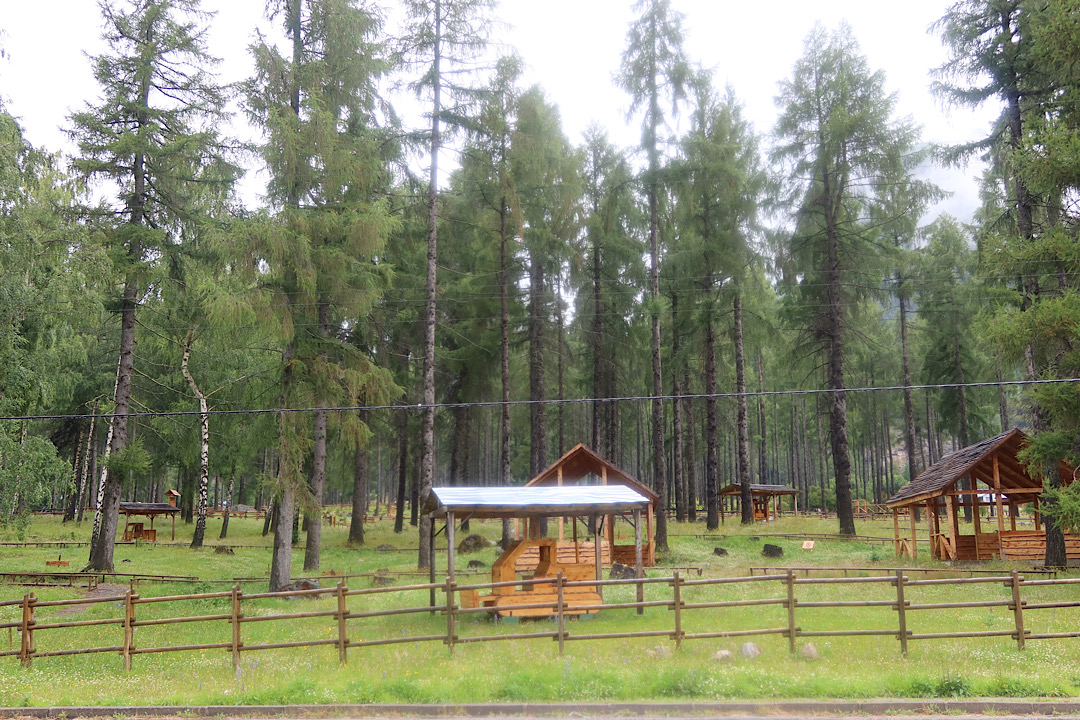 For a while I got actually sun, everything dried off, and I was really happy with the decision to keep going.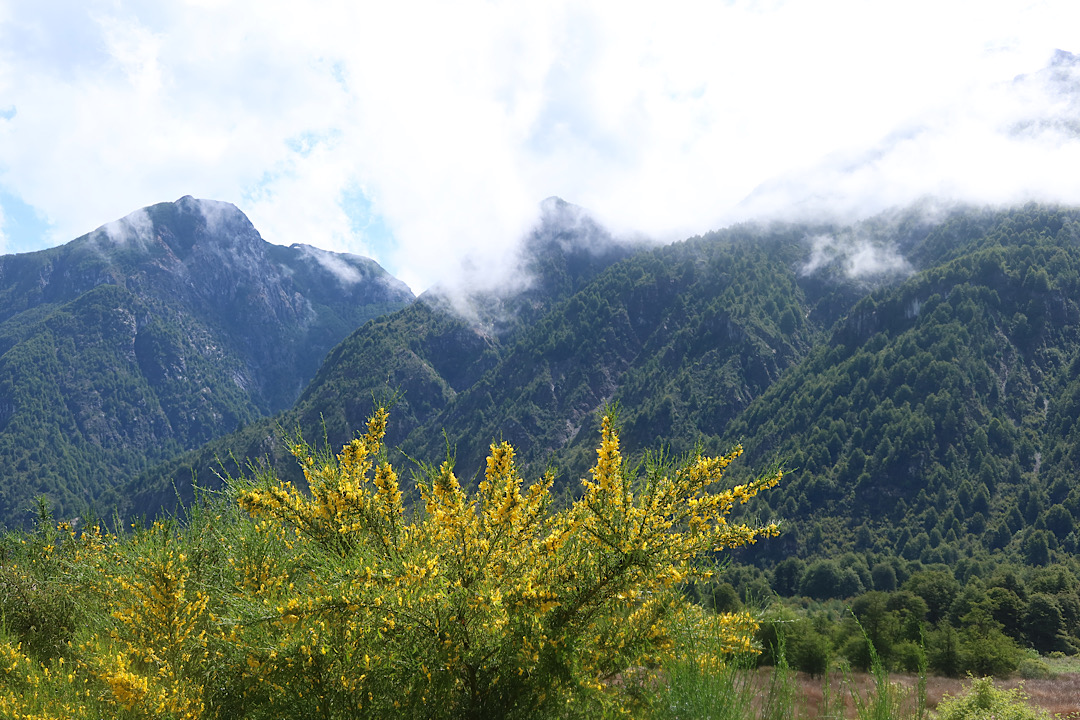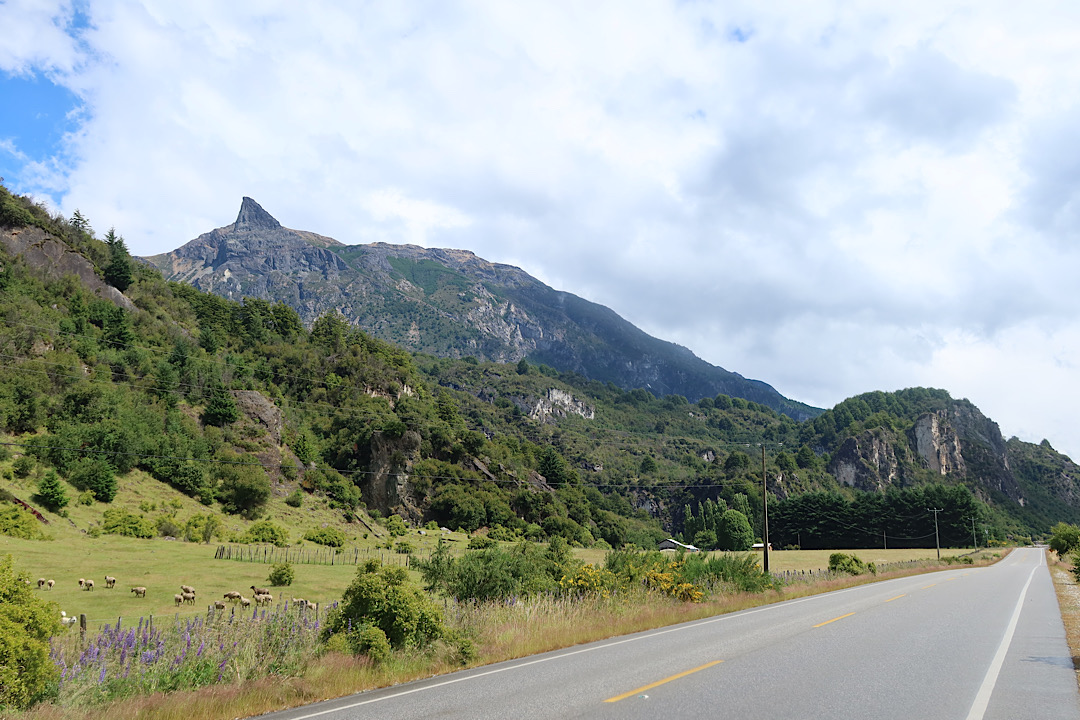 In mid afternoon I got to one of the few places on this route where there's actually a choice of roads. Either the true Carretera Austral (unpaved, slighly shorter), or X-50 to 240 (paved, slighly longer). I biked a few minutes on the former before deciding pavement and a bit of traffic was worth an extra 10km, and backtracking to take the latter.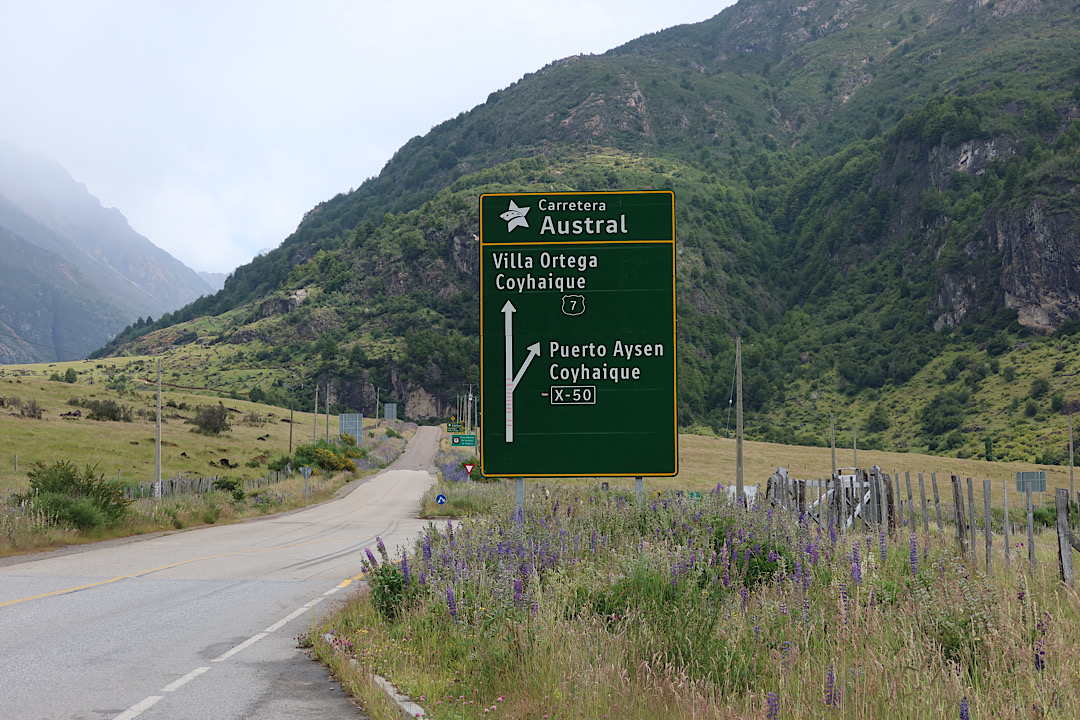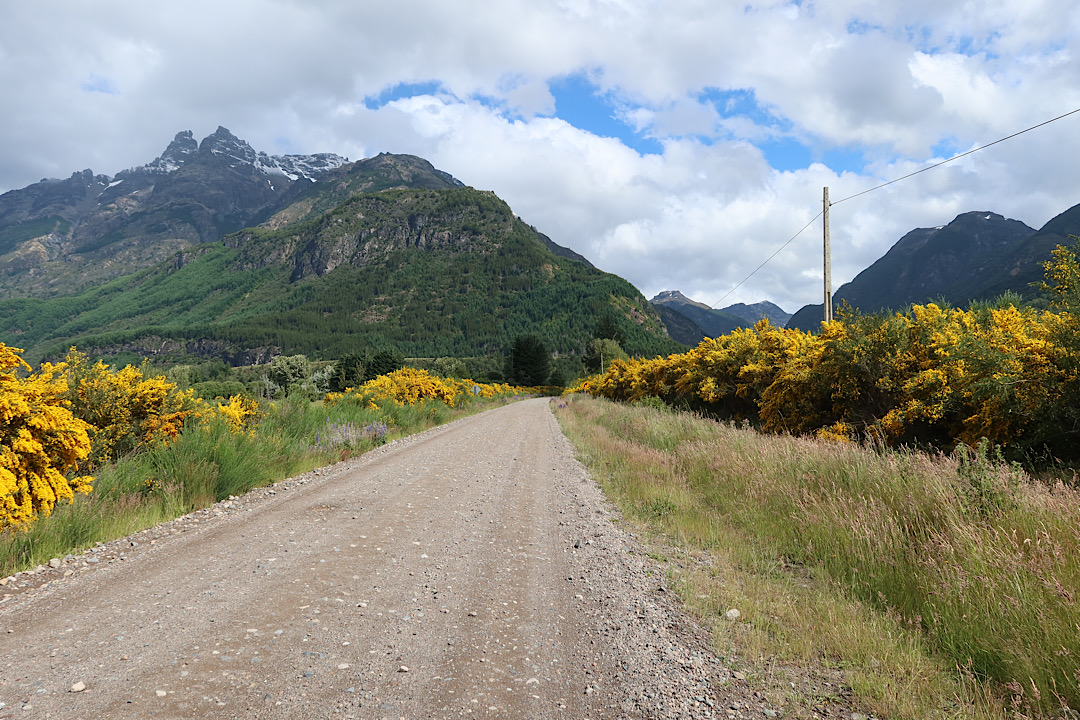 Unfortunately, my sun didn't last and it started raining again. Even more unfortunately, the camping area I was aiming for turned out to be deserted, not very flat, and with locked bathrooms. There weren't any particularly appealing wild camping opions either. So I decided to press on another 20km to a campground with enough reviews that I was pretty sure it existed. I passed a couple cyclists going the other way later in the evening - I kind of wonder where they ened up for the night.
I did get a pretty nice rainbow for my trouble. (It was a full rainbow, but the only photo that worked out was of half of it.)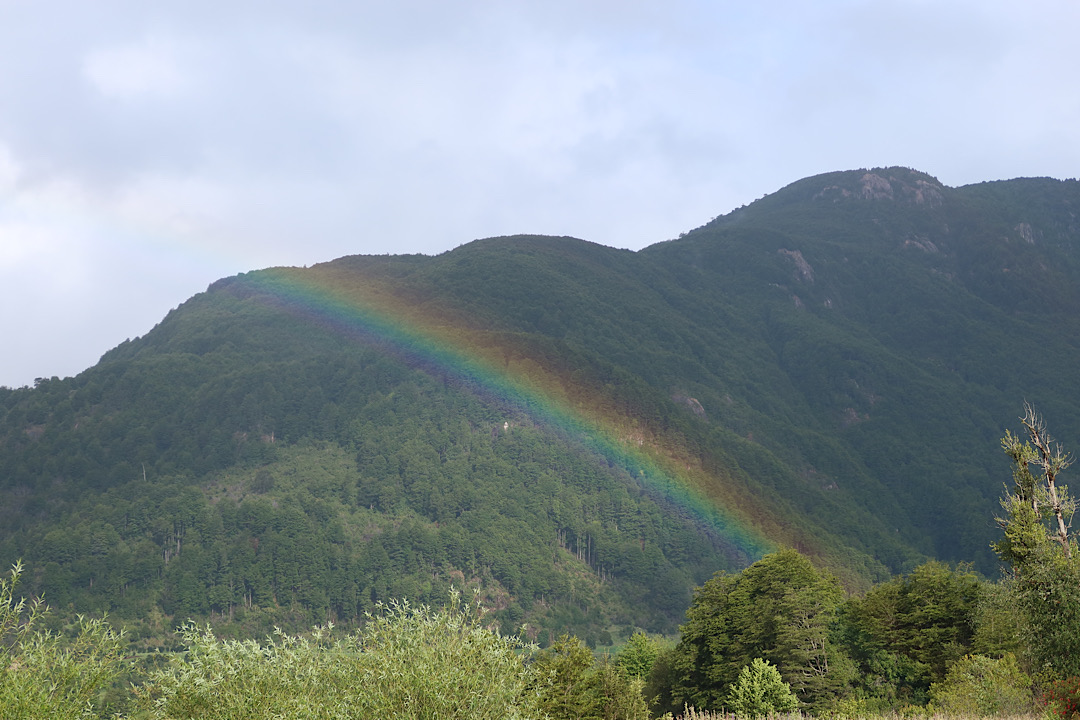 I rolled into Camping Las Torres del Simpson fairly late (probably close to 8pm), and in the rain, but was immediately greated by the very gregarious (English speaking) host. He offered tent camping or a dorm room (all to myself). It was pouring rain, so I easily chose the latter. The shelter area had a fire pit in the center, and a nice kitchen. I realized that with all the rain I hadn't really stopped to eat much all day, and it was actually a challenge to get the energy to get myself off of the bed and to the kitchen to make myself food. A good reminder not to forget to eat.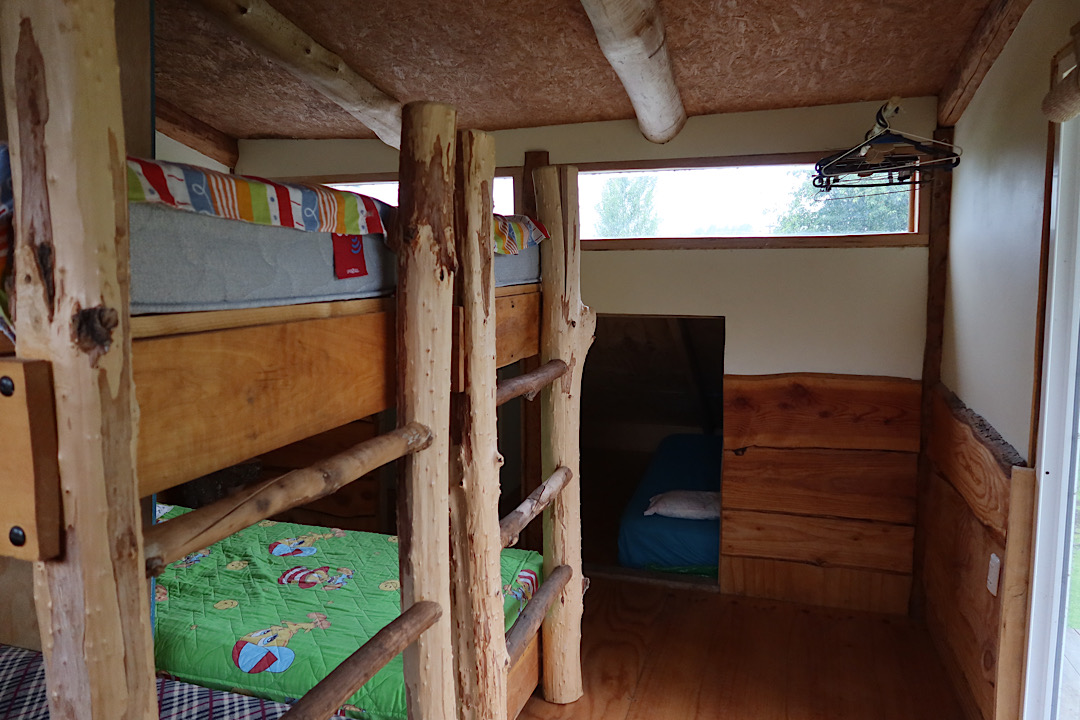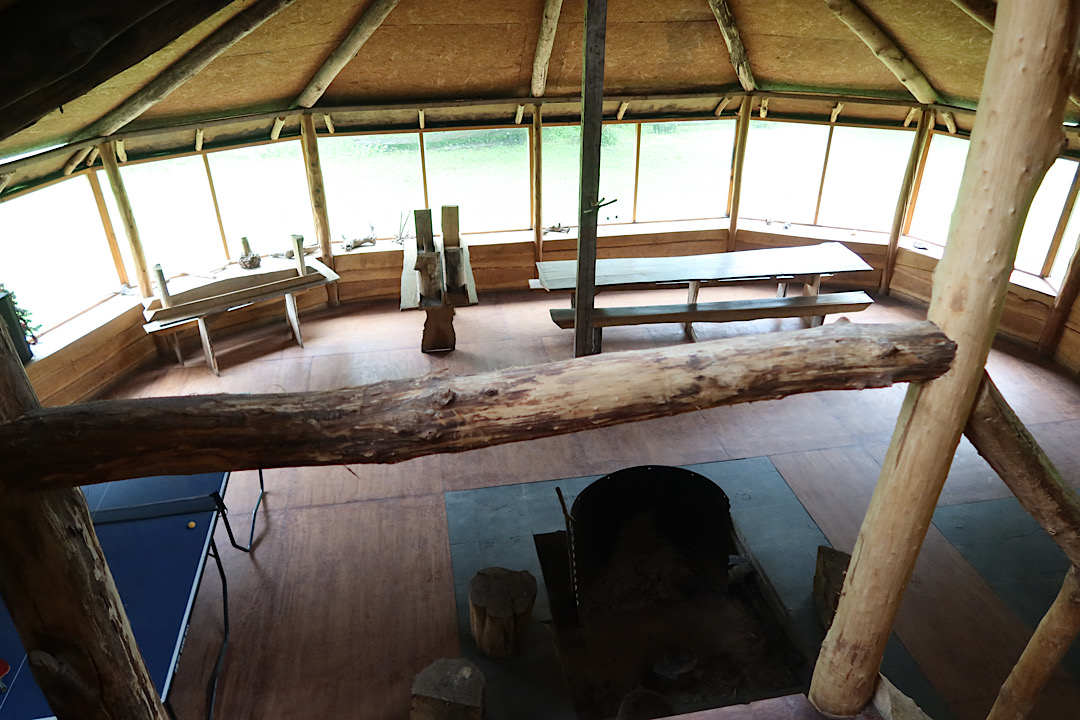 There was another family there, sleeping in a camper van, so the host built a fire in the common area, and stayed there chatting with whoever would listen to him fairly late. He apparently used to run sound for touring rock and roll productions in Spain before he moved to Chile to grow organic vegetables and run a campground. He said that there were only about half the usual number of tourists this year because of the protests in Chile. Probably hard on a lot of the businesses and towns around here which seem to mostly run on tourism.