Patagonia day 9: La Junta to Refugio Rio Cisnes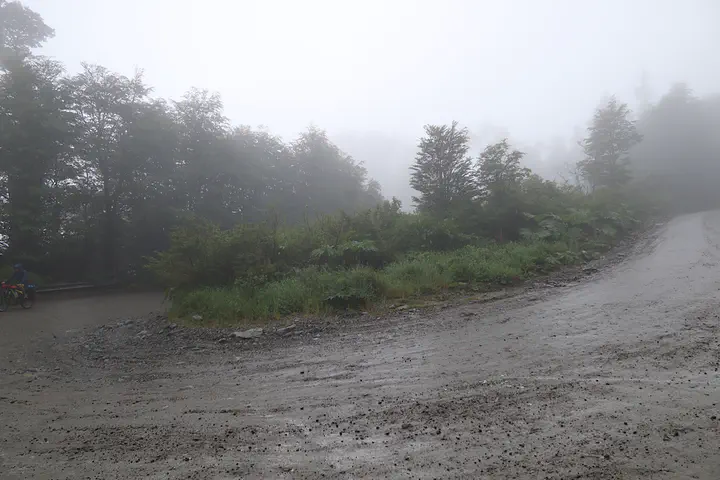 January 6, 2020. 126 km.
There were two options for today - either go a short distance to just before Queulat Pass, or do a long day to the other side of the pass. Since it was supposed to be less rainy today than tomorrow, I decided to go for the long day. 125 km is longer than anything on this trip so far, but not all that long in the grand scheme of bike tours.
I left town early (around 7:45) to give myself extra time, and it was nicely cloudy, but not actually raining. The clouds actually made riding nicer and gave a different look to the scenery, but I did end up putting the waterproof covers over my shoes to keep my toes warmer.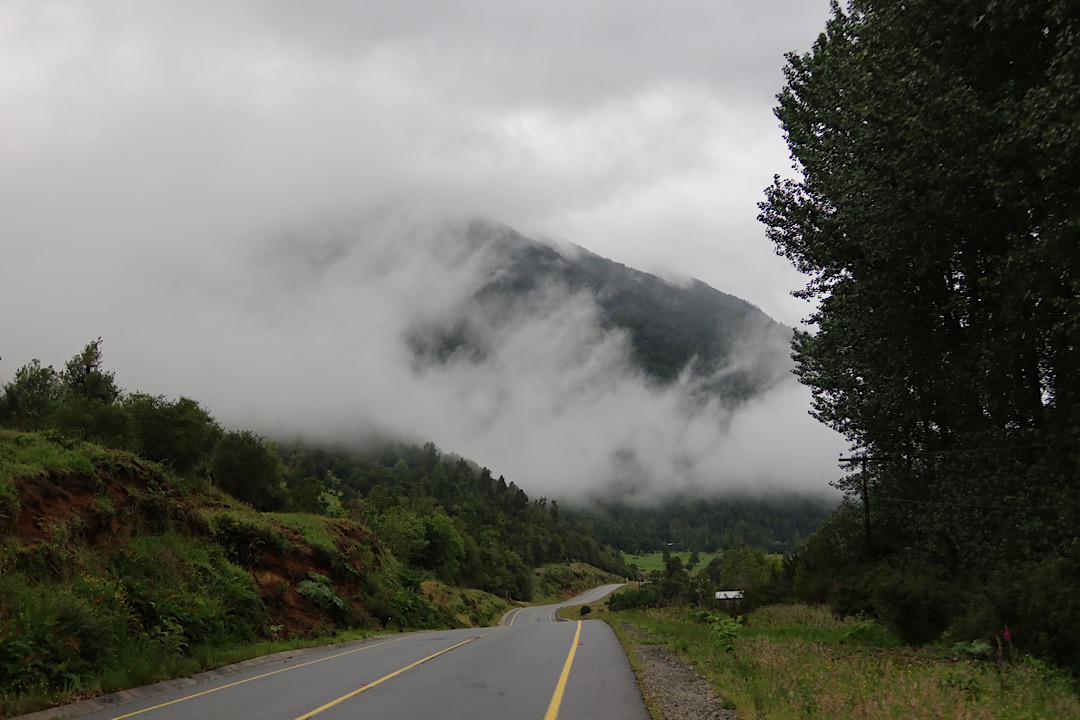 The road started off paved, but there were two segments through Queulat park that were ripio. The road condition wasn't bad, though I had to watch out for occasional mazes of potholed.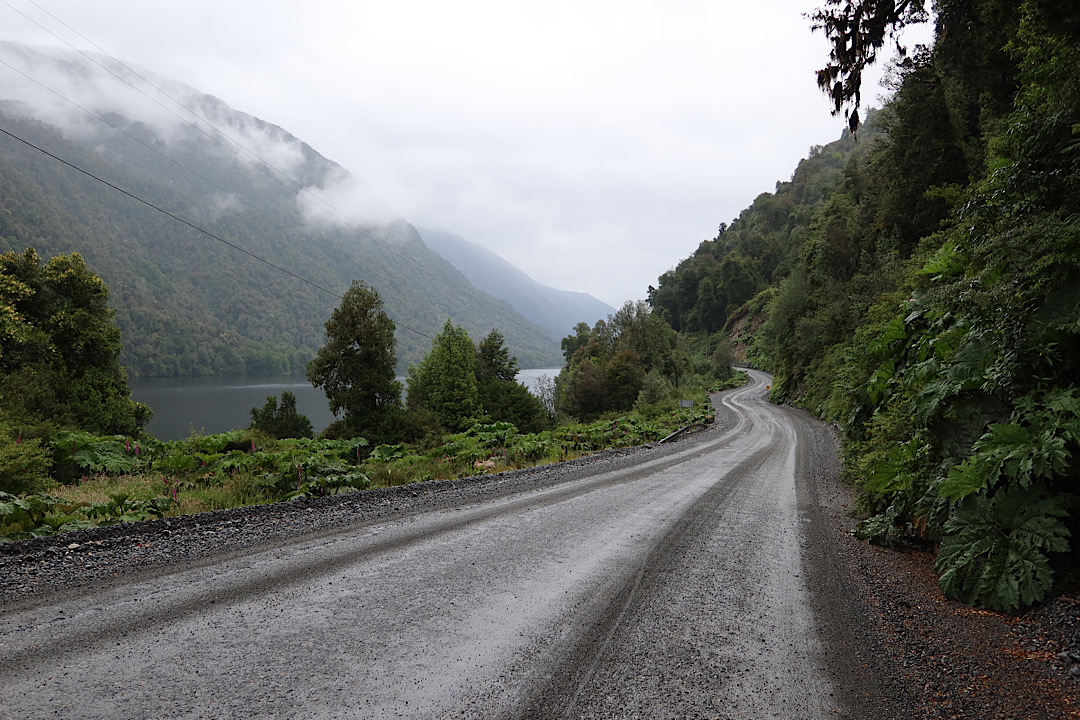 I got to the first option for stopping (Puyuhuapi) before noon, so definitely didn't actually stop. But I did get a bit of pavement for a while, and occasional cell reception.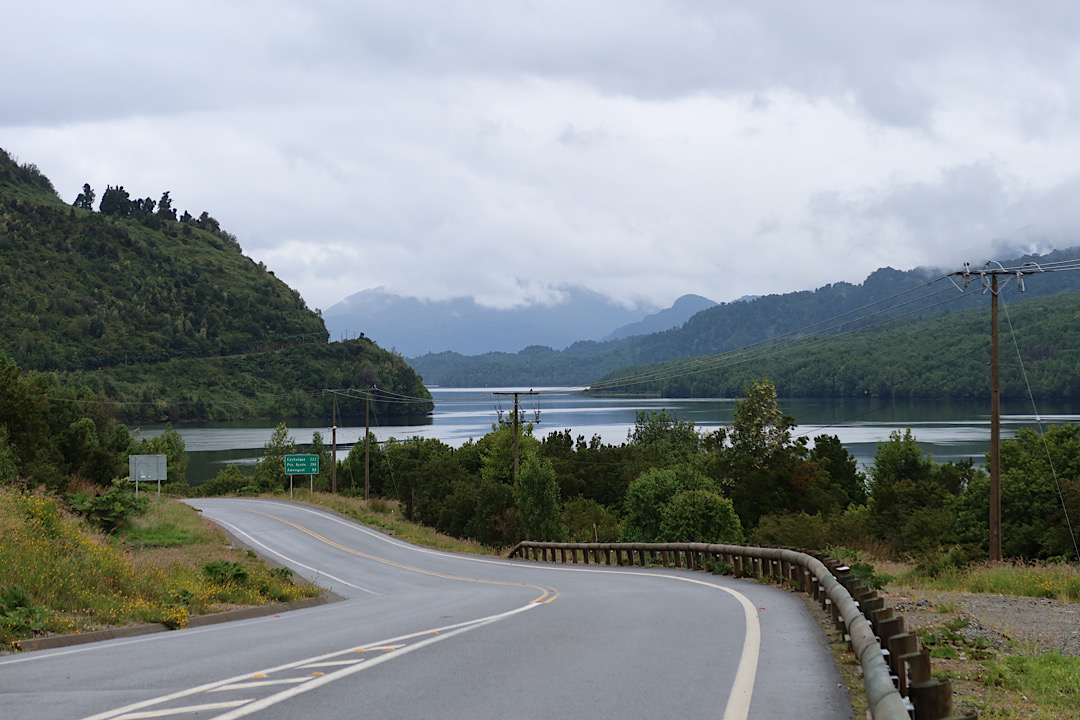 I've gotten pretty used to the scenery and the endless bridges over endless streams. As such it was fairly amusing to find a sign suggesting other people had gotten tired of trying to name them all.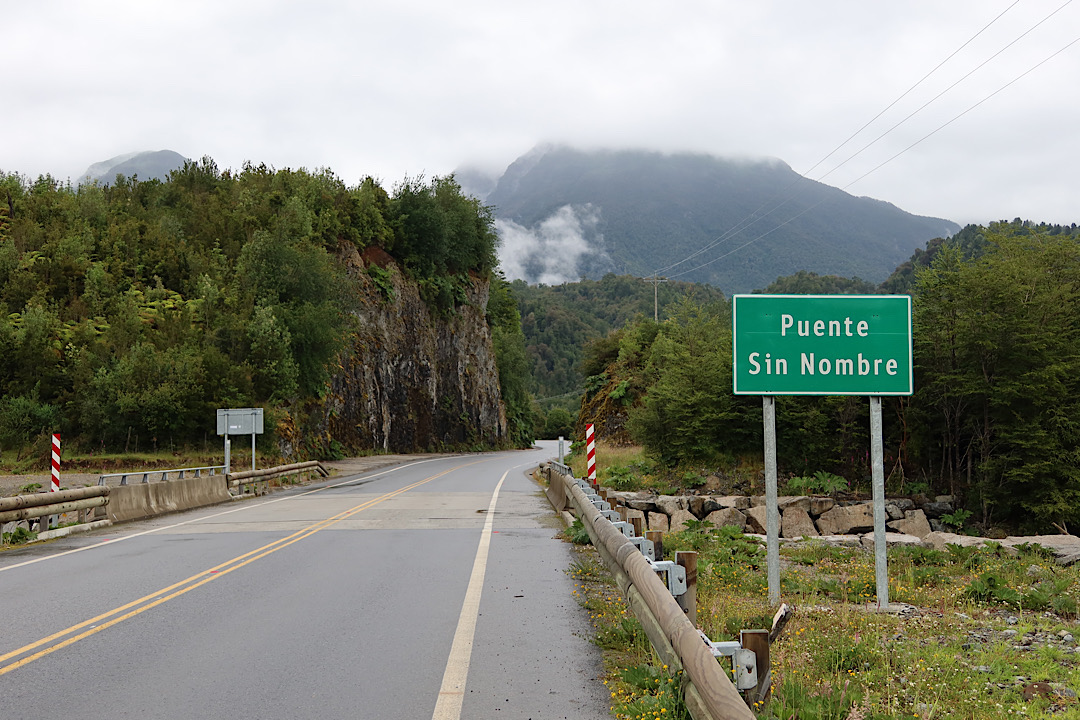 This was followed by bridges named after a fellow who was apparently responsible for postal service and road building in the area. It still seemed kind of like a made up name in context.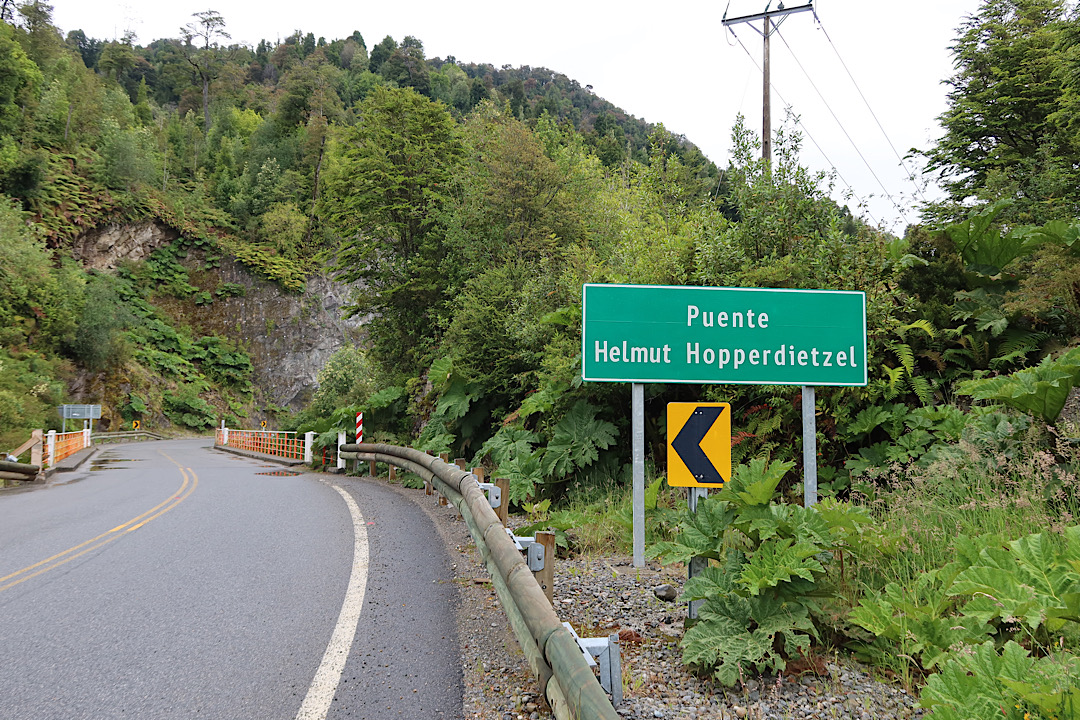 The road followed the edge of the water for a while, and there were occasional boats going way faster than me. There were also quite a lot of places where substantial blasting of rock was clearly required for road building. Really makes you appreciate how big a task building the Carretera Austral was.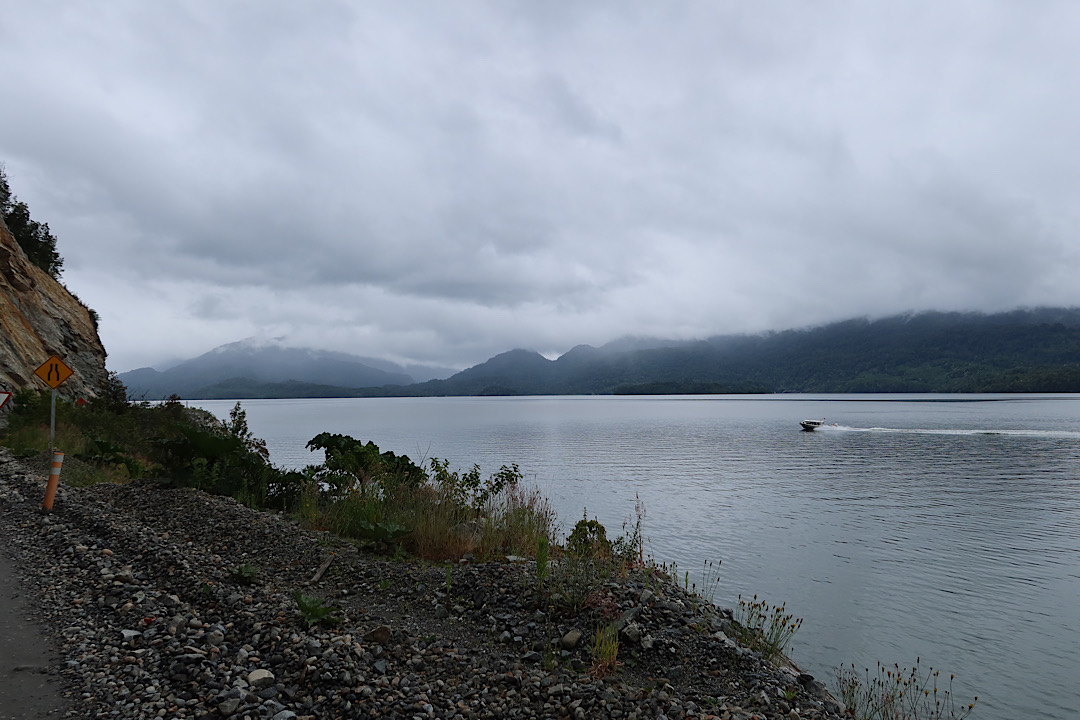 The rain mostly held off, but it was really cloudy all day. Gave a different atmosphere to the mountains and water. And I really appreciated the break from the intense sun. Also, the rain over the last few days keeps the dust from the cars down on the ripio, which is much, much nicer.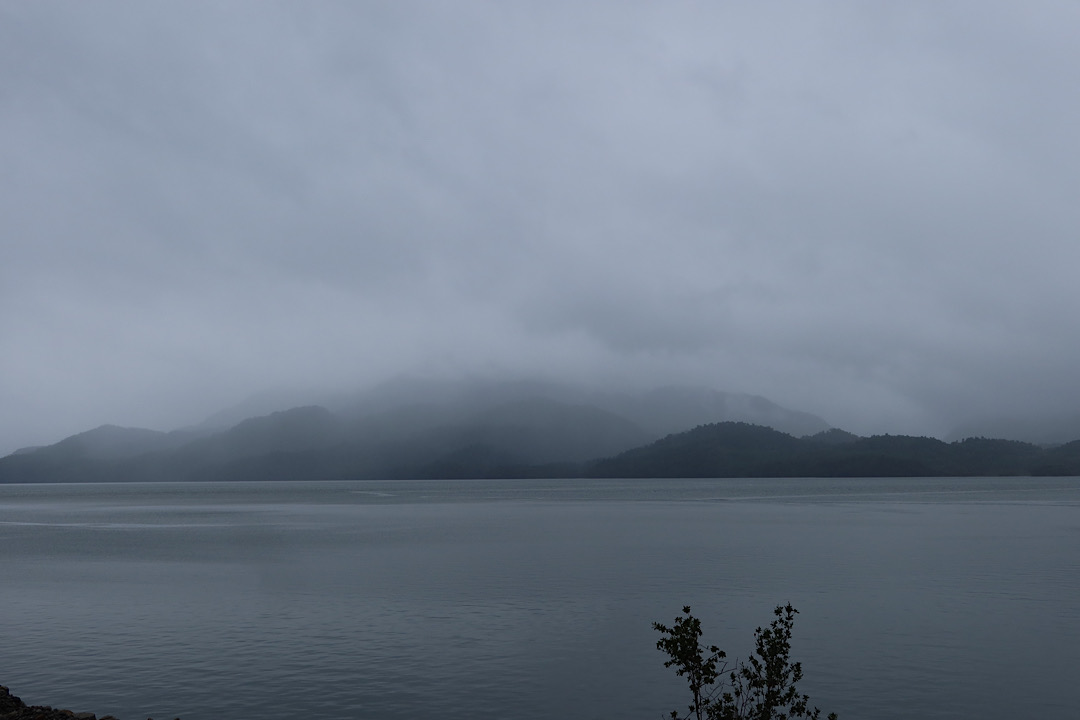 Somewhere early in the afternoon I was overtaken by another Scandinavian (this time from Norway - I never caught his name). Apparently Scandinavians appear whenever you're about to go over large hills in Patagonia (2 is a pattern, right?). We biked together for 30km or so and chatted about a number of things. He had a flight back home from El Calafate on the 24th of January, and was lamenting that the tight schedule meant not being able to take days off for the weather. I've got a little bit more time, but still can't sit out entire rainy weeks.
Once we got to Queulat Pass, I ended up falling behind enough that I haven't actually seen him again since. I was overtaken by another group while climbing the pass too. I think I'm pretty slow up hills, but I'm ok with that. Part of it is that I stop a lot instead of really pushing myself. Slow and steady works for me!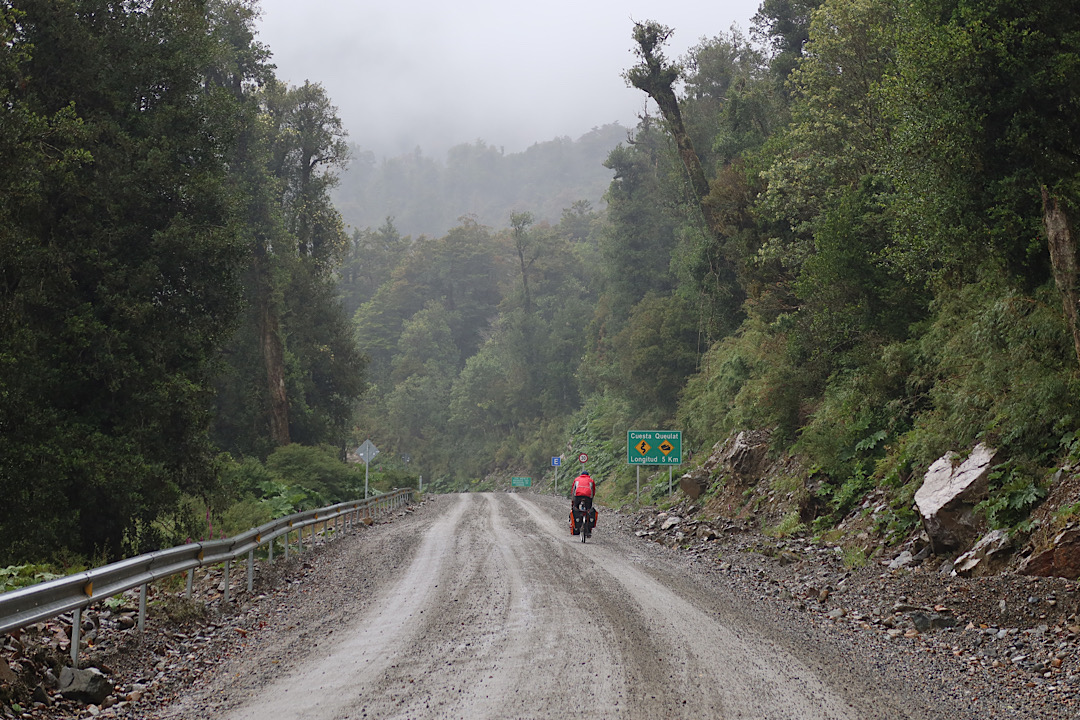 Going up this side of the pass is a long series of relatively tight switchbacks. There were a number of very large trucks going in both directions - I'm glad I wasn't driving them. Luckily they were going extremely slowly so it was trivial to hear them coming from a long way off and get out of the way.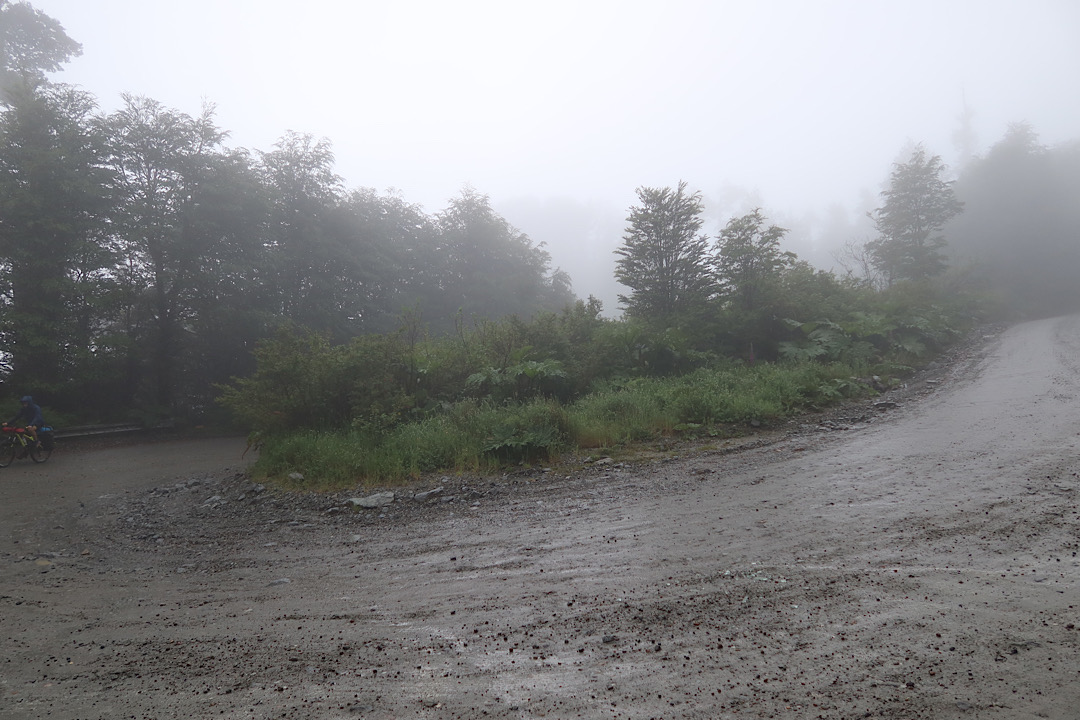 As I climbed up the pass, I also climbed into a cloud. By the top, the visibility was really low. Everything was wet, and of course there were streams of water running down the hill everywhere you looked.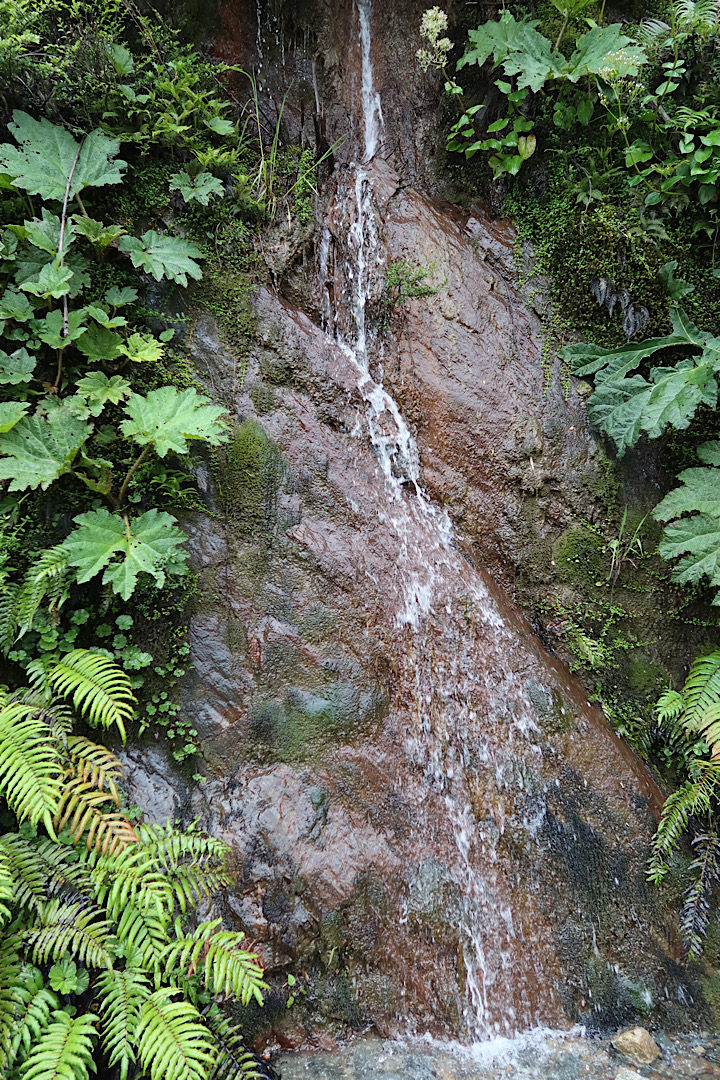 The climb was long, but not actually all that bad in the grand scheme of things. The grade wasn't too bad, the road wasn't too bad, and it wasn't quite actively raining most of the time. I was still pretty happy to see the top though.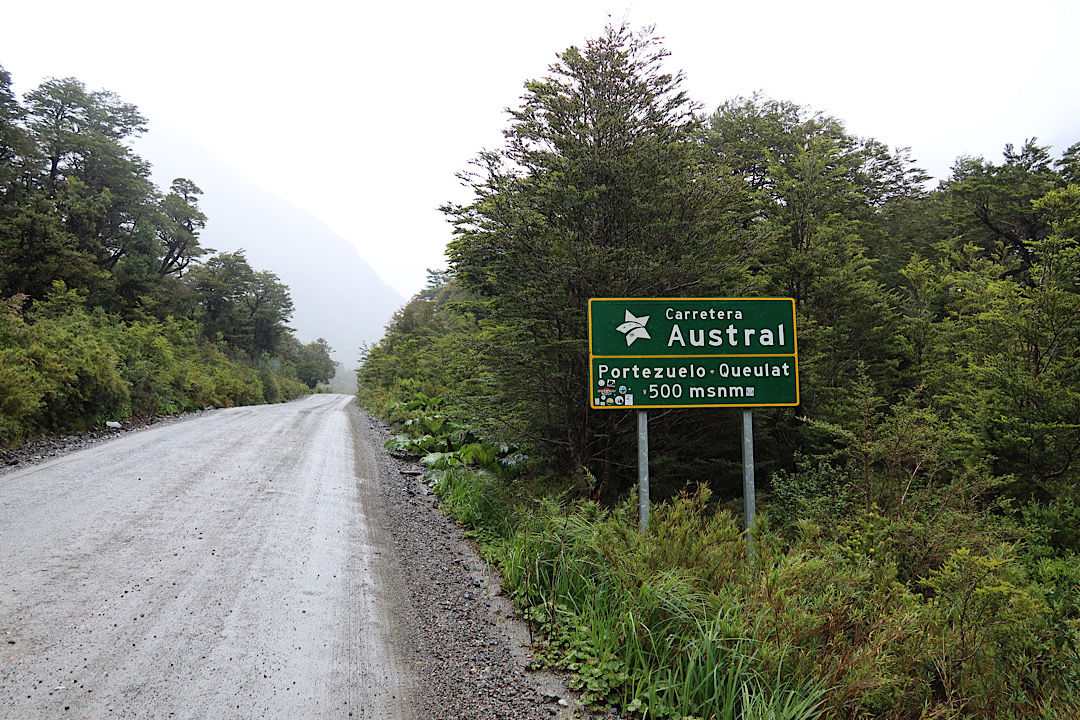 There was actually a reasonably long flatish section at the top of the pass, where I noticed what looked like a waterfall that someone had gone to a lot of trouble to contruct. I've seen a few of these since. I wonder if it was part of the road construction for some reason.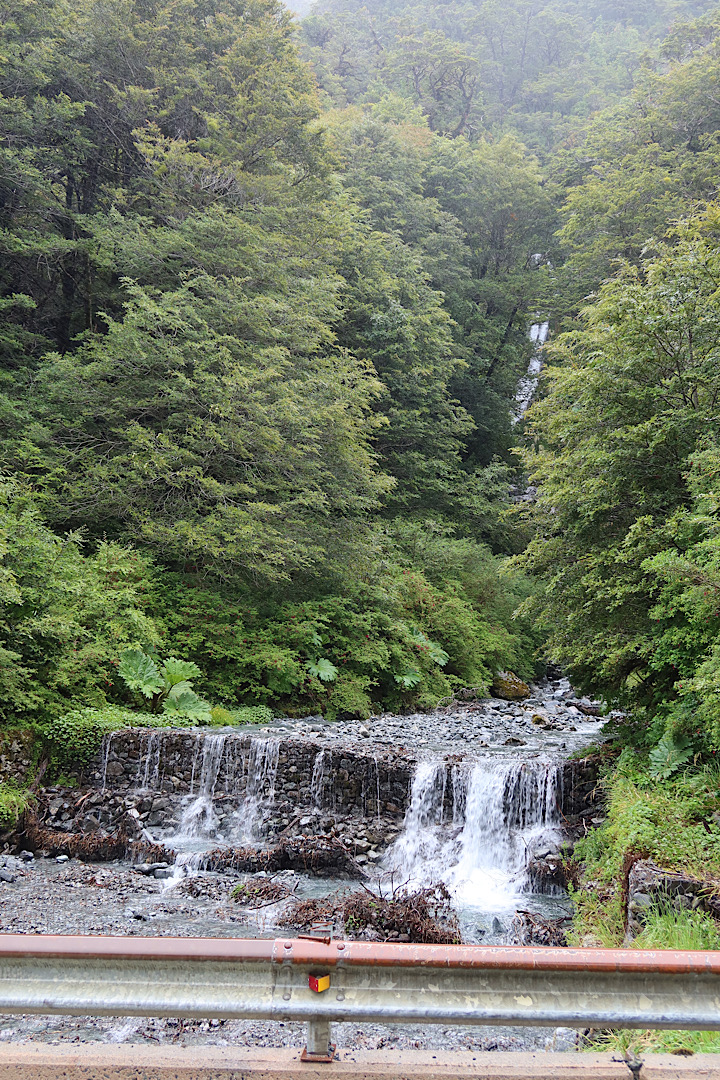 Of course, getting to the top meant needing to go back down the other side of the pass. Luckily, a fair bit of the downhill was paved. But even so, it meant riding the brakes for a long time. And with the damp and wind from going faster, my fingers got cold enough that I used a pair of socks over my fingers as mittens. I think I might buy some long-fingered gloves when I get to Coyhaique.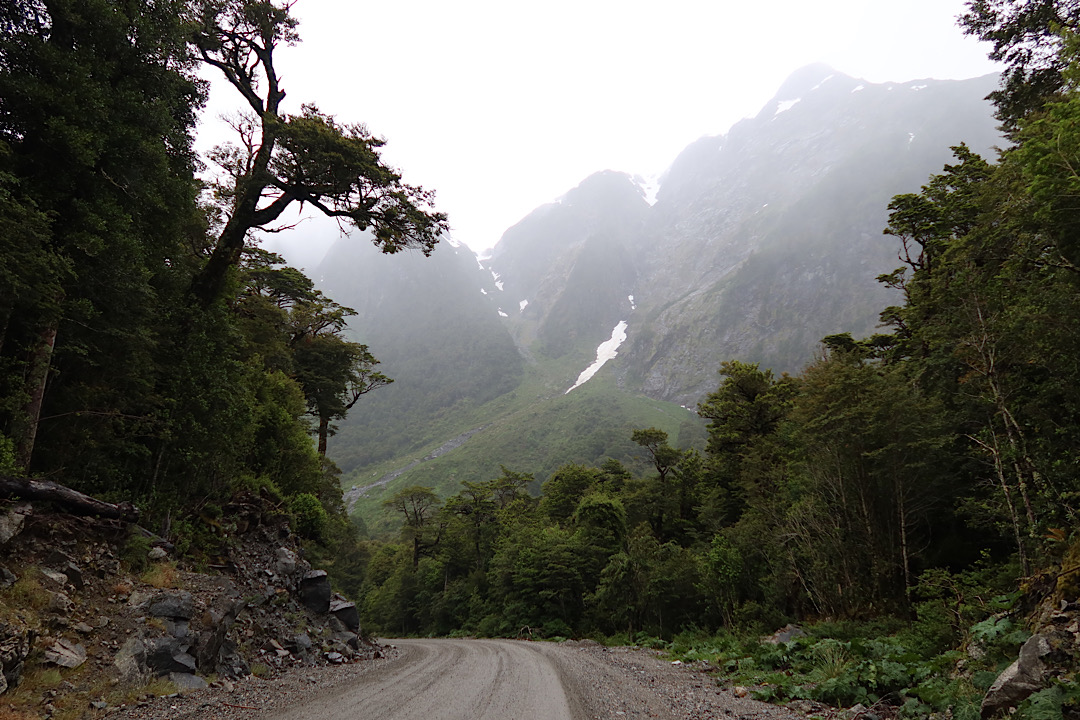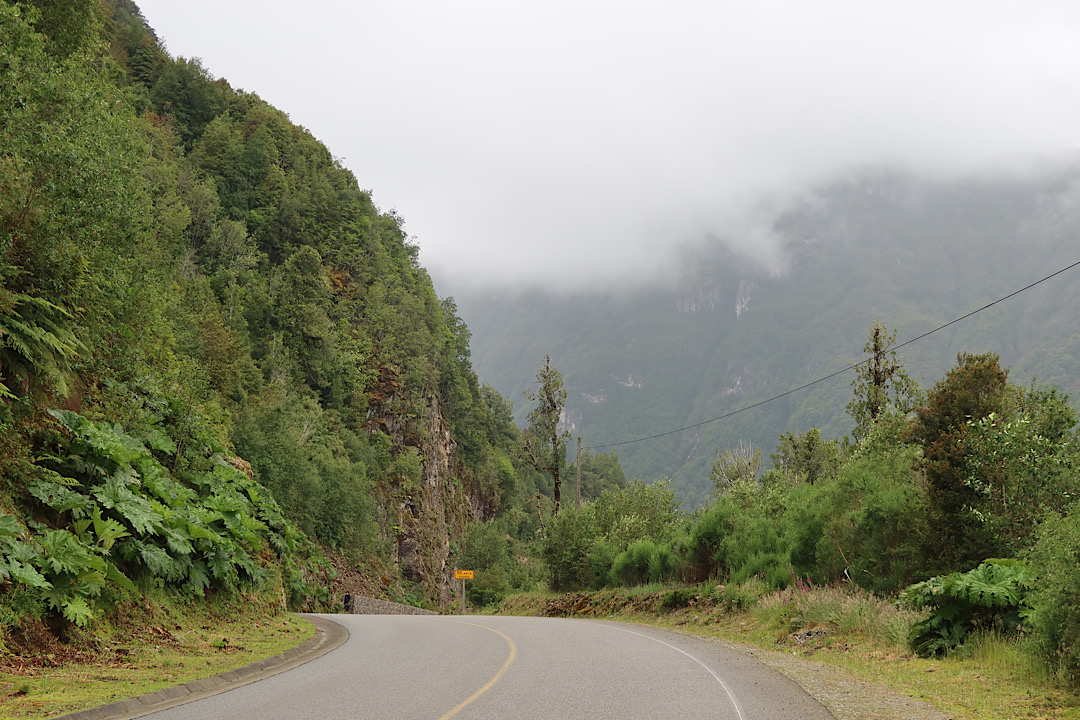 I was pretty glad to see the somewhat settled valley at the bottom of the hill. If nothing else, it was a bunch warmer.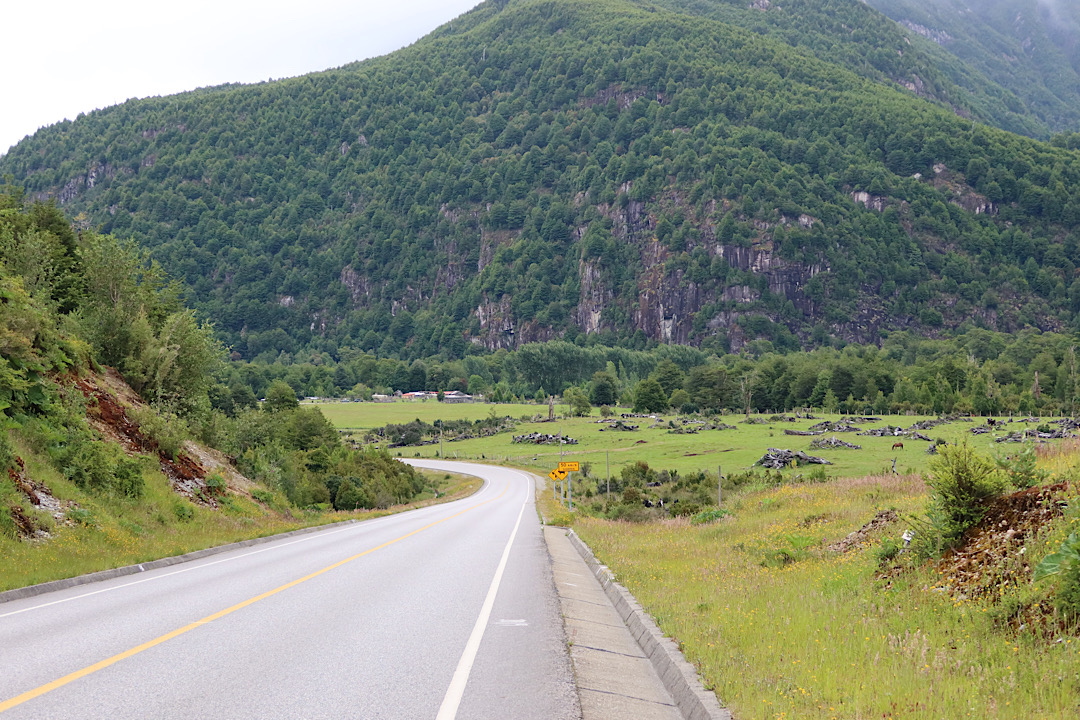 There was a campground right near the bottom of the hill, but based on reviews on iOverlander I decided to go 5km further to Refugio Rio Cisnes. I think it was the right decision. They have shelters to keep the tent dry, a cozy cafe (with English speaking hosts), and a herd of sheep wandering about. I set up my tent, showered, and got a mug of hot chocolate from the cafe before cooking the usual pile of pasta for dinner.