Day 31: Leo Carrillo to Newport Beach, CA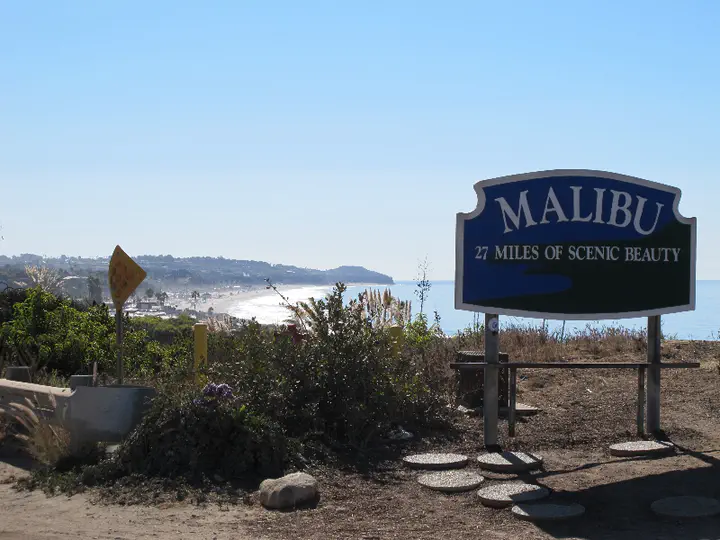 September 25, 2013. ~81.6 miles.
I got to see the campsite in the light this morning. It is, as rumored, a nice place. Though it's near enough to the highway to hear traffic, it's a secluded-looking place under trees with plenty of space.
Packing was a new adventure since I reorganized everything so that I could send home my back paniers with all the camping gear. No more camping on the trip – really makes it feel like the trip is really coming to an end. I thought I would have to carry the camping gear into LA, but I found an unexpected UPS store while stopping at a strip mall to get contact solution at the drug store. The most notable thing about no longer having front paniers was that I wasn't able to steer straight for 15 minutes or so. The handling of the bike changes a lot with weight!
Malibu, as I was told by the internet to expect, sucks. The road is several lanes wide, traffic moves quickly, and there is a consistent line of parked cars in the shoulder.  Also, the beaches are full of surfers. So not only do you have to worry about getting doored, you have to worry about getting surf-boarded as well.
I made it through Malibu alive, luckily, and the bike paths coming into LA were crowded but nice. They run right through the beach, so were occasionally covered with sand. But there were enough people that I couldn't go fast enough for unexpected sand traps to be a problem.
Along one of these beach paths I met a older fellow on a recumbent who asked if I was touring. (Even with only one set of bags it was still pretty clear, I guess. Most of the other bikers were clearly also beach goers or locals out on spiffy road bikes.) He mentioned that we typically would go touring in the Midwest during the summer because the weather was cool. This seemed odd to me until he mentioned he was from AZ. Still, seems like there are better choices for pleasant August weather.
One of the locals on a spiffy road bike also slowed to chat with me. He had just finished the Northern Tier, and was, I think, eager to help out another touring cyclist. He spent quite a while biking along with me, and offered to show me the best way through the city streets to the next bit of the map (the bike paths ended). He didn't have particularly nice things to say about the areas of LA I would be going through next.  And also didn't think I would get farther than those seedy places. I mostly ignored him since I planned to go quite a lot farther than he seemed to anticipate.
LA, in general, wasn't as bad as it could have been traffic – wise it was but really bad air quality wise. I kept having to stop and drink just because my throat felt scratchy.  I can't imagine living with that air quality all the time. Pittsburgh doesn't have a great reputation for air quality either, but I certainly don't feel it there the way I did in LA.
The maps were either not very good getting through downtown LA, or I didn't do a very good job of following them. After enough things didn't seem to line up, I gave up and just followed the bike paths that went south along the ocean. Ocean coasts are great for navigation. Perhaps the LA bike system is rapidly changing – there were signs with numbered and named routes, but these weren't mentioned on my maps.
The plan was to get far enough that I could make it to the San Diego hostel tomorrow. I was hoping to get farther, but I was getting pretty tired through Huntington Beach and realized would have to stop in Newport Beach or ride after dark.  I stopped at the Holiday Inn Express and asked their best rate. The clerk said she only had double queen bed rooms available, and that they were $140. I really didn't want to try to find anywhere else, so I just went with it.
I poked at the internet for a good restaurant recommendation and found a Greek restaurant a mile or so walk away. It turned out that perhaps I should have found something closer. By the time I got there they were with half an hour or so of closing, but I went in anyway. I ended up being the last person in the restaurant, which felt a bit awkward. The food was very good though. I left a good tip.
I walked back past lots of partying tourists in bars, and crashed in one of the nice queen beds. It was the most expensive hotel room of the trip, but also the most luxurious by far.