Day 30: Santa Barbara to Leo Carrillo State Beach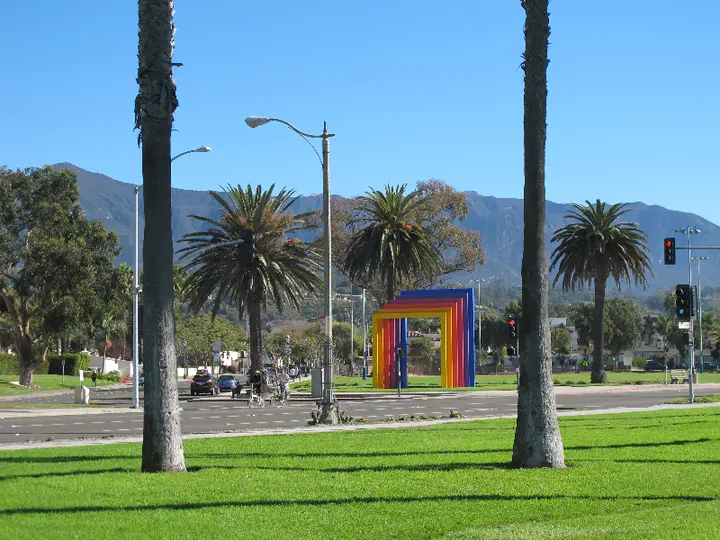 September 24, 2013. ~85 miles.
Today should have been a short 60 mile day on flat roads with an early arrival at the campground. Obviously, it wasn't. But, as is probably apparent, I did make it eventually. At least it really was flat.
I left my hosts in Santa Barbara a bit after 9 and made my way back through town to the route along the waterfront. It was all very southern Californian – palm trees and beachgoers. And lots of women walking around pushing children in strollers, many of whom looked more than big enough to be walking on their own. I'm not sure that last bit has anything to do with southern CA.
On the way out of town I followed bike route signs instead of the map for a mile or two and ended up going past the homes and clubs of what must be the excessively wealthy elite. One of them was for sale. But I bet I don't know anyone who could easily afford to buy 6 acres of land with a large ocean-facing house on the edge of Santa Barbara. Too bad, it looked nice.
I stopped in Carpinteria at around 11 for second breakfast or brunch or whatever at Crushcakes, a cafe specializing in cupcakes (though they sold all sorts of things). I didn't have a cupcake, but I did have red velvet pancakes, which were basically the same thing in a different shape. They even came with frosting as a topping (along with fruit and syrup). Very tasty though probably not excessively nutritious. The "vanilla haze" latte was also very good. I recommend the place.
The next 30 miles or so we're uneventful. There was a stretch on busy freeway that made me very aware of how the only thing keeping me from getting crushed by tons of metal moving at 70mph was a little white linen on the ground. Even though they did have "bike lane" painted in the shoulder I was glad to get off 101 and onto the resurrected 1.  At one point, 101 went over a bridge without a shoulder, so bicyclists were supposed to get off and then back on at the entrance 100 yards down the road. Except the entrance was closed by construction. I went around around in a circle to the previous entrance a mile or so back to check out the situation again, but ended up stuck in the same place again. Turned out that cyclists were just supposed to go through the construction.
Down the road a ways, through the rather uninspiring though beach-containing towns of Ventura, Oxnard and Port Hueneme I encountered another stretch of construction. This one also looked like they had left the bike path portion open, so I continued to ride down it – and promptly fell into a cutout they had made in the road (essentially rode off a curb and then hit another curb). I was fine, though I knocked my chain off. And, as I discovered a bit down the road, I knocked my back wheel WAY out of true.
A nice pair of lightly loaded cyclists (going down to San Diego from somewhere nearby) stopped to see what my problem was. For once I was glad of the help, since one of them had a spoke wrench and was able to get the wheel to a state where is didn't hit the brake when the brake was unhooked (no real hope of getting it to work with the brakes on). The nearest bike shop on the Adventure Cycling maps was about 3 miles backwards, but they didn't seem to still exist (phone was disconnected, couldn't be found on Google maps). The next one was 7 miles back, which I decided was a better idea than 40 miles forward. I figured I could make 7 miles on flat without back brakes so I set off.
I did make it to the bike shop, but the teenager working there said "Err, we could help you, but it will be a couple days because the actual bike mechanics won't be here until then". I asked if there was another shop, and he said I should go to their other location 3 miles away "you know, by the Pro Fitness". He seemed surprised when I repeated that I was on tour, and was completely unable to give directions, but let me look at Google maps on his computer. The directions involved two turns. So, I found the second shop, but the very pregnant Scandinavian girl working there said the same thing as the teenager. I asked if there were any other bike shops in tow and she said "no, well, maybe in Ventura, but nobody will be able to help you in one day". Grrr.
I went outside next to the Pro Fitness, where there was free wireless and did some research on my own. There was a Performance Bikes in town, about 5 miles from my location (3 miles or so from the first shop). I called them, because I had learned my lesson from the second shop, and the mechanic said that he could definitely look at it, but he was on dinner break from 5-6. It was about 4:45 at the time, but no went over there anyway, arriving at about 5:30 and got a Subway sandwich while waiting.
The mechanic said the rim was bent, but the he could just whack it on the ground a bit to straighten it. So he did. And the fiddled with the spokes a bit. And had it back to working order in about 10 minutes. After all that, I left the shop at 6:15 and raced toward the campground. I got to Point Mugu just after dark, but it didn't seem very inviting, so I went on to Leo Carrillo and got there at about 7:45. It took quite a long time to find the hiker biker site, and I was beginning to despair. However, I did find the camp store just before it closed. I bought myself a snack, and also took a look at the campground map. Eventually I did find the hiker biker site. There were several groups of campers already there, but I managed to find a place to set up the tent.
I ended up chatting at the picnic table with these foks. Especially since I'm just days away from ending my trip, people just getting going on a multi-continent expedition made me feel pretty wimpy.  Ah well, maybe some other time.