Day 23: Berkeley to Half Moon Bay State Park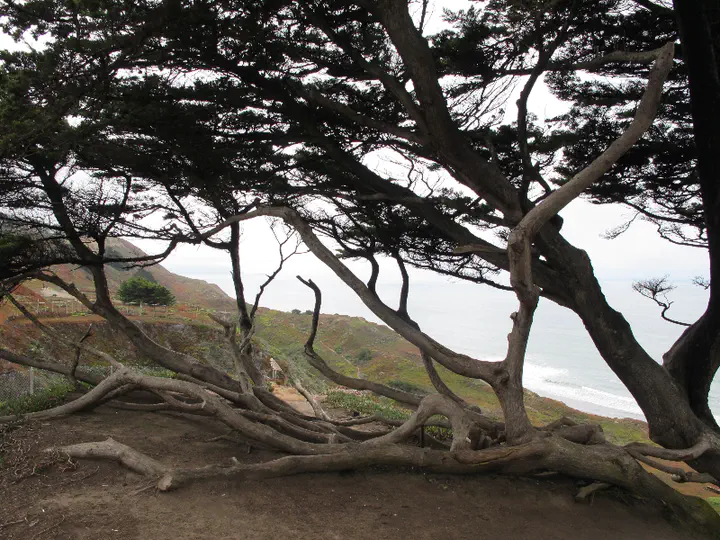 September 17, 2013. 25.36 miles.
I had been planning on going to the lighthouse hostel about 50 miles from San Francisco, but checking the internet revealed that it was full. The other possibility was Half Moon Bay, which was only about 30 miles. Since the day was going to be so short, I wasn't in any hurry to get going. I eventually left the house by about 10:30am, and went a couple blocks down the road to the Acme Bread bakery for some mini baguettes to eat on the road and an apple tart to eat as a snack (with a latte from the coffee shop next door).
I found the BART station again without problem, and took the train to Daly City. So, technically, I have cheated and skipped about 5-10 miles of the bike route. I think that's OK. I'm not that much of a purist.
I found the new tunnel that the skateboarding biker up in Washington had told me about. The last highway apparently got a bit washed away (and was very narrow on a cliff without shoudlers), but the new tunnel was very fancy. Nice wide shoulder, clean, good lighting, and a bunch of fans (for ventilation, I suppose).  After the tunnel, the going was really easy. I spent most of the rest of the biking day thinking about garden plans (I think I was prompted to think about gardens by my time in Berkeley).
I got to Half Moon Bay in mid afternoon, so I stopped at Safeway for a couple odds and ends, and then spent an hour at Starbucks drinking coffee and researching blueberry bushes on the internet. Around 5, I made my way over to the campground, set up my tent, showered, chatted with other cyclists, ate dinner, and generally relaxed. It was a very easy day.
The campground is quite windy, so it's rather chilly outside. But my tent blocks the wind, and I bought silk long underwear at REI which is really cozy. So all is well. Except that someone has some talk show playing on a radio somewhere nearby which is much less relaxing than the sound of the ocean and wind. Oh well, can't have everything.