Day 7: Astoria to Nehalem Bay State Park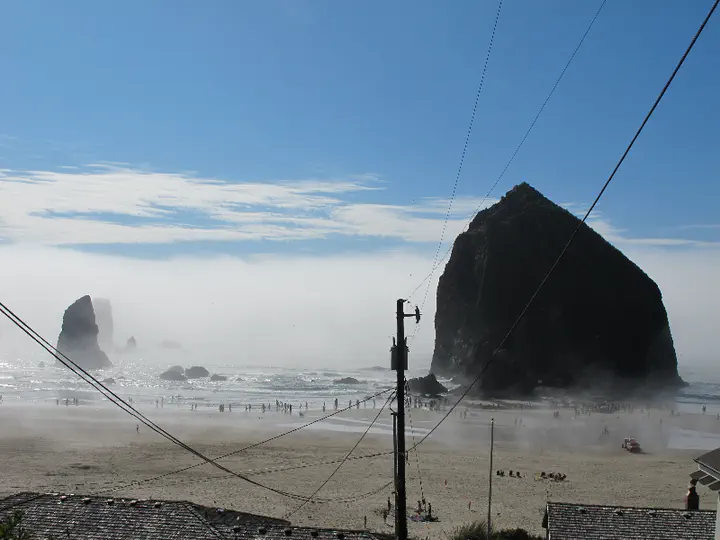 August 31, 2013. 53.81 miles.
I woke up at 7:30 or so and went to get breakfast as the place down the street that the internet said was the best in town.  Had a lox bagel plate and cappuccino. It was indeed quite good. Then it was not yet time for the bike shop to be open so I walked down the boardwalk about a mile to Safeway to get insoles with arch support for my bike shoes and a couple odds and ends.  Came back, went to the bike shop and got a replacement water bottle holder (the old one broke a few days ago) and a new headlight. Went back to the hostel and got everything packed up and ready to go just at check-out time (11am).
Having accomplished all of my errands, and feeling rested from the short day yesterday, I decided to aim a bit further than Seaside – the next state park down the road (Nehalem Bay State Park).
The route took me on back roads between Astoria and Seaside. It was moderately scenic, a little hilly, but not that remarkable. Seaside itself was incredibly full of tourists (made me even less eager to stay). The beach was packed, but the persistent fog was interesting.
Coming out of town, I saw two loaded cyclists just ahead of me.  They turned out to be Shane and Laura from Toronto. I rode most of the rest of the day with them. They also came from Vancouver, but have taken a lot longer, and have been without a particular route.  Apparently that has gotten them into some interesting situations involving condemned bridges and unexpected mountains.
We got some pretty dramatic views of the coast, saw lots of tourists on beaches, and went through the first tunnel of the coast.  Sure enough, the tunnel had a button to push to turn on flashing warning lights telling cars that bikes were inside. 
We were on 101 most of the afternoon, and it was pretty nice, even with all the holiday weekend traffic. The shoulders were wide, and the traffic was mostly just cars rather than large trucks.  The slopes were also nicely gradual. I had been a little worried about that, since this section of the maps has elevation profiles on the back. I had thought that might mean that the hills were harder than those in the first section (which had no elevation profile). But I think they actually skipped the elevation thing because they had to include detail maps of Vancouver. The hills today were much less strenuous than some of the previous days.
I pealed off from the others to get some food in the town just before the park. I ended up getting a pizza and strapping it to the back of my bike before heading to the campground.  With just this one example, Oregon parks win over Washington parks. There is a hiker/biker area that is isolated from the crowd in the main campground. It's a bunch of tables and fire pits among the trees, and people just put their tents wherever. There are probably about 10 groups of bikers here, and one group of people hiking the coast.
After showering (clean, hot and free), I spent a few hours chatting around a fire with the two I biked with earlier, two other solo bikers, and one member of a group of older cycle tourers.  We talked about diet (one vegan, several vegetarians), rock climbing, traveling, biking, and all sorts of other things.  It was nice.
There are still a few conversations going on here and there as I write this, but I'm about ready to curl up and sleep. No definite plans for the morning yet. Might do another short day tomorrow just to the next state park down the road. We'll see.