Southwest Day 30-31: Jacob Lake to North Rim and back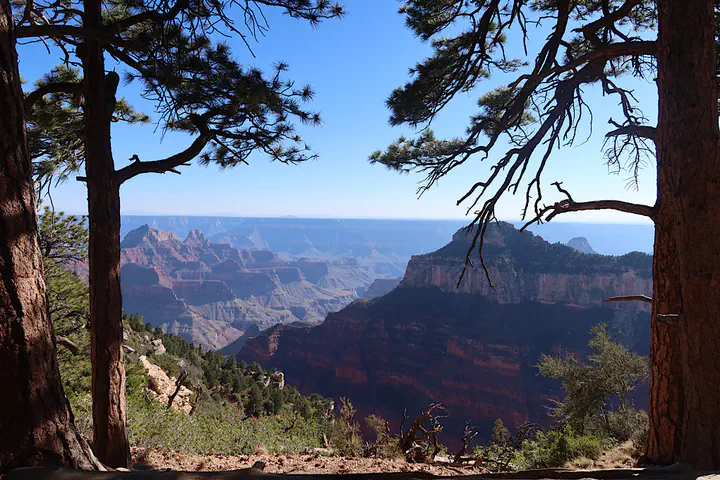 September 22-23, 2021. 45 miles x2, ~2500 & 2150 feet of climbing.
Since I got down 89 from Bryce fairly quickly I had enough time to do an out and back to the North Rim. So now I've officially seen the Grand Canyon. It's the longest out and back detour I think I've ever done on one of these trips, but it was probably worth it.
The road to the North Rim campground is about 45 miles, with a fair bit of up and down (more up going there than coming back). I also had a headwind for most of the way out to the canyon. But I didn't get any flat tires in either directionm, so that's something. I almost trust my back tire again. Almost.
The road started with a climb and then spent a while going through an old burned forest where the aspen were starting to regrow. They were also starting to change colors. In places it looked more like a carpet of aspen than a forest.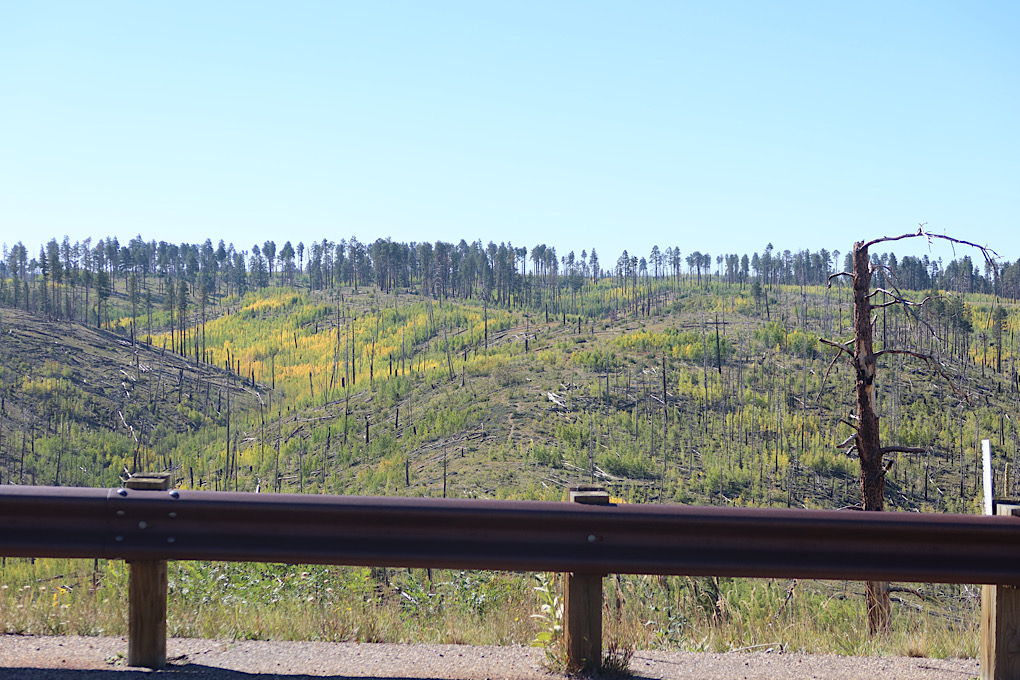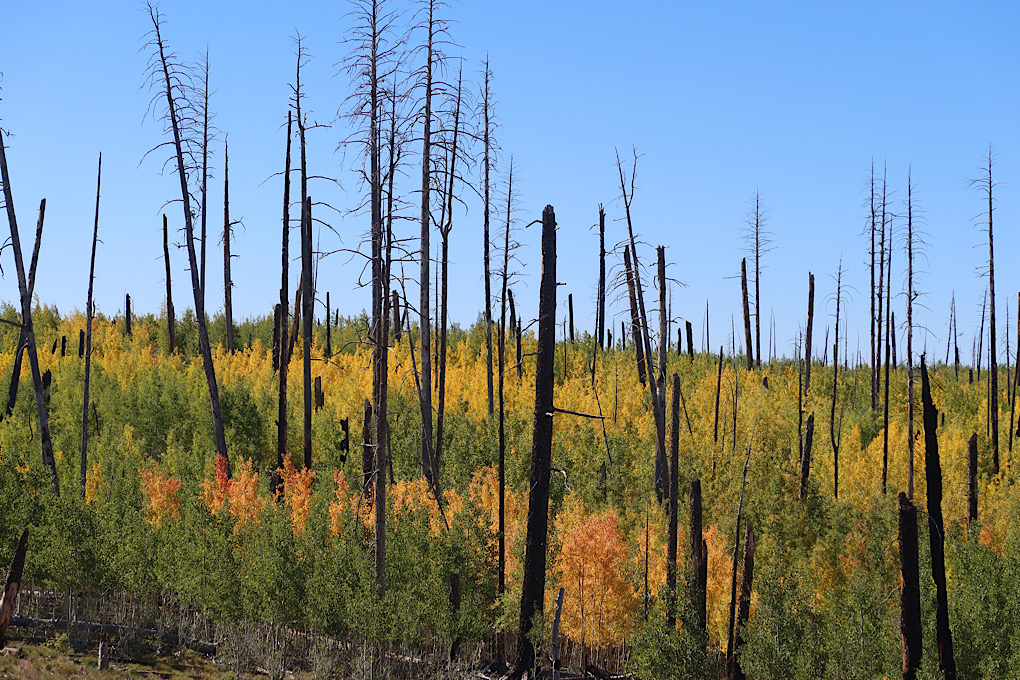 It felt like a lot of climbing, so I was happy to see a sign with a weird elevation number on it. I figured that must be the high point. I think it was, though there was definitely more climbing later on (after a bit of going down).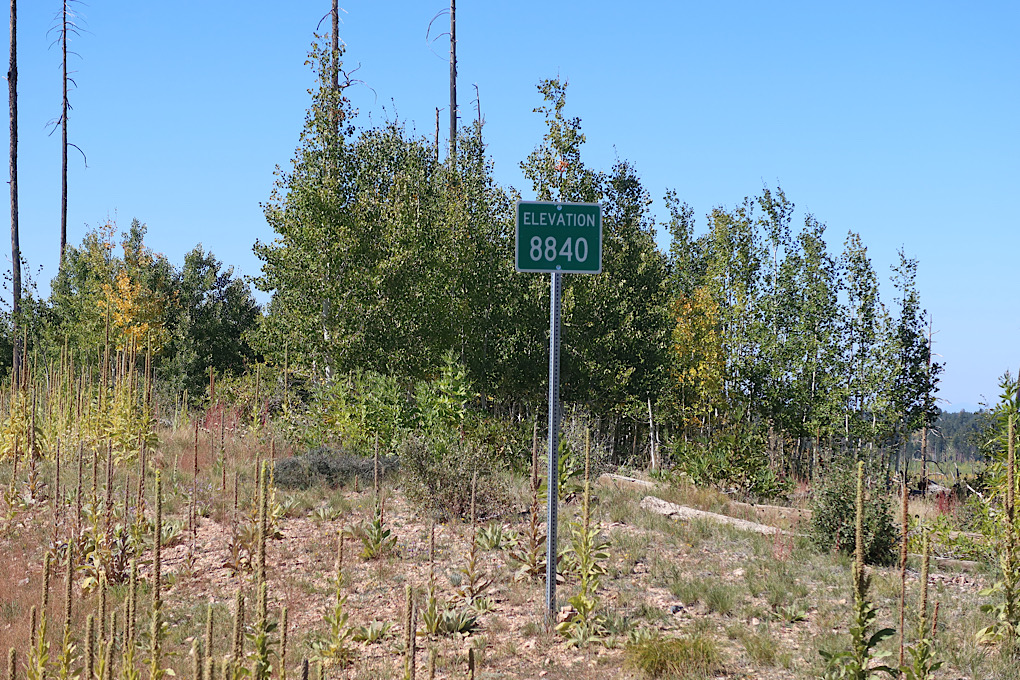 After some up and down along the tops of ridges, the road went through a number of meadows surrounded by forest. The meadows all had signs saying not to drive on them. And then one of them had a big sign saying "ESPRESSO". Turned out to be a sign for the upcoming small country store. I stopped on the way back and saw a coffee maker, but I doubt they had very good espresso.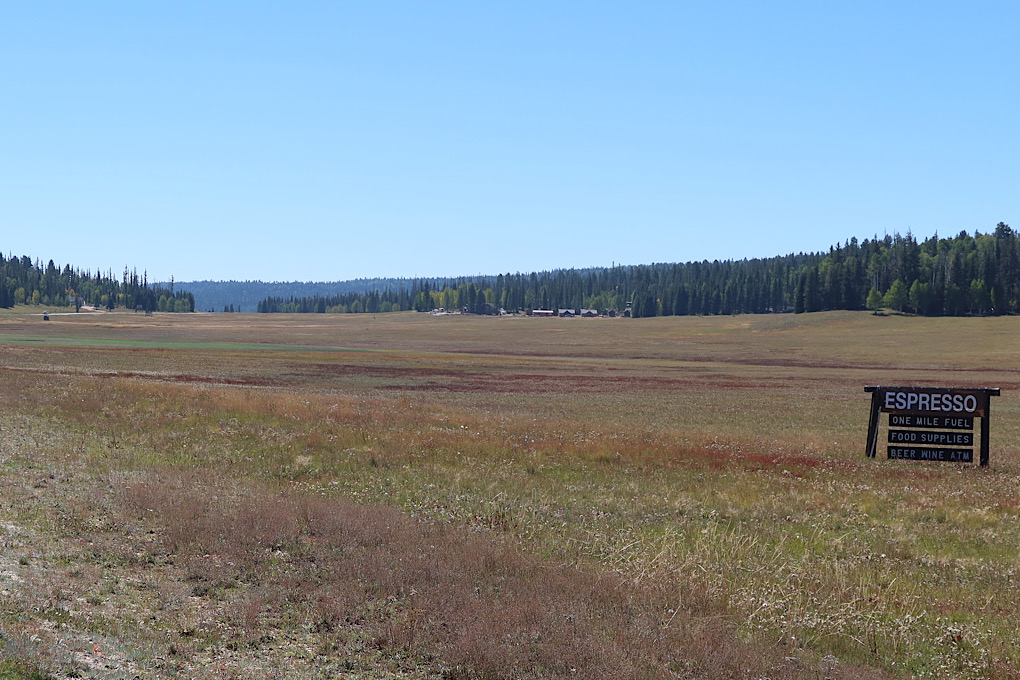 The last 20 miles or so were through nice trees, though nothing too notable.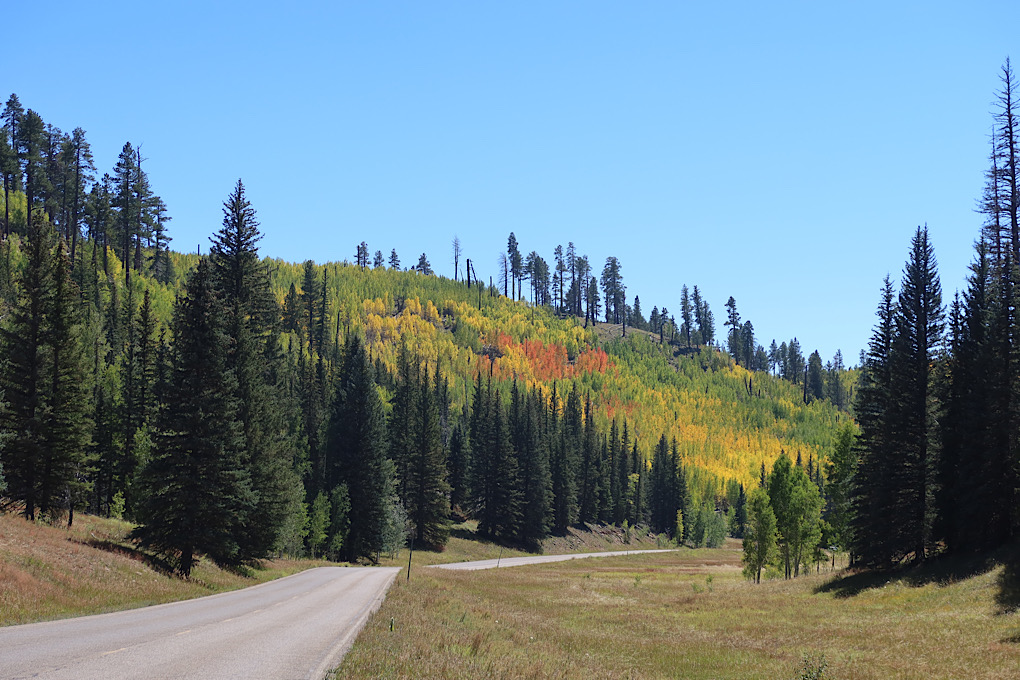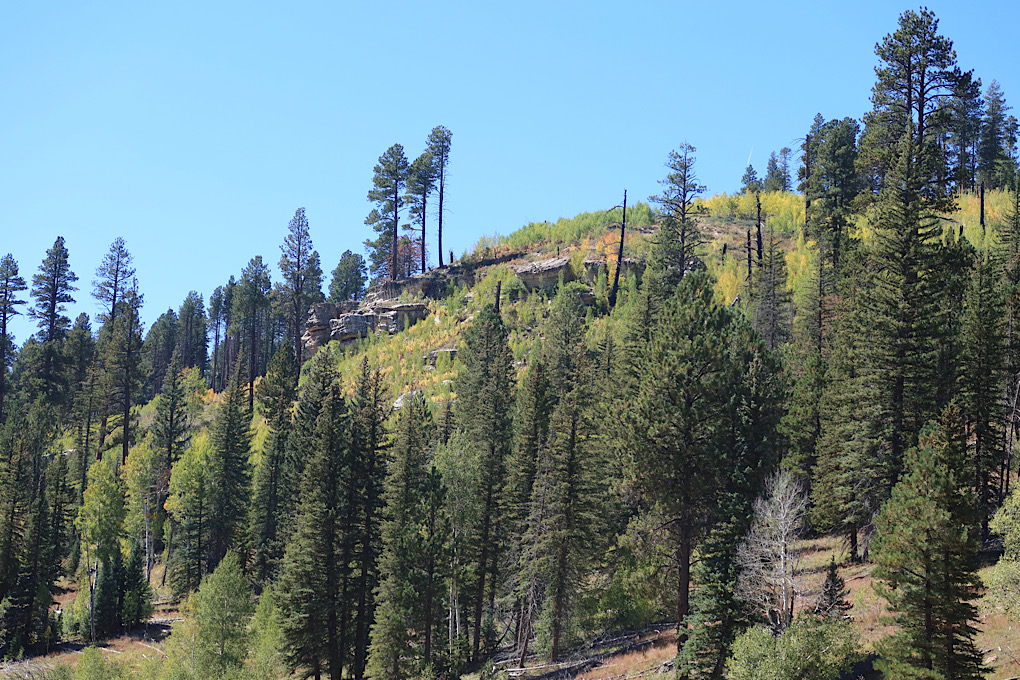 When I got to the campground I checked in to the hiker/biker site. I think this is the first of the parks on this trip to have one. The ranger at the check-in said that the hiker/biker site was the best part of the campground, and I think he was right. It was right on the edge of the canyon (not in an unsafe way, just a good view way).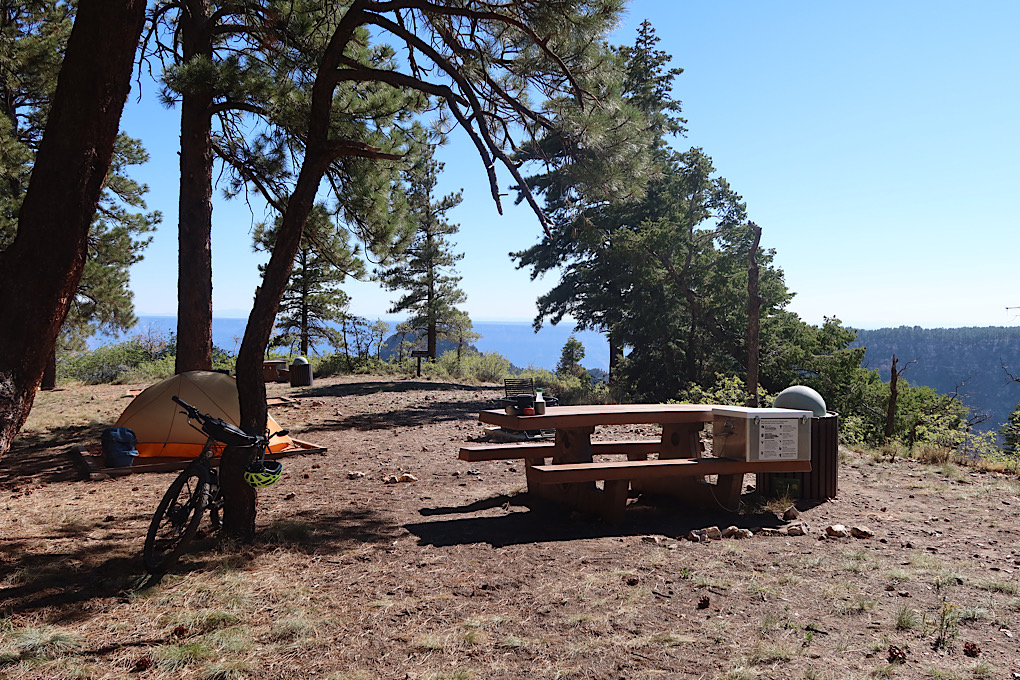 I set up camp and then went on a couple mile hike along the canyon to the lodge where there were a couple of viewpoints.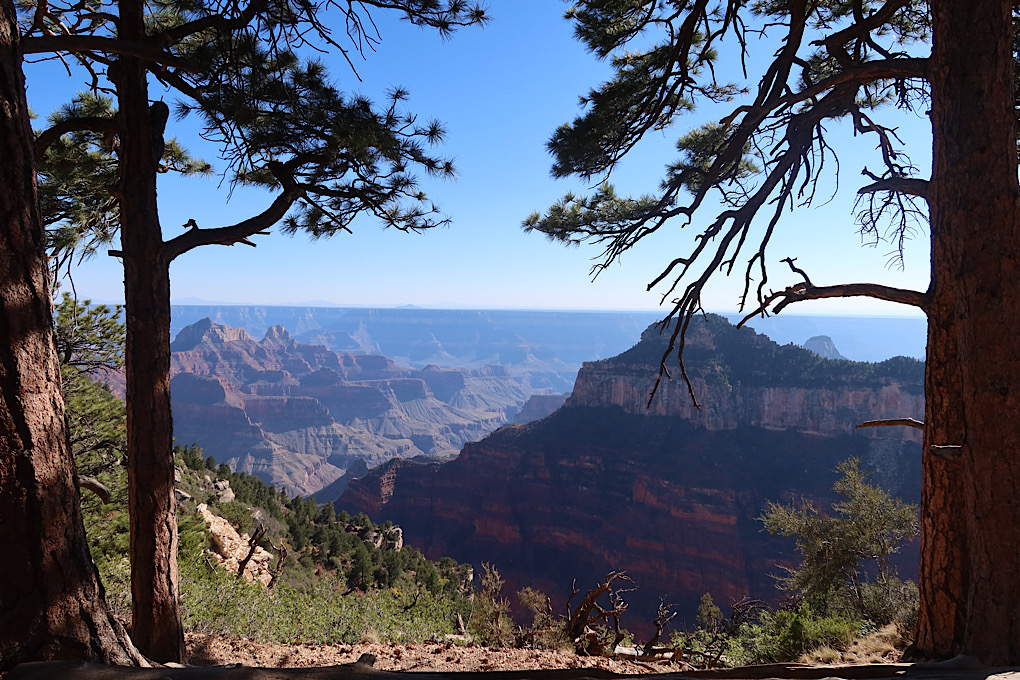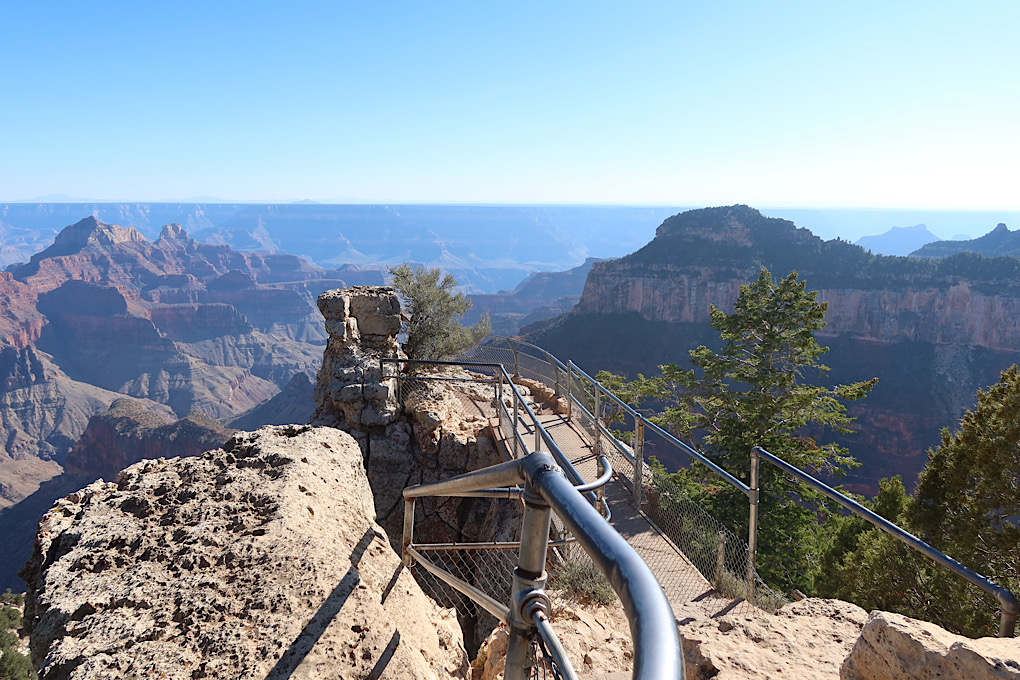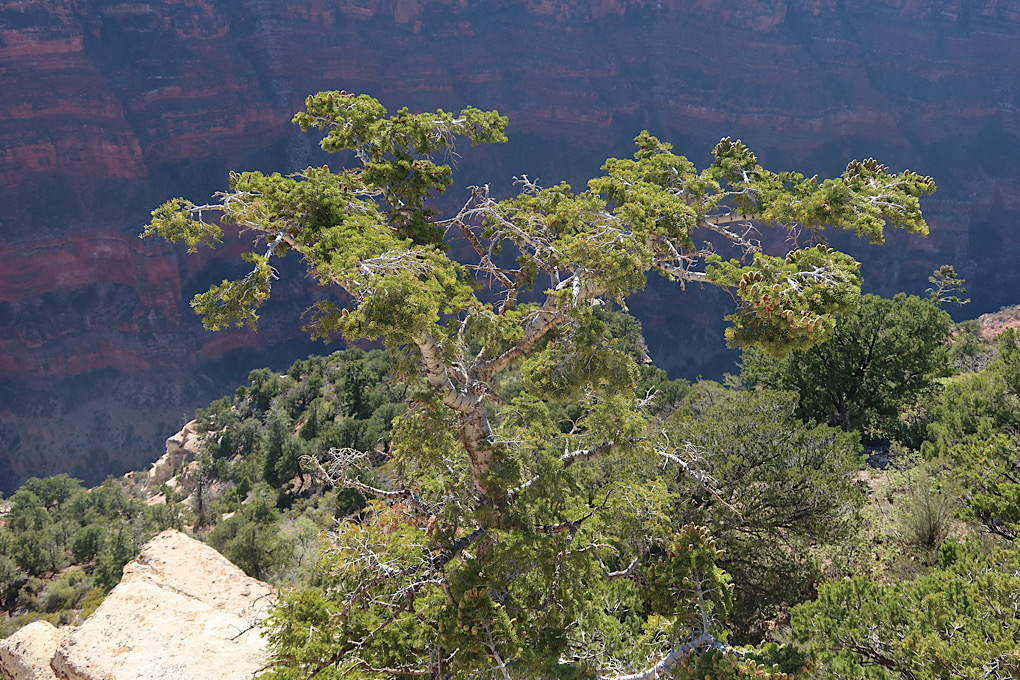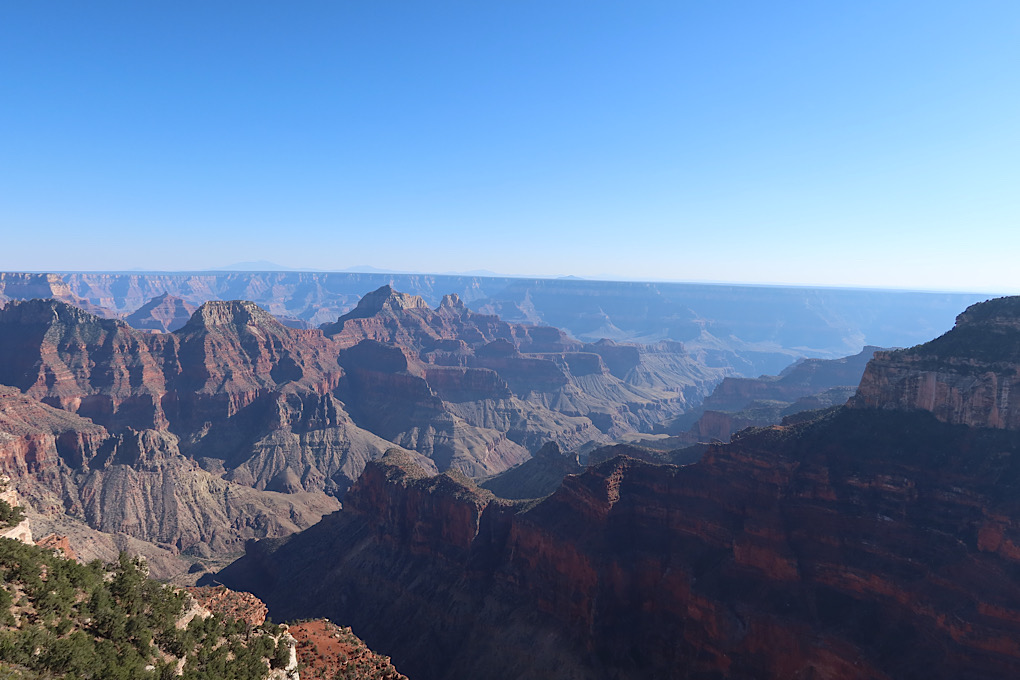 When I got back to the campsite I spent a little while dealing with photos and then ended up chatting with two AZT hikers who were also staying in the hiker/biker sites. They were both headed south through the canyon and will get to the south rim before me. I'm going ~200 miles around. There was a small crowd hanging out near our site to watch the sunset, and some of them were talking about bikers who bike the AZT and carry their bike on their back through the canyon. I'll pass on that. Especially what with everyone talking about how to deal with the 100+ degree temperatures at the bottom.
The sunset was quite nice though.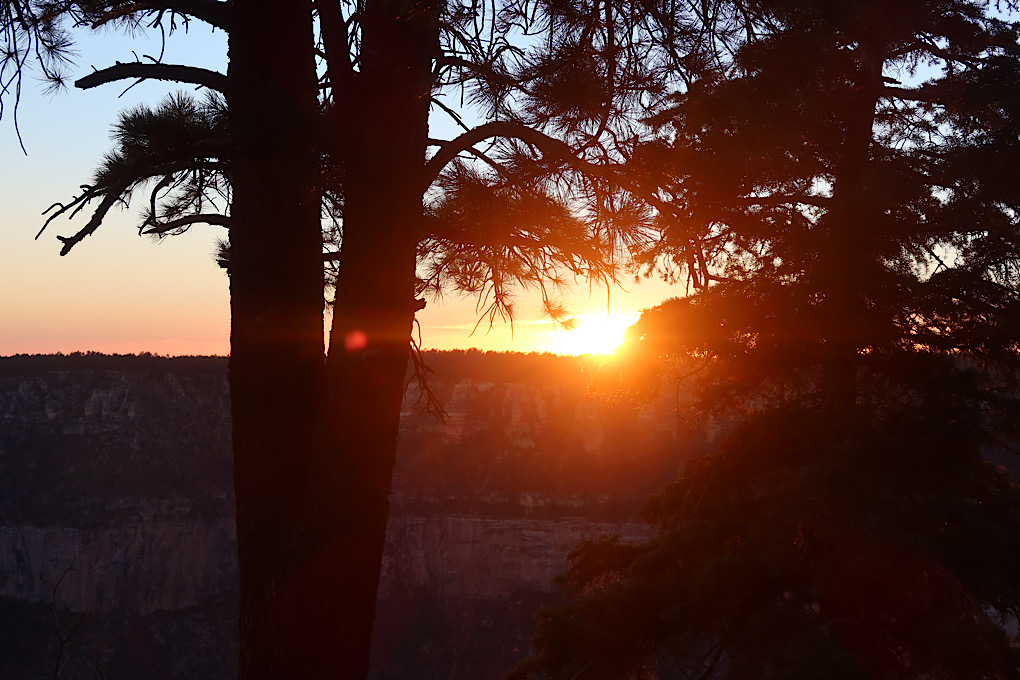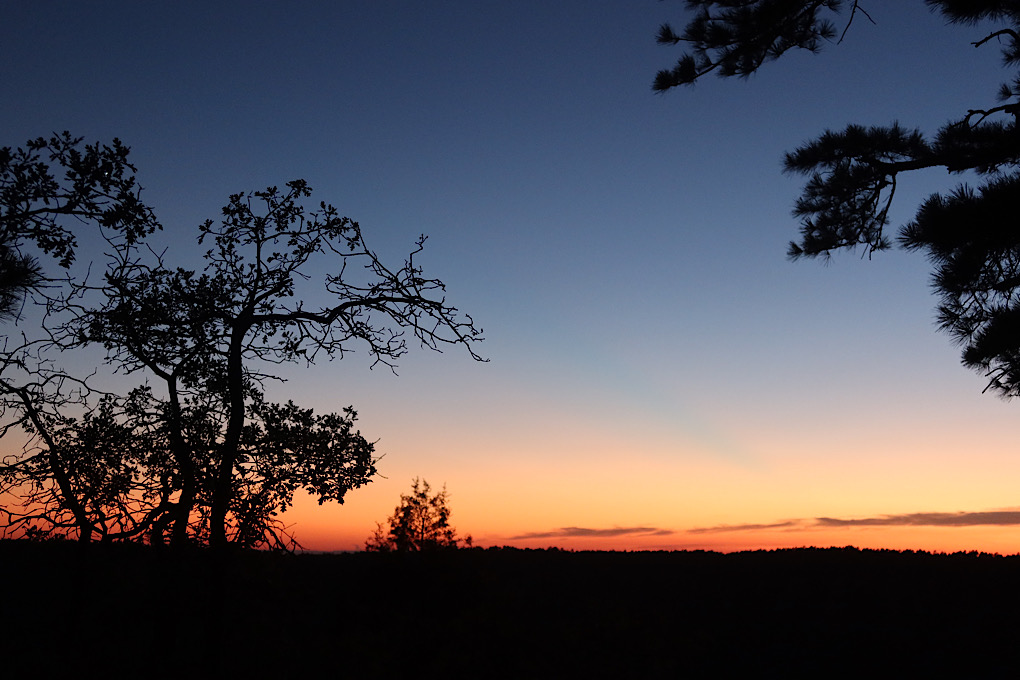 It was nice to be able to leave the fly open on my tent and see the canyon, at least a little. I saw some stars in the evening and a bit of sunrise in the morning. By the time I got around to taking a photo is wasn't really a sunrise anymore and was just the canyon with different lighting.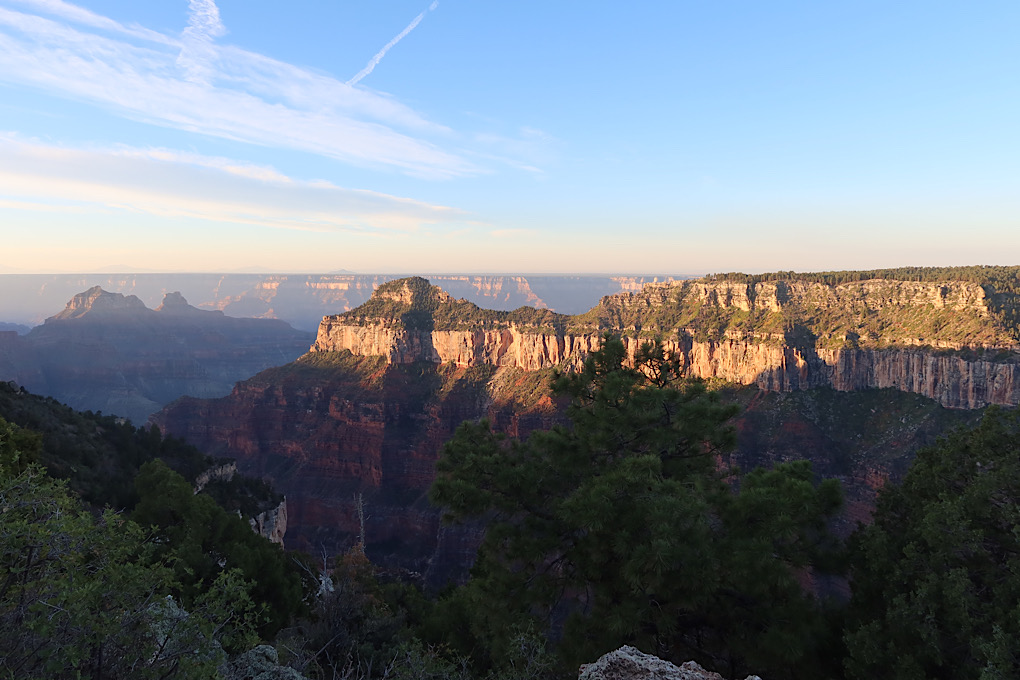 I didn't rush out in the morning since I was only going back to Jacob Lake. Chatted a bit more with the hikers and then headed out. The ride back was much easier than the ride there. More downhill. Also no headwind (well, a little bit of one occasionally, but mostly a tailwind). Also some buffalo.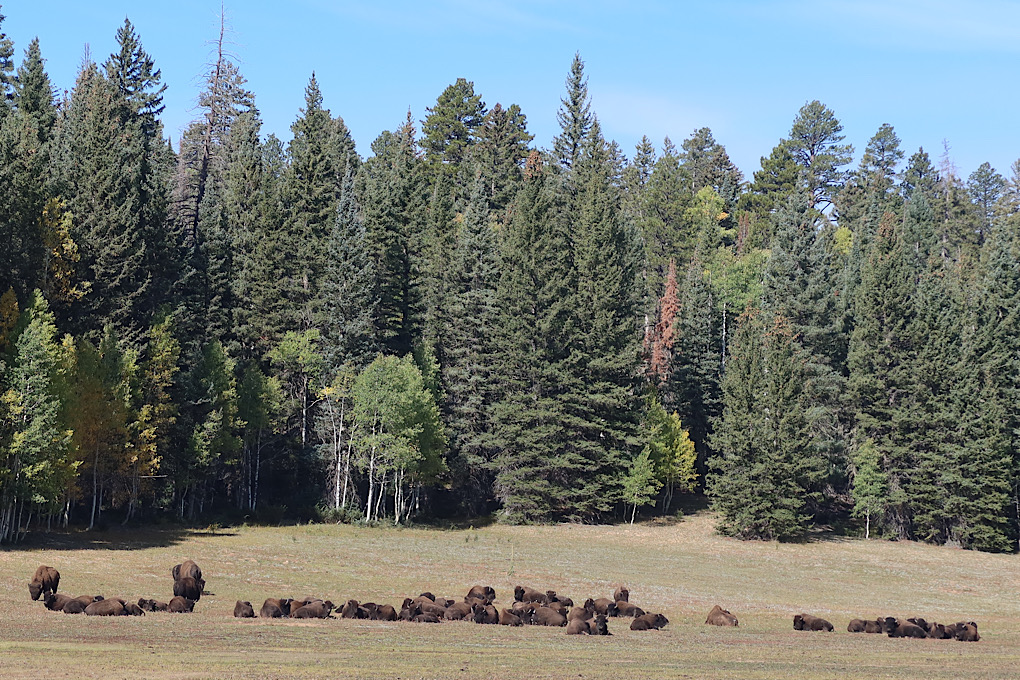 One driver stopped and said he had passed me three times and asked if I wanted a cold drink. It was still morning and I had plenty so I said no. I guess that's what happens on dead ends.
I got back to Jacob Lake in the very early afternoon. Maybe around 1pm. There weren't any rooms available for today so I set up camp across the street.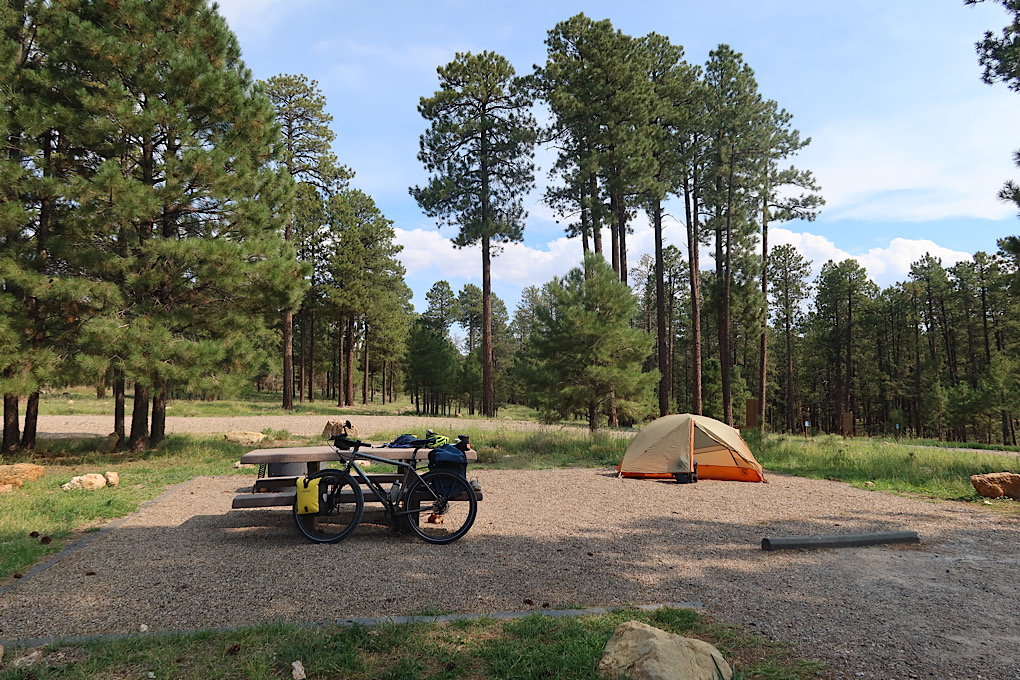 I probably could have just continued down the hill to Lee's Ferry, but I decided to stick to the plan and have a nice easy day tomorrow. The day after will be long and tiring - there's about 80 miles between places to stay, with a reasonable amount of climbing. As long as nothing goes too wrong I should make it, but I'm not exactly looking forward to it. Tomorrow is a short day with a whole bunch of downhill though, so I'll focus on that first.