Patagonia day 38-41: Puerto Natales to Puerto Montt (Navimag ferry)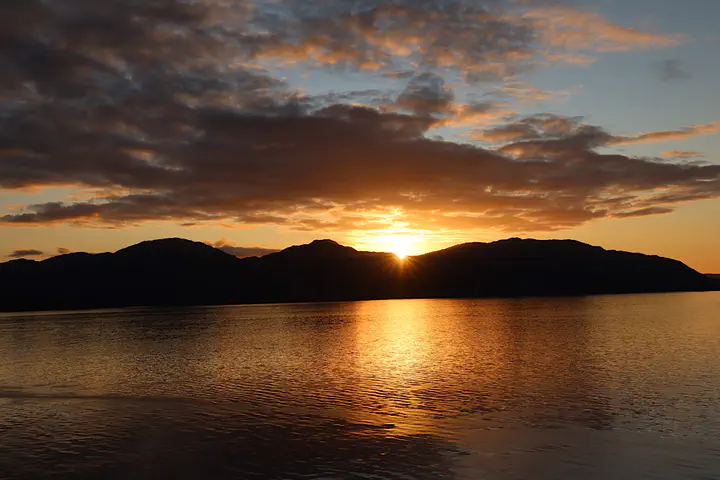 February 4-8, 2020. Days on a boat.
I still have to bike from Puerto Montt to Puerto Natales, but that barely counts. On the whole, the biking is over and I'm on my way home. Ugh, transitions. Luckily for me, it'll take me a week to get back because the first 3-4 days (depending on how you count) are on the Navimag ferry going slowly by water back through the Chilean fjords to Puerto Montt.
The Navimag ferry gets mixed reviews online, largely because it's a kinda weird combination of relatively expensive but pretty low on luxury. It's an old boat (the passenger areas are 20 years old, the boat itself much older) that is largely a cargo ferry. I think it's relatively common for people to make the trip with the wrong expectations. And if you find you don't like it you're still stuck for 4 days having paid more than you would have for a bus or a plane. But I loved it. I didn't want to get off when the trip ended.
There's something really satisfying about the continuous progress of the boat journey. You don't get stuck in traffic, you just keep going at a relatively slow but consistent pace (about 12 knots). It's not actually much different than biking pace, actually. Maybe that's why I found it so satisfying. Though, notably, I didn't have to pedal the boat.
The company is getting a new ferry for this route soon, but I doubt that will change too much about the experience. The boat was old, but I didn't really find that to be problematic, and the experience isn't really about the shininess of the boat anyway.
Modulo weather delays, the boat leaves early Wednesday morning, but they load passengers at 9pm on Tuesday evening. Saves paying for an extra night in Puerto Natales, but it did mean that I didn't really have anywhere to hang out on Tuesday afternoon. Check-in for passengers is in the bus terminal on the other side of town. They run a bus from there to the port, but as a biker I had to arrive at the port on my own for boarding. I ended up going down to the waterfront around 3pm and just hanging out there until 9. I started to get pretty sick of the wind and chilly weather by the end, but I did get to watch the ferry arrive and unload which was at least a little bit of entertainment.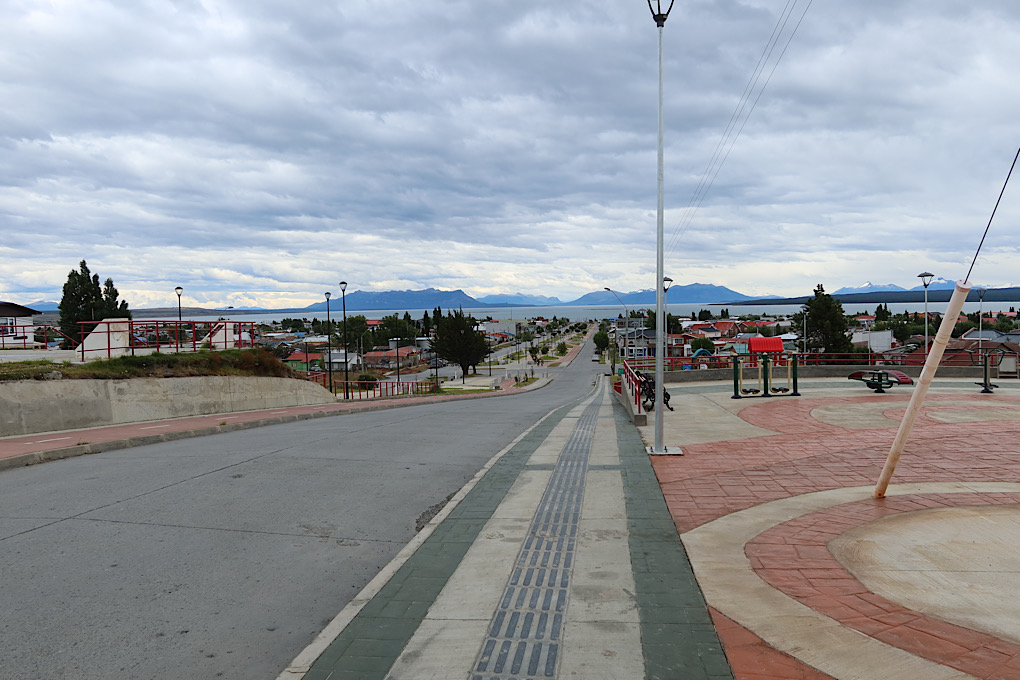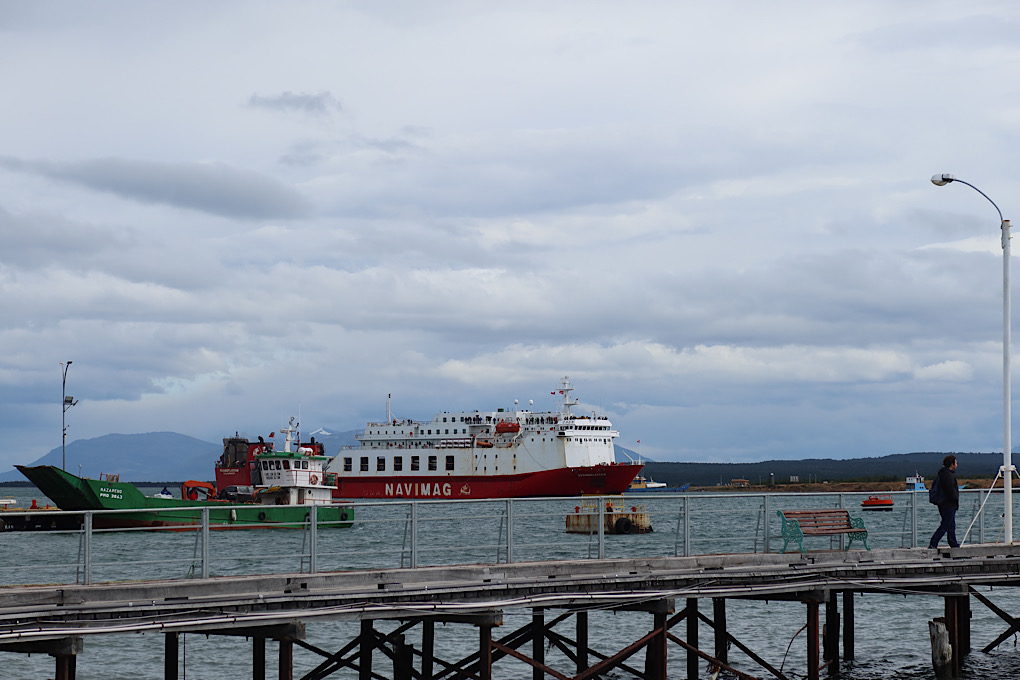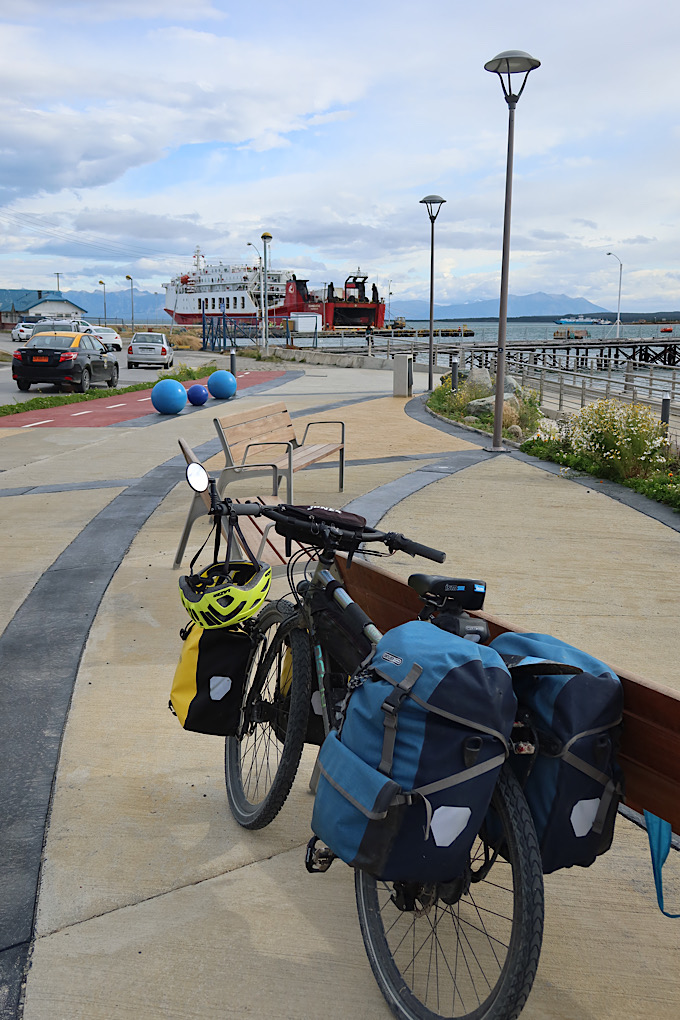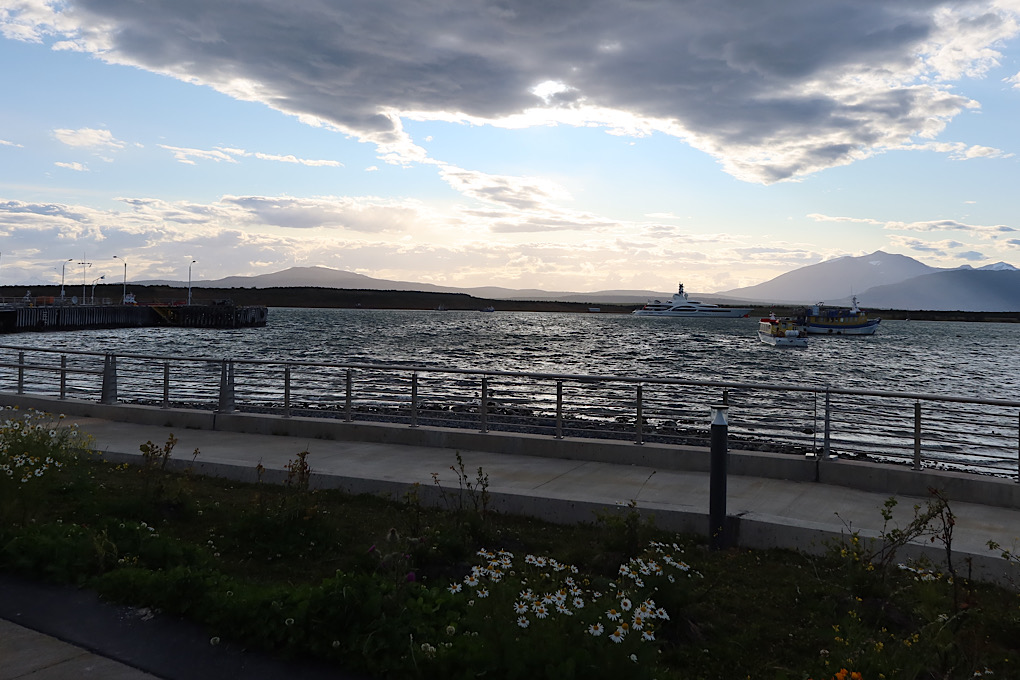 I ended up being the only cyclist taking the ferry, which was a little surprising. Lots of backpackers though. The boarding process was a little odd since it seems people aren't allowed to just walk down the dock. Even the pedestrians who had arrived directly to the waterfront had to board a bus to be driven the last few hundred yards onto the boat. I got to walk with my bike, but had to be accompanied by an employee.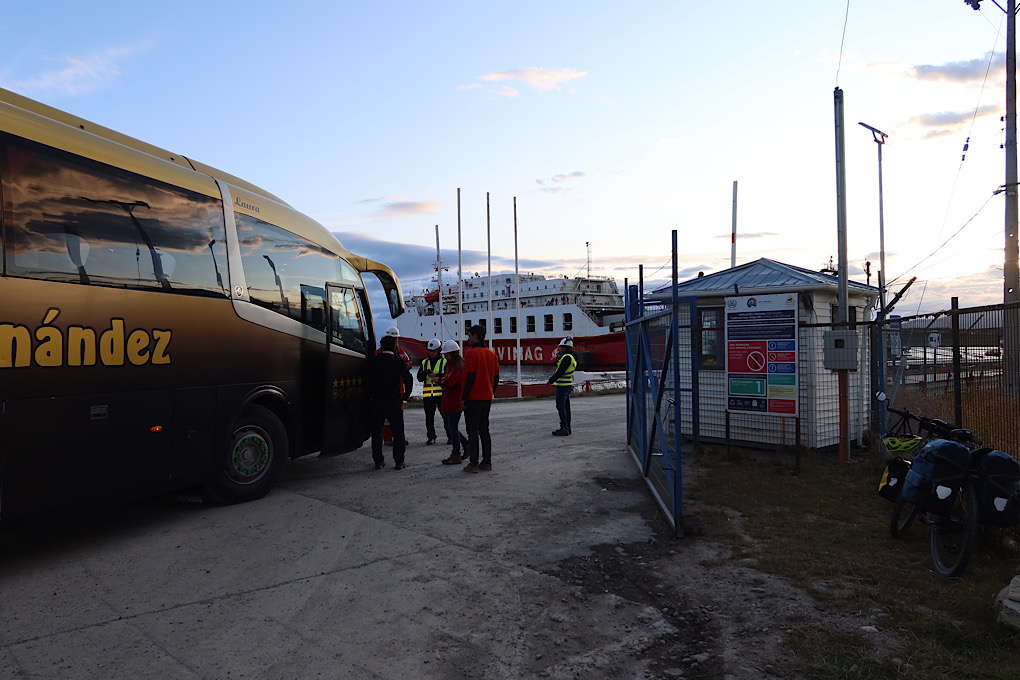 Once on board, the crew was pretty efficient at shepherding everyone to their cabins. I had splurged on the fanciest cabin - a room with only two beds, its own bathroom, and a window. For me, it was worth it. But it greatly increases the cost and I would have still enjoyed the trip even with the bunk-in-the-hallway cheapest accommodation. I would recommend splurging to a window if it's in the budget though. Made it a lot easier to rest and sleep without feeling cut off from the world. Plus, the window opened, which was just pleasant (especially as we got farther north and it got warmer).
I think I might have ended up with the best of the fancy rooms too. It was as far forward as it was possible to be, and there weren't any decks or walkways outside of my window. Good view, lots of privacy when I wanted it.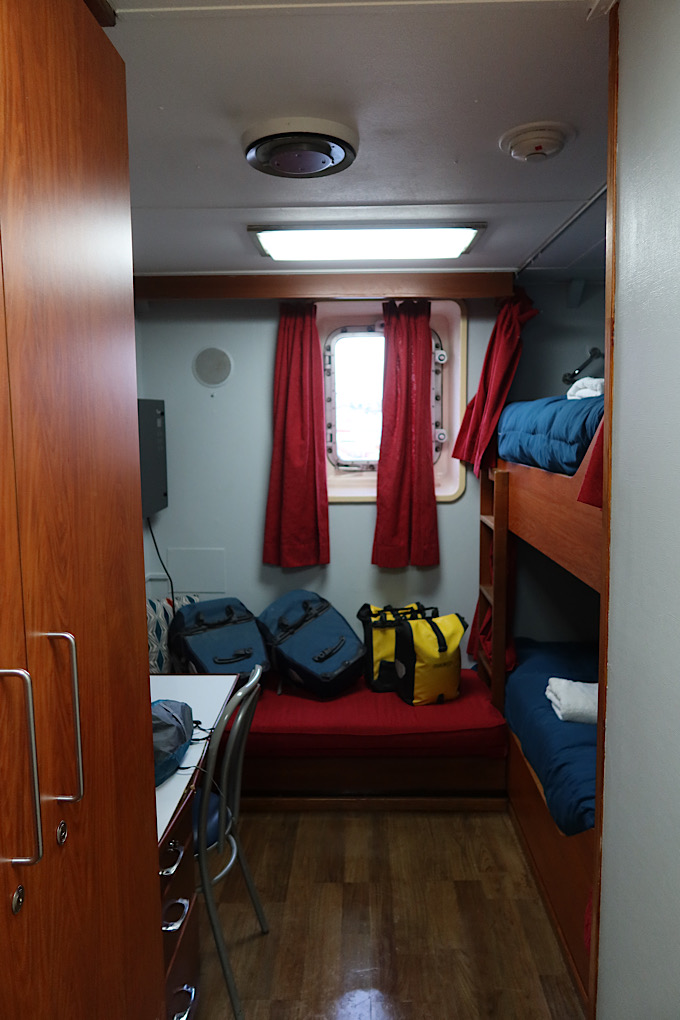 The first night was a safety briefing, followed soon after by going to bed. I was pretty excited to have a room that was mine for 4 whole nights without having to move.
Day 1
We were supposed to leave port at 6am, but when I woke up around 7 we hadn't moved yet. Breakfast started at 8. Sometime while we were eating we started moving - we looked up from the table and the outside was moving slowly to the left.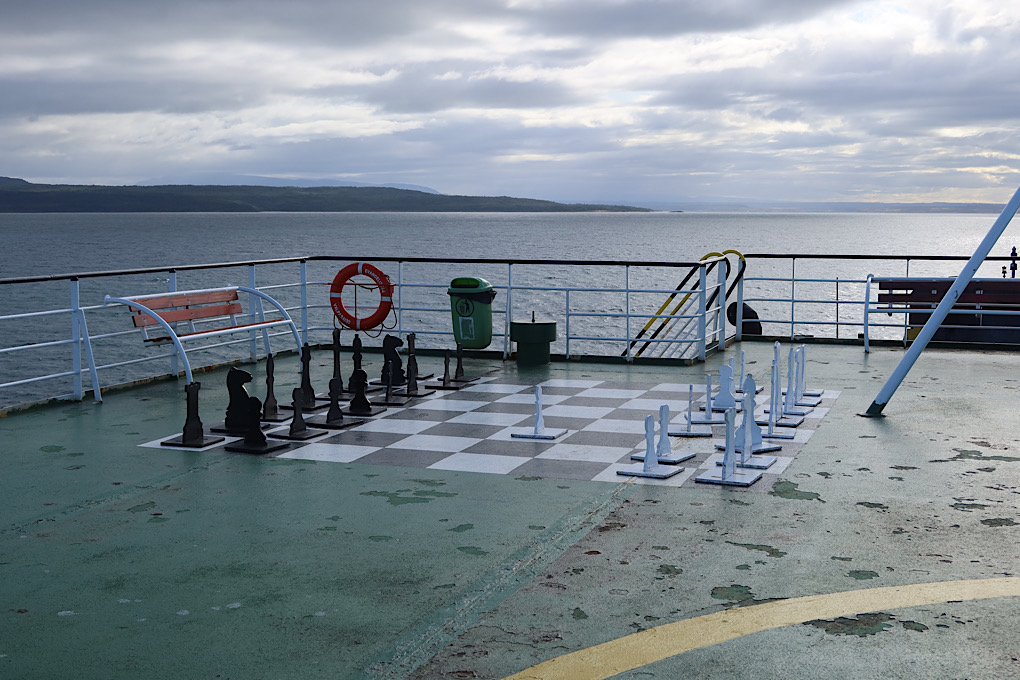 While on the subject of food: I had been warned that the food on the ferry was really bad. However, I found it to be fine. Cafeteria food, and the fresh fruit was typically inedibly unripe, but it was fine. There were even vegetables with every lunch and dinner. Not great vegetables, but vegetables. And the food was very plentiful. Given that none of us were getting any exercise, it was probably overly plentiful.
Meal times were also good for finding ferry companions. I ended up largely hanging out with an English woman and a Canadian woman who were also solo travelers. Also chatted a fair bit with an English/Spanish couple aiming to live in Chile long term, a few backpacking couples or friend groups from various parts of Europe, and occasional (mostly older) Americans.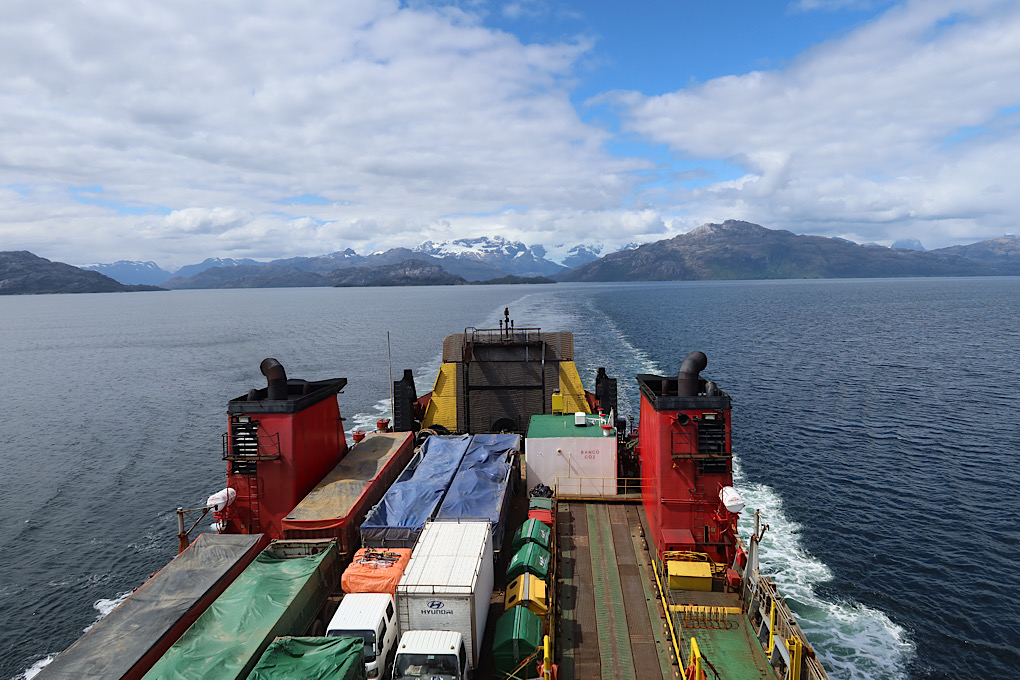 There were 94 passengers on the boat, which was a little under half capacity. But that was about right for comfort. Full capacity would have been really crowded.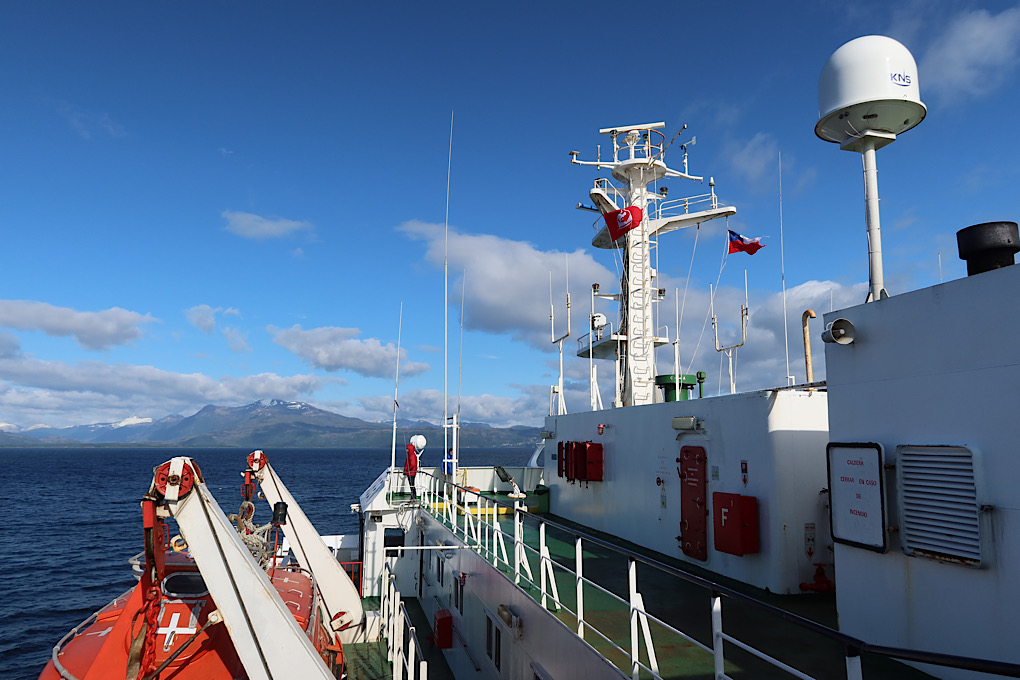 The early part of the route featured the narrowest channel of the route, and lots of islands. We would often head toward what looked like dead ends before the channels appeared. Everyone hung out on the front deck at the beginning - it was a new and exciting adventure, and there were some dolphins.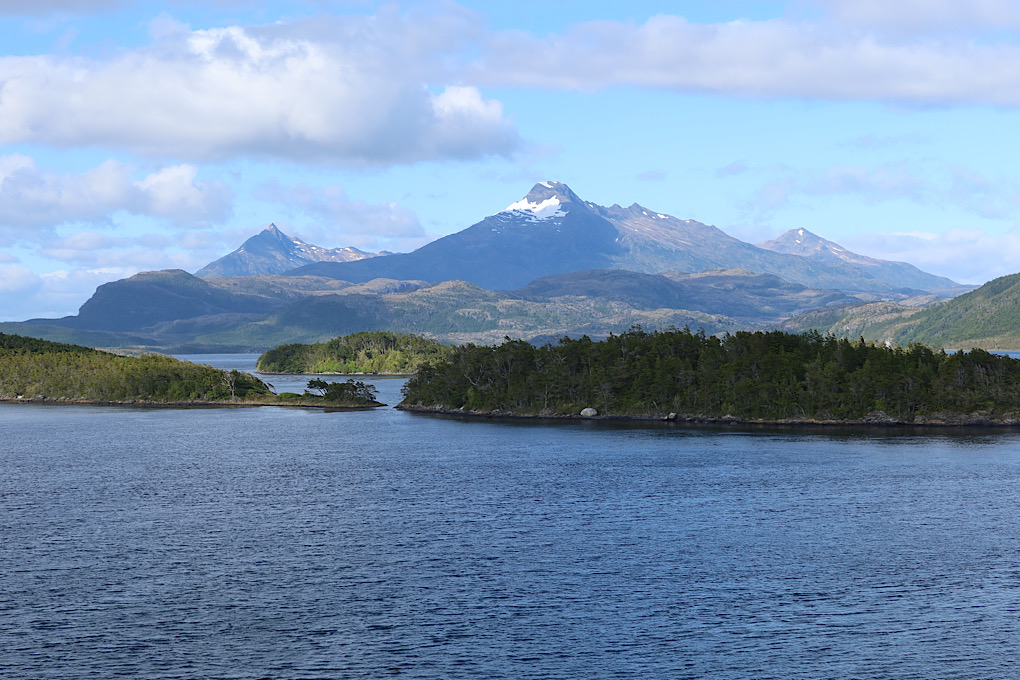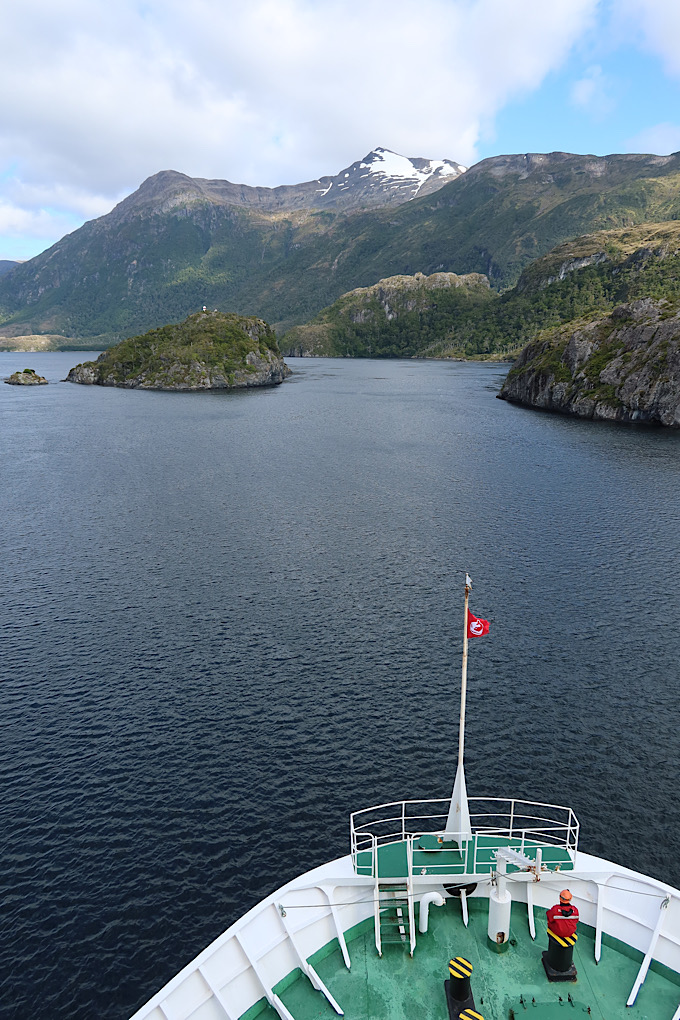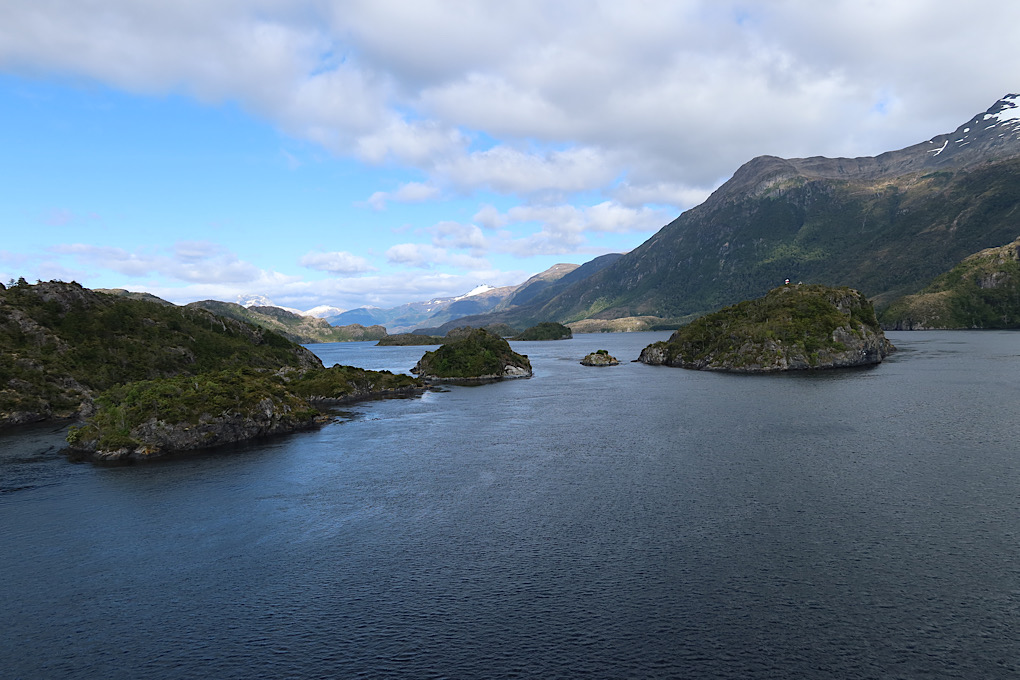 The chess board soon got overtaken by the kids. By the end of the trip they were building forts out of the pieces.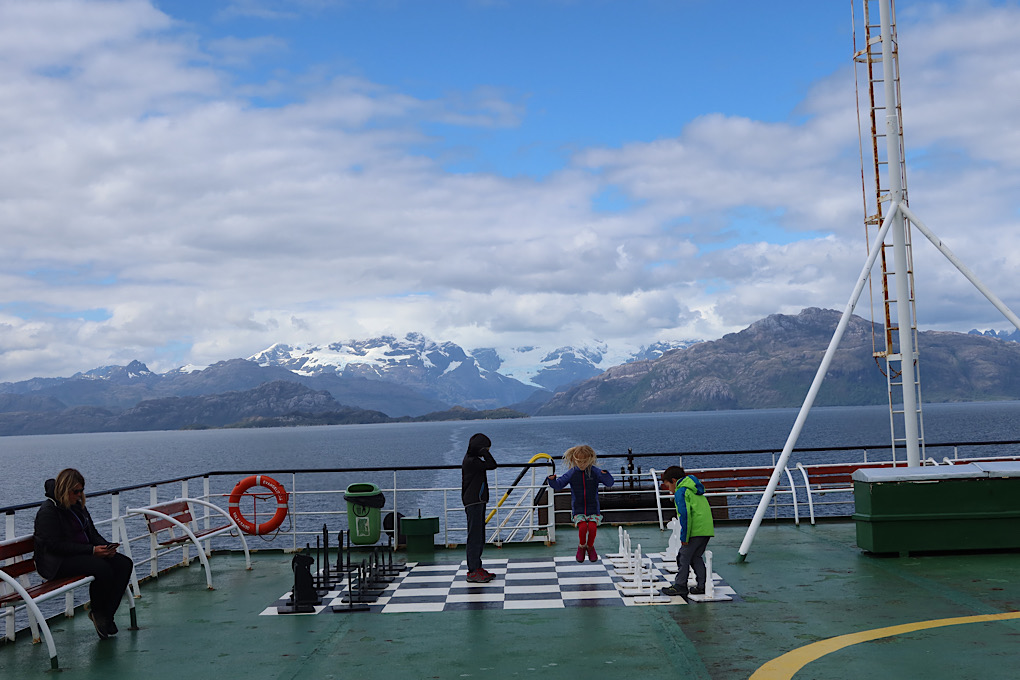 The mountains on this route were generally smaller than those on the ferry I took up north. The guide said this was basically because they were increasingly underwater toward the south. But that just meant it was a different sort of scenery. Still really pleasant to see out the window for a few days.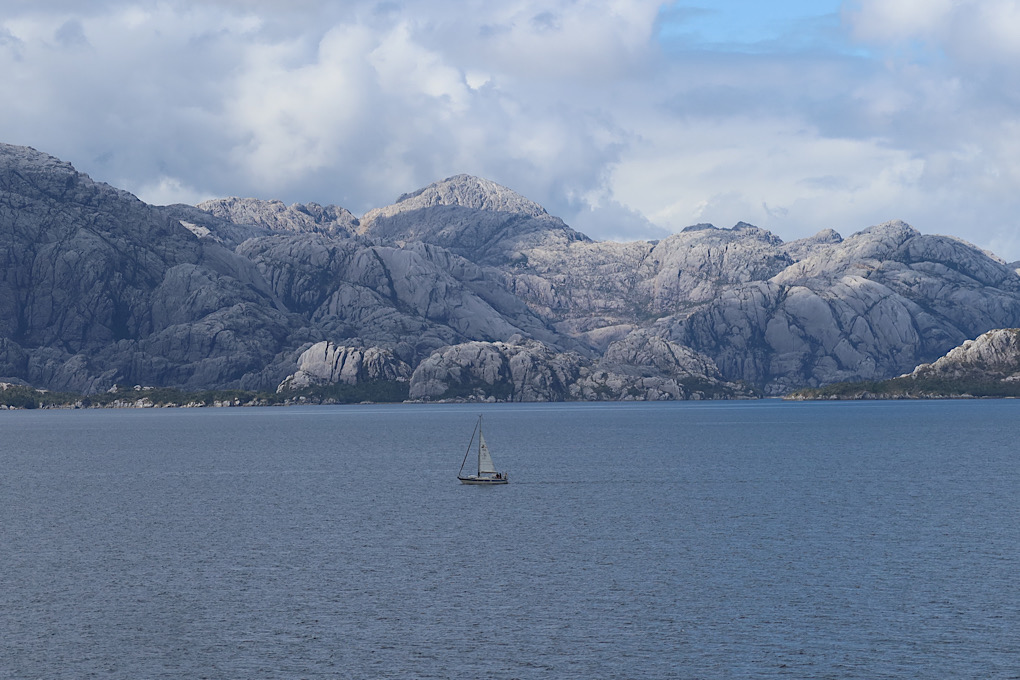 My favorite time of day each day was around sunset. The moon was nearly full so we often got a moonscape on one side and a gorgeous sunset on the other. And the sunsets lasted for a really long time.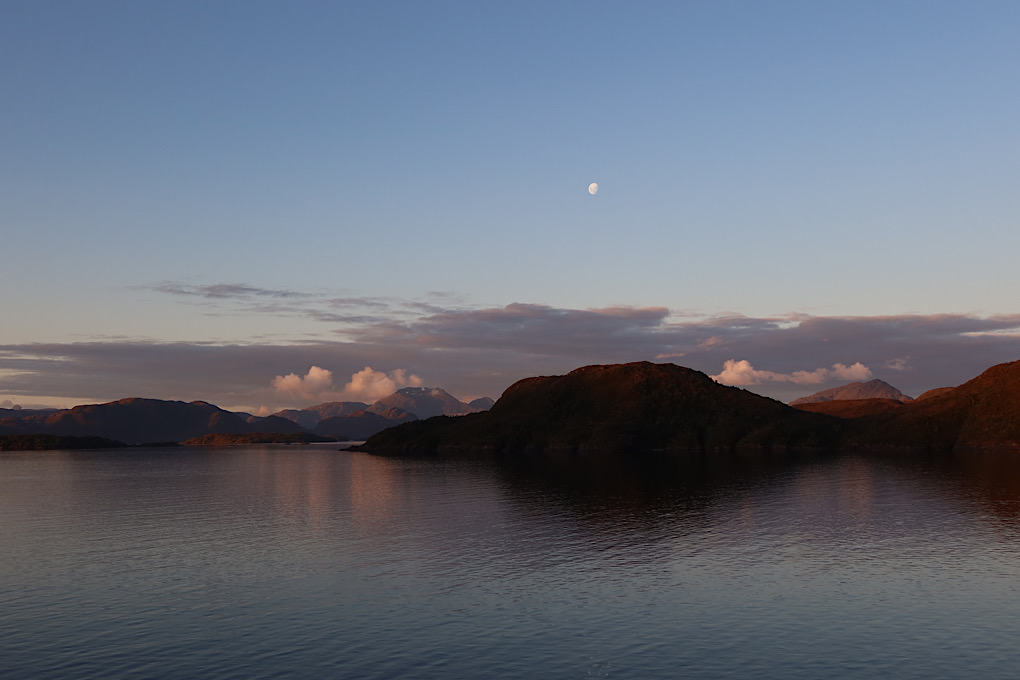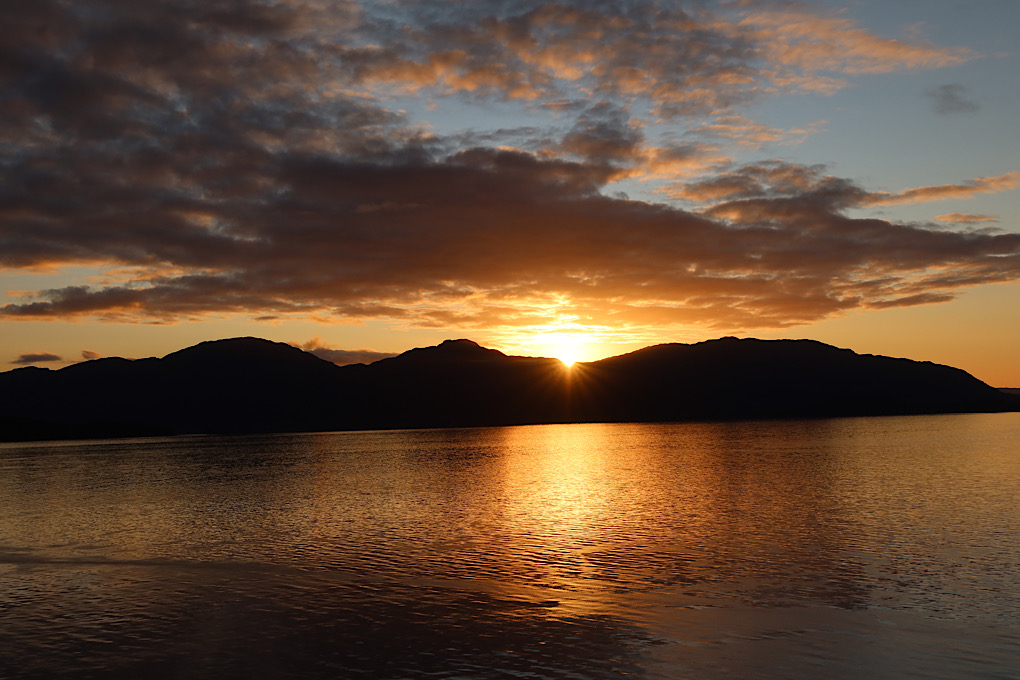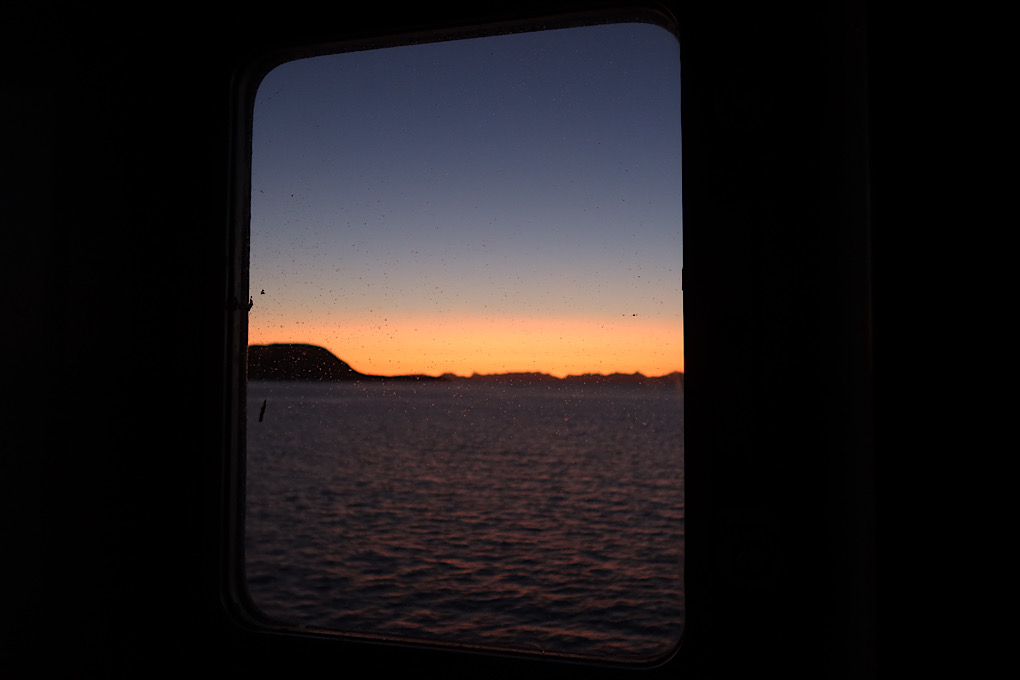 Day 2
The second full day on the boat started by being woken up by the anchor chain being dropped (really loud from my cabin). In my half-awake state I couldn't figure out what was happening. For a moment I wondered if we had hit something, but I figured there would be more commotion if that had happened. Then I looked out the window and remembered we were stopping at Puerto Edén, a small town that is only connected to the outside world by boat. The Navimag ferry stops off shore and people and cargo get brought on and off by smaller boats.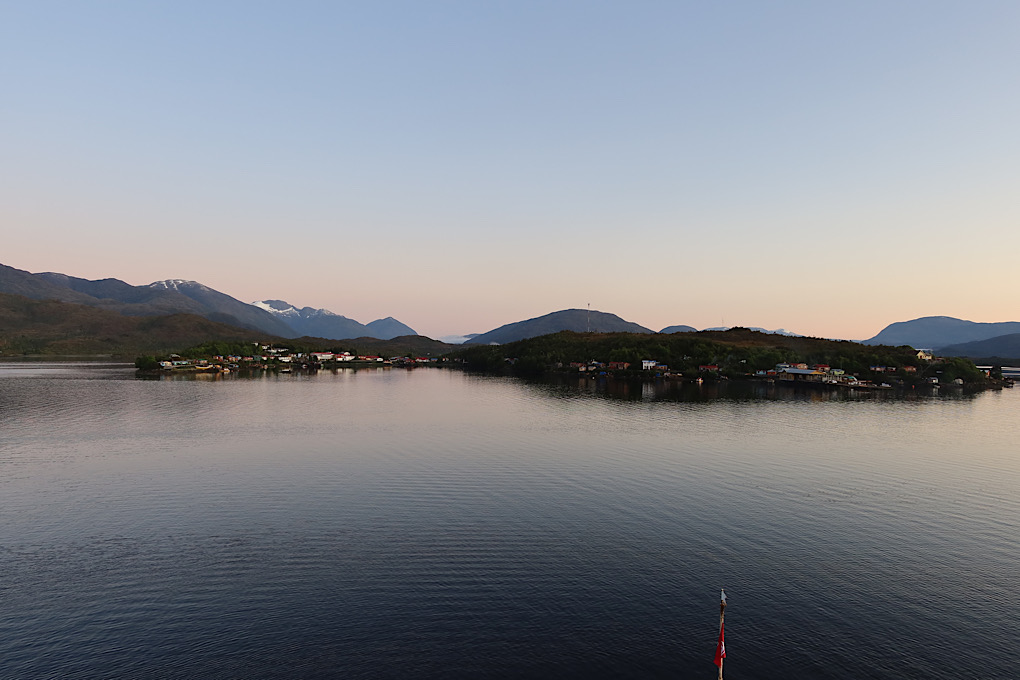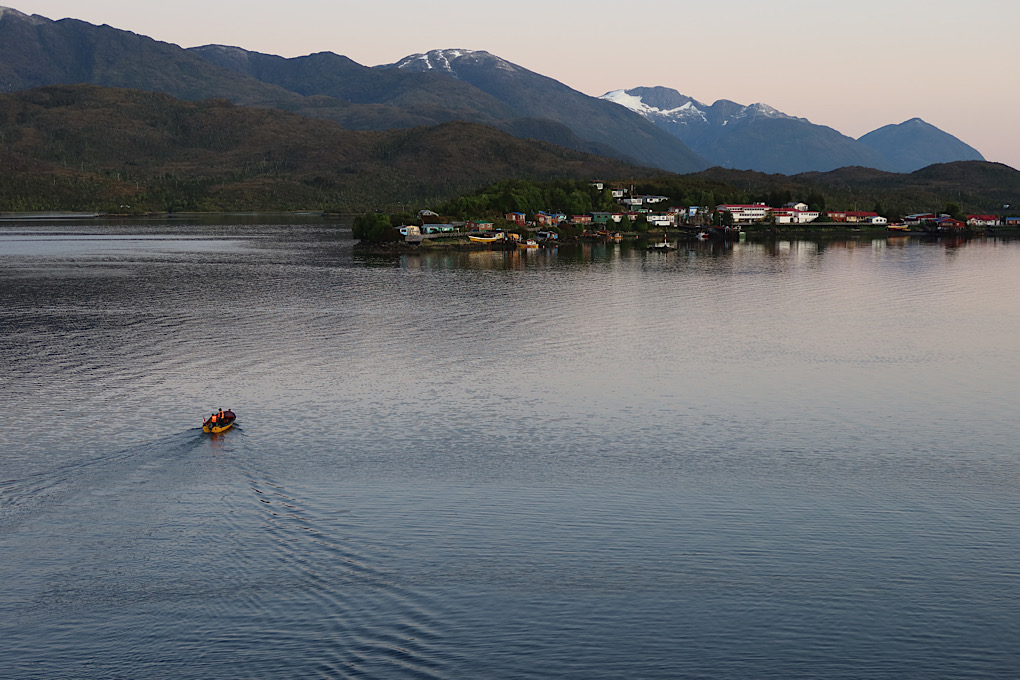 A lot of people in non-window cabins without the anchor chain alarm clock missed the Puerto Edén stop. But soon after breakfast was the next notable sight: the shipwreck of the Capitán Leonidas. As I understand the story told by the guide, there is a much older shipwreck underneath the visible one (the Cotopaxi). The visible ship was smuggling sugar, and then tried to sink their ship against the shallow rocks in the area for the insurance payout. But instead they got snagged on the older shipwreck. Their ship didn't actually sink, and everyone got caught. Or something like that. Anyway, the shipwreck is now full of birds and other animal life. And bullet holes, apparently from the Chilean navy doing target practice.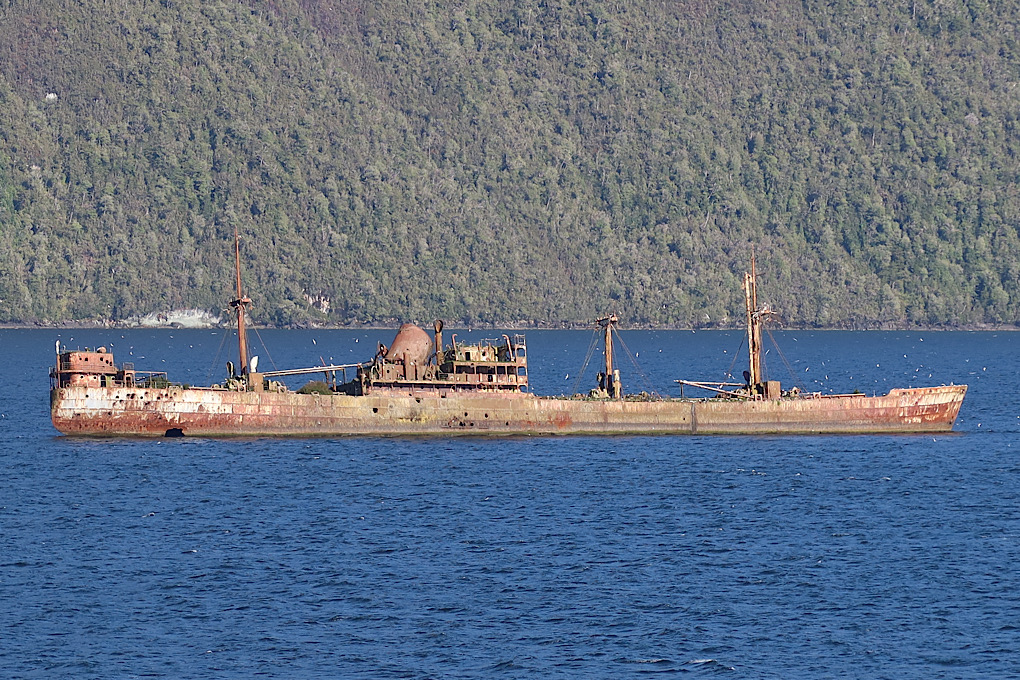 This day also features a tour of the bridge. Lots of redundant instruments, as well as paper charts. And some phones clearly labeled for the amusement of tourists. We did see some whales and dolphins, but I don't imagine the phones had anything to do with it.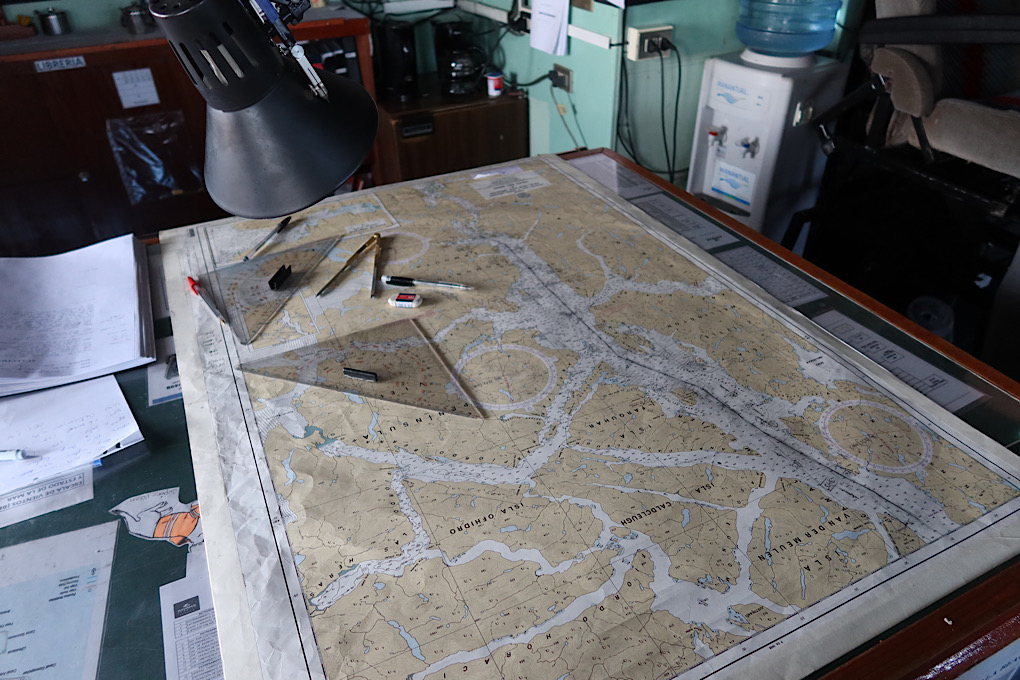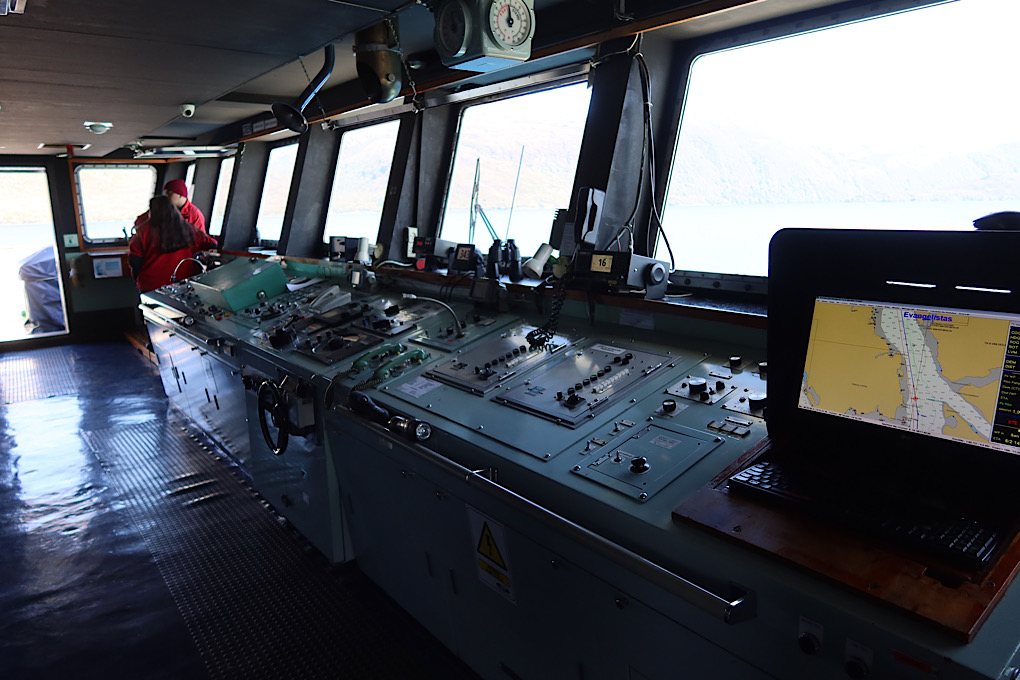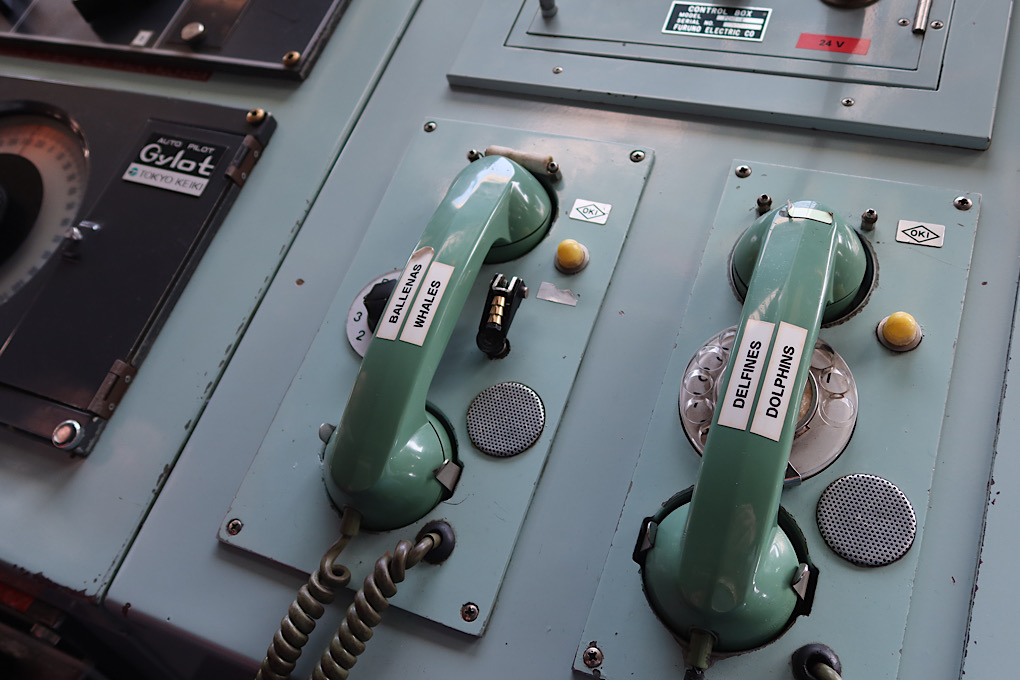 The afternoon brought us to the "open ocean" part of the journey. We had nearly perfect weather for the whole trip, so the sea was quite calm for us. But there was still a lot more movement than in the sheltered channels. I kinda liked it, especially when I was in bed. Felt a bit like being rocked in a hammock. Some people were less enthusiastic and more seasick.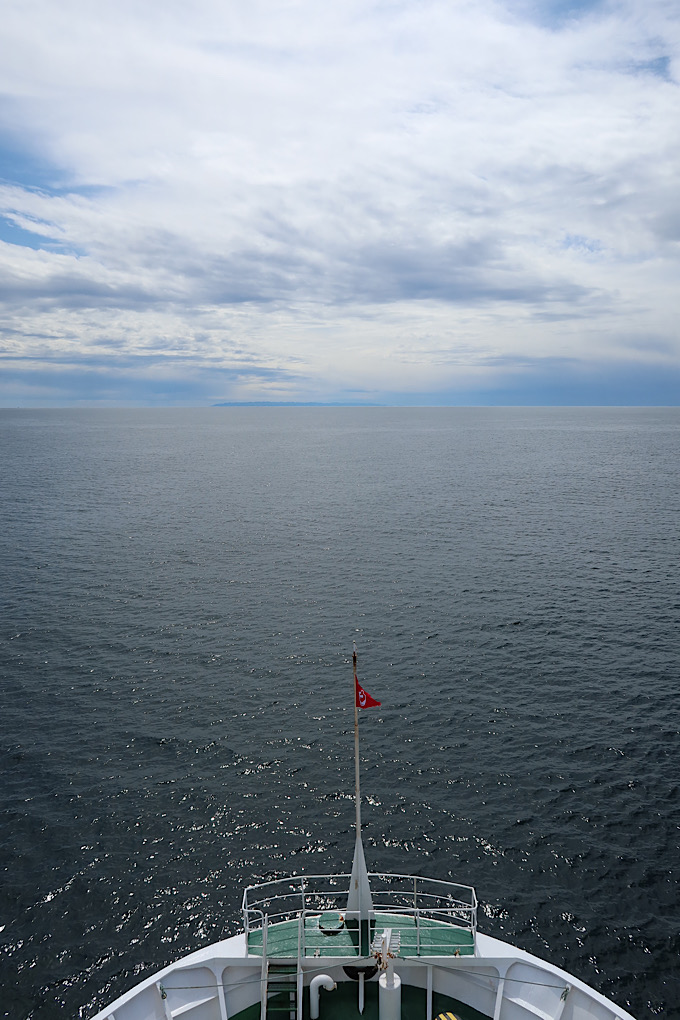 The second night's sunset wasn't quite as dramatic, but it was still quite nice.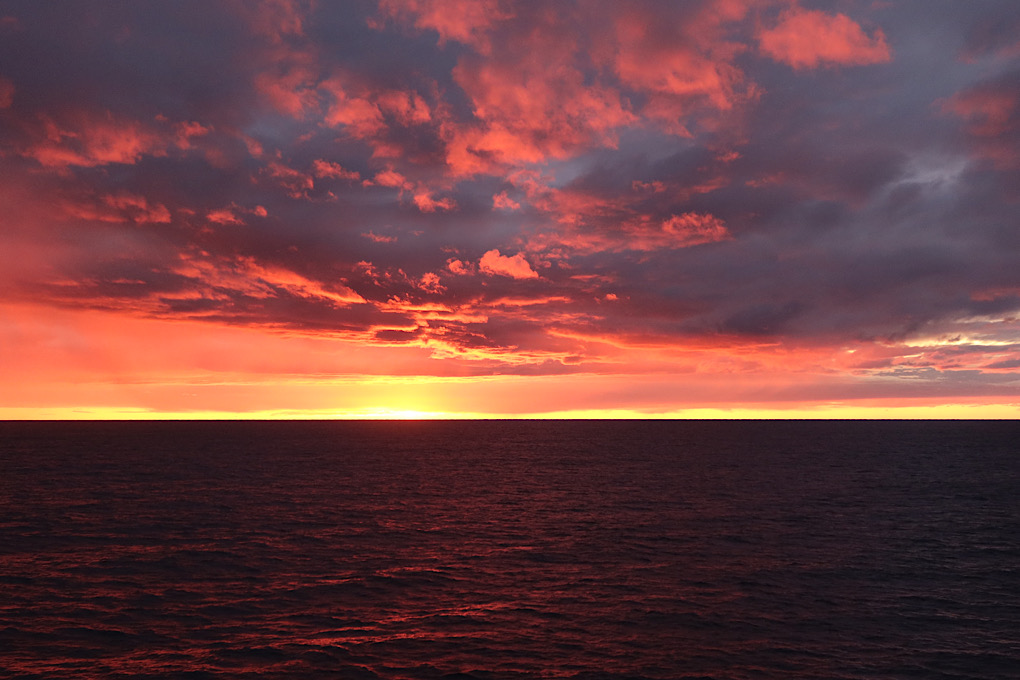 Day 3
Our third full day brought us back to smoother water. It also got noticeably more populated and noticeably warmer. We had sunny weather the entire trip (the guides said this was practically unheard of), and by the end it was actually getting too hot outdoors on the deck.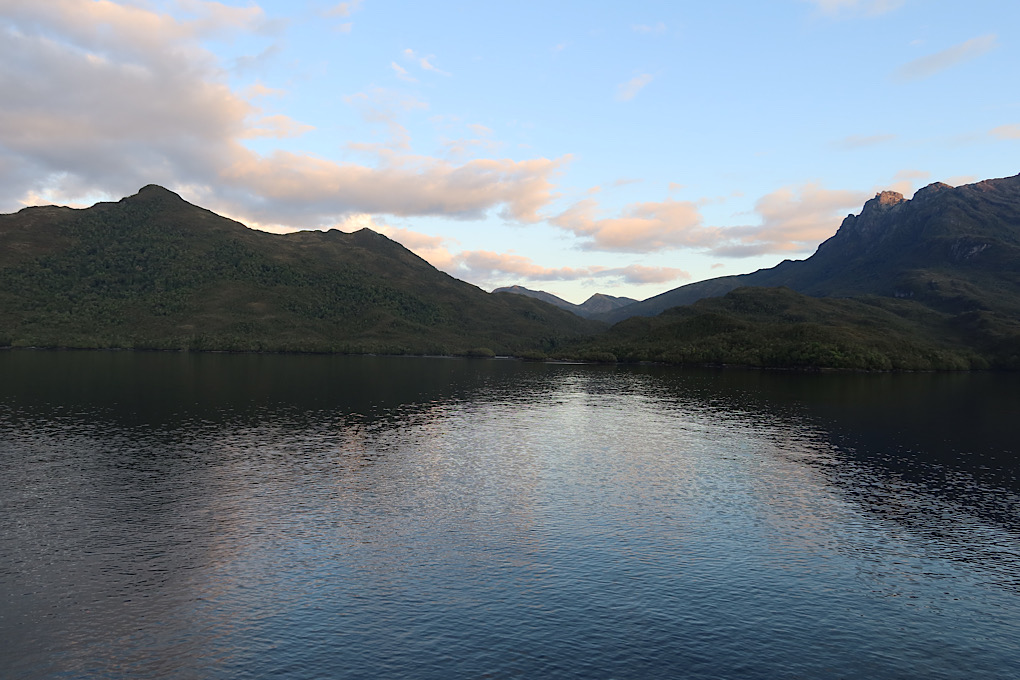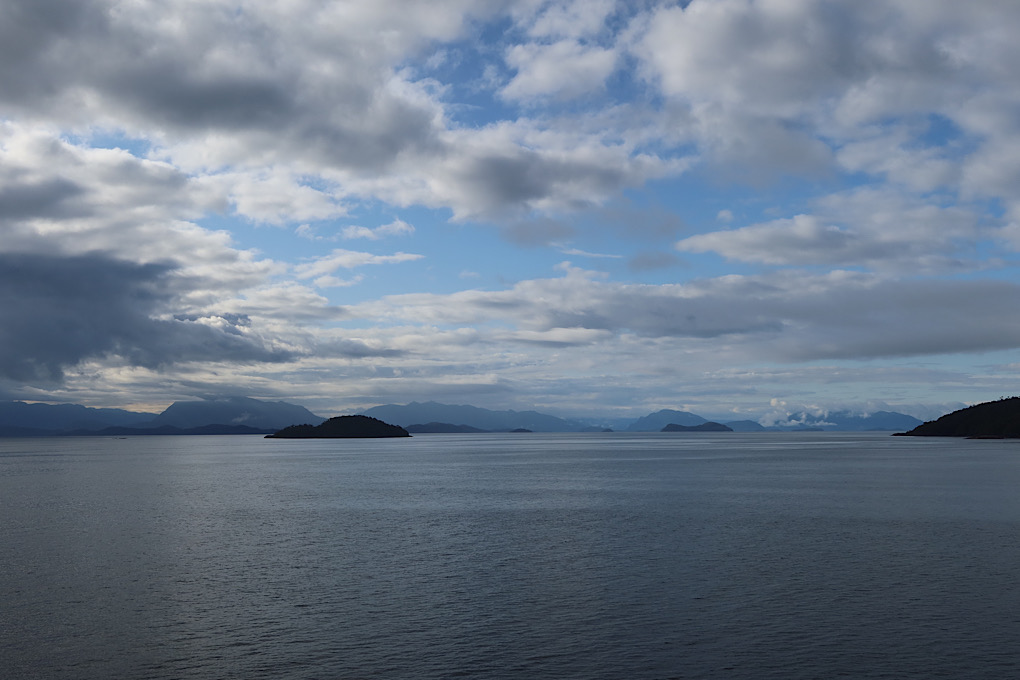 There were a few more whale sightings in the more open areas before Chiloé island. Some people were really excited about the whales. I thought it was a nice perk to see a tail or two, but I clearly am not really a whale enthusiast.
There were also sightings of more boats, including a (non-passenger) Navimag ferry going the other way.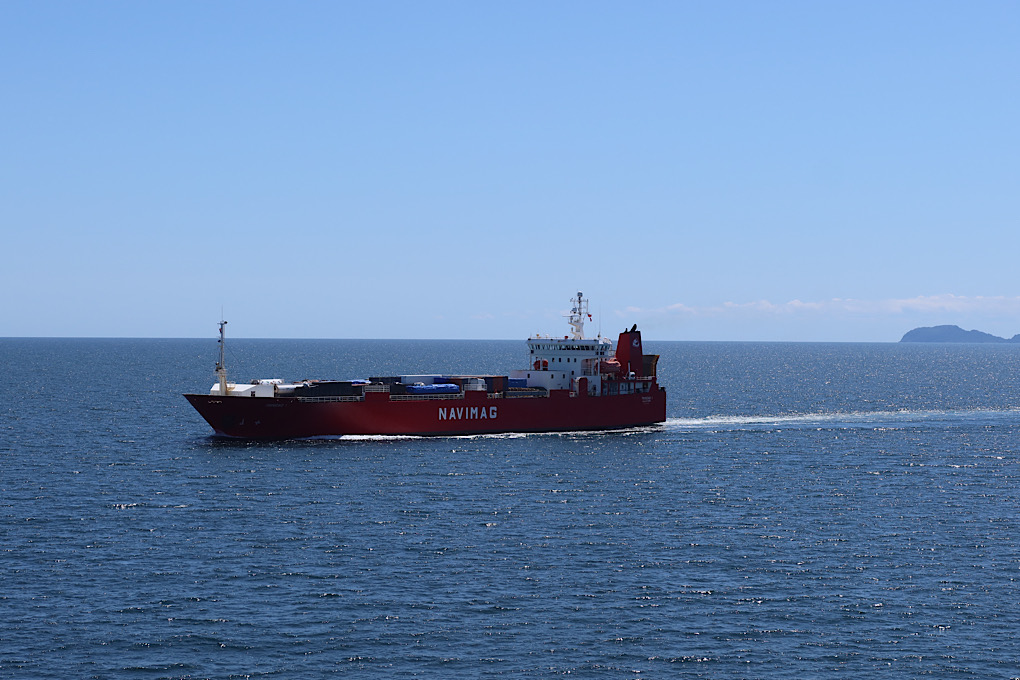 The scenery in the northern stretch of the route featured volcanoes, which were what really made it feel like I was getting back toward where I started. I remember the sight of the first similar volcano being what made me feel like I was really in Patagonia.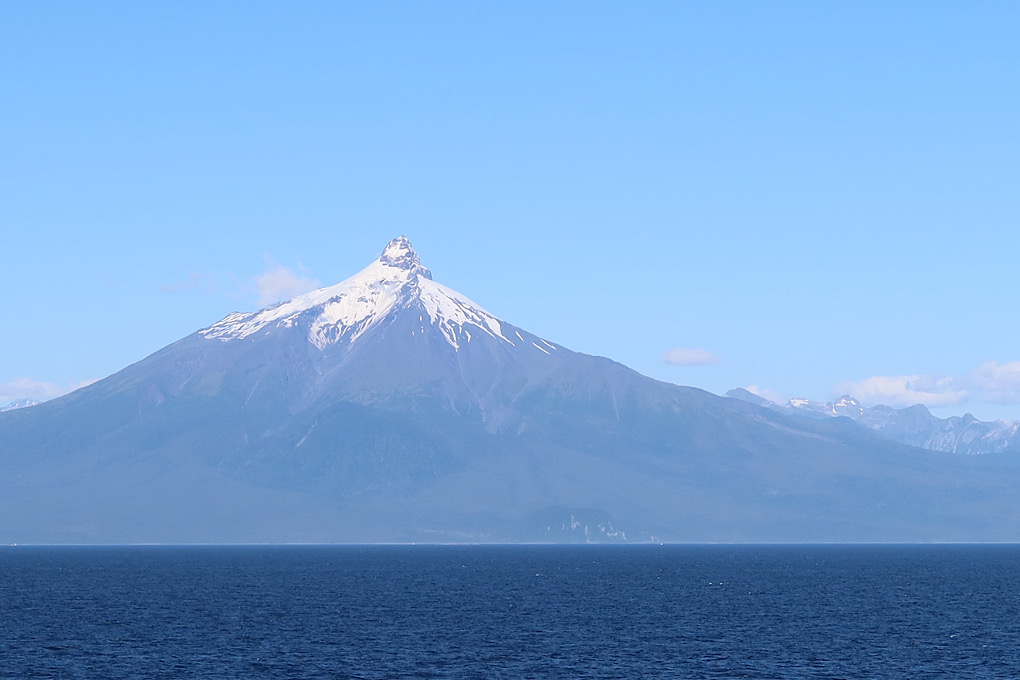 Even though it was maybe a little too warm, it was nice to get a real return to summer before going home to the second half of winter. Lots of people spent the afternoon on the deck, and it was hard to go in for dinner.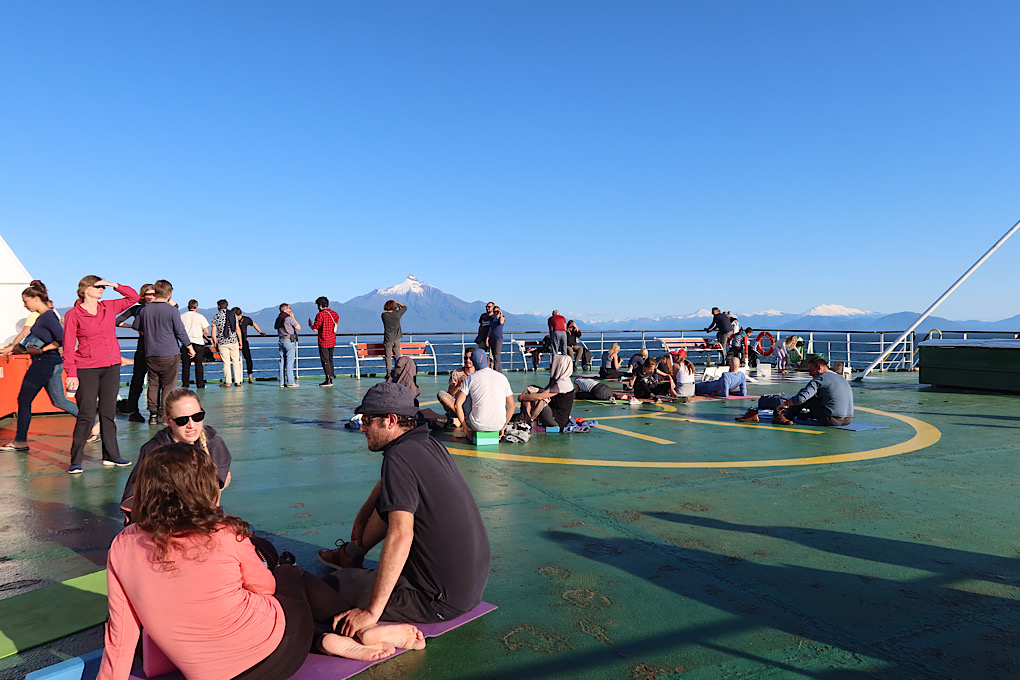 The good weather meant that we were actually somewhat ahead of schedule. They told us that we would dock in Puerto Montt in the early morning (3am or so) and then disembark after breakfast around 9am. I was a little sad going to bed to know that the boat trip would be done when I woke up. I did talk to some people who felt a little trapped, but I think I would have enjoyed another couple days.