Patagonia day 5: Caleta Gonzalo to Chaiten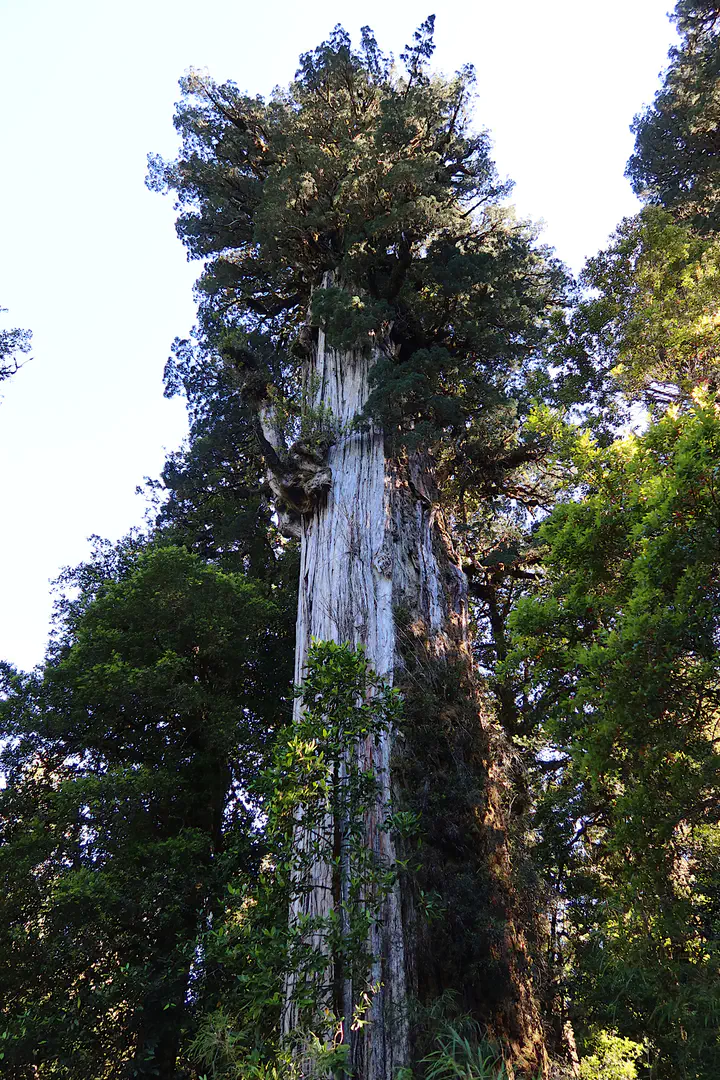 January 2, 2020. 58 km.
I woke up around 6, and managed to get on the road by 7:50. I should probably get a little more efficient at packing up camp, because it was actually really nice to get an early start. The sun was less intense, and the usual light traffic was nonexistent.
The first 35km or so of the day were ripio (I didn't know how long it would last until I got to the end - surprise!). It was much nicer to bike on than previous unpaved sections though. Relatively well packed and not washboarded too much. It was actually rather pleasant in the peaceful morning without any cars stirring up dust.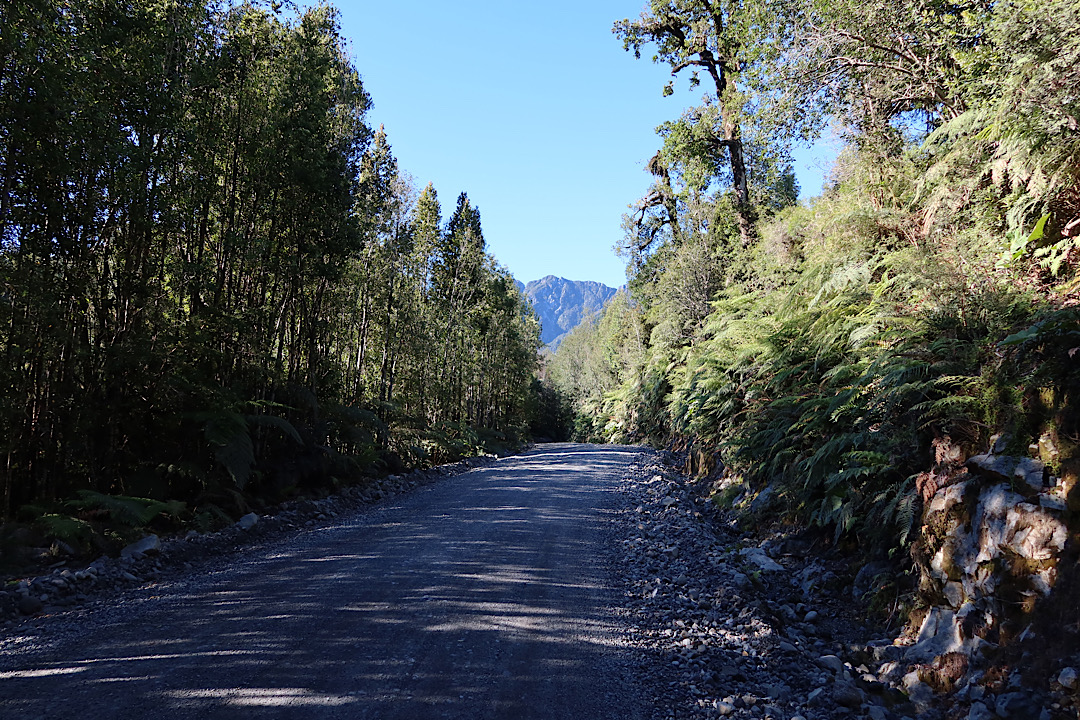 The most notable feature of the scenery were a bunch of dead trees sticking up all over the place. I didn't know why until I biked past the Chaiten volcano hiking trail in the afternoon, and guessed the damage was from an eruption. Turns out that's probably right (the volcano erupted in 2008 and caused a lot of disruption in the area).
The first 10km were mosty uphill and so fairly slow, but around 10 I passed a sign for a hike to see some really old trees. I could more or less parse the Spanish, but I also later looked up that Alerce is a common name for Fitzroya cupressoides, and that they do get to be thousands of years old and are endangered. I was a little nervous that taking the time for the hike would mean more traffic later on, but it turned out not to be a problem and the short hike was pretty neat.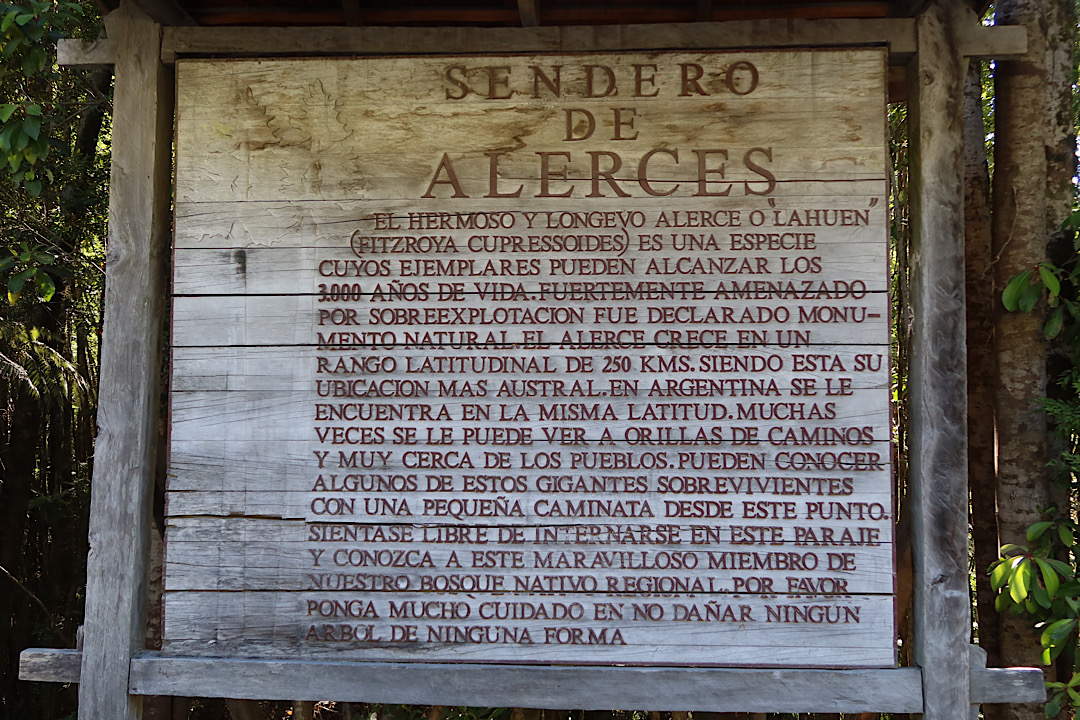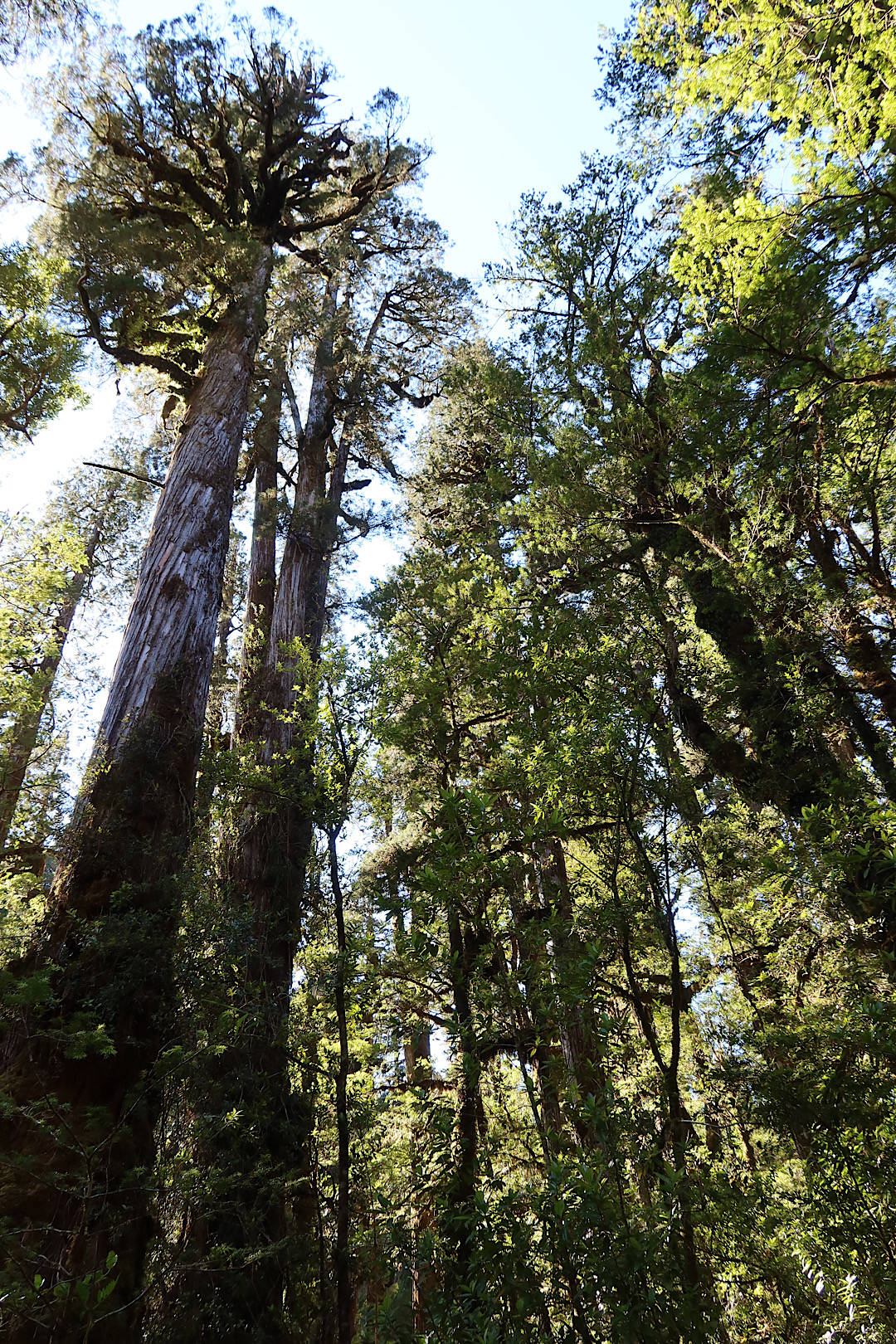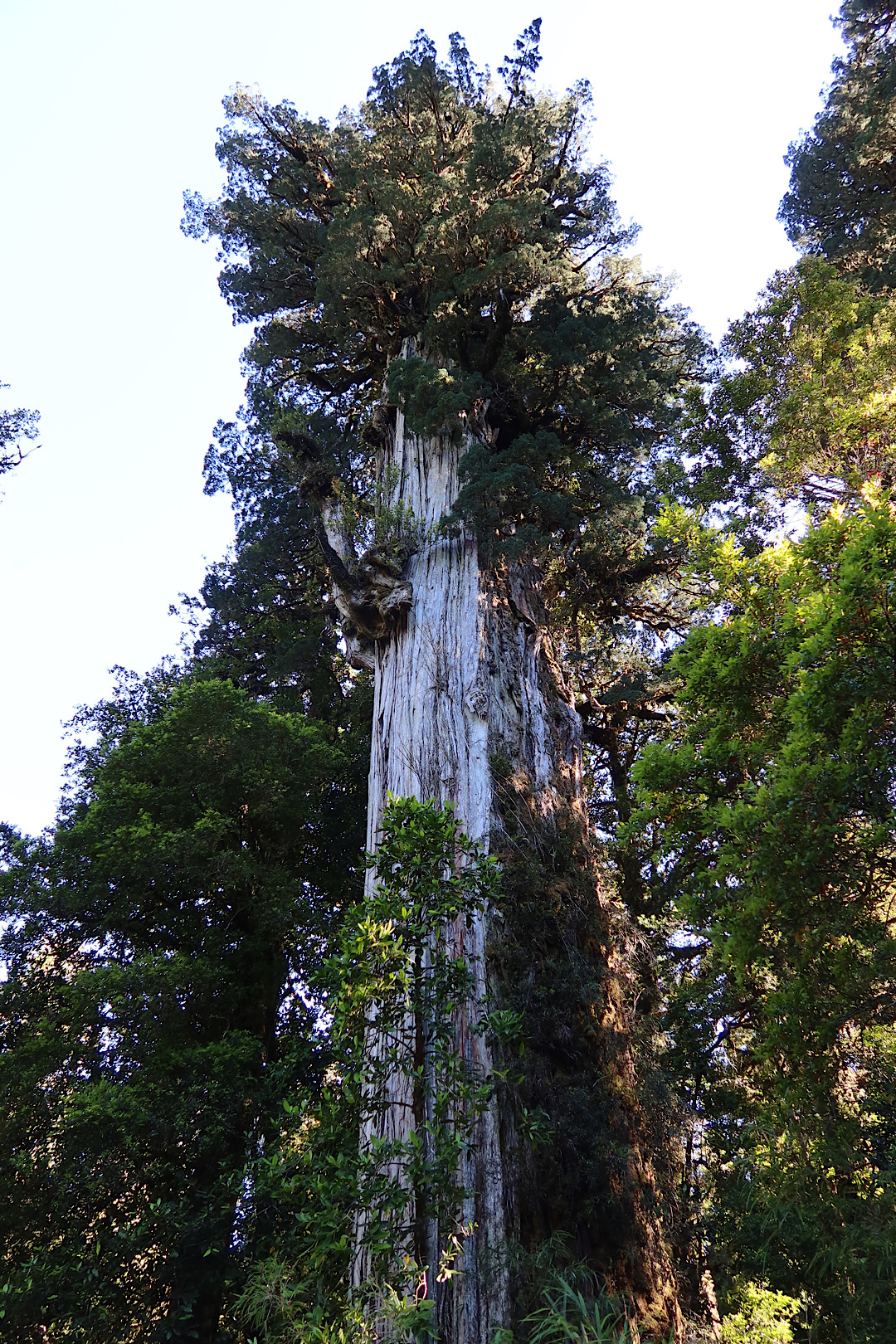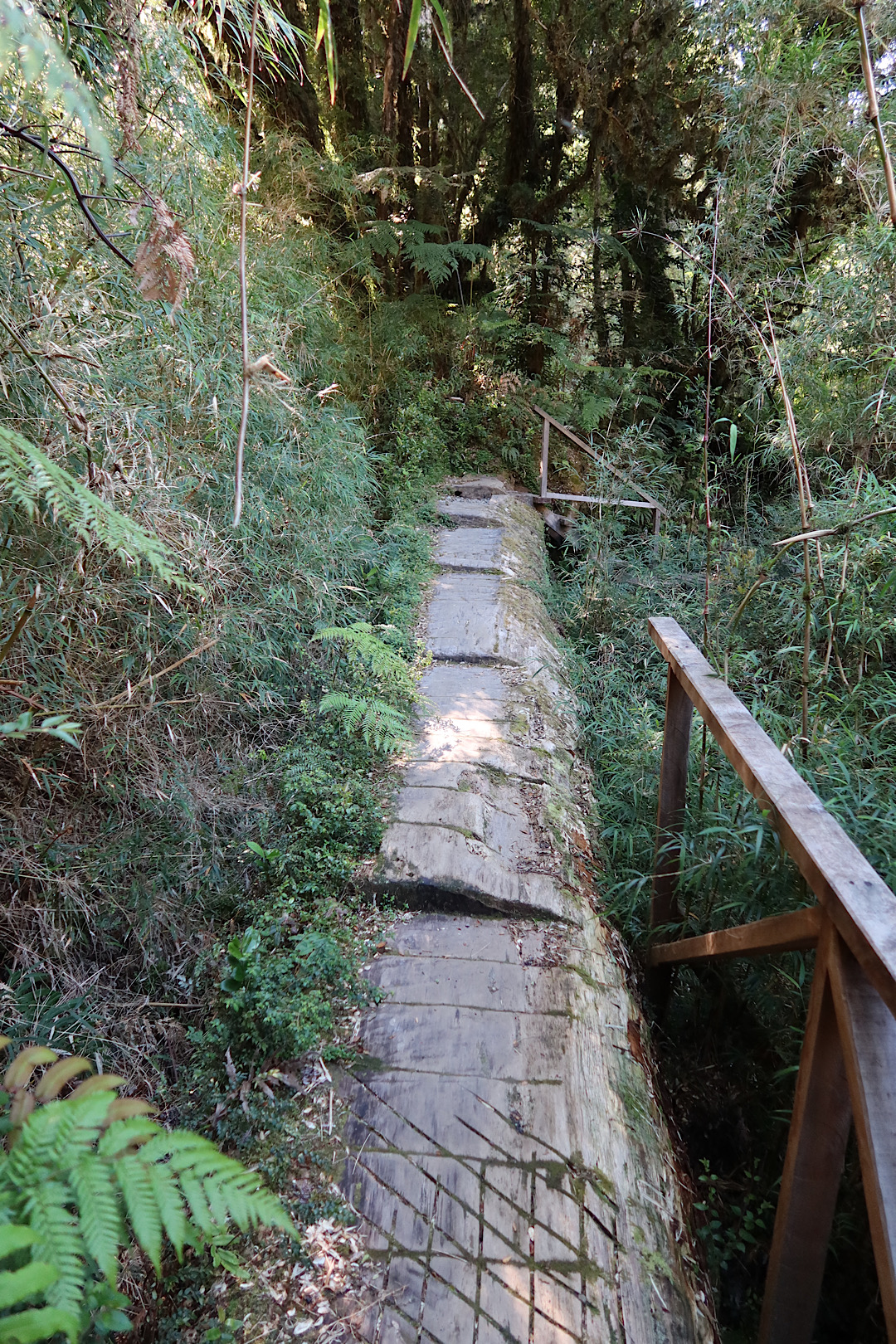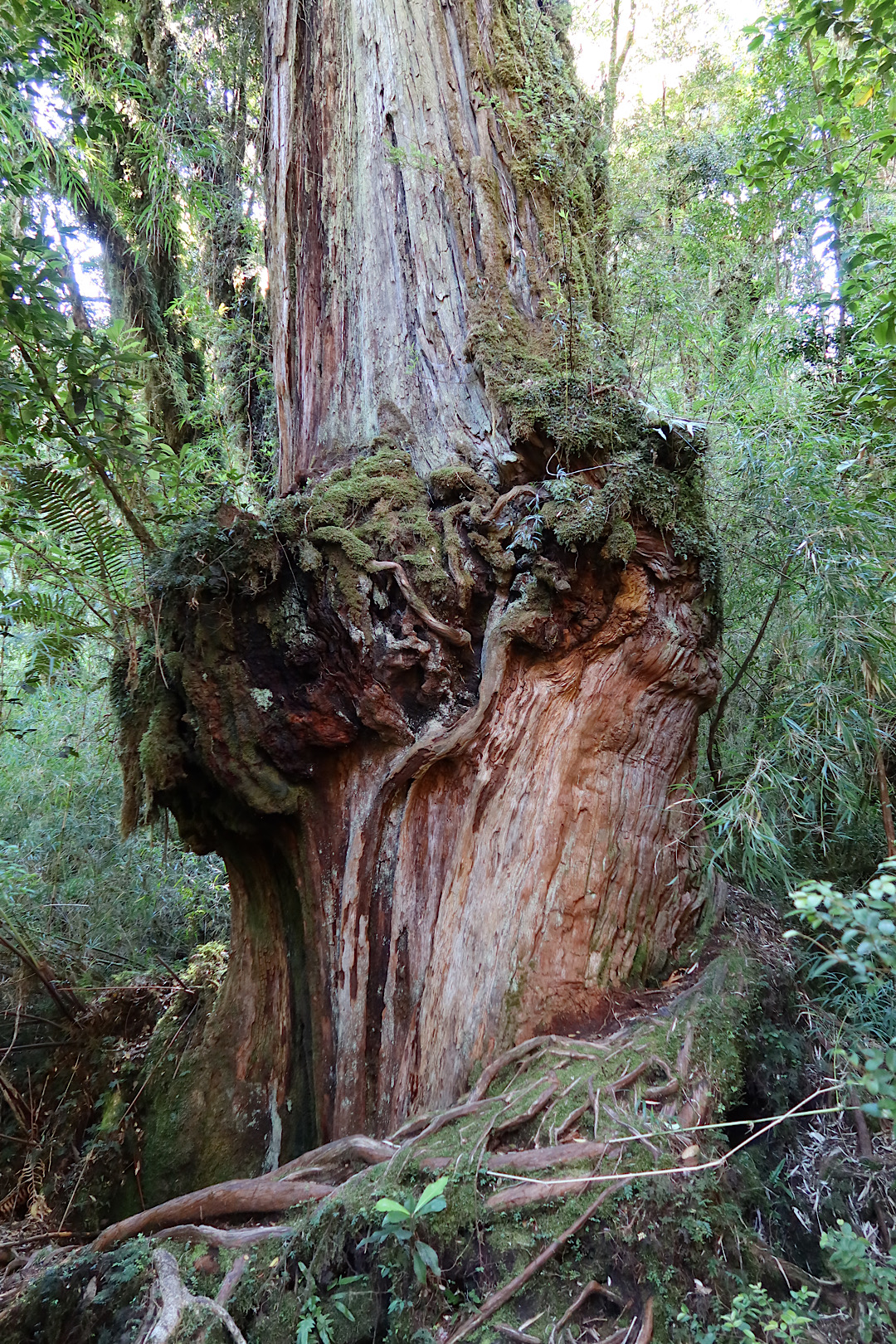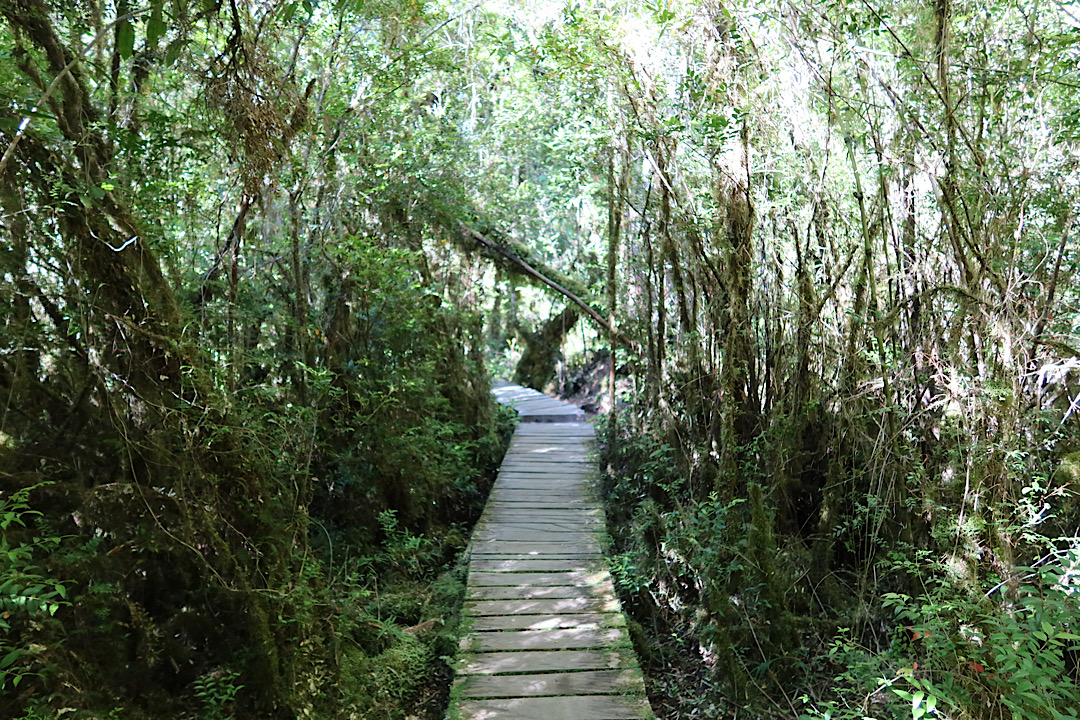 I kept biking, and just as the sun was starting to get unpleasantly intense, I got to a viewpoint at the top of a hill with a shelter that seemed perfect for lunch. While I was eating there, 6-8 cars did go buy toward the ferry, so maybe that was the high traffic I had been warned about. It wasn't too bad.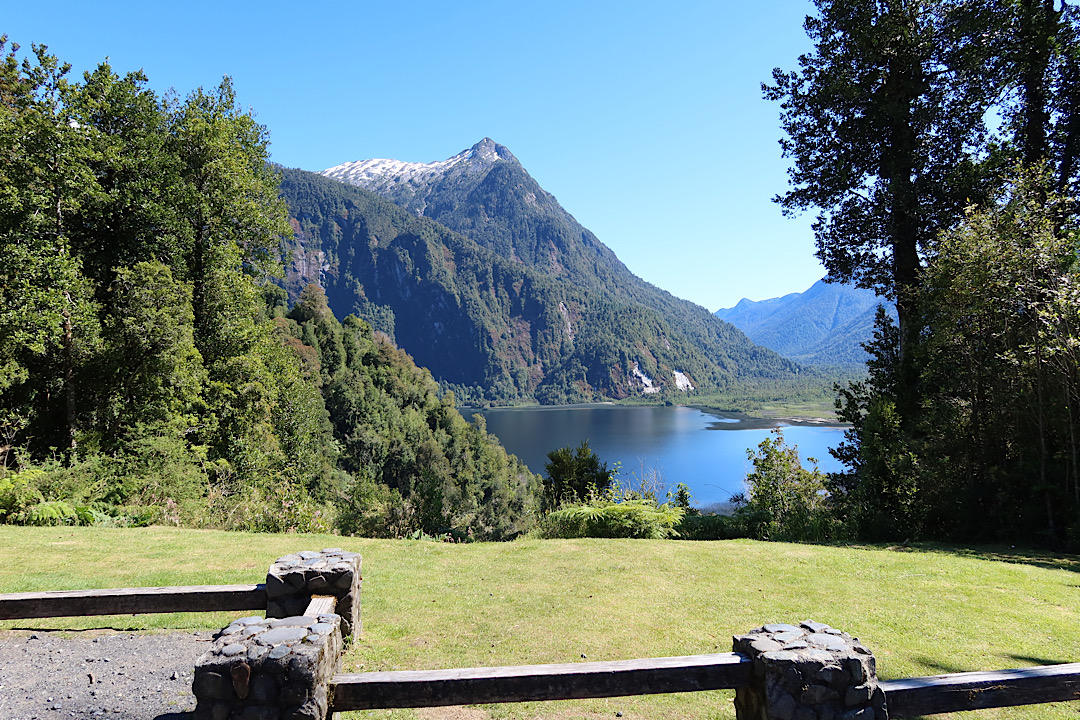 After lunch there was a long downhill (not too bad since the road didn't have much loose gravel) and then some flat winding roads between lakes and rocky cliffs.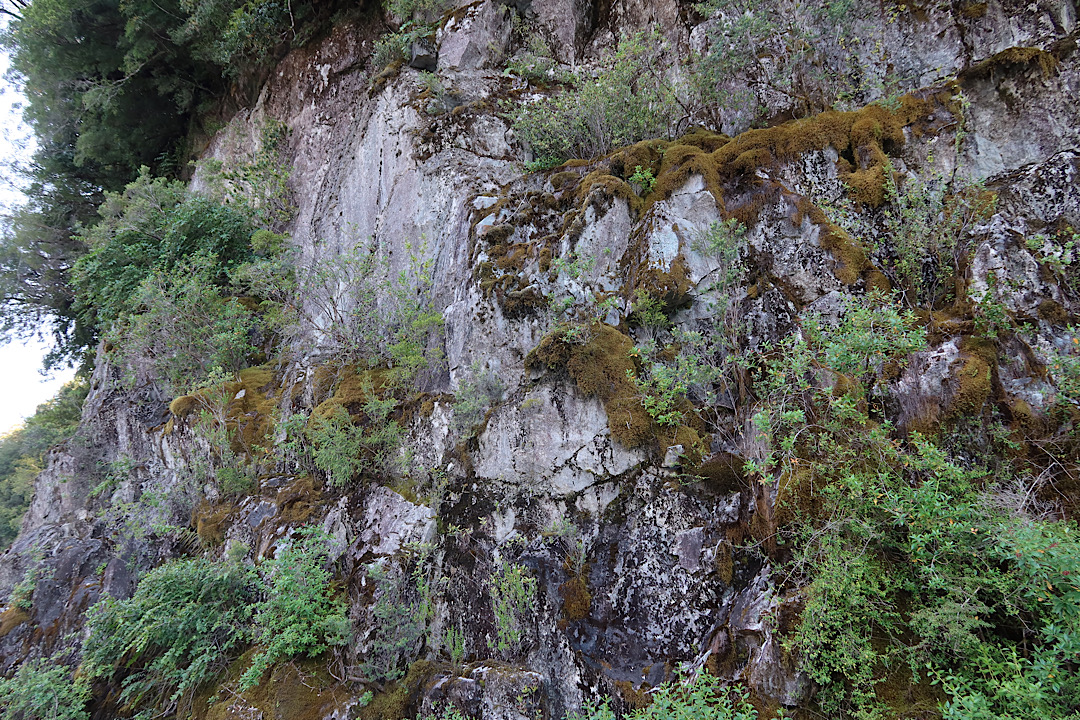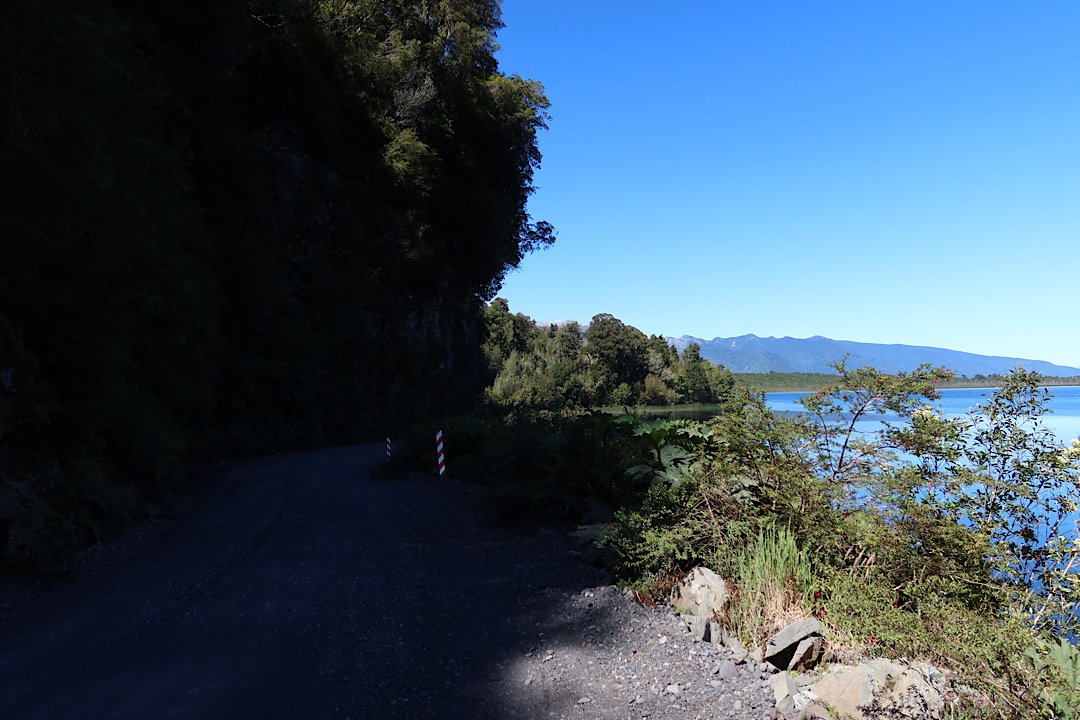 There were the usual frequent streams and rivers as well, with the dead trees becoming more and more noticeable as I got closer to the volcano.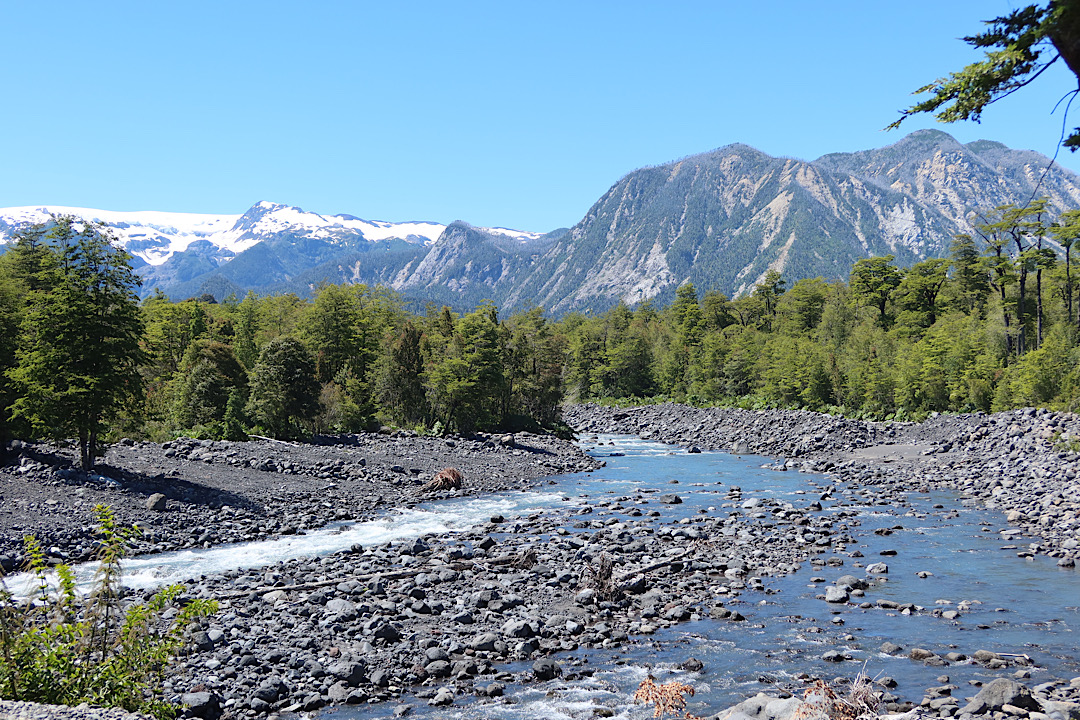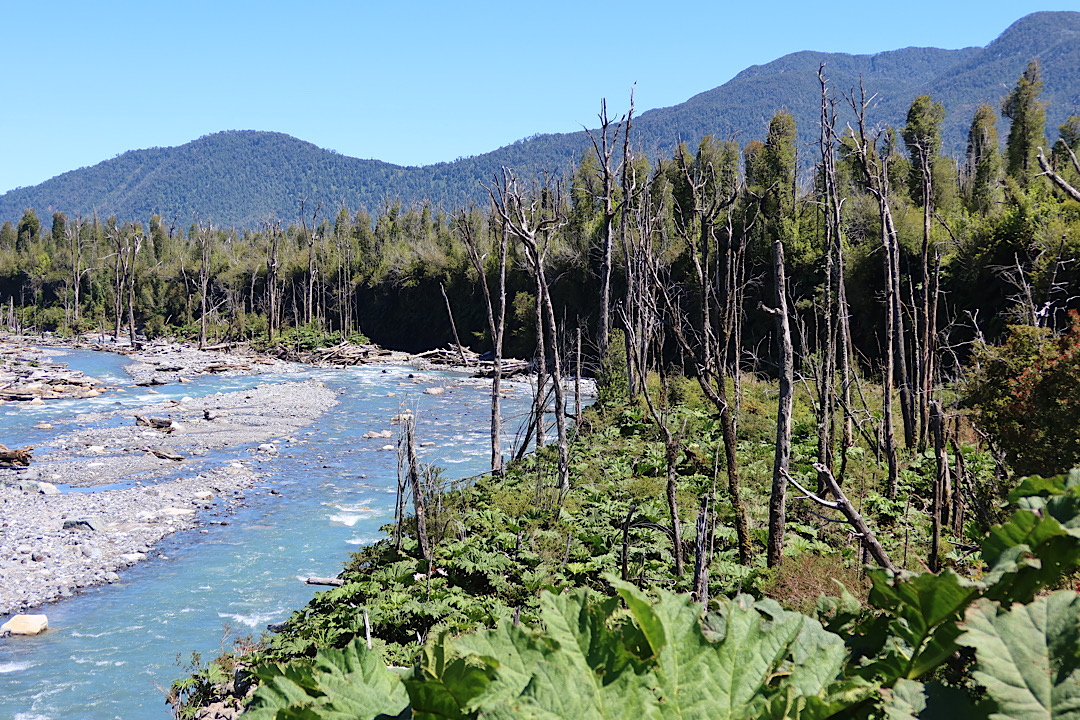 All the bridges are paved, but it was pretty exciting when I got to a bridge and then the pavement didn't end on the other side!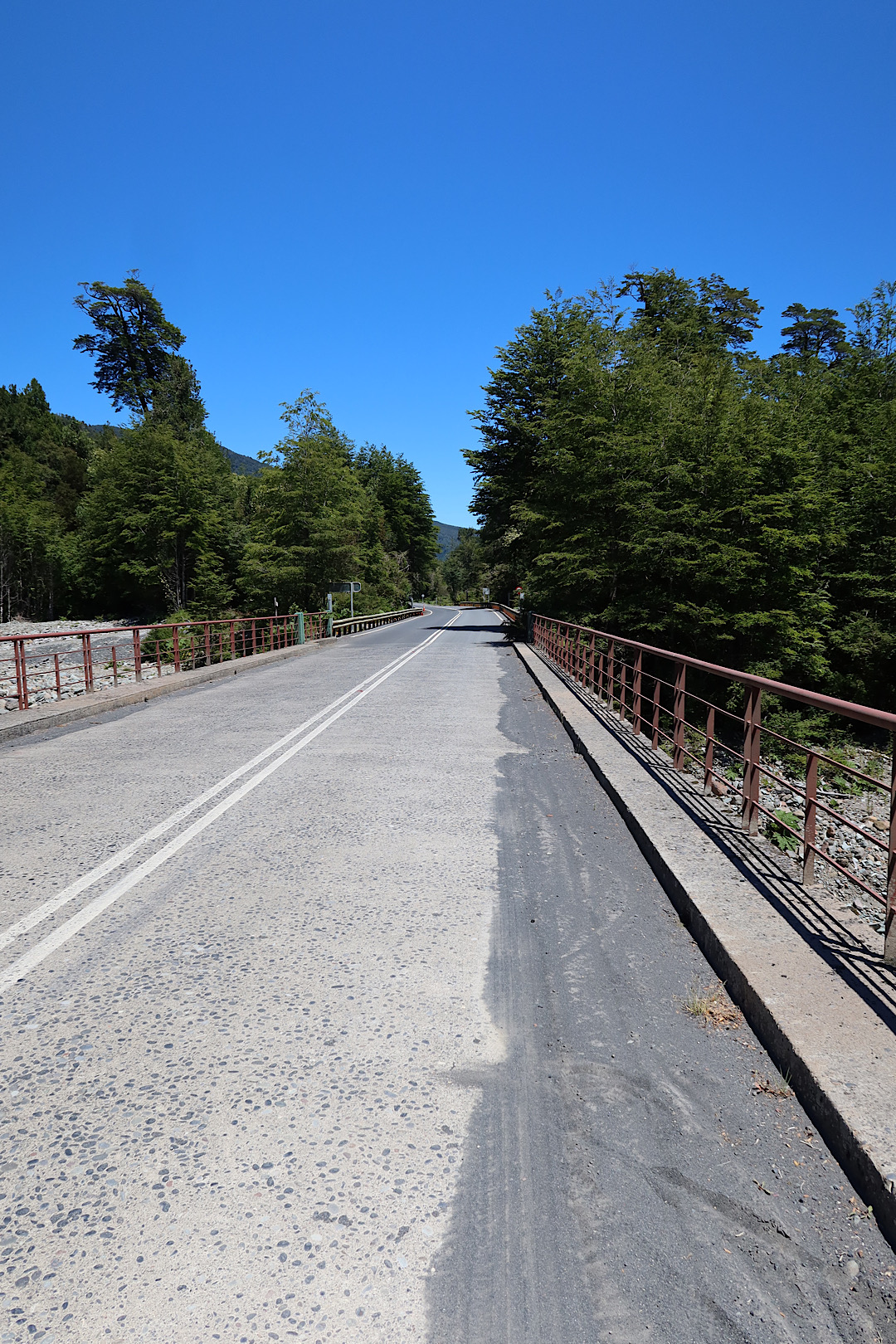 The rest of the day was smooth riding over paved roads. Even though there were a few short hills and the sun was hot I enjoyed being able to go at more "normal" biking speeds.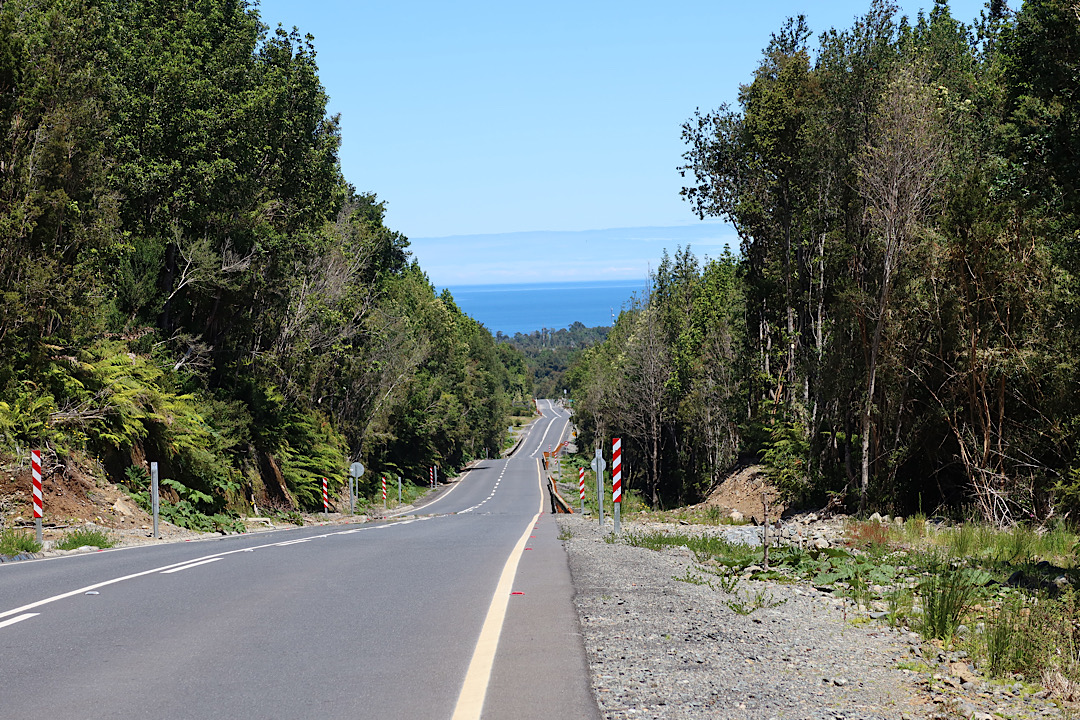 I saw a whole bunch of people at the parking lot for the volcano hike, but that one takes a bunch of hours so I didn't stop. It was only early afternoon as I got close to Chaiten, and the hostel I had booked didn't have check-in until 3pm, so I did need to stop somewhere. I decided that somewhere would be Santa Barbara beach as a tribute to my birhplace. The beach was nice, though not too exciting. Looked like it would be a pretty good place for free campin if one didn't mind relatively sparse facilities.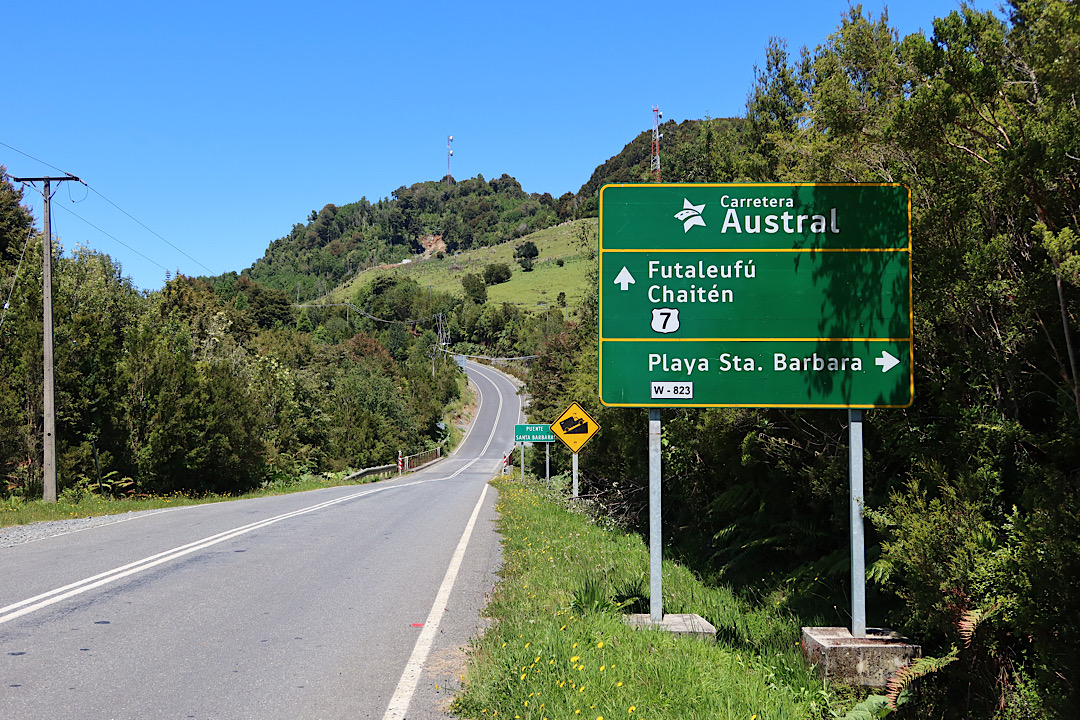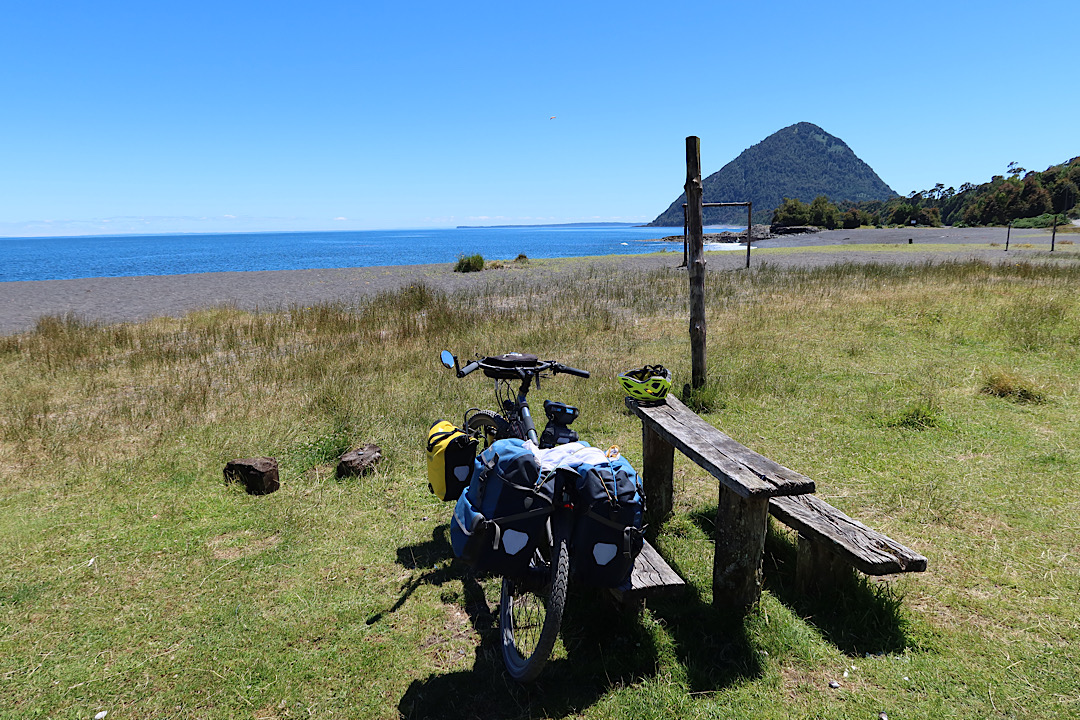 After an hour or so sitting in the shade at the beach, I biked the last 10km to the hostel in Chaiten. The town itself is larger than anything I've seen since Puerto Varas, but not a metropolis by any means. There's a nice central square with plantings and scultpture and benches and such. The rest of town is mostly partially paved roads, houses, and hostels.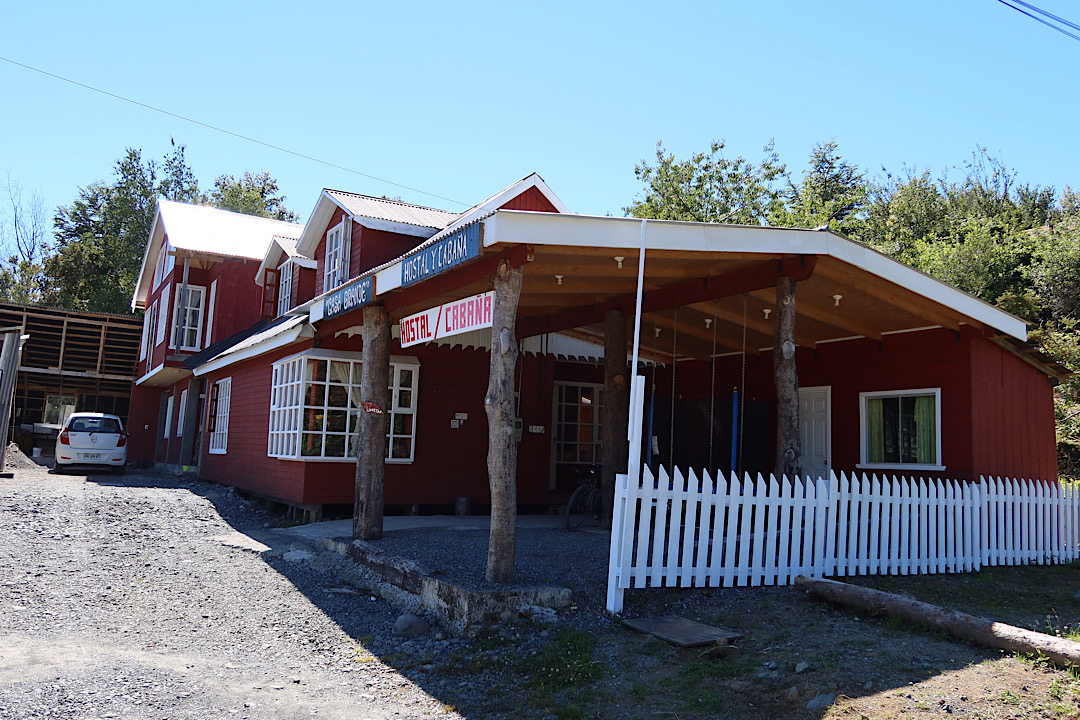 Tomorrow it looks like my luck will run out in terms of rain, but I'm hoping to start early and maybe make it to the next campground before it starts. The next day is supposed to be nice, but I'm currently planning on taking a rest day on the 5th because it's supposed to be really rainy and cold and that just seems like no fun. I guess we'll see how accurate the forecasts are.