Patagonia day 0: Puerto Varas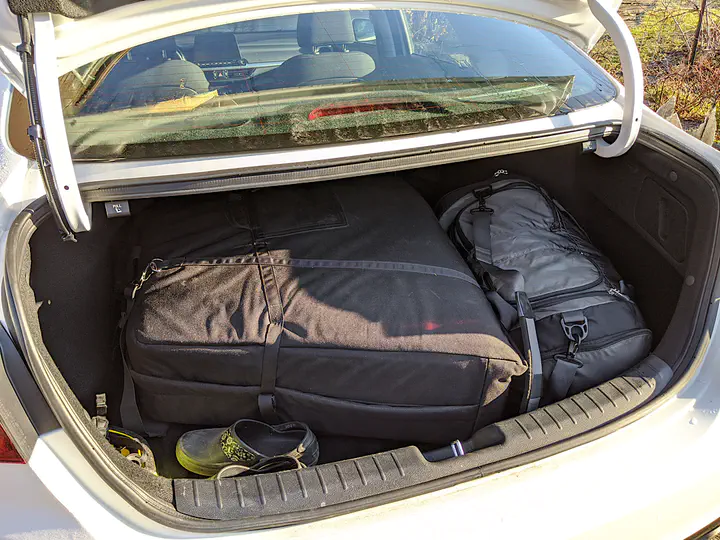 December 28, 2019.
Welcome to the first blog post of the newest biking adventure. As I type, I am in the Compass del Sur hostel in Puerto Varas, Chile. I have a reassembled functional bike, and tomorrow I will set out on a tour south through Patagonia. The plan is to bike down the Carretera Austral (route 7 in Chile) to Villa O'Higgins. From there, there's a border crossing into Argentina that involves a couple boats and a hike through the woods. From El Chalten, I'll do some combination of biking and busing to loop back around into Chile near Torres del Paine national park and Puerto Natales. Finally, I have reservations in early February for the Navimag ferry that will bring me back to Puerto Montt, a short ride from this hostel and my bike bag that's stored in the basement waiting for the return flight.
One would think that with all the long plane rides to get here, I would have had time to write a good introductory post, but I didn't. Or more accurately, I was too distracted by being nervous.
I have been roughly planning this trip for the last couple years, and I have done a couple of these tours before, but that doesn't really make the beginning any easier. There's always the weeks of slowly collecting and packing things, the long plane trips to spend trying not to stress out too much about things going horribly wrong before they start (bike broken in transit, forgotten critical components, that sort of thing). It's hard to get excited about the trip, because it is hard to imagine a completely unknown place. Nobody (myself included) includes enough details about the mundane things in touring blogs to feel confident that you'll be able handle the basics - the things like finding food and water and bathrooms and camping spots. It only takes a couple days to learn how things work and what to look for, but it's hard not to spend hours on Google beforehand trying to look up silly things.
Anyway, a few days ago I packed everything up in Pittsburgh, put it all in a rental car, and started my bike adventure by driving 8 hours to North Carolina to spend a couple days with family for Christmas. Yesterday I successfully returned the rental car to the RDU airport and carried all my stuff as far as the checkin counter where they checked the bike without trouble (I removed a couple pounds of gear from the bag to get it pretty close to 50 lbs and they didn't even charge me extra).
In what is now a bit of a tradition, I used my 6 hour layover in Miami to go see the last Star Wars movie. I did the same in LA on my way to Tasmania. I have to say that it's a lot easier to get to downtown Miami from the airport than to get anywhere interesting from the LA airport. The theater in downtown Miami was very nice, with reclining seats and footrests and all. The movie was meh, but it was still beter than sitting in an airport. I walked around downtown Miami a bit, bought some non-airport food, and got back for my redeye to South America.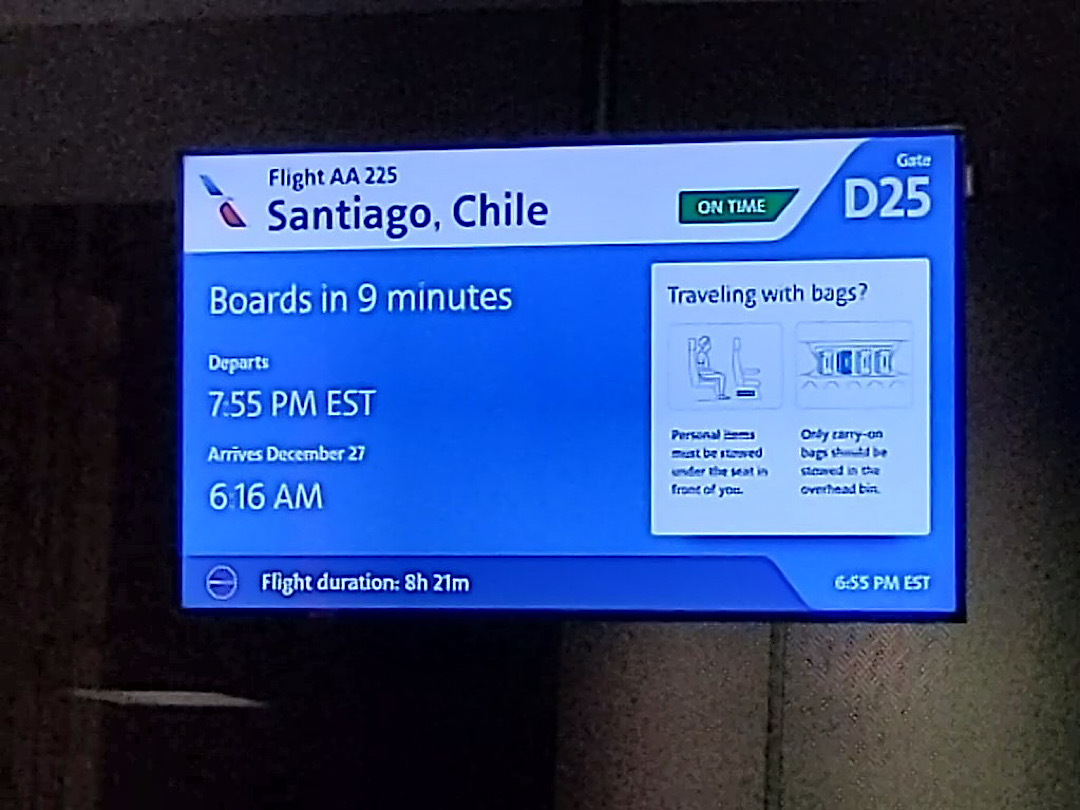 I didn't manage to sleep much on the plane, so by the time I got to Santiago I was really exhausted. I had to pick up my bags, go through customs, and then figure out how to check them again (by far the hardest part - the signage and layout of the airport isn't great). I had a really long layover in Santiago (8 hours or so), and was far too tired to do much of anything except nap on various uncomfortable seats and watch Netflix (Lost in Space season 2).
I had arranged a pickup from the hostel, and sure enough there was a person waiting with a sign with my name on it. I think that's the first time that's been the case for me. All my luggage made it (I saw them load my bike in Santiago, so it was less stressful waiting for it to come out at the end of all the rest).
Once at the hostel, my stuff exploded all over my room as I sorted everything out. I did ok with remembering things, except that the small bag of "important" bolts was apparently special enough for me to put it somewhere other than anywhere in my luggage. I rigged something together to attach my headlight, but didn't have any bolts to attach my front brake (they are pretty fat). Luckily, Puerto Varas has a few bike shops so I went to one the next morning. The man who was working there had to dig around for a while, and eventually cut a longer bolt down to size, but he was able to find two. Yay! Functional bike. Well, mostly functional - I had damaged the wiring for my integrated dynamo usb charger. I thought I had fixed it, but apparently not. Luckily I imagine I'll be fine with just my spare battery. The electrical system on the bike is cool, but definitely not essential.
I also wandered around downtown Puerto Montt for a while on shopping advenures. The place is quite touristy, but also pretty nice with a whole bunch of stores selling outdoorsy clothing and such. I found some food, a gas cannister for my stove, and a couple of 3v batteries (backup for my bike computer / spedometer).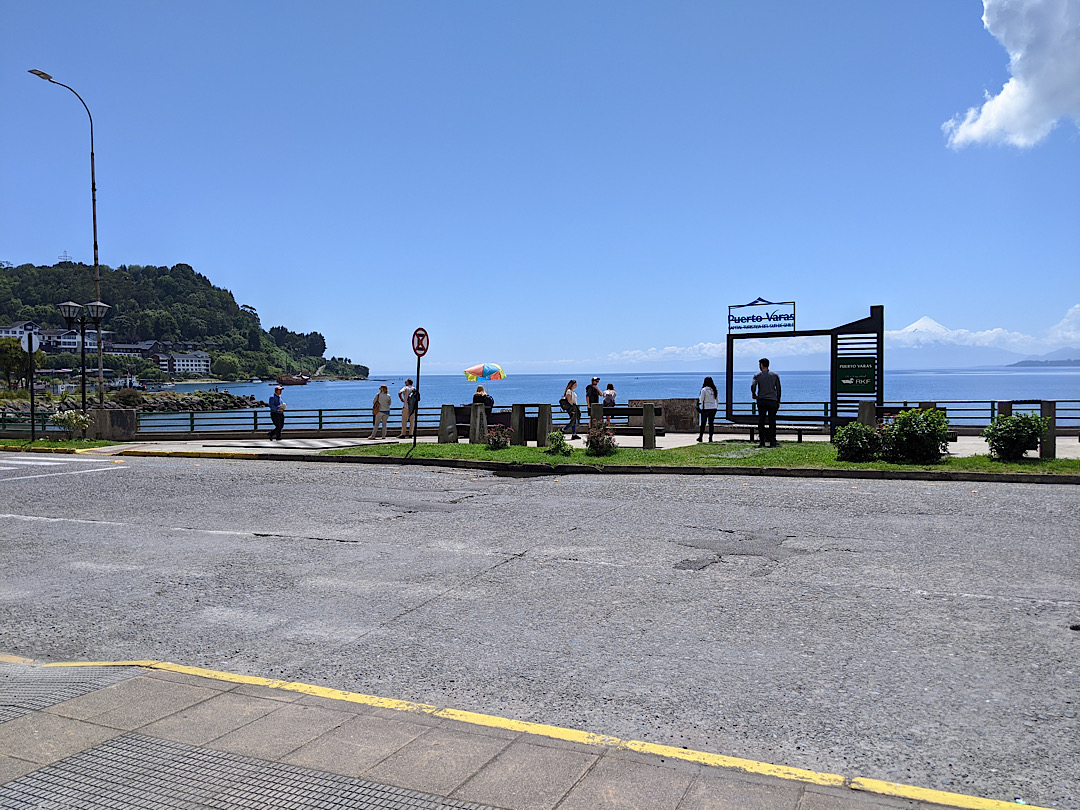 There wasn't nearly as much weirdly out of season Christmas stuff around as there was in Melbourne, but there was a Christmas market in the main square.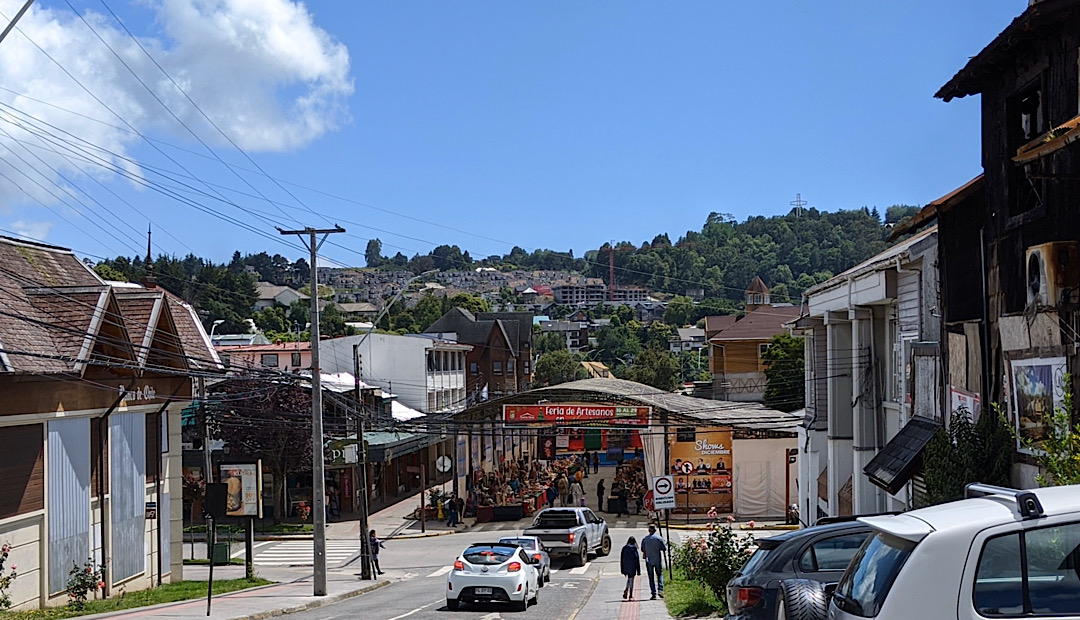 I don't have any pictures of them, but there were a number of people who would juggle (sometimes on unicycles) in front of cars stopped at red lights and then collect change from the drivers. A rather entertaining form of busking. Speaking of cars, one of the more notable things was that cars always stopped at crosswalks for pedestrians. Maybe that bodes well for the politeness of drivers towards bikers.
It's also summer and so light until about 10pm. A nice change from lighting candles at my desk when it gets dark at 4:30 back home. I walked back to the hostel around 8pm or so, up a pretty neat set of pedestrian stairs.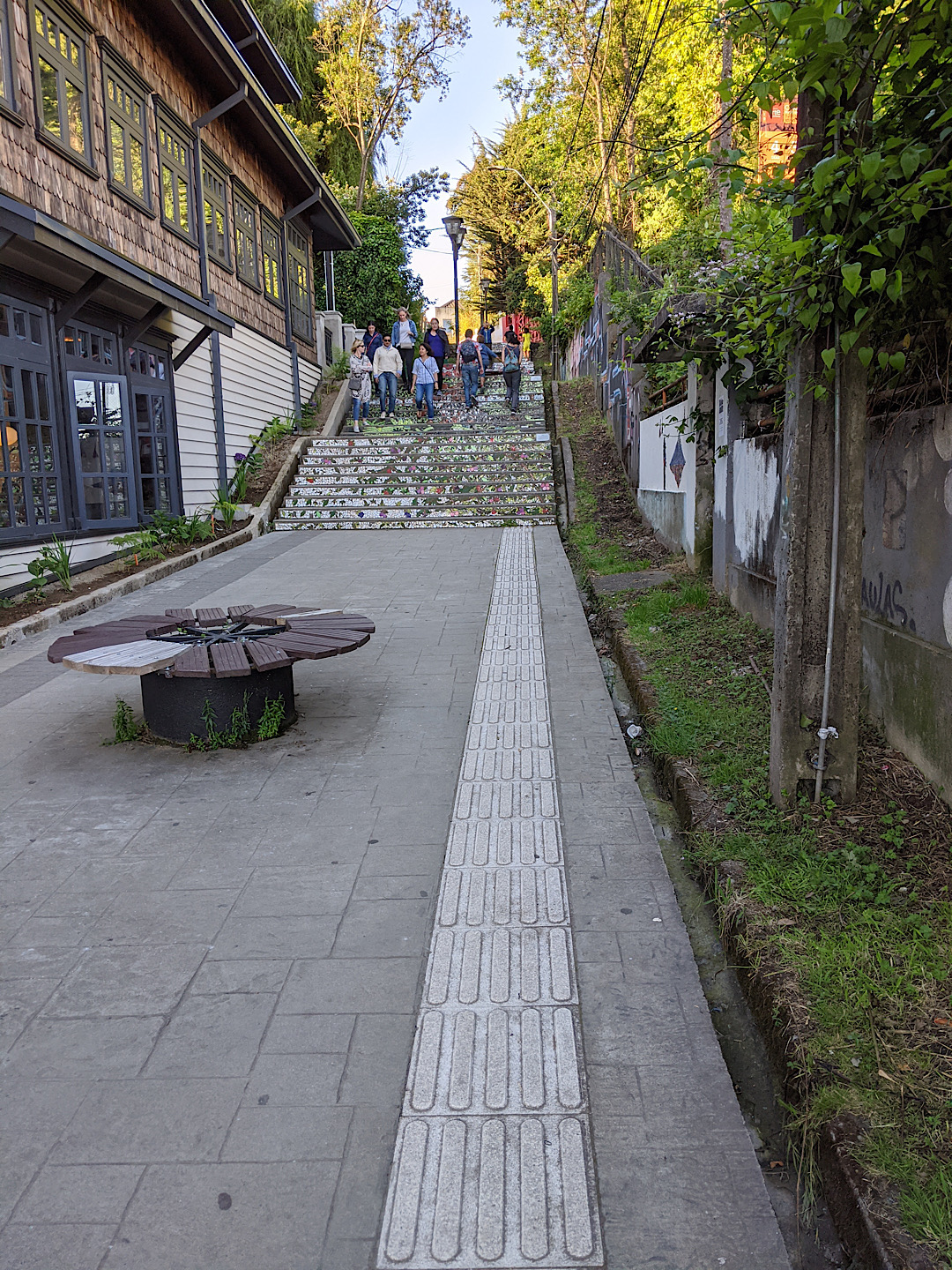 Being in a place where most people don't speak English is definitely different from previous trips. I can understand the basics in Spanish (written is much better than spoken), but mostly freeze up when trying to speak. It's been nearly 20 years since I was in Iceland, but my brain still tries to fill in Icelandic words. I suppose I'll probably get a bit better, and also just get used to not being able to communicate much nuance. When needed, the Google translate app is actually pretty good and works offline. So that's an option for slow communication when the needs are more complex.